Forwarding the News
Speaking Yiddish to chickens + Biden shows Netanyahu 'tough love'
Israel's fired defense minister still on the job, plot to attack Jewish sites in Greece thwarted, DeSantis heads to Israel before likely presidential bid, and advice on etiquette for Seder guest lists.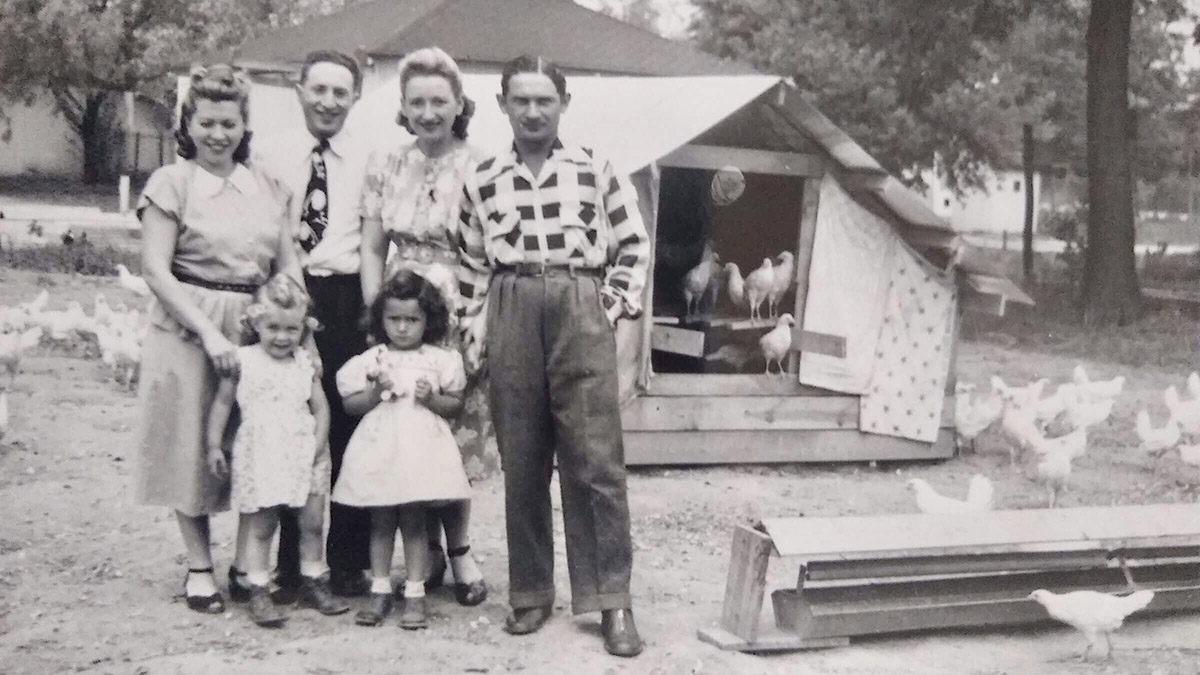 This article is part of our morning briefing. Click here to get it delivered to your inbox each weekday.
How did Yiddish-speaking Holocaust survivors become accidental chicken farmers in New Jersey?
I've never overslept and failed to get this newsletter out on time. That's because if I snooze through my alarm, my rooster is likely to wake me. Soon after, our 17 chickens, whom we've named after NPR correspondents and taken to calling the Co-hens, are clucking about.
My small flock is nothing compared to the post-World War II farms in and around Vineland, a small rural town halfway between Philadelphia and Atlantic City.
Seth Stern, a Bloomberg journalist, knows the story well: his mother grew up on one of those farms. And his new book, Speaking Yiddish to Chickens: Holocaust Survivors on South Jersey Poultry Farms, is the first to chronicle this little-known chapter in American Jewish history.
The survivors launched the Jewish Poultry Farmers Association. Their group hosted weekly poker games, Hanukkah parties and New Year's Eve dinner dances — and offered short-term loans to farmers in need. They launched a Yiddish radio show and also hosted many Yiddish performers, most of whom were also displaced persons.
Read it or skip it? Barbara Finkelstein, who grew up on one of these farms, recommends the book. The details Stern unearthed, she writes, "track with my own memories of my Holocaust survivor-parents, who vaccinated thousands of chickens against Newcastle Disease, rebuilt coops destroyed during Hurricane Hazel, ditched business partners and hired hands, and watched Texaco Star Theatre starring Milton Berle on their cutting-edge black-and-white TV set." Read her review ➤
Then-Vice President Joe Biden and Israeli Prime Minister Benjamin Netanyahu in 2016 in Jerusalem. (Getty)
'Tough love' | American Jewish leaders praise Biden for stepping into Israel's crisis: Rabbi Rick Jacobs of the Union for Reform Judaism said that the president was "appropriately engaged" yet "put his foot down" when he needed to. He is one of a dozen leaders of major American Jewish groups that our Jacob Kornbluh spoke to as Israel's political crisis over judicial independence reached a peak and then took a pause. Read the story ➤
Related: Biden says Israel "cannot continue down this road," and that he would not invite Netanyahu to the White House anytime soon — hours after his ambassador to Israel said the opposite.
How one Black and Jewish family keeps rewriting the Haggadah: Toni and Jon Michaels, two lawyers used to red-lining contracts, have for years crafted bespoke Seders that weave the sometimes parallel and sometimes overlapping stories of Jewish and African American slavery and liberation. This year, with Israel in political turmoil, they're giving the closing line, "Next year in Jerusalem," a fresh look. Read their essay ➤
Plus…
Spread the word! Invite someone
to sign up for this newsletter.👇
WHAT ELSE YOU NEED TO KNOW TODAY
Florida Gov. Ron DeSantis at an event in November 2022, in Tampa. (Getty)
💰 Gov. Ron DeSantis of Florida signed a new law that makes every student in the state eligible for taxpayer-funded vouchers to attend private schools, including religious ones. The Orthodox Union's Teach Coalition was one of the group's advocating for the bill. A similar bill is on the docket in Texas. (Tallahassee Democrat, Twitter, Dallas Morning News)
🛫 And speaking of DeSantis: He's headed to Israel next month. The trip, where he is scheduled to speak to a group of 400, including 120 American Jewish philanthropists, comes as he ponders a 2024 bid for the Republican presidential nomination. (Politico)
🇬🇷 The Associated Press reports that Greek authorities arrested two Pakistani men on Tuesday for planning terrorist attacks on local Jewish sites, including at a Chabad house in Athens that includes a kosher restaurant. (JTA)
🤝 Several leading Jewish security organizations announced on Tuesday the formation of a super group called the Jewish Security Alliance, stemming from an informal partnership that led to the Nov. 2022 arrest of two armed men in Manhattan who the authorities say planned to attack Jews. (NY Jewish Week)
🇮🇱 Israel's defense minister, Yoav Gallant, was included in a high-level security meeting yesterday despite his firing two days before. Israeli news reports say members of Prime Minister Benjamin Netanyahu's coalition are urging him to reverse his ouster of Gallant, which sparked the spontaneous mass protests and general strike on Monday that led Netanyahu to freeze his judicial-overhaul plan. (Haaretz, Times of Israel)
🙏 In-person attendance at religious services in the United States has declined slightly since 2019, according to a new survey from the Pew Research Center. Among Jews, 16% said they participated in a virtual service in the last month. (Pew, Religion News Service)
🎙️ Nick Cannon, the actor and TV host, opened up about his past antisemitic comments, calling the experience a "growth moment." Cannon now co-hosts a podcast, 2 Hate or Not 2 Hate, with Jonathan Greenblatt, CEO of the Anti-Defamation League. (CNN)
Shiva call ➤ Emily Fisher Landau, who used insurance money from a jewelry heist at her Manhattan home to become a patron of contemporary art, died at 102. She had nine grandchildren, and was a philanthropist who established a center for treating learning disabilities at the Albert Einstein College of Medicine.

What else we're reading ➤ A new team at the Jewish Museum of Maryland looks beyond history for inspiration … Jesuit astronomers from the Vatican's observatory are writing their names in the heavens … Food writer Alison Roman makes a comeback — and a brisket for Passover.
Rabbi Isaac Elchanan Spektor, the namesake of the seminary, and the university today. (Wikimedia/Getty)
On this day in history (1928): Yeshiva College was chartered, and soon opened its Washington Heights campus with 31 students. Now Yeshiva University, enrollment tops 6,000. Its affiliated rabbinical school – Rabbi Isaac Elchanan Theological Seminary – opened first, back in 1896, on Manhattan's Lower East Side.
Bowling Alone, the seminal 2000 book by political scientist Robert Putnam, delves into the decline in involvement in social groups since the 1950s, arguing that engagement in clubs and religious congregations are an integral part of democracy. A documentary about Putnam and his work, Join or Die, premiered at South by Southwest earlier this month. Watch the trailer above, and read an interview with the filmmakers.
—
Thanks to Beth Harpaz, Tani Levitt, Rukhl Schaechter, and Talya Zax for contributing to today's newsletter. You can reach the "Forwarding" team at [email protected].