Culture
Sturdy, versatile, affordable, Jewish and universal, cabbage — yes, cabbage — is having a moment
Plus, a caramelized cabbage tart recipe demonstrates why this prolific plant stands at the head of its class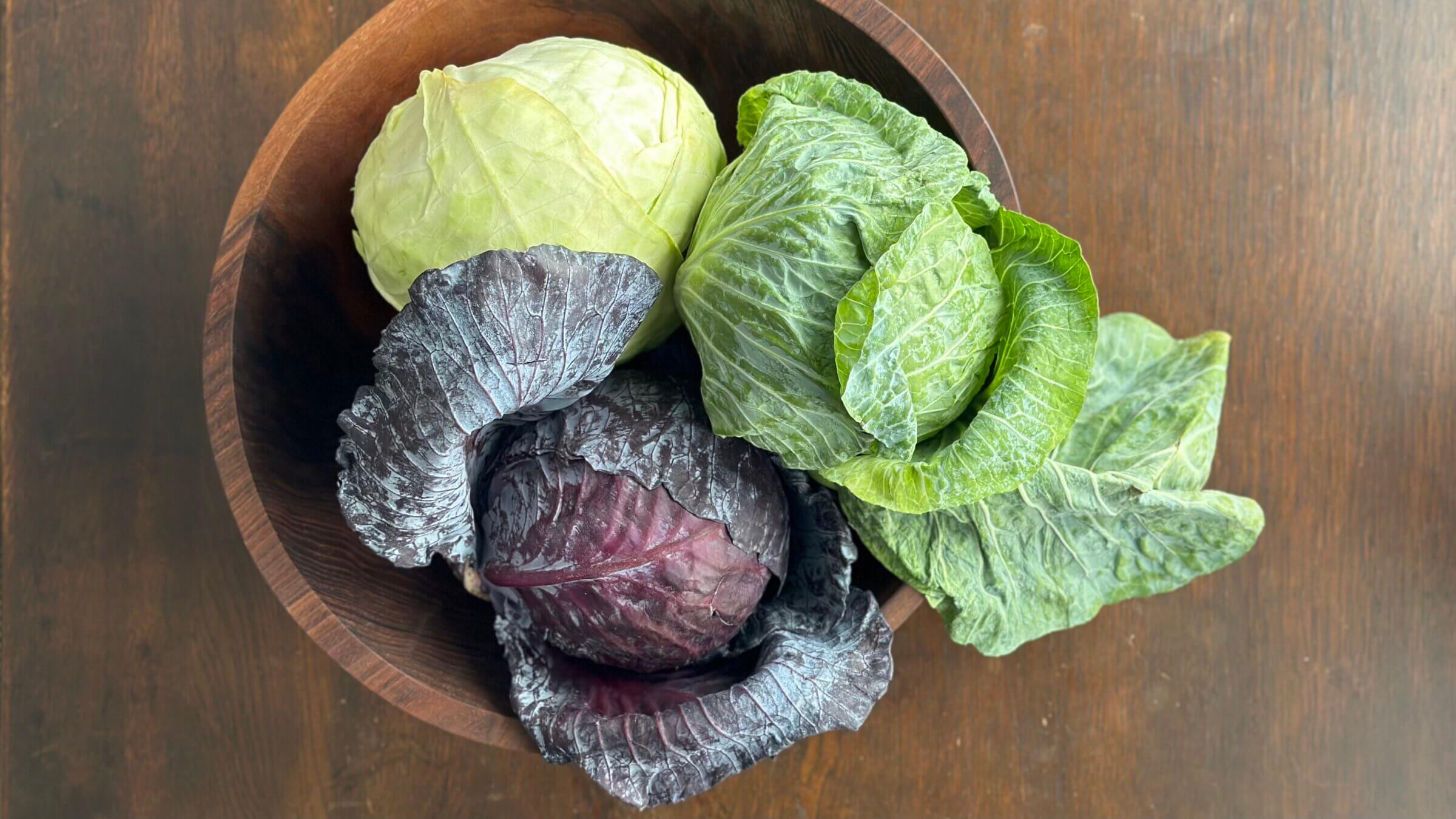 Lest I inadvertently spark the Cabbage Wars, let's be clear: I'm not claiming cabbage as a uniquely Jewish ingredient, or even proposing that it's more conspicuous in Jewish cuisine than in that of many others. Indeed I could easily write about the outsize role this versatile cruciferous vegetable plays in Irish, Korean, German or Chinese cooking. Think corned beef and cabbage, kimchi and sauerkraut (which, you may be surprised to know, was not invented by the Germans, but by the Chinese). 
Diplomacy thus proffered, it's now safe to say that cabbage has long been a crucial component of Jewish cooking, in Europe, America, the Middle East and beyond. Whether swaddling a meaty filling in stuffed cabbage rolls or floating in bright magenta borscht; whether shredded into slaws and salads or braised in fat wedges until meltingly tender and sweet, cabbage appears throughout the myriad cuisines of the Jewish Diaspora, an inexpensive, adaptable stalwart.
A member of the Brassica family, which includes such vegetables as broccoli, bok choy, kale, collards, turnips, arugula and Brussels sprouts, cabbage is a sturdy, prolific plant that grows intrepidly in cool climates (and also in more temperate ones). 
In addition to the most common varieties — those heavy purple and green globes with their seemingly limitless shelf-lives — there are more tender types like Napa cabbage, which has an oblong head of pale, crinkly leaves. (It's better known as Chinese cabbage to most of the world.) Savoy cabbage, which originated in the Alps and was named after the Savoy region of France, is a round cabbage with deeply wrinkled leaves, often bright green on the outside and chartreuse within. And if you come across a pointed cabbage, sometimes called Sugarloaf or Sweetheart, expect it to have tender leaves and a mild, sweet flavor. 
"I think cabbage is having a moment," said Tel Aviv-based cookbook writer Adeena Sussman, author of Sababa and the upcoming Shabbat. "It's all over the Internet. Everybody is making roasted cabbage wedges and braised cabbage." 
Sussman attributes the humble cabbage's star turn in part to the rising cost of living both in Israel and the U.S., and to the increased popularity of plant-based diets. 
"Cabbage has a meatiness and a substantial nature that was overlooked before. It was often seen as something to use in salads or to stuff other things into, but now it can be the star of a meal," she said.
Her melted green cabbage recipe in Sababa is a case in point. 
"I do treat it like a cut of meat," Sussman said. "I sear it and then I add aromatics to the pan and wine and stock and then I braise it like you would chicken. It's one of the most abidingly popular dishes from my book."
I mention stuffed cabbage and Sussman points out that it's not just an Ashkenazi staple but a cross-cultural dish as well. Indeed there are Sephardic versions and also Arabic ones, known as mehshi malfouf (the word malfouf means both cabbage and rolled up in Arabic), which are made throughout the Middle East. In malfouf recipes, rice, lemon juice and warm spices such as allspice and cinnamon are incorporated into the meat mixture (which can be made with beef or lamb). 
The filling is spooned into cabbage leaves and rolled into slim cylinders. These are not bathed in tomato sauce, but often braised in a citrusy broth. In her beautiful book Aromas of Aleppo, Poopa Dweck writes: "This dish has a very distinct taste — tart, yet fruity and balanced — and is very different from the cabbage dishes of Eastern Europe."
While Jews in the Middle East and parts of Western Europe were busy stuffing tomatoes and peppers, vegetables were scarce in the shtetls of Eastern Europe, where cabbage — along with carrots and eventually potatoes — were usually the only options. Thus cabbage had — and still has — a prime place at the Ashkenazi table. 
Though I am one-quarter Hungarian, there is a classic Hungarian cabbage dish I had never experienced: cabbage strudel. This sweet-and-savory, crackling log is made by rolling sautéed or slow-roasted cabbage inside layers of phyllo dough, then baking it until golden. It's served at Sukkot — apparently due to its portable nature and the fact that it's good at room temperature — and also during the hard-drinking holiday of Purim, because (and how awesome is this?) cabbage has been considered a hangover remedy by countless cultures starting with the ancient Greeks and Romans.   
Though I'd come across recipes for cabbage strudel — Leah Koenig's The Jewish Cookbook has a good one — it was never something I felt compelled to make or seek out. Now immersing myself in all things cabbage — and with Purim on the horizon — I decided to find out what I'd been missing. 
I took the crosstown bus to Budapest Café on 2nd Avenue and 85th Street, where André Heimann has been slinging Hungarian specialties since 1979. Heimann launched the restaurant a few years after his mother, Rose Heimann, opened André's Bakery in Forest Hills, Queens. It's there that the many-flavored strudels and other Eastern-European confections — among them rugelach, Linzer tortes, almond horns and babka — are made.
I purchased half a strudel and took it home. And while I'm glad I tried it — I could see having a slice with a green salad and a glass of white wine — it's not, it turns out, my favorite cabbage preparation. 
Still, I was stuck on the idea of a savory cabbage pastry, and wondered if I could create something that would be delicious with drinks while — if the ancients were correct — warding off the otherwise inevitable pains of the Purim Morning After. I didn't have any phyllo dough, but I did have a package of Dufour puff pastry in the freezer. I've had great luck turning that into mushroom tarts, so why not cabbage? 
André's strudel evidently has only four ingredients other than the dough: cabbage, butter, salt and pepper. I wanted to keep my recipe almost as spare, though I did add a clove of garlic, a splash of white wine, a smattering of grated cheese and a dusting of fresh herbs. The cabbage mixture cooked on the stove in fewer than 15 minutes before being slathered onto the store-bought dough and baked. This recipe is simplicity itself, and the resulting dish is sublime. Whether cut into small squares and passed around as hors d'oeuvres or sliced into slabs for lunch or dinner, it's something I'll make again and again. Best of all, since cabbage and frozen puff pastry dough last for ages, you can pretty much always have the ingredients on hand. 
That's the thing about cabbage: A head goes a very long way. And once I had it in the house, I found myself pulling it out all the time — a quick sauté here, a simple slaw there, a braised wedge one day, and roasted ribbons the next … Impressively adaptable and easily coaxed into something delicious, what I had previously considered an uninspired (if ever-present) member of the Jewish culinary chorus has rightly taken its place in the spotlight.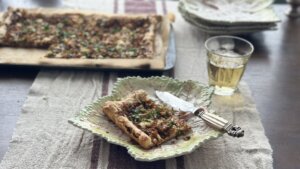 Caramelized Cabbage Tart
By Liza Schoenfein
2 tablespoons plus one teaspoon unsalted butter
1 pound Savoy cabbage, roughly chopped
½ teaspoon salt
¼ teaspoon pepper
1 clove garlic, minced (about 1 teaspoon)
¼ cup dry white wine (or vegetable broth or water mixed with a good squeeze of lemon juice)
1 sheet (14 ounces) frozen puff pastry such as Dufour, defrosted in the refrigerator 
½ cup grated aged gouda or gruyère cheese
2 tablespoons chopped fresh parsley and/or dill
Preheat oven to 400 degrees F. Line a baking sheet (13½  X 18 or thereabouts) with parchment paper.  

Heat a large skillet over medium heat and add butter. When butter has melted, add cabbage, using tongs or a wooden spoon to move cabbage around until it's coated with the butter. (You may have to add half the cabbage and wait until it cooks down a bit before adding the rest.) Cook cabbage, stirring occasionally. After about 10 minutes, when cabbage is wilted and pale golden (with some green remaining), add garlic and cook, stirring, 1–2 minutes. Add wine and use a wooden spoon to scrape up any brown bits on the bottom of the pan, incorporating them into the cabbage mixture. Cook, stirring, until liquid has fully evaporated, about 2 minutes. Taste for seasoning, and add more salt and pepper if desired.

Unfold puff pastry onto a lightly floured surface and roll out until it's approximately 13 X 18 inches. Transfer to lined baking sheet. Score the edges around the rectangle of dough with a sharp knife, making shallow 1-inch cuts perpendicular to the side of the pan every ¾-inch or so, being careful not to slice all the way through the pastry dough. Prick the dough all over (except on that scored edge), then spoon the cabbage mixture onto the dough, spreading it out evenly with the back of the spoon and leaving the one-inch edge. Sprinkle cheese over cabbage mixture. 

Bake for 25–30 minutes, until the edges of the pastry are golden brown. Remove from oven and wait at least five minutes before sprinkling with fresh herbs. Cut into squares or rectangles and serve hot or at room temperature.