Culture
Would you wait in line for 2 hours for a falafel? They certainly would.
For those in search of one of the greatest dining experiences in Paris, look no further than the Jewish quarter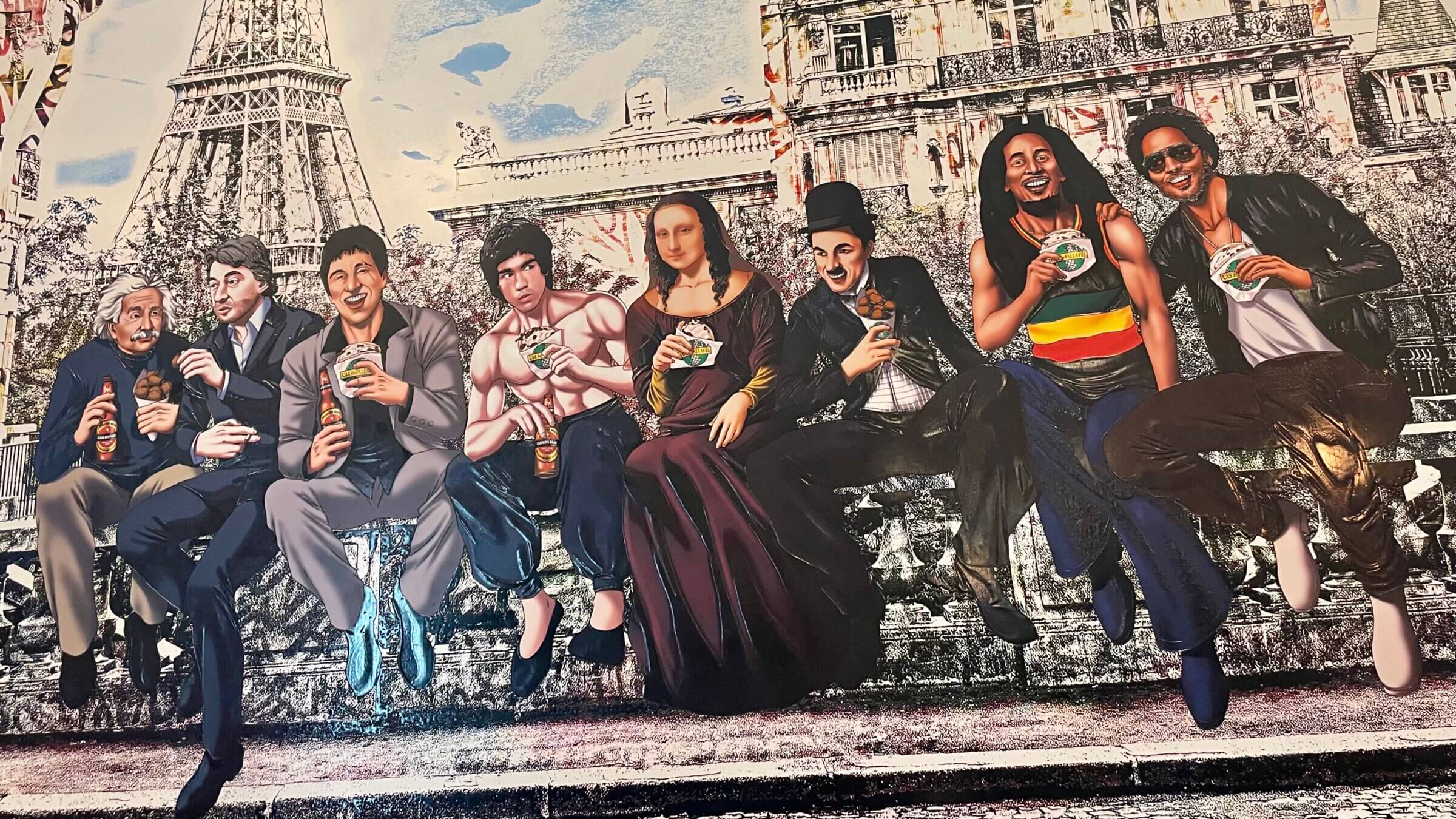 PARIS — I expected crowds like this at the Louvre, but when my teenager and I approached L'As du Fallafel on Rue des Rosiers in the Jewish quarter of Paris's Marais district, I was unprepared for a two-hour wait. 
"I was here last weekend and that's about how long it took," said the guy in front of us, who added that when he came back midweek the line was way shorter. 
"Oh, so you didn't stay on Sunday?" I asked.
"No, I did," he answered. "And then I came back on Tuesday."
Surely this man's insatiable need for falafel was a little excessive? In any case, I had no such resolve. There were not one but two lines — one commencing at the restaurant's door and snaking down the street to the right; the other originating at a take-out window and winding its way past several storefronts to the left. We'd started out in the restaurant line before abandoning it for the take-away one in hopes of a shorter wait. Neither seemed to move much.
"Teddy, I don't want to stand here for two hours," I told my teenager. "Could this falafel really be that much better than the stuff at these other places?" There were two within our immediate sightlines. I avoided making eye contact with our new friend as I laid out my case. We would be in Paris five more days and could easily come back, having first sampled the goods at one of the other spots for a proper compare-and-contrast. 
Hunger winning out over dedication, Teddy agreed.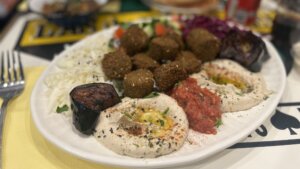 L'As is French for "The Ace" — and there was a shop dubbed King of Falafel just a few doors down. Within that one's Pepto Bismol-hued exterior, bright white fluorescents lit up a near-empty collection of blonde-wood tables. I felt a mixture of pity and curiosity.
We pushed through the door and sat down, ordering a falafel platter to share along with a side of extra falafel — the hungry teen's insurance against the prospect of any forthcoming deprivation at the hands of her mother. 
It's a bad sign when a restaurant is empty, sure. If rather than the smell of food one is hit with the overwhelming odor of bleach-forward cleaning products, that's clearly an issue too. Ultimately, though, it comes down to the food.
At first glance it all looked fine. But after an initial bite, Teddy began breaking each little chickpea ball in two. 
"What are you doing?" I asked, interested to watch the kid who habitually hoovers everything on her plate with serious intention uncharacteristically playing with this food instead. 
"There's almost nothing inside," Teddy said, holding up two halves of a fried falafel and showing me the near-hollow interiors. Meanwhile, I sampled a slice of eggplant and found it greasy beyond palatability. I don't want to kick a king when he's down, so let's just say we understood our mistake and left before long, looking forward to finally experiencing the Ace later in the week.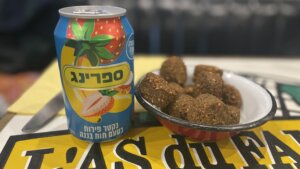 When the moment arrived — mid afternoon the following Thursday — we were relieved to find that there was almost no wait (though there was a red rope and man with a baseball cap stationed outside for crowd control) before we were welcomed inside. We were ushered to the back of the noisy, crowded restaurant and seated beneath a mural depicting a group of notable personalities — Lenny Kravitz, Bob Marley, Albert Einstein, Charlie Chaplin, and the Mona Lisa among them — each happily enjoying a falafel sandwich, the Eiffel Tower in the background. (Lenny Kravitz is apparently a huge fan, at least according to everything that's ever been written about L'As.) 
The menu, in French and English, informed us not only of the many dishes on offer — shawarma; schnitzel; merguez sausage; chopped liver; roasted cauliflower with green tahini. There was Israeli beer and a wine list with French and Israeli bottles, along with an account of the restaurant's history:
"Our adventure started in the late '70s," it began. "Isaac and Daisy, a Franco-Israeli couple, left Israel and brought along the flavors of the Middle East to France! … 40 years later, with a passion for our parents' culinary knowledge, we are pleased to offer you our know-how." The menu also noted that the restaurant, which is kosher, is closed on Friday night and Saturday, and that everything is homemade.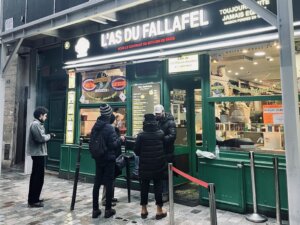 We placed our order — a falafel platter with extra falafel for Teddy, a side of eggplant in tomato sauce, and cans of Israeli fruit juice for Teddy and Coke for me — then reveled in the quality of the food when it arrived. The falafel was hot and crisp, its deeply browned exterior flecked with sesame seeds. The hummus and baba ghanoush were cool and very creamy, doused in olive oil and scattered with plenty of parsley. Nigella seeds dappled crunchy shards of pale green cabbage, while the purple slaw was perfect in its citrusy simplicity. Fat chunks of fried eggplant were tender without being greasy, and the chopped salad was fresh and bright, the diced tomatoes deep red and ripe even in winter. I filled a fluffy pita with an assortment of these elements and understood the hype at once. 
Teddy was silent, a happy vacuum hard at work. 
There is exceptional falafel to be had in New York — and I think it would be fun to make the rounds with the kid during another college break. But when in Paris, there's only one option: Nothing, of course, can beat the Ace.
___
Editor's note: This story has been updated with a Paris dateline.