Forwarding the News
Bibi arrives in U.S. to meet with Biden, Musk + Did a Jewish school close for being too open-minded?
Trump accuses Jews of voting to 'destroy America,' Netanyahu says Israeli protesters align with Iran and PLO, Disney debuts Spider-Man High Holiday special, and Dr. Ruth still has advice for you.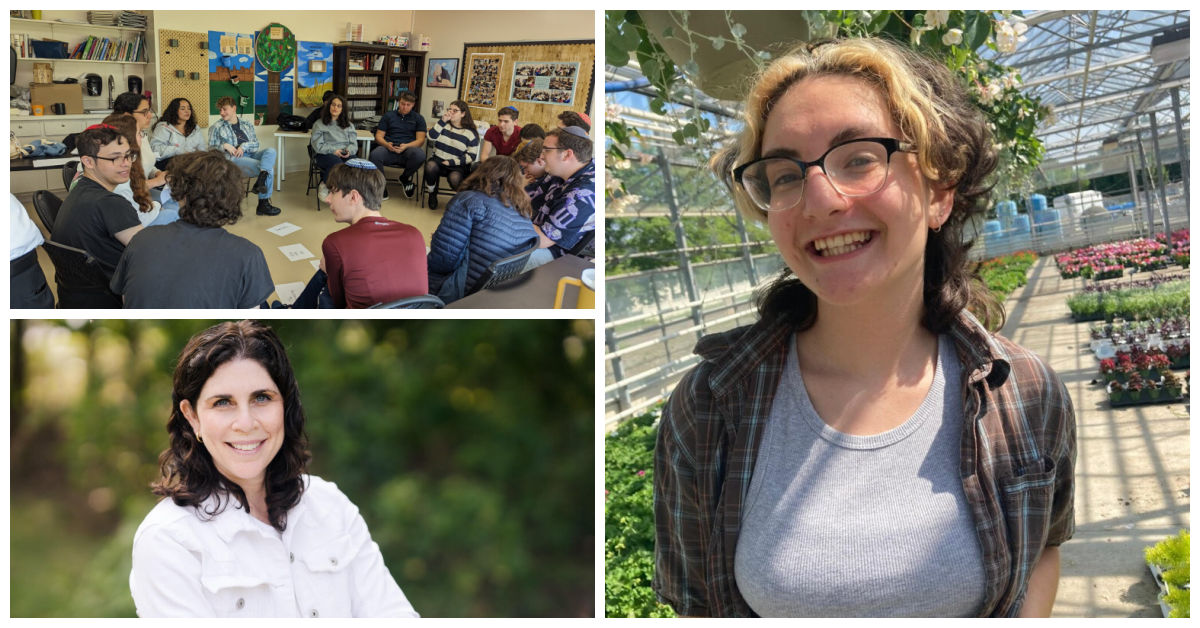 This article is part of our morning briefing. Click here to get it delivered to your inbox each weekday.
Girls wore pants. Prayer was optional. Was this modern Orthodox school too open-minded for its own good?
The Idea School in Tenafly, New Jersey, opened in the fall of 2017. In interviews, more than a dozen students and educators described it as a haven for kids who felt hemmed in by more traditional Orthodox schools.
But none of them will return to The Idea School. It shuttered in June. The community, according to many of its boosters, may not have been ready for it.
Jewish pride: Among those who felt drawn to the school were a number of openly queer students. Felicia Stendig, 19, who graduated in 2022, said that made it "very scary for a lot of people" because it introduced questions about traditional gender roles that many Orthodox families would rather avoid.
Uphill battle: Other factors, besides its unconventional approach, worked against the school, administrators said. It was difficult to spread the word about it because of pandemic closures. And some parents worried that students in the new school — unknown to most college admissions officers — wouldn't fare well after they graduated.

Looking ahead: For the school year that just began, most Idea School students now attend other modern Orthodox schools in the area, with a few opting to transfer to public high school. The school, say some who worked there, needed more time to prove itself.
Naomi Klein, right, often gets confused for Naomi Wolf, left, a fellow prolific author and pundit. (Getty)
Stan Polovets, co-founder of the Genesis Prize, in 2015 in New York City. (Getty)
WHAT ELSE YOU NEED TO KNOW TODAY
Israeli Prime Minister Benjamin Netanyahu at a cabinet meeting earlier this year. (Getty)
🗣️ Israeli Prime Minister Benjamin Netanyahu is set to have a one-hour meeting in Silicon Valley with Elon Musk at 12:15 p.m. today, which will be broadcast live on X, the social network formerly known as Twitter. Musk has recently been embroiled in a fight with the ADL over hate speech on the platform. (X)
🤦 Musk on Sunday posted on Twitter that the Soros organization, led by billionaire Holocaust survivor George Soros, "appears to want nothing less than the destruction of western civilization." (X)
🇮🇱 Netanyahu, who is traveling to the U.S. to meet with tech leaders in California and world leaders at the U.N. General Assembly, was met by protestors at Ben-Gurion International Airport. He accused Israelis protesting his government of joining forces with Israel's enemies, including Iran and the PLO. American Jewish leaders condemned his remarks. (Haaretz, Times of Israel)
🇺🇸 Former President Donald Trump accused American Jews of voting "to destroy America and Israel" by choosing President Joe Biden in the 2020 election. "Let's hope you learned from your mistake." He added: "Happy New Year!" (Haaretz, Times of Israel)
😢 Hebrew Union College in Cincinnati trained generations of Reform rabbis. It's now preparing to close. (Cincy Jewfolk)
🕍 UNESCO on Sunday named a collection of medieval Jewish sites in Erfurt, Germany, as a World Heritage Site. The group previously recognized German sites known as the birthplace of Yiddish and Ashkenazi culture. (AP, JTA)
What we're watching ➤ Lesley Stahl of 60 Minutes traveled to Israel to report on the weekly protests roiling the country, triggered by the government's judicial initiative to sap the Supreme Court of much of its power. Watch the segment here.

What else we're reading ➤ The Rabbi whisperer: A playwright helps sermon writers find their voice … In Ukraine, a Rosh Hashanah party not even war can stop … Dr. Ruth still has plenty to say about your sex life.
Barbra Streisand in Funny Girl. (Columbia Pictures)
On this date (1968): The film adaptation of the Broadway musical Funny Girl, starring Barbra Streisand in her movie debut as Jewish comedian Fanny Brice, premiered. It became the highest-grossing domestic film of the year in the United States, and Streisand won the Oscar for best actress for her role as Brice, in a tie with Katharine Hepburn for The Lion in Winter. "To see Streisand and Brice, their triumphs and their tribulations, is to see something of the 20th-century American Jewish experience," Liam Hoare wrote in a reflection on the film for the Forward.

Today is Tzom Gedaliah, one of six fast days on the annual Jewish calendar.
Thousands of climate change protesters rallied in Manhattan Sunday afternoon ahead of this week's U.N. General Assembly. They included a group from Brooklyn's Congregation Beth Elohim marching behind a "Jews for a world without fossil fuels" banner.
"Usually right now we'd all be home with our families, dipping our apples in honey," said their rabbi, Stephanie Kolin, a featured speaker at the event. "Instead I'm here today, praying with my feet." Jewish tradition, she added, "calls us to be shomrei adamah, protectors of the land, for our destiny is wrapped up with it."
—
Thanks to Mira Fox and Talya Zax for contributing to today's newsletter, and to Beth Harpaz for editing it. You can reach the "Forwarding" team at [email protected].