Looking Forward
Liz Cheney's stern expression at the January 6 hearings speaks volumes
An indelible image that calls to mind the photo of Kentaji Brown Jackson's daughter beaming with pride
This is an adaptation of Looking Forward, a weekly email from our editor-in-chief sent on Friday afternoons. Sign up here to get the Forward's free newsletters delivered to your inbox. Download and print our free magazine of stories to savor over Shabbat and Sunday.
My first taste of last night's Congressional hearing on the Jan. 6 insurrection came the old-fashioned way, via radio, as my daughter and I returned home from our weekly volunteer shift at the Manna Food Pantry.
The signature Mississippi drawl of Rep. Bennie Thompson, the Democrat who chairs the special investigative committee, filled up the car with its gravity and intention. My daughter, who is finishing ninth grade, said he sounded as if he were narrating a movie — "To Kill a Mockingbird" came to her mind.
In a way, he was. Over the next two hours, Thompson and his partner, Republican Rep. Liz Cheney, hosted an expertly curated multimedia experience unlike any Congressional hearing in history.
With revelatory clips from the committee's interviews with Jared Kushner, Ivanka Trump and Bill Barr; never-before-seen and brilliantly edited footage of the rioters; and a wrenching live interview with a Capitol police officer injured in the melee, the hearing instantly brought back that dark day for our democracy and made a devastating case for a conspiracy of culpability rooted in the Oval Office.
But in some ways the most powerful images of the night were the expressions on Cheney's face.
Throughout what can only be described as her prosecution of the case against President Trump, Cheney wore a look of profound disappointment and deep distaste. She was stern, gritty, fierce. Cheney, the daughter of a former vice president who risked her career to stand up for truth, seemed to take no joy or triumph in the moment. It was as though she would rather have been anywhere else, but patriotic duty demanded she do this exact thing.
And for some reason, it reminded me of a completely different but equally indelible image, from a completely different Congressional hearing, of a completely different daughter of a completely different public figure.
That image, of Leila Jackson beaming at the Supreme Court confirmation hearing for her mother, Ketanji Brown Jackson, went viral in March. Sarahbeth Maney, the 26-year-old who captured that moment, was then part of a one-year fellowship program at The New York Times, its first Black photography fellow.
She said in an interview with The Times that she wanted to cover the confirmation process of the first Black woman nominated for the Supreme Court "to provide the representation," and that she was standing on a step-stool behind the Senate when she captured that unforgettable frame.
"Before lifting my camera, I paused to process what her grin might mean," Maney, who is now a staff photographer at the Detroit Free Press, wrote in an essay for Oprah Daily. "I thought about how I might feel if it were my own mother sitting in that historic seat."
She went on to explain that she was "raised by a single mother who juggled three jobs," and how as a mixed-race woman — her mother is Mexican, her father Creole — growing up in a predominantly white community in the Bay Area, "my peers often dismissed me for being different."
"Perhaps that's why I noticed Leila's smile when many others in the room did not," she continued. "Leila's expression translated into, for me, affirmation for Black and brown women. Her gaze told me that we did indeed belong in that room, even though that room was not historically designed for us."
When we turned on the hearings last night, my kids had a lot of questions, as usual. Was it a trial? No. Would it lead to a trial? Not really, not directly. I reminded them that we had already been through an impeachment process relating to Jan. 6, which included a four-day Senate trial that ended in President Trump's acquittal. What's it for, then, they wanted to know.
I wasn't sure what to say. Many commentators this week compared it to Watergate, when 51 days of Senate hearings were broadcast gavel to gavel in 1973, followed by seven House impeachment hearings in 1974, leading to President Richard Nixon's resignation. But these hearings were taking place post-impeachment, nearly 17 months after President Trump departed the White House.
And while the first one was broadcast live, in prime time, by every network except Fox News, we now live in an era where viewers can easily opt out by streaming Netflix or getting lost in YouTube or TikTok, as my son did while my daughter and I watched the hearing.
The Watergate hearings uncovered blockbuster evidence of wrongdoing that made the country collectively gasp. After Trump's impeachment, copious investigative journalism and the prosecution of hundreds of the rioters, didn't we already know everything there was to know about what happened on Jan. 6?
I was afraid that the hearing might be just another act of political theater in our hopelessly polarized country. But I was wrong.
Yes, the show that Cheney and Thompson put on had political undertones, of course, and there may be real political implications for this year's midterm elections and for the longer-term prospects of people including former Vice President Mike Pence, Jared and Ivanka, and Cheney herself.  But it was a show grounded in substance, with so many images now etched in our collective memory.
The noose the rioters set up across from the Capitol. The toppling of the bike-rack barricade and, with it, Officer Caroline Edwards, and Edwards' chilling description of "a war zone." The obscene hypocrisy of men breaking the windows of the Capitol to storm inside with American flags.
And Liz Cheney's stoic and sad, resigned and resolute facial expression.
When I saw Sarabeth Maney's photo of Leila Jackson back in March, I had the same feeling that many other moms expressed on Twitter: I can only dream that my kid will look at me like that someday. "We marvel at our children this way all the time," noted one observer, "but how often do we catch this level of pride and adoration from child to parent?"
Last night, I found myself thinking, too, about former Vice President Dick Cheney. The Times reported that his daughter had discussed her remarks with him on Thursday afternoon, and that he and his wife, Lynne, watched the hearing from their home in suburban Virginia.
I bet the looks on their faces were as proud as Leila Jackson's.
Your Weekend Reads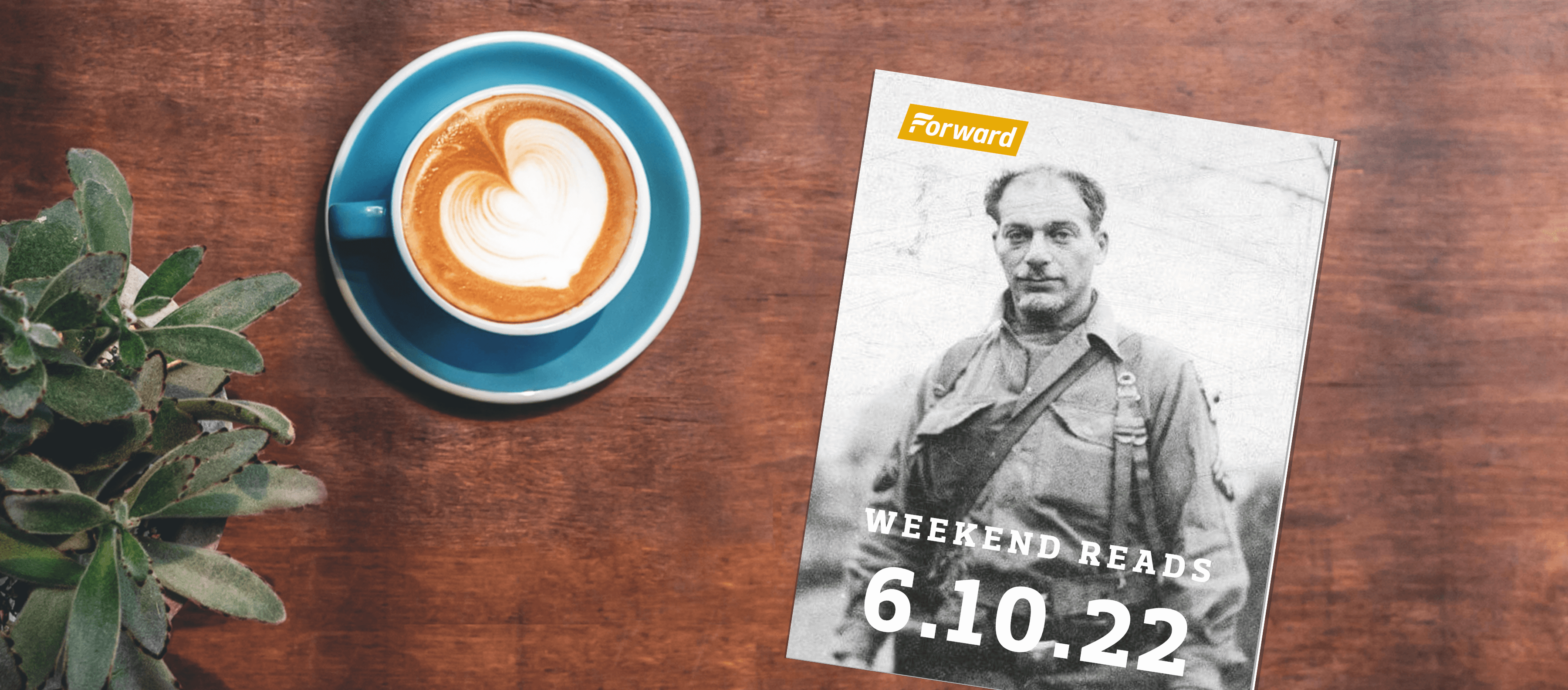 That's David Jackendoff on the cover, father of our newest employee, Beth Harpaz. On the anniversary of D-Day, Beth wrote a personal essay about how he fought the Nazis at Normandy — and relived it every night at the dinner table. Also in this edition: Rob Eshman uses the post-Holocaust experience to examine a California report on Black reparations; Mira Fox interviews the most famous kosher baker in Australia; and PJ Grisar on a new book about Pope Pious XII's silence during the Shoah.
Download the printable PDF here.