Looking Forward
The big question nobody's asking about Andrew Yang's new political party
'Not Left, Not Right. Forward.' may be a losing political formula but its not a bad mantra for a news organization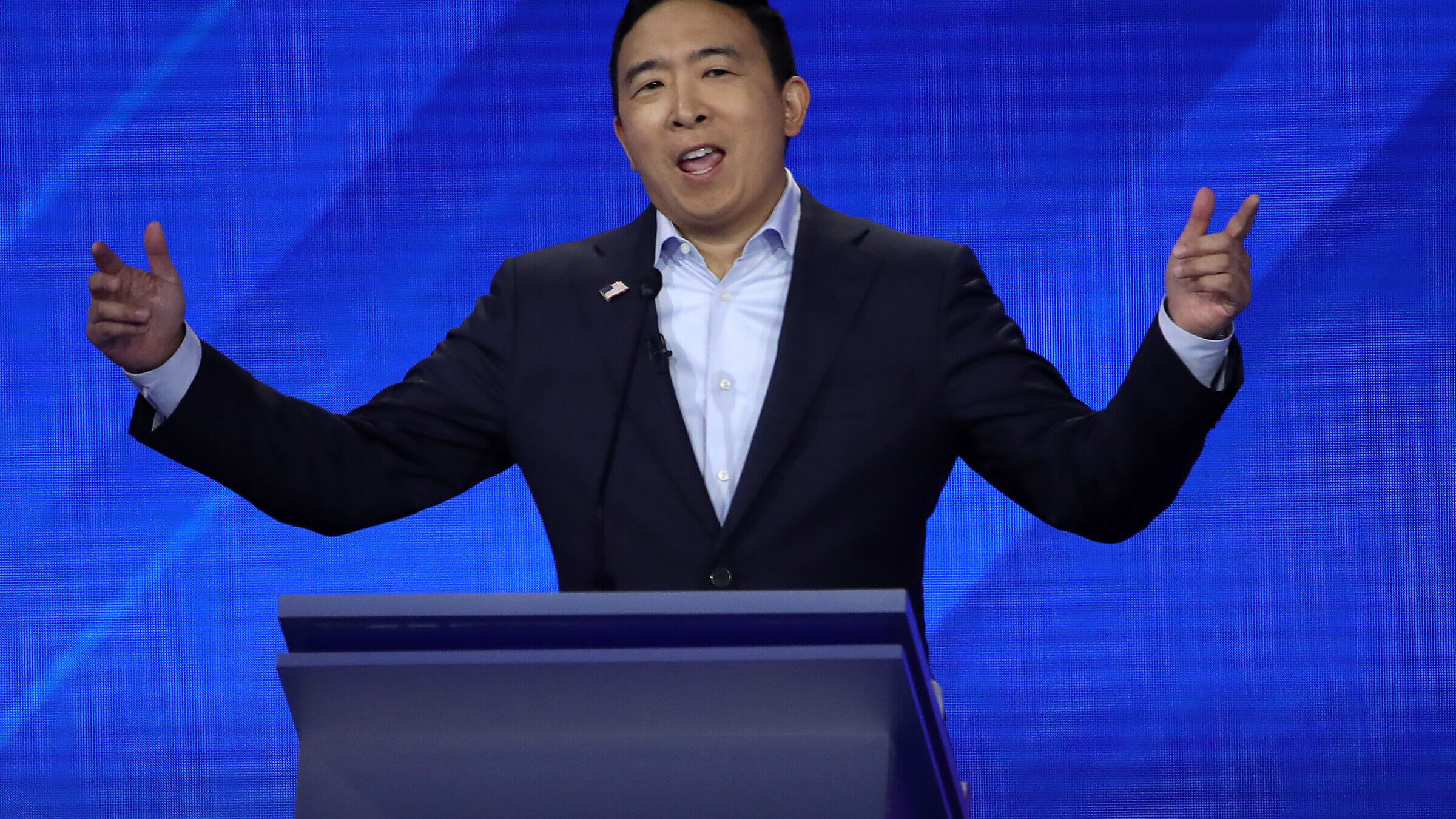 This is an adaptation of Looking Forward, a weekly email from our editor-in-chief sent on Friday afternoons. Sign up here to get the Forward's free newsletters delivered to your inbox.
The big question nobody is asking about Andrew Yang's new political party has to do with capitalization. To wit: Should the "the" in "The Forward Party" be capitalized.
I admit this is of little importance and perhaps of little interest to even the relatively small number of people who care about Yang's political future or the prospects for any third party in our hopelessly troubled polity. But it is of great interest to me, as I have been struggling with the "the" in the very similar and profoundly poetic name of this venerable institution since I started this gig almost three years ago.
I am inclined to capitalize the "the" in The Forward. This is undoubtedly partly because I spent 21 years at The New York Times, where "The" is capped in the flag — that's what insiders call the name of the publication at the top of a website or newspaper. The "The" is part of the name.
It is also, however, because it makes more sense and sounds better. I do not think of myself as editor of Forward or forward.com the way, say, our former intern Ben Smith was editor of BuzzFeed News or our former culture editor Alana Newhouse is editor of Tablet. I run The Forward.
Except, not. The "the" is not part of our official name, and some folks who've been toiling here a lot longer than I have — and who spent a lot of time and money coming up with a new flag for our website some years back — do not like it when we capitalize the "the." And so I try to restrain myself.
One of the handful of folks who might possibly relate to this conundrum, Seth Lipsky, who founded the English Forward in 1990, called me after Yang and former New Jersey Gov. Christine Todd Whitman announced The Forward Party (the Forward Party?) last week. He was unconcerned about the capitalization questions, but thought I should write a column about the new party, about this venerable institution's history with third parties, about what the Forward stands for. So here we go.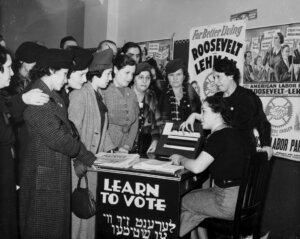 Seth, now editor of The New York Sun, is also one of the world's experts on the history of the Forward and author of a book on its pioneering founding editor, Ab Cahan. He reminded me that our predecessors, who had borrowed the name "Forward" from the German Social Democratic Party's paper, "Vorwärts," actually helped create two third parties.
First, in 1936, wanting to support Franklin D. Roosevelt but not Tammany Hall — New York City's corrupt Democratic political machine — the then-Jewish Daily Forward was part of a coalition that created the American Labor Party. It was modeled after Britain's Labour Party and active mostly in New York, co-endorsing candidates from the Democratic and Republican parties who shared the paper's pro-labor agenda rather than running people on its own. It helped elect New York's first Jewish governor, Herbert H. Lehman, who collected 262,192 of his nearly 3 million votes from the ALP line.
But the party was soon taken over by communists, and the Forward was staunchly anti-communist. So in 1944 it helped launch the Liberal Party of New York, which supported FDR in 1944, then Harry S. Truman in 1948, JFK in 1960, and John B. Anderson in 1980, among other presidential contenders, as well as the NYC mayoral campaigns of Republicans John Lindsay and, alas, Rudy Giuliani.
The Liberal Party's influence waned in the 1980s, and while it still exists on Twitter and Facebook, Wikipedia says it last endorsed candidates in 2017, for the New York City Council. The Working Families Party to some extent took its place, though it is decidedly farther left, and the Green Party is also active in New York.
But, generally, third parties do not have a history of great success in these here United States. It's too bad, in a way, because the span of ideologies that each of the mainstream parties try to encompass is lately stretching to the breaking point. Liz Cheney and Marjorie Taylor Greene hardly seem to have any values in common, and there's likewise a pretty vast gulf between the policy priorities of Kamala Harris and Alexandria Ocasio-Cortez.
Ideological extremists tend to do well in primary elections where party stalwarts turn out, while moderates fare better in general elections. Would voters not have clearer choices and be better represented by perhaps four or six parties with narrower ideological spectra and priorities?
Now come Yang and Whitman and David Jolly, a former Republican Congressman from Florida, with the (The?) Forward Party, which they say stands "for doing, not dividing," and, as Yang said in a YouTube video, is "Not Left. Not Right. Forward."
Seth Lipsky was not impressed. "The Forward is the paper that made that word famous in the Western world," he said, "and it's got the most magnificent tradition." Now, he added, "somebody pipes up with a political party called the Forward" that seems oblivious to that tradition, which Seth defined as "an anti-communist, pro-labor, democratic combination;" centrist, pro-immigrant; looking for "slow but steady" progress.
The Forward Party opened with what might be politely called tepid reviews. Andrew Gawthorpe of The Guardian called it "a vanity project," Stuart Rothenberg of Roll Call described its announcement as "a bunch of gobbledygook." Writing in The Washington Post, Seth Masket took issue with the lack of a real platform.
"By design, the Forward Party doesn't stand for much of anything," Masket said. "Yang has been talking this up as one of the party's major selling points, promising, oddly enough, parties without interests."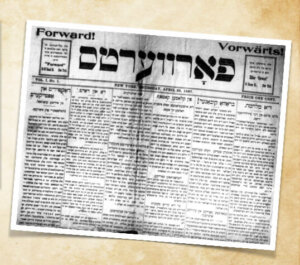 This may indeed be a losing formula for a political party, but it's not a bad one for a news organization. I particularly like the "Not Left. Not Right. Forward" formulation. It reminds me of the original formulation of our flag, where the paper's name was rendered, alas, without a definite article but with an exclamation point: Forward! 
Originally staunchly socialist, the Forward has since 2009 been a 501(c)(3), and thus legally cannot endorse candidates or otherwise take partisan political positions. I'm more than fine with that: the Forward I run has no ideology beyond that of inquiry; we are passionate about finding stuff out and sharing it with the world, regardless of whose "team" it helps or hurts, about pursuing truth wherever it takes us, without fear or favor.
We strive to fairly and empathetically represent all parts of the American Jewish story, and all perspectives of our diverse communities, regardless of politics, race, religiosity, sexuality, age and geography. We want you to see yourself reflected in our pages but also respectfully challenged by them. We're fiercely independent, and our other core values are integrity, courage, accountability and a reveling in the richness of Jewish culture and history.
Not left, not right — Forward.