Looking Forward
How news veteran Ben Smith got his start in journalism — at the Forward
As a summer intern in 1998, he 'fell in love with journalism, with beat reporting'
Before he helped reinvent daily journalism as editor of BuzzFeed News, before he wrote the vaunted media column for The New York Times, before he produced a string of scoops about Barack Obama's 2008 presidential campaign at Politico, and more than 24 years before he launched the new global news organization Semafor this fall, Ben Smith reported that rugelach might be entering the mainstream.
The year was 1998. Smith was a rising senior at Yale University. He was on assignment at the 44th Annual Fancy Food Show at the Javits Center. Yes, he was a summer intern at the Forward, an experience he credits for, well, his career.
"The Forward is where I fell in love with journalism, and with beat reporting," Smith told me. "There's something really amazing about covering a community that cares about what you write, that holds you accountable for what you write, and where your reporting has impact inside that community. Which is true of all good reporting, but was really palpable at the Forward."
As Smith remembers it, he "wanted to do journalism in New York" and "somebody put me in touch with Seth Lipsky" — the legendary editor who founded the English Forward in 1990 — so he ended up as one of about 20 interns in the newsroom, then housed at the Workmen's Circle building in Manhattan's Garment District.
"I think basically anybody could be a Forward intern," he laughed. "There was very little structure. There was sort of a pool of interns, and there was stuff people wanted done, and you stuck your hand up, and if you got it done fast, you stuck your hand up again. And if it was good, the editor would give you another assignment."
That's just how I remember my own summer internships, at the Middlesex News and the Chicago Tribune and the Los Angeles Times, in the early 1990s. Figure out what your boss needs most and exceed their expectations. Smith clearly put up his hand a lot, and "it was good."
His bylines — "Benjamin Smith" back then, he switched to "Ben" on the advice of Peter Kaplan years later when he worked at The New York Observer — topped articles about slam-dancing in the Catskills and an 88-year-old apothecary where you could get shark cartilage to soothe your arthritis. He wrote about "twice-fried pommes frites with fixings" and the sports super-agent Leigh Steinberg's book about integrity. He covered stabbings at a Jewish cemetery in Queens, a union calling for the end of sanctions on Iraq and a diamond merchant selling "Torah cards" — think baseball cards, only with biblical figures.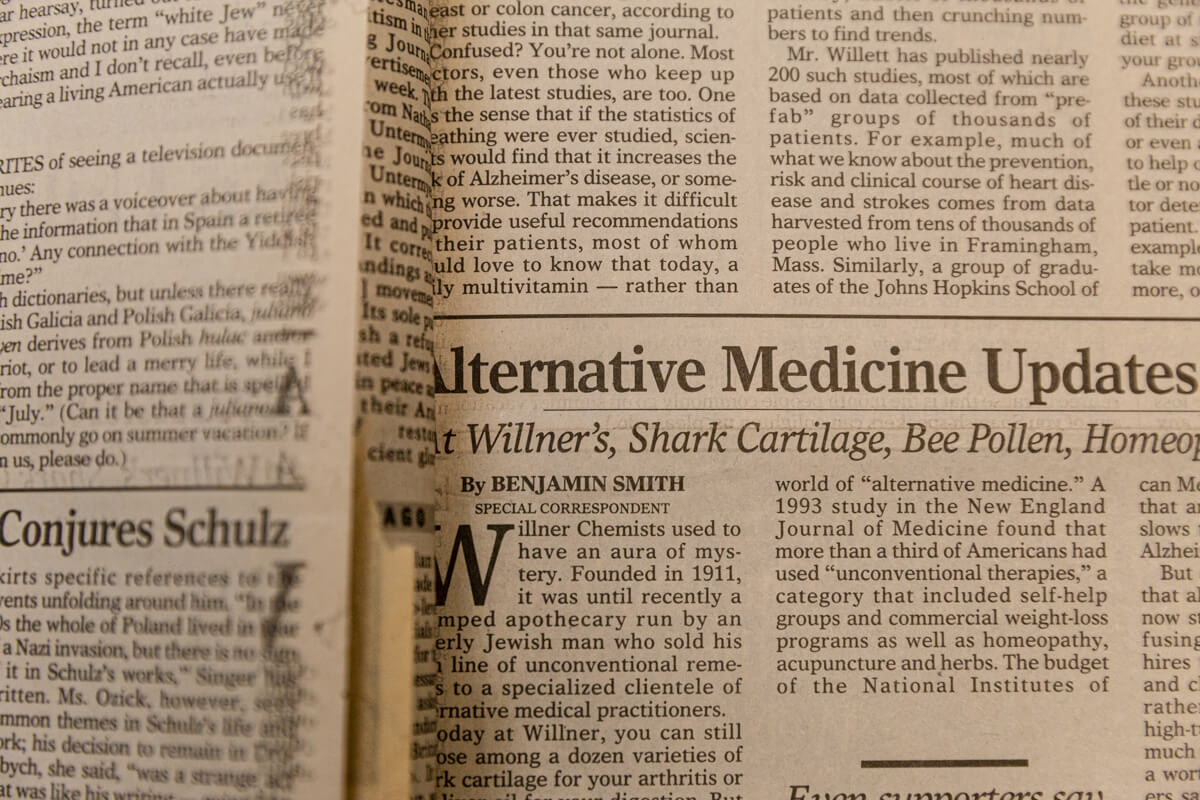 Mostly, though, Ben Smith wrote about a state Senate race on the Upper West Side — where he'd grown up — that launched the career of one Eric Schneiderman, who rose to become New York's attorney general and fell hard amid accusations of sexual misconduct. Back in that first campaign, Smith scooped that Schneiderman had taken a $5,000 donation from a Saudi prince, and the candidate gave it back.
"I just, like, immediately loved covering politics," Smith said. "Seth brought this sense that the Forward was the inheritor of a really, truly, great tradition. Just a sense of the publication, which I think a lot of small publications do not have, that it has this past and potential future as a world historical player, not just a community newsletter. Which made it really fun."
He was so into the Forward that he took Yiddish classes at the Workmen's Circle. Lipsky tried to convince him to join the staff rather than return to Yale. His mom convinced him not to. After graduation, Smith worked at the Indianapolis Star, then at the Baltic Times in Latvia. When 9/11 happened, he "wanted to come home," and called Lipsky, who was no longer with the Forward and was about to relaunch The New York Sun. Smith was one of its first staffers.
He went from there to The Observer, then the New York Daily News, then Politico, then BuzzFeed, then The Times and, now, Semafor, a newsletter-driven startup that launched in mid-October with 50 employees and $25 million in funding.
"Semafor" references a maritime and railroad system of signaling with flags, and is a word that sounds the same in many languages — which is meant to reflect a core principle of the new publication: that stories are inherently global.
"The world is so interconnected," he explained. "If you just think about the great stories of this moment. The rise of right-wing populism, COVID, social media, inflation. Not, like, global stories in the sense of, 'Oh, interesting, there's a pattern,' but global stories in the sense that you really misunderstand them if you think of them as American stories. I think the rise of antisemitism is another really good one.
"Not to say that there aren't incredibly irresponsible people in the United States that are doing things that are part of the story," he added, "but it's something that's happening all over Europe, and across other parts of the world. It makes sense to understand it as a global story."
I wanted to talk to Ben about Semafor, and about the Forward, because he embodies perhaps more than any other journalist I know a balance between loyalty to the historic values that root our profession and vision to reinvent how they are expressed. It's what our old boss Dean Baquet, former executive editor of The Times, says is key to innovation: the ability to distinguish between tradition and habits.
Tradition is the unchanging essence of what we do and who we are — skeptics, finder-outers, storytellers, accountability-holders. Habits adapt to time and technology: back in 1998, print newspaper articles; today, newsletters like this one and Semafor's.
Today, Ben said, readers are interested in big global stories like the the war in Ukraine and climate change — and in hyper-sub-local information like whether the bagel store on the corner has changed its hours. "Next Door and Facebook actually are pretty decent at getting you the hours of the bagel place in a way that print never was," he said. As for the day-to-day news items about crime and city councils that filled the metropolitan dailies we both grew up working at, it's a puzzle we're all still trying to figure out.
"If there's a murder on your street, you will read any amount about it," Smith noted. "If there's a murder in another borough, I don't know. If it's very lurid, you will read about it, but if it was in Turkey and it was very lurid you would read about it. People's attention and interest doesn't actually map to the metro-area."
The Forward sits in an interesting place on that map, serving not a metro area but an ethnic community — or, really, a collection of diverse communities with a common identity, Jewish, but many, many, many definitions of what that even means. As we continue to celebrate and reflect on our 125th anniversary year, it was inspiring to hear perhaps our most famous former intern talk about his very formative Forward experience.
The Forward "took itself seriously" and "really punches above its weight," he said. "A small publication that is nominally the publication of a specific community can really hit really hard, nationally and internationally, when it wants to."
Amen.
---
While I have you, I'm on the hunt for the next Ben Smith. Interns earn $15 an hour, up to 29 hours per week, and get to do as much as they stick up their hands for. Our innovation editor — and former intern — Talya Zax coordinates the program. Send a cover letter, resume and clips to [email protected].
---