Looking Forward
We need to stop singing the same song about Israel — or it's not going to be OK
Israeli Jews — and the Americans who support them — have been singing the same song for too long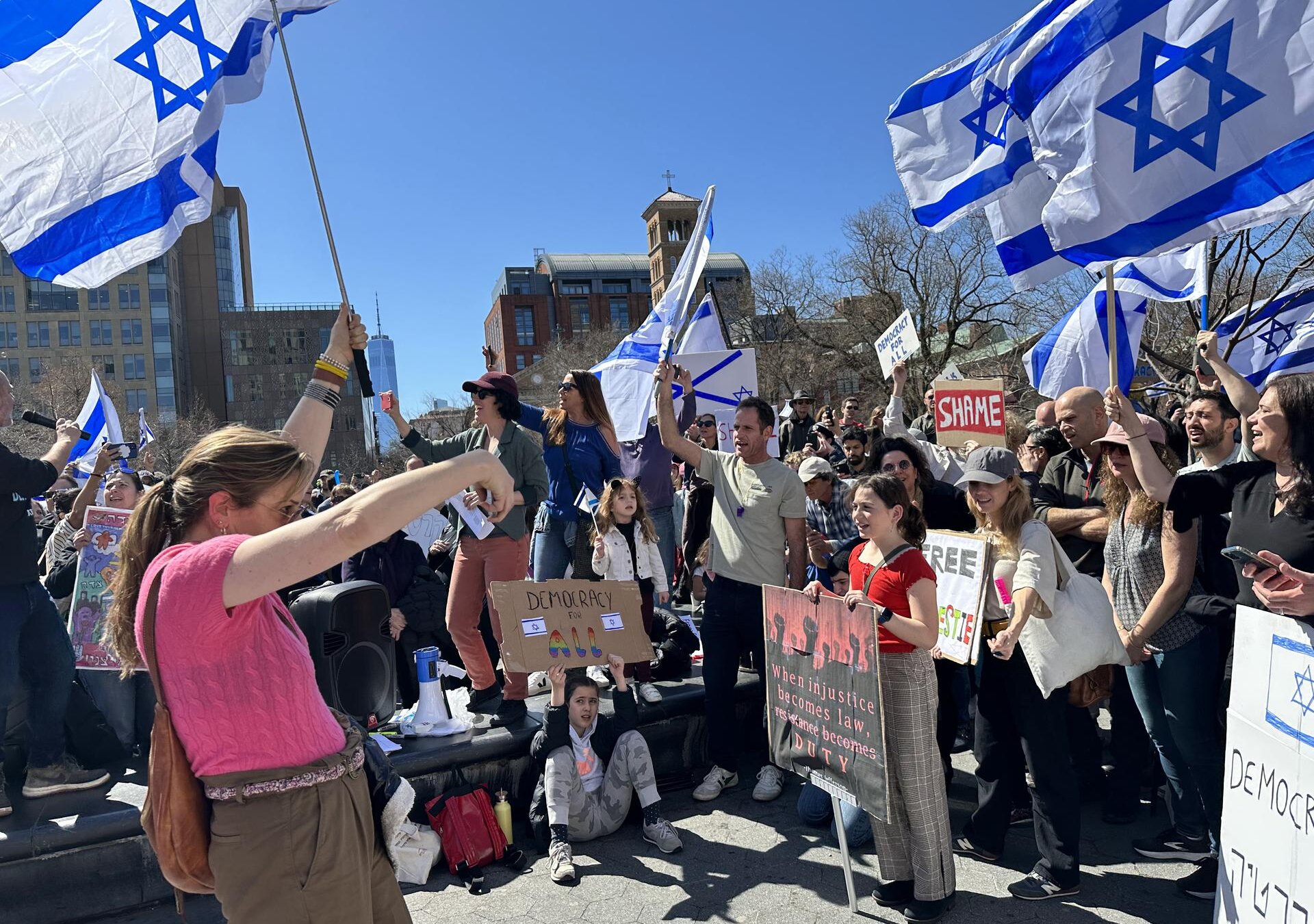 This is our editor-in-chief's weekly newsletter. Click here to get it delivered to your inbox on Friday afternoons.
The protest against Israel's anti-democratic judicial overhaul last Sunday in New York's Washington Square Park ended with David Broza's beloved peace anthem, "Yihye Tov." It's a gorgeous, hopeful, painful song of yearning whose title and refrain translate roughly to "It will be OK."
Broza, the folk-rock singer-songwriter sometimes called the Israeli Paul Simon, wrote the song with the great poet Yehonatan Geffen in 1977 upon Egyptian President Anwar Sadat's historic visit to Jerusalem. They've added umpteen verses through the tumultuous last four decades to address seemingly every crisis Israel has faced.
And after each one — each war in Gaza, each Palestinian uprising, each settlement expansion or IDF incursion or religious repression or stalemated election or fallout with Washington or contretemps at the United Nations — we are left with the same echoing refrain: It will be OK.
Except over the past three months — and, especially, last Sunday and Monday, when Prime Minister Benjamin Netanyahu fired his defense minister for opposing the plan to gut the Supreme Court, and the nation erupted in protest — it's become increasingly clear that it's not OK. Maybe it's never been OK, and it may well never be OK.
Israeli Jews and the Americans who support them have been singing this song too long.
Under intense pressure from the Biden administration and a crippling national strike that shuttered schools, shopping malls, the airport and 200 McDonald's franchises, Netanyahu succumbed Monday night and halted for at least a month his self-serving and Draconian plan to undermine Israel's status as the Middle East's strongest democracy.
But this is at best a temporary reprieve to the forces tearing Israeli society apart and threatening to make it an international pariah, and we must not be lulled into thinking it will be OK in the end.
Nearly 56 years into Israel's "temporary" occupation of the West Bank, the status quo is simply not sustainable. And after 12 consecutive weeks of mounting protests against the most right-wing government in Israel's history, neither is the political and religious hegemony inside Israel itself.
Not if it is to remain a democracy, an ally of the United States and a beacon for we Jews of the diaspora. The country's lack of a clear constitution protecting the tricky balance between its Jewish character and its democratic principles has left it in present danger of imploding.
Reasonable people are talking in serious ways about civil war. Hi-tech entrepreneurs are fleeing, Americans planning to make aliyah are reconsidering, military reservists are not reporting for exercises, the shekel is faltering.
The other day when I texted a friend in Jerusalem to check in, she responded, "Well, a Jewish State was an interesting experiment while it lasted."
And when I spoke Monday with Barry Shrage, a center-right Zionist who headed Boston's Jewish federation for three decades, he likened today's extremists to the zealots of the year 70 C.E., who burned their own food stocks during the failed effort to ward off the Romans from seizing control of Jerusalem and destroying the Second Temple. "They're threatening to commit suicide," he said.
As I prepare for the Passover Seders next week, I'm grappling with how to approach the closing line, "Next year in Jerusalem!" For most of us, it's less about aspirational travel than about the idea of a city of peace that is the capital of a Jewish and democratic state.
How can we say it with Jerusalem now in the grip of leaders who seem to lack both democratic and Jewish core values? With the real possibility that this could be yet another period in our tortured history when Jewish control of Jerusalem proved fleeting?
Israel will soon turn 75. I hope the protesters are back on the streets for Independence Day April 25-26, demonstrating vividly what democracy looks like, and demanding it be preserved. And if they sing "Yihye Tov," I hope they will do so with skepticism.
Because it is not OK — in fact Israel's attorney general has said it is illegal — for Netanyahu, who is on trial for corruption, to mess with the judicial system at all.
It is not OK to strip the Supreme Court of its ability to review bills passed by Parliament. It is not OK to give the Knesset majority control over the appointment of judges.
It is not OK for Haredi rabbis to assert their misogynistic fanaticism over religious matters including marriage, conversion, kashrut and prayer at the Western Wall.
It is not OK for Itamar Ben-Gvir — who was deemed too extreme to serve in Israel's military — to be minister of national security. And it is definitely not OK for Netanyahu to placate Ben-Gvir, as he did Monday, by promising to create a National Guard under Ben-Gvir's control.
It is not OK for Bezalel Smotrich — who said Palestinians do not exist and called for a West Bank town torched by Israeli settlers to be wiped off the map — to remain as finance minister.
And, no, it is also not OK for Palestinians to have rejected innumerable peace plans, to launch rockets or send suicide bombers into Israel, to celebrate with sweets the latest murderous attacks on Jews. But this column is not about them; they do not sing "Yihye Tov."
Finally, it is not OK for American Jews who love Israel or care about its future to sit this one out.
At the rally on Sunday, the speeches were in English, but the chatter in the crowd was mostly Hebrew, because nearly everyone was Israeli. If waving signs and singing peace anthems is not your thing, you could call the White House or your Congress member and say you think military aid to Israel should be conditioned on the judicial overhaul being not just paused but scrapped.
Yes, protecting Israel's security is paramount, both so it can be a safe haven for the world's Jews and because it is Washington's most reliable ally in a volatile region. But the existential threat to Israel's survival today is its own government. And the U.S.-Israel alliance is supposed to be rooted in shared values — democratic values.
You could hang up an Israeli flag next to a sign about democracy. You could make a donation to the Israeli Democracy Institute. You could pull out of a planned trip to Israel — or better yet, go and join the protesters in the street.
It's become increasingly clear that it's not OK. Maybe it's never been OK, and it may well never be OK. Israeli Jews and the Americans who support them have been singing this song too long.
I first heard Broza sing "Yihye Tov" in the summer of 2012, at his annual concert at the foot of Masada on Tu B'av, Israel's Valentine's Day. It was a surreal experience: leaving Jerusalem at midnight and driving through the desert for a three-hour-plus concert that culminated in this anthem as the sun rose over that legendary, tragic fortress where nearly 960 Jewish rebels are said to have committed mass suicide 2,000 years ago rather than succumb to the Romans.
Everyone around me seemed to know every word, having lived the song's many verses. It was beautiful but also very sad.
All those years after Sadat's visit, after two intifadas and two wars in Lebanon and the assassination of Yitzhak Rabin, the peace process was in tatters. The chasm between religious and secular was growing, tensions over the nature of Israeli democracy building, Netanyahu was fear-mongering and race-baiting to push the country to the right, and Israel's promise was becoming more elusive for young American Jews to embrace.
In May 2020, when Zoom events were still a novelty, I hosted Broza for a "concert-versation." We called it "Yihye Tov" and I asked him what it meant to play the anthem at that terrifying time, when it was so clear things were not OK.
"What am I going to keep otherwise — despair? Cynicism?" he asked me back. "This is the essence of our life, hope and belief that things will be better. This is our motto, this is our philosophy."
(You can watch the whole thing here; the "Yihye Tov" part starts at 24:50.)
This past Monday, as Israel was convulsed by protests and Netanyahu finally pressed pause, Broza was in Seville, Spain. And, yes, he played "Yihye Tov."
"I play it every night, and it resonates with so much hope and sadness," he told me Tuesday morning. "People's voices make it a very hopeful and needed song. As the situation is getting worse, the song becomes more meaningful."
Maybe. But we cannot keep singing the same song and expect different results.
If you like this newsletter, please Forward it to a friend.
Or click here for a Web version you can post on social media.
And to make sure the next one doesn't land in your spam folder, please add [email protected] to your contacts.
Thanks to Matthew Litman for contributing, and Adam Langer for editing.
Shabbat Shalom and Chag Sameach!
A lot of you had a lot to say about last week's newsletter, in which I explored the surprising sticking power of matzo — and not just to your gut. Our incredibly unscientific survey suggested a strong preference for changing our official Forward spelling of unleavened bread to m-a-t-z-a-h, and the more than 130 reader responses revealed a delightful array of family histories, linguistic lessons and hilarious one liners. Matthew Litman has the highlights.
YOUR WEEKEND READS
A FREE, PRINTABLE MAGAZINE OF STORIES TO SAVOR OVER SHABBAT AND SUNDAY
| | |
| --- | --- |
| | For Opening Day, we've got a look back at the major leaguer they called the Designated Hebrew. For Passover, we've got ideas for what to make with the new Trader Joe's brand matzo and an evolutionary twist on gefilte fish. Plus: A Black and Jewish family's efforts to keep the Haggadah relevant, a high school student who is tired of defending Israel, Robert Kraft's $25 million ad campaign against antisemitism, and the real story behind Sammy Davis Jr.'s conversion to Judaism. |
WATCH: THAT JEWISH NEWS SHOW
Benyamin and Laura had as their guest this week a man who has traveled the world to make all kinds of kitchens (and other things) kosher for Passover. Plus, their picks for Tzadik — and Nebbish — of the Week!
JOIN THE CONVERSATION
UPCOMING EVENTS
Behind the Curtain: Actors from Anne Frank reunite after 70 years
Sunday @ 3 p.m. ET / 4 p.m. PT | NYC or online

Meet the people who appeared in the original Broadway production of The Diary of Anne Frank in 1955 and a national touring company that followed. They'll be talking to Adam Langer, host of our hit podcast diving deep into the show's cultural history, about the impact it had on their lives.
WHAT'S THAT ON YOUR SEDER PLATE?
Two years ago, I wrote about the custom of adding an orange to the Seder plate, which I see as being not just about feminism or LGBTQ+ rights, but about the very essence of evolution in Judaism. This season, our contributors Jon and Toni Michaels shared the story of how their mosaic of a platter represents their family's Ashkenazi and Black identities — and their politics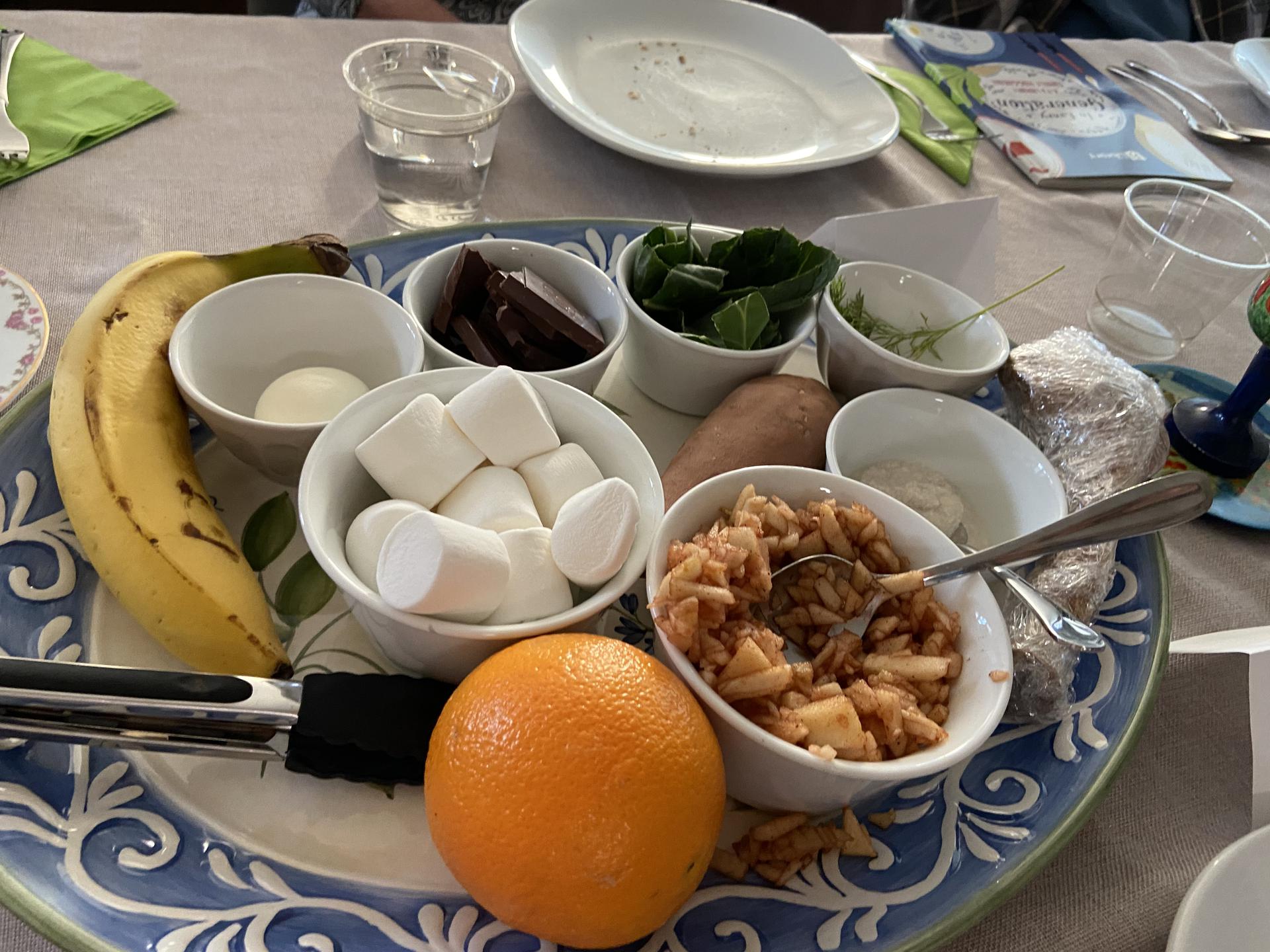 The banana is for "displaced or otherwise unhoused persons," Toni told me. Fair-trade chocolate: "To focus our attention on ongoing forms of labor oppression." And collard greens — which she said were one of the few crops Blacks could grow for themselves during slavery — to help make a holiday that inevitably tilts more towards Jon's Jewish family stay connected to Toni's, where collards are a staple for other holidays.
What about those marshmallows? Toni acknowledged they were "a bit of a cheat."
"I'm not sure why we didn't have cotton balls on hand last year, but we didn't," she explained. "Obviously, cotton is inextricably tied to American chattel slavery; we soak cotton balls in vinegar to ensure that an item we normally associate with softness and comfort stings our senses.
"On the night the photo was taken, we called an audible and used marshmallows because they look like bales of cotton," she added. "Because they surely represent the sweetness of freedom —and the kids really, really enjoyed them — we're likely going to add them alongside cotton balls when we gather next week."
I might, too. After all, as our Mira Fox reported, kosher-for-Passover marshmallows are a thing.