Nazi collaborator monuments in Moldova

There are hundreds of statues and monuments in the United States and around the world to people who abetted or took part in the murder of Jews and other minorities during the Holocaust. As part of an ongoing investigation, the Forward has, for the first time, documented them in this collection of articles. For an initial guide to each country's memorials click here. For a 2022 update to the investigation, click here.
---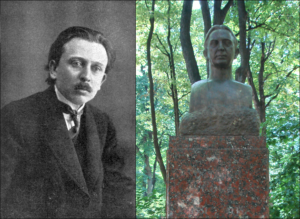 Chisinau and two other locales — The Alley of Classics promenade in Stephen the Great Park has a bust to the poet Octavian Goga (1881–1938). Goga served as Romania's prime minister; a fascist and consummate hater of Jews, he had cofounded the National Christian Party, which had a swastika in its logo and engaged in antisemitic violence. As prime minister of Romania, Goga enacted laws stripping a third of his country's Jews of citizenship. "Briefly, we have far too many Jews," he told the New York Times before passing the laws. At least 12,000 Roma and 280,000–380,000 Romanian and Ukrainian Jews were murdered during the Holocaust in Romania.
Goga also has a street in Chisinau as well as in Glodeni and Hînceşti. See the Romania section for more Goga honors.

Chisinau — A plaque commemorating "the liberation of Bessarabia and Northern Bukovina by the Romanian army," in Chisinau's Valea Morilor Park. In 1940, the Soviet Union forcibly annexed the regions of Bessarabia and Northern Bukovina from Romania. The Soviet takeover didn't last long – a year later, Romania invaded the USSR alongside Nazi Germany, recapturing Bessarabia and Northern Bukovina. The plaque in Chisinau celebrates that recapture.
The problem is that in the process of "liberating" Bessarabia and Northern Bukovina, Romania slaughtered the regions' Jews and Roma. The fascist dictator Ion Antonescu ordered the immediate "cleansing" of Jews: Romanian forces working alongside Nazi death squads complied, murdering 150,000 Jews in Bessarabia alone within one month of the invasion. The rest of the regions' Jews were imprisoned in ghettos and forced on death marches to Transnistria, where the survivors were promptly murdered. In 1940, Bessarabia had 200,000 Jews; by May 1942, there were 227 left. That's what the Romanian "liberators" being honored by Chisinau's plaque did to Bessarabia and Northern Bukovina.
The plaque, which was unveiled in October 2021, is part of a larger WWI monument that was restored with the support of the Romanian government. (The original monument commemorates Romanian victories in WWI; only the plaque glorifies WWII butchery.) High level functionaries including the Romanian ambassador to Moldova attended the unveiling ceremony. Above right, Romanian soldiers deporting the Jews of Chisinau, October 1941.
For more on the Holocaust in the region, see Yad Vashem (witness and survivor testimonies), the U.S. Holocaust Memorial Museum and Radio Free Europe.