News
Terrorists killed her family. On an Israeli beach, their memorial beckons strangers.
A mother helped assure that Israel's Yom HaZikaron commemorates not only soldiers, but those who died in terrorist attacks.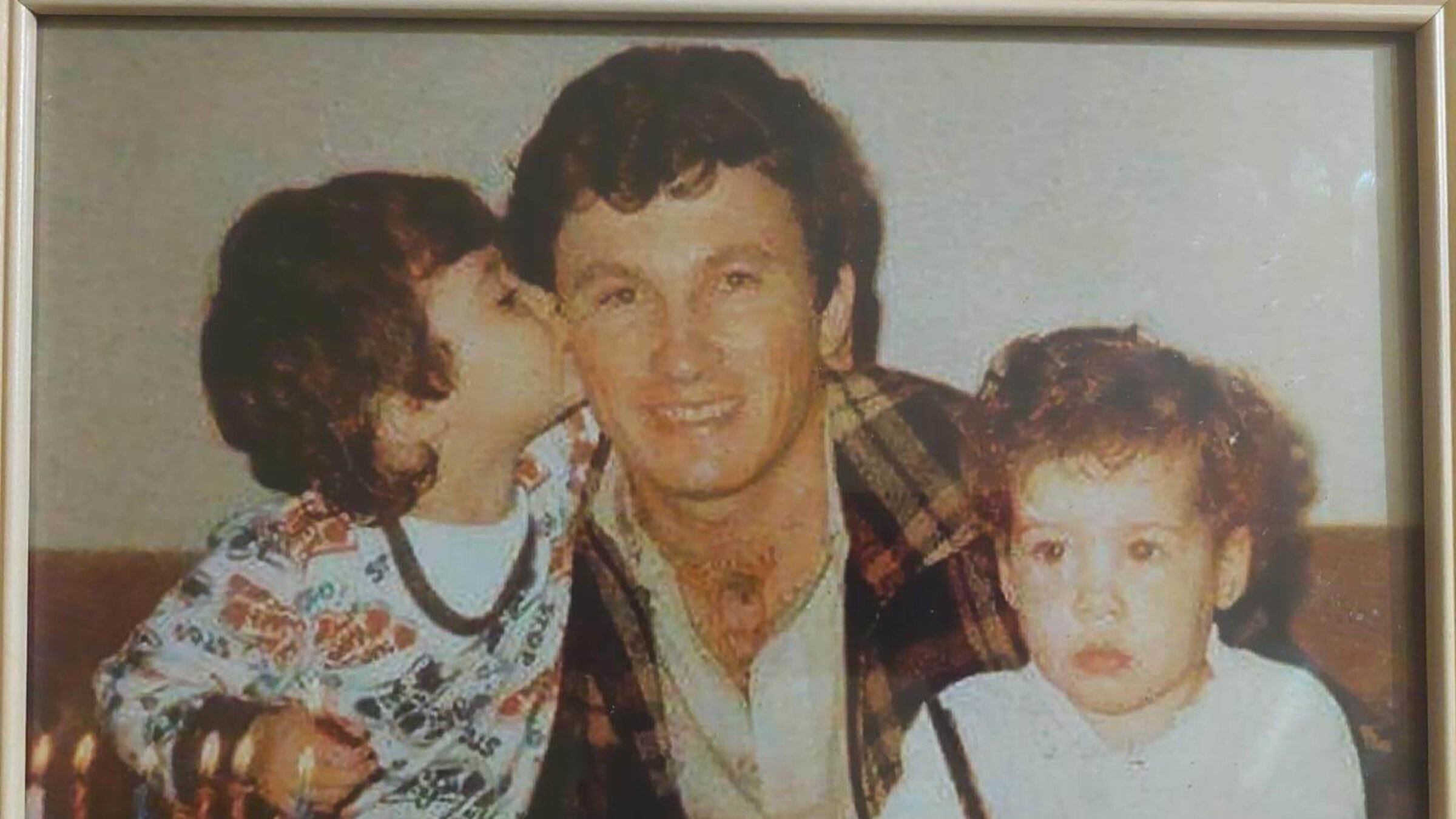 Six men were chatting in a beachfront shelter in Nahariya, Israel, on Monday, taking a break from their work of dismantling a construction crane across the street, when a woman entered the open-air structure and took a seat too.
One of the men, Eitan Shirion, abruptly rose from an adjacent oval stone sculpture on which he'd been sitting and apologized to the woman after learning who she was: Smadar Haran-Kaiser, who'd built the shelter last summer in memory of her late husband and two young daughters who were killed in a terrorist attack in 1979 a short walk away.
For its sheer brutality, and the way its perpetrators sneaked into this quiet neighborhood, the Haran attack is seared into the national consciousness.
"It's okay," she said of the sculpture, reassuring Shirion. "That's what it's for."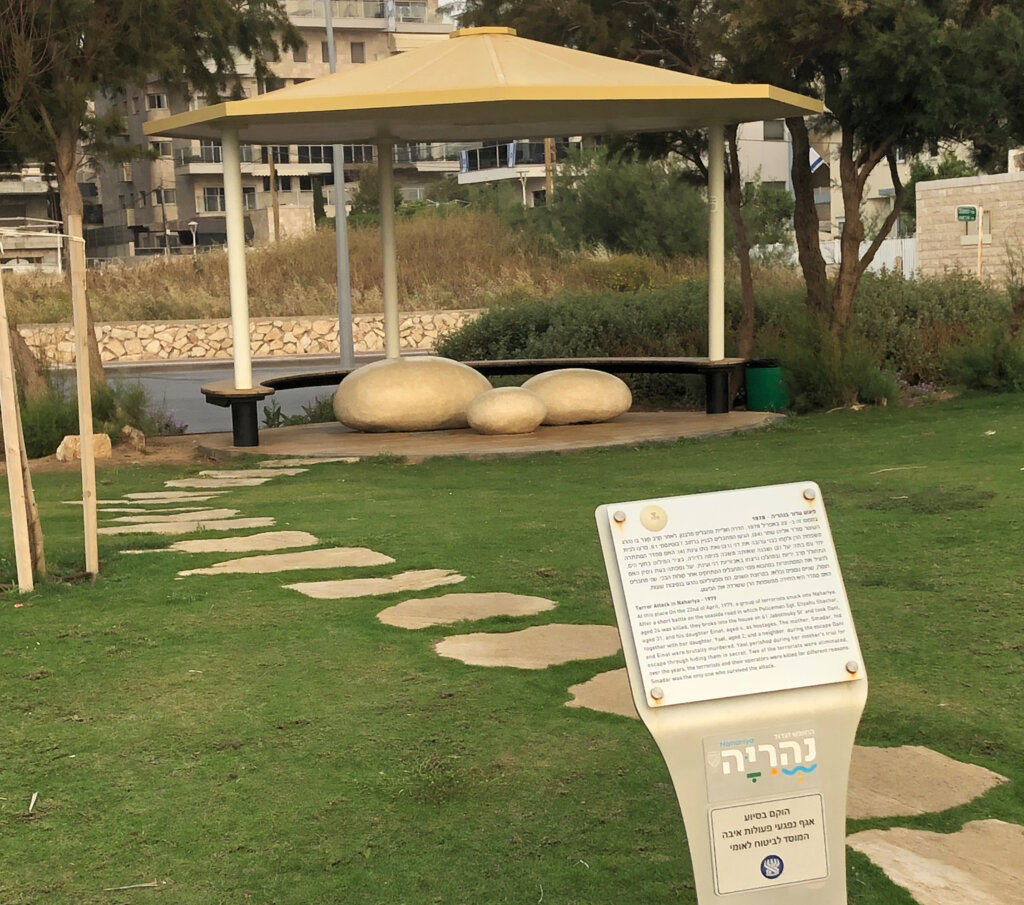 The memorial — part shelter, part sculpture garden — will be where Haran-Kaiser, with friends and family, observes on Tuesday evening Yom HaZikaron, the day Israel honors  fallen soldiers and victims of terrorism. The city will also host a ceremony that evening, further inland, one of hundreds across the country. On Wednesday, commemorations are planned at Israel's largest military cemetery, Jerusalem's Mount Herzl.
The memorializing of terrorism victims in tandem with soldiers developed, like the Nahariya monument itself, in part through the efforts of Haran-Kaiser. The day had been devoted to mourning military fatalities, but was expanded in 1997 to the title it still carries: Memorial Day for Israel's Fallen Soldiers and Victims of Hostile Acts. 
Haran-Kaiser, a 69-year-old psychotherapist specializing in treating children, said she pressed for the twinning because Israeli soldiers and civilians are part of the same struggle for the country's existence.
She cited Nahariya, seven miles from Israel's border with Lebanon, as an example.
"You can't decide who's a soldier and who's not," said Haran-Kaiser, who remarried in 1980, gave birth to two more daughters and still lives in Nahariya. "If you want to raise your kids close to the border, you know what it means. What maintains a border? People. I call it 'soldiers without uniforms.'"
To date, 4,217 civilians — 34 of them in the past year — have been killed in terrorist acts against Israel going back to 1881, according to Ori Schecter, the director-general of OneFamily, a Jerusalem-based nonprofit organization that assists families victimized by terrorism. 
That number is in addition to the Defense Ministry's figure of 24,068 fallen soldiers.
Many of the terrorist attacks perpetrated against civilians have been notorious enough to stick in Israelis' memories for decades, such as the killing of 11 athletes and officials at the Munich Olympics in 1972 and the massacre of 22 schoolchildren on a class trip in Maalot in 1974.
The Haran tragedy is one such attack.
Horror — and healing — on the beach
On the night of April 22, 1979, four terrorists sailed in a small boat from Lebanon and disembarked in Israel. After failing to break into a private house along the coast, they killed a police officer, then went to an apartment building two blocks away, at 61 Jabotinsky St. There, they captured Dani Haran, 31, and his four-year-old daughter, Einat, brought them back to the shore and killed them.
Haran-Kaiser, meanwhile, had unintentionally suffocated the couple's younger daughter, Yael, 2, in the course of silencing her as they and a neighbor hid from the terrorists.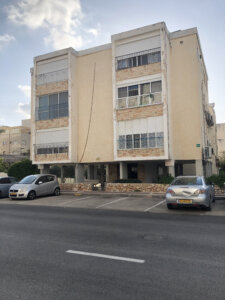 Israel Defense Forces soldiers captured two of the surviving terrorists. Soldiers who arrived later that night included Efi Hogesta. He went on to become a sculptor and designed the Haran monument, which was dedicated last July. 
At the time, Hogesta was a sergeant training the Golani Brigade's special forces to respond to terrorist attacks. The crime scene at the beach was the first one he saw. The Haran killings' legacy, he said this week, is that soldiers began to "take our mission more seriously, to be prepared that it could happen at any time, that we weren't just training for no reason." 
The monument features several trios to memorialize the Harans: three boulders of various sizes to represent the father and daughters, three holes next to their names for candles and three support poles for the shelter. Enveloping the boulders are layers of glazed sand. Haran-Kaiser and Hogesta gathered the sand last year from the beach 100 yards north, where her husband and elder daughter were murdered.
She prefers to consider the structure a site of contemplation and hope rather than a memorial. A sign 50 feet away and facing in the other direction tells in Hebrew and English the tale of her family's tragedy of 43 years ago. Haran-Kaiser wants people to learn about what happened in Nahariya, but also to appreciate the view of the sea, relax in the shade and ponder. She said she's gratified that visitors keep it clean and enjoy themselves. When she passes by, she does not introduce herself or discuss her loss.
"I don't want people to feel uncomfortable," she said.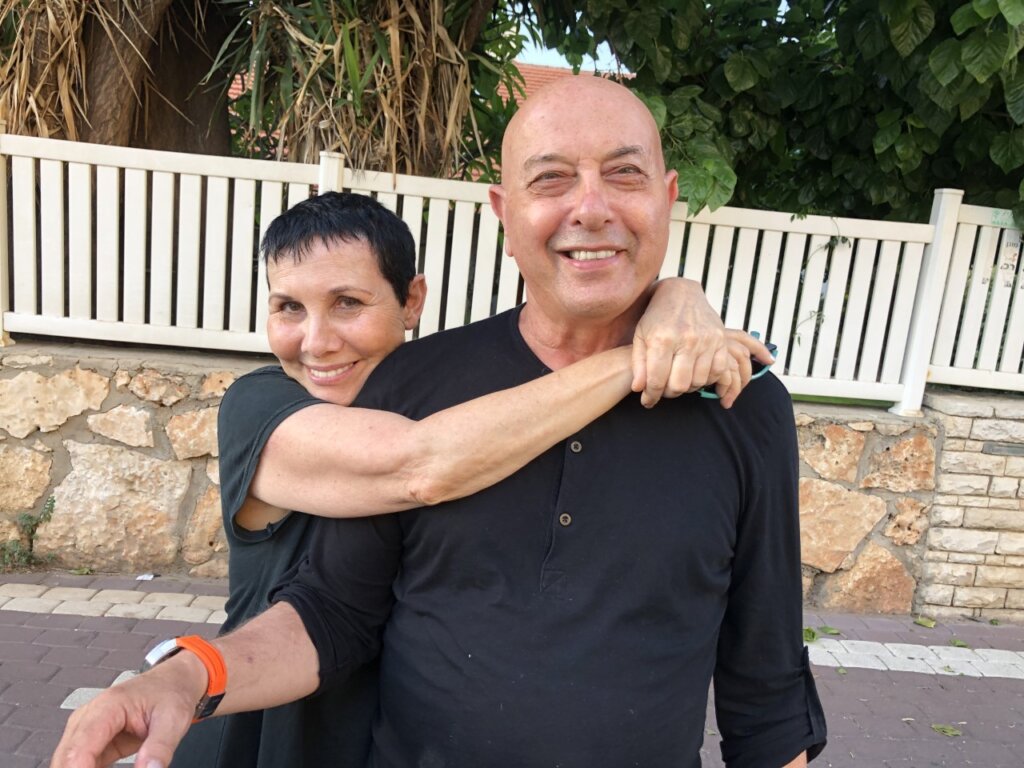 At the site on Monday, none of the crane crew had been aware of the Haran incident. They were shocked when a reporter introduced Haran-Kaiser to them after she arrived. Several left to read the sign, then returned.
"I didn't know until now. Now, I'll never forget. Kudos to you. You deserve such love for what you endured," one of the men, Nisim Hazbani, told Haran-Kaiser. 
She asked about his background. Hazbani related his father's trekking to Israel from his hometown of Damascus in 1959.
"I love history. It's so important to understand the place where you live," he said of the Haran tragedy. "It strengthens you to live in this country."
Writer-editor Hillel Kuttler can be reached at [email protected].