News
Jewish Dems back non-Jewish candidate over Jewish rival in rare House primary
Haley Stevens also has the backing of AIPAC and other pro-Israel groups, while Andy Levin has J Street's support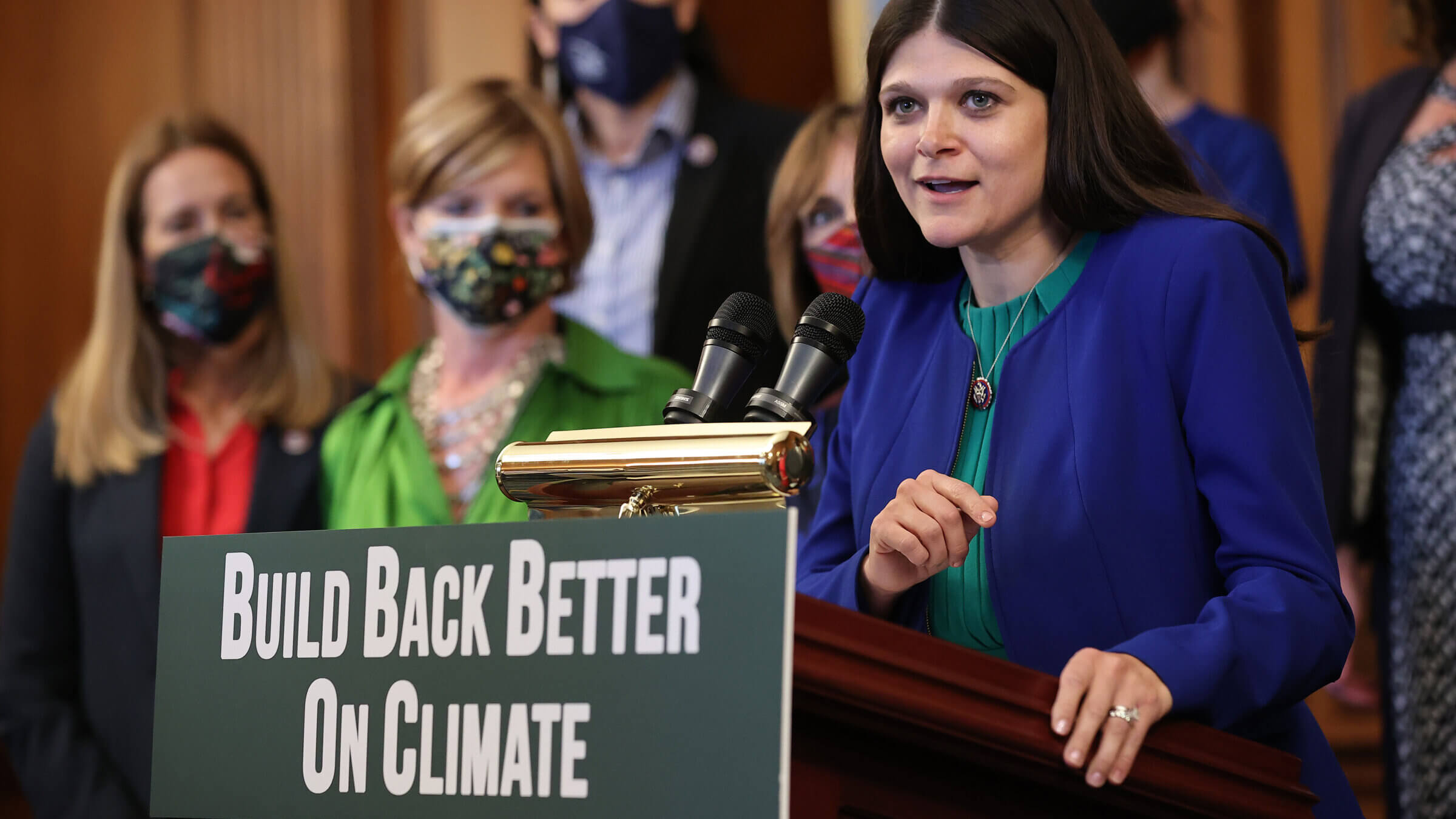 A major Jewish Democratic group is backing a non-Jewish candidate over his Jewish rival in a rare contest between two incumbent Democrats. 
The Jewish Democratic Council of America said it is "proud to endorse" Haley Stevens over Andy Levin in the primary to represent Michigan's redrawn 11th Congressional District, which includes  Detroit's northwest suburbs. The contest between two candidates, each elected to the House in 2018, has become a  bellwether in American Jewish politics in this year's midterm elections.
The incumbent-vs.-incumbent House primary is one of five this year, and among the three in which Democrats face off. Levin has lived in the newly-drawn 11th District for most of his life, while Stevens moved there last November. It is considered a Democratic-leaning seat. Levin, 61, raised eyebrows when he passed on running in a winnable race in the adjacent 10th District, which includes most of the neighborhoods he currently represents in the neighboring 9th District, but has also gained GOP voters. Instead of taking on a fellow Democrat, some in his own party have argued, he could have won in a District that may now go to a Republican.  
The contest is also highlighting a widening rift within the Democratic Party over Israel. Stevens, 38, is moderate and more affiliated with the more traditional pro-Israel camp. In 2019 she visited Israel on a trip sponsored by an education group funded by the American Israel Public Affairs Committee. And she was part of a bipartisan coalition that pushed for the passage of a stand-alone bill to replenish Israel's Iron Dome defense system. Levin, who succeeded his father, former Congressman Sander Levin, is also the nephew of the late Sen. Carl Levin. A progressive, he introduced legislation that would increase U.S. involvement in the now-stalled Israeli-Palestinian peace process. He's also an ally of Rashida Tlaib, a Palestinian-American congresswoman who calls Israel an apartheid state. 
Halie Soifer, the JDCA's chief executive, said the group endorsed Stevens because she has led on issues that matter to Jewish voters. "JDCA does not make endorsement decisions based on whether a candidate is Jewish or not," she said, adding that Stevens has also forged close ties with the local Jewish community since she flipped the district from a Republican in 2018.
Soifer said the JDCA endorsement means no disrespect to Levin, "who has also sought to advocate for many issues of importance to Jewish voters in Congress."
Along with Stevens, JDCA is endorsing 10 House Democrats for reelection, bringing its total number of endorsements this year to 60. JDCA noted in a statement shared with the Forward that following news reports late Monday that the Supreme Court is poised to overturn Roe v. Wade, enabling states to outlaw abortion, JDCA "is doubling down on efforts to mobilize Jewish voters in support of Democrats in key races across the country."
JDCA will reach out to Jewish voters — estimated at about 5% of the electorate — to go to the polls via direct texts, phone calls and digital advertising, Soifer said. 
Both candidates receive outside Jewish support
The JDCA is not the only Jewish group endorsing in the primary.
The Democratic Majority for Israel and AIPAC, each of which has formed political action committees to support pro-Israel incumbents, have endorsed Stevens and raised individual contributions for her campaign. She is also backed by Pro-Israel America, a bipartisan one-issue group. 
Earlier this year, David Victor, former AIPAC president and a Stevens donor, accused Levin of being "arguably the most corrosive member of Congress to the U.S.-Israel relationship."
Levin is supported by the liberal J Street PAC and several Jewish colleagues: Reps. Jerry Nadler of New York, Jamie Raskin of Maryland and Steve Cohen of Tennessee. 
On Thursday, a group of more than 100 Jewish leaders, activists and rabbis issued a letter of support for Levin. The congressman's "connection to Jewish identity and community have served as a touchstone for him," the letter reads. "We also welcome a Jewish member so willing to express his support for Israel by taking up policy questions seriously, thoughtfully and empathetically." 
Contrasting approaches to the Israeli-Palestinian conflict 
JDCA recently held a candidate forum, in which Stevens and Levin differed over Middle East peace, Iran and combatting antisemitism on college campuses. 
Levin described himself as "perhaps the leading Jewish member of Congress to try to actually take action to preserve the possibility of a two-state solution."
His bill, the Two-State Solution Act, introduced last September, would prohibit Israel from using U.S. taxpayer dollars to expand settlements in the occupied West Bank or for annexation, and would increase funding for humanitarian purposes and for civil society groups in the Palestinian territories. 
Stevens countered by saying that the U.S. should help create conditions that would lead to direct talks between Israel and Palestinian representatives, but not push for Israeli concessions. "We are not going to get to a two-state solution by negotiating it as the United States of America or through the U.S. House of Representatives," she said. 
At a debate last month, hosted by the Pontiac Community Foundation, Levin slammed Stevens for taking AIPAC's endorsement after the group came under fire for also backing Republicans who voted to overturn the election of Joe Biden as president. "This endorsement is solely about members of Congress supporting Israel, and I am proud to unequivocally support the Jewish state," Stevens responded. 
Internal polls by both campaigns show a close race, with Stevens holding a slight edge.
This post was updated on 05-04-2022 at 4:55 p.m.