News
Two veteran N.Y. Democrats to face off in House primary because of redrawn maps
Jerry Nadler's decision to challenge his colleague Caroyln Maloney in the new 12th District creates a difficult choice for Manhattan Jews, opens opportunity for Brooklyn Jews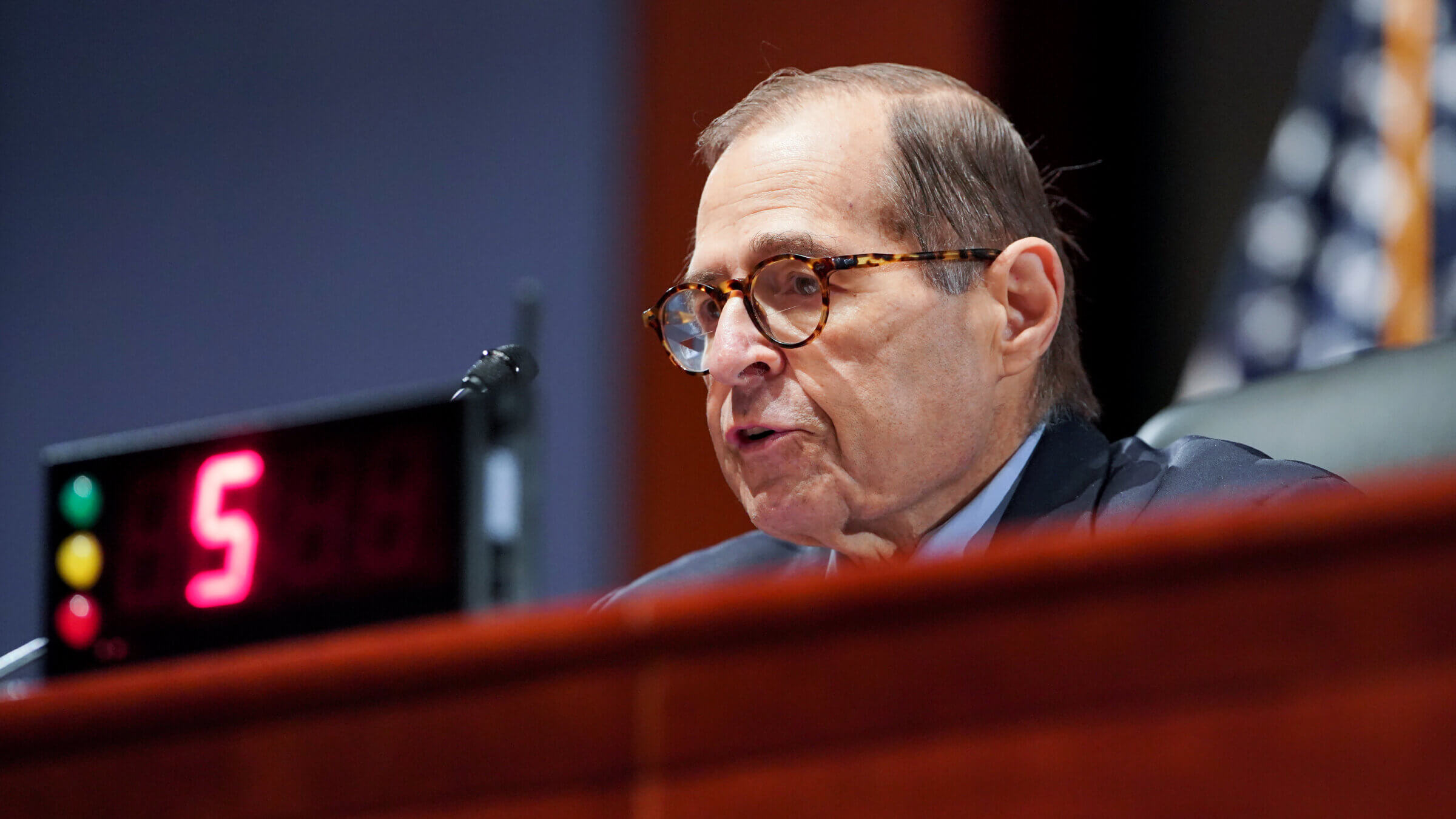 Two veteran New York members of the House of Representatives with strong ties to Israel and the Jewish community will face off in a Democratic primary, after Monday's release of a new draft of proposed district maps to replace gerrymandered ones that the state's highest court voided as unconstitutional.
Rep. Jerry Nadler, the powerful chair of the House judiciary committee, announced he would challenge his Democratic colleague, Rep. Caroyln Maloney, who heads the influential oversight committee, in the 12th District, which stretches from Upper Manhattan into parts of Brooklyn and Queens.
That faceoff is one of several map-induced developments ahead of the Aug. 23 primaries. The new draft by the court-appointed special master, Jonathan Cervas, is open for public comment through Wednesday and slated to be finalized Friday.
The current New York congressional delegation is composed of 19 Democrats and eight Republicans. Under the new maps, which also eliminated one seat due to the 2020 census, only 15 Democrats are considered safe in November.
Upstate, Rep. Sean Patrick Maloney, head of the Democratic Congressional Campaign Committee, announced that he plans to run in the newly-drawn 17th District currently held by Rep. Mondaire Jones, a first- term progressive and the freshman class's representative to the House leadership.
And Rep. Jamaal Bowman, who is Black and defeated former Rep. Eliot Engel in 2020, could also face a tough first reelection bid if Jones switches districts to run in the new 16th, which includes Jones' Westchester Country home.
The proposed maps also dashed the hopes of Max Rose, a former Jewish Congressman from Staten Island, to return to Washington, since it retains a Republican vote advantage in the 11th District. Rep. Nicole Malliotakis, the only Republican representative from New York City, defeated Rose in 2020 with the help of Jewish voters.
The last Jew from New York City standing? 
David Pollock of the Jewish Community Relations Council of New York predicted that the Nadler-Maloney matchup — a race, as he put it, between "two very good friends of the Jewish community" — would be a difficult choice for those on the Upper East and Upper West sides. "It is inevitable that New York will lose decades of seniority and therefore leadership in Washington," he noted, since one of them would depart.
Nadler is the last remaining Jewish House member from New York City, after the 2020 defeats of Engel and Rose, and retirement of Rep. Nita Lowey. The possibility of him losing would leave a city, with a population of some 1.5 million Jews, without any Jewish representation in the House. (Sen. Chuck Schumer, the majority leader, is a member of the tribe.)
But several Jewish candidates are considering a run in the 10th district, which includes Lower Manhattan and the Brooklyn neighborhoods of Borough Park and Park Slope.
David Yassky, a former City Councilman and chairman of the Taxi and Limousine Commission under former Mayor Michael Bloomberg, has expressed his interest in running for the seat.
Scott Stringer, the former city comptroller and Manhattan borough president who lost his mayoral bid last year after being accused of sexual harrasement, is also a potential candidate, and has often been mentioned as a potential Nadler successor. State Senator Brad Hoylman said he's seriously considering a run.
Other possible candidates include former Mayor Bill de Blasio, who maintained strong relationships with Orthodox leaders in Borough Park; Bobby Carrol, who represents parts of Borough Park and Park Slope in the state Assembly; and Assembly member Yuh-Line Niou, who represents the Lower East Side.
The Jewish vote is "going to be critical," in that district, Pollock said.
Will Orthodox Jews flip an upstate district red? 
The Democratic winner in the newly-drawn 17th District, which now includes all of Rockland County, could also face a tough election in the general election. Rockland County's sprawling Hasidic communities have given it the largest Jewish population per capita of any county in the United States, and they tend to vote Republican.
President Joe Biden won the 17th by 20 points over President Donald Trump in 2020, but the margin in the newly redrawn district was half that, and experts see the Orthodox voting bloc — estimated between 18,000 to 25,000 votes — as a big factor in the outcome in November.
Michael Lawler, a first-term Republican Assemblyman whose district includes the sizable Orthodox community in Ramapo, has indicated he may run. Yossi Gestetner, head of the Orthodox Jewish Public Affairs Council, said Lawler is very popular with his community.