News
Progressives and pro-Israel groups each claim victories in May primaries
They vied in North Carolina, Kentucky and Pennsylvania and are gearing up for races in Maryland, Illinois, Texas and Michigan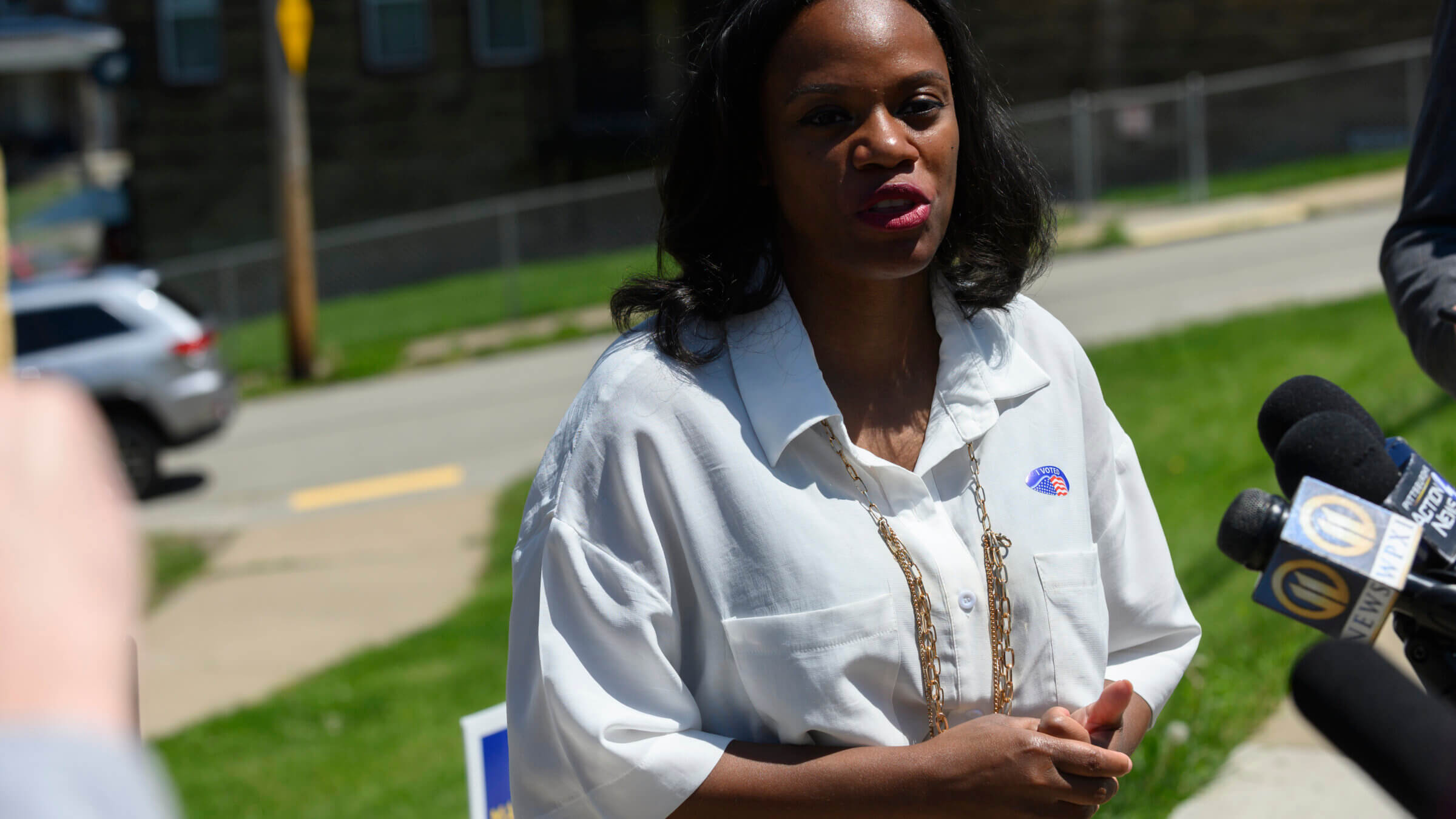 Progressives and tradtional pro-Israel groups are competing to shape the makeup of the next Congress, but each deemed the results of Tuesday's congressional primaries an affirmation of their electoral strategies.
Summer Lee, a progressive candidate supported by Sen. Bernie Sanders and far-left members of Congress, declared victory in the race for Pennsylvania's 12th District, which includes Pittsburgh, over Steven Irwin, a Jewish candidate backed by the American Israel Public Affairs Committee. Lee said she "beat back a multimillion-dollar smear campaign," though at the time of publication, the race was too close to call.
Lee currently leads Irwin by some 400 votes with 94% of precincts reported.
An AIPAC spokesperson, noting the tightness of the race and the victories of Don Davis and Valerie Foushee in North Carolina's respective 1st and 4th Districts against far-left candidates, said the results proved that strong support for Israel is "good politics."
The Lee-Irwin race is one of several key contests nationwide on which outside groups have spent millions to boost pro-Israel incumbents and moderate candidates. Independent expenditure committees formed by AIPAC and the Democratic Majority for Israel have spent a combined $11 million in recent weeks.
Earlier this week, Sanders sent a letter to the Democratic National Committee, urging them to denounce "the many millions of dollars in dark money being spent by super PACs that are now attempting to buy Democratic primaries."
The pro-Israel point of view
Marshall Wittmann, an AIPAC spokesman, said in an interview that regardless of the outcome, Irwin overcame a 25-point deficit in the polls in recent weeks "with the support of the pro-Israel community." AIPAC spent $2.4 million on television commercials and mailers against Summer. It also spent $284,000 to boost Irwin and an additional $154,674 in individual contributions to Irwin's campaign through its PAC.
AIPAC's United Democracy Project spent $4.5 million in North Carolina House races to thwart Erica Smith and Nida Allam, critics of Israel. The group also endorsed Morgan McGarvey, the Kentucky Senate's minority leader, the winner in the race for retiring Rep. John Yarmuth's seat in Kentucky's 3rd District.
The results "demonstrate the political effectiveness of the pro-Israel community," Wittmann said. He added, "In a very short period of time since they were created, our PAC and super PAC have already had a significant impact on the political process."
The Democratic Majority for Israel's PAC spent a combined $1.2 million in ads and get-out-the-vote efforts. Earlier this month, Rep. Shontel Brown, a first-term incumbent, beat Nina Turner, a Sanders ally, in a race in which DMFI was the largest outside spender. "We are pleased more pro-Israel Democrats will join Congress to continue the Democratic Party's proud pro-Israel tradition," said DMFI President Mark Mellman.
Jeff Mendelsohn, executive director of the Pro-Israel America bipartisan group, maintained that Irwin's climb in the polls shows that the more voters learned about the policy differences between the two candidates, the less they supported "Lee's brand of divisive politics."
Logan Bayroff, a spokesman for the liberal J Street PAC, acknowledged that massive spending does make a difference. But he added that the race in Pennsylvania's 12th District showed that "a good principled candidate like Lee, who has popular support in the district and who has a coalition of Democratic-aligned groups who stand with her, can still overcome that overwhelming amount of spending." J Street endorsed Lee and its newly-created super PAC, Action Fund, donated $50,000 to her campaign.
Bayroff also said that the progressive candidates in North Carolina lacked the resources to push back against AIPAC and other outside groups opposing them.
What's next?
Rep. Ilhan Omar of Minnesota, a member of The Squad, cautioned that attacks against progressives won't stop after the primaries. "We know that corporate Super PACs and billionaires are coming for us next," she tweeted. Omar won her reelection bid in 2020 with a nearly 20-point margin despite a well-funded campaign against her.
Bayroff said J Street will continue to spend in support of candidates aligned with their views in upcoming primaries and encourage candidates to reject AIPAC's money. He said it's important for Democratic candidates to "communicate very loudly and clearly to voters that this money that's being spent in these races is coming from a group that doesn't have the best interests of the Democratic Party at heart."
Wittmann said that AIPAC-affiliated activists "have every reason to be proud of their efforts, which will continue throughout this election cycle."
Jewish and pro-Israel groups are involved in next week's runoffs in Texas' 15th and 28th Districts, as well as upcoming primaries in Illinois' 3rd District, Maryland's 4th District, and in a rare incumbent-vs.-incumbent primary in Michigan's redrawn 11th District.