News
'I am a Zionist': 5 key moments in Joe Biden's relationship with Israel
Since 1973, Biden has traveled to Israel 9 times and met with 10 Israeli prime ministers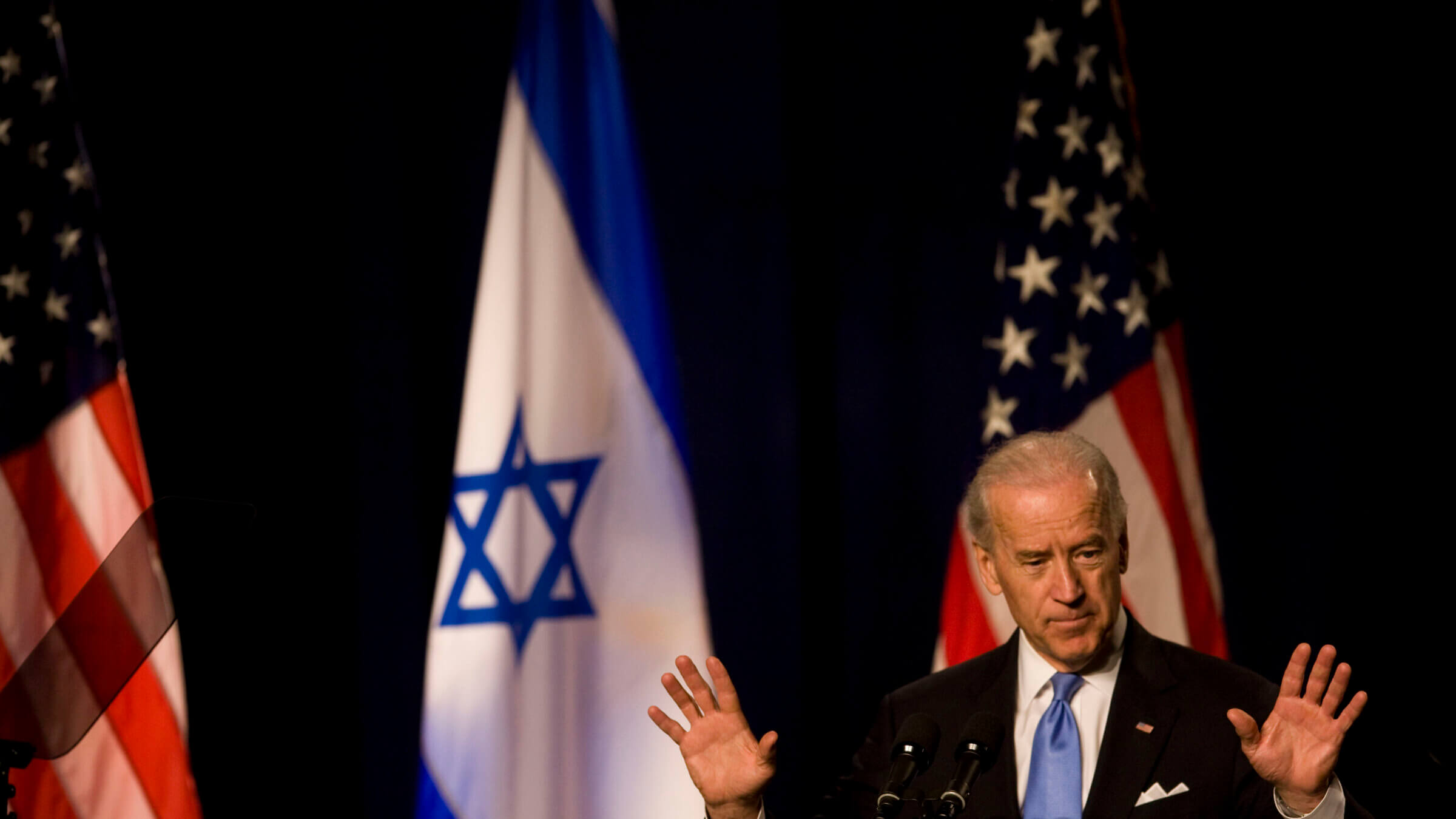 President Joe Biden, known as a staunch supporter of Israel, on Wednesday begins his 10th trip to the nation since elected junior U.S. senator from Delaware in 1972.  We combed his five decades of visits to find his most memorable moments in Israel, and most notable encounters with the nation's leaders.
Golda and her secret weapon
Biden loves sharing this story about his first meeting with former Israeli Prime Minister Golda Meir, which he has described as "one of the most consequential" of his life.
It happened about five weeks before the Yom Kippur War in 1973.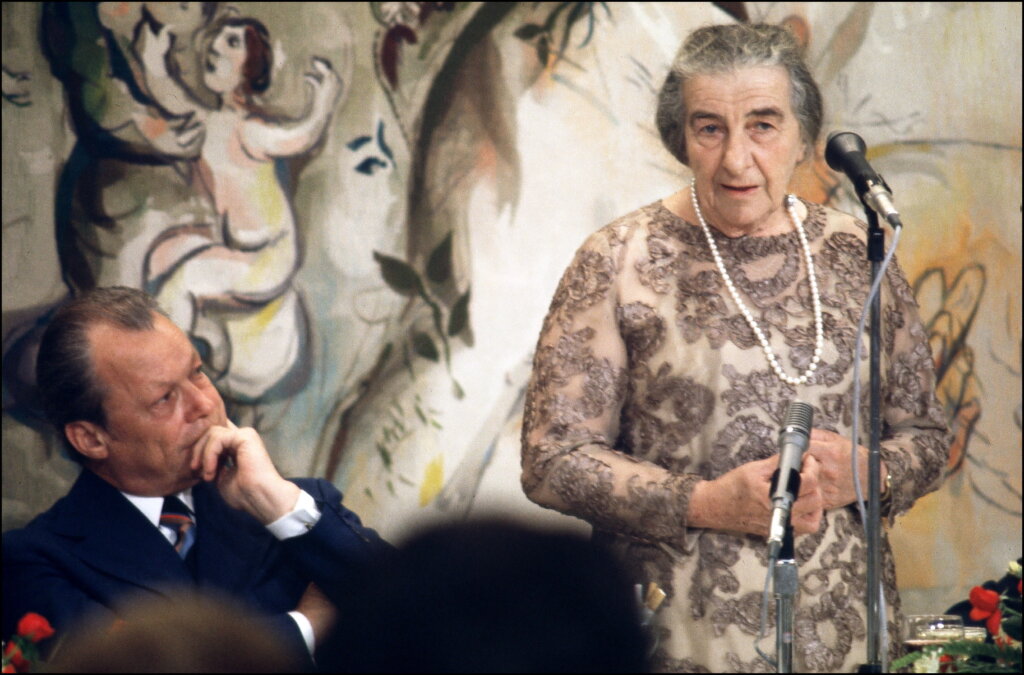 Meir, Biden recalls, was sitting behind her desk , flipping through maps, detailing Israel's battles against its Arab neighbor and trying to convey with the gravity of the situation. She then turned to the young American politician and said, "We Jews have a secret weapon. We have no place else to go."
Though Biden adores telling this story, he's been known to mix up some of its details.
Head-to-head with Menachem Begin
Biden lashed out at another Israeli Prime Minister — Menachem Begin, who was meeting with members of Congress in 1982 when Biden was a member of the Senate Foreign Relations Committee. Angrily, Biden took issue with the building of settlements in the West Bank. 
He was "jabbing his finger at the prime minister and banging his fist on the desk" and warned that Israel risked losing support when it needed it most — in the aftermath of the first Lebanon war,  Tevi Troy, a presidential historian and a former White House liaison, wrote in a Wall Street Journal essay.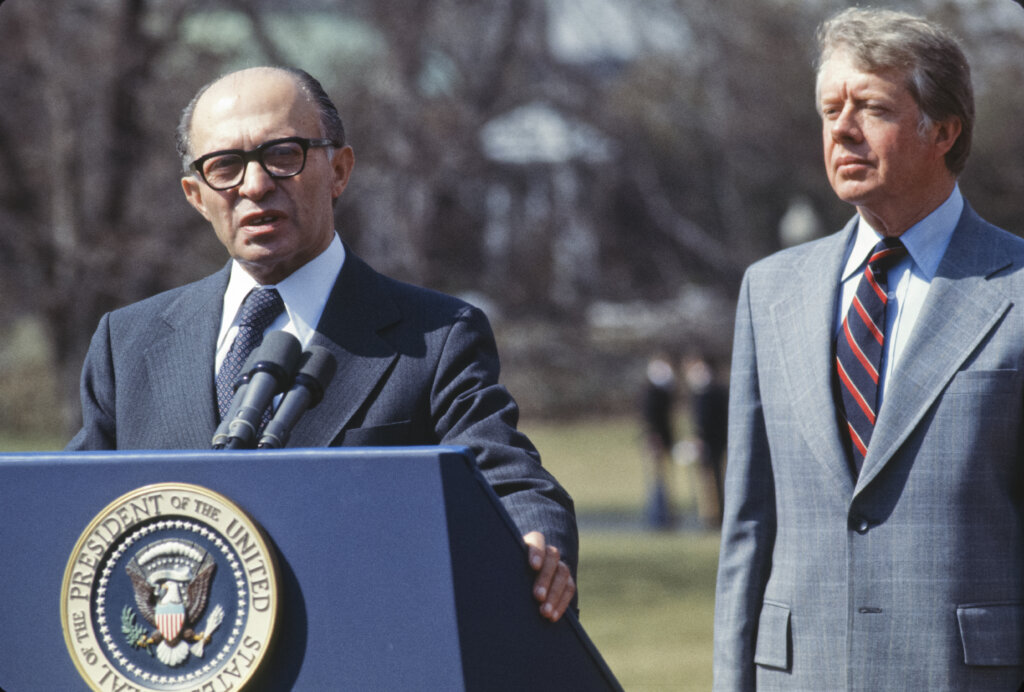 Begin wasn't having it. 
"This desk is designed for writing, not for fists," the prime minister reportedly shouted back. "Don't threaten us with cutting off aid to give up our principles."
Former Sen. Bob Packwood of Oregon later recalled that Begin went further, telling then 39-year-old Biden: "I'm not a Jew with trembling knees." 
'I am a Zionist'
In a speech at the Jewish Federations of North America General Assembly in 2014, Biden recalled a conversation with Joe Biden Sr., in which the younger told the elder: 'Were I a Jew I'd be a Zionist." The future president said his father pointed out that he didn't need to be a Jew to be a Zionist. Later that year, Biden said in remarks to a pro-Israel gathering, "If there weren't an Israel, we would have to invent one."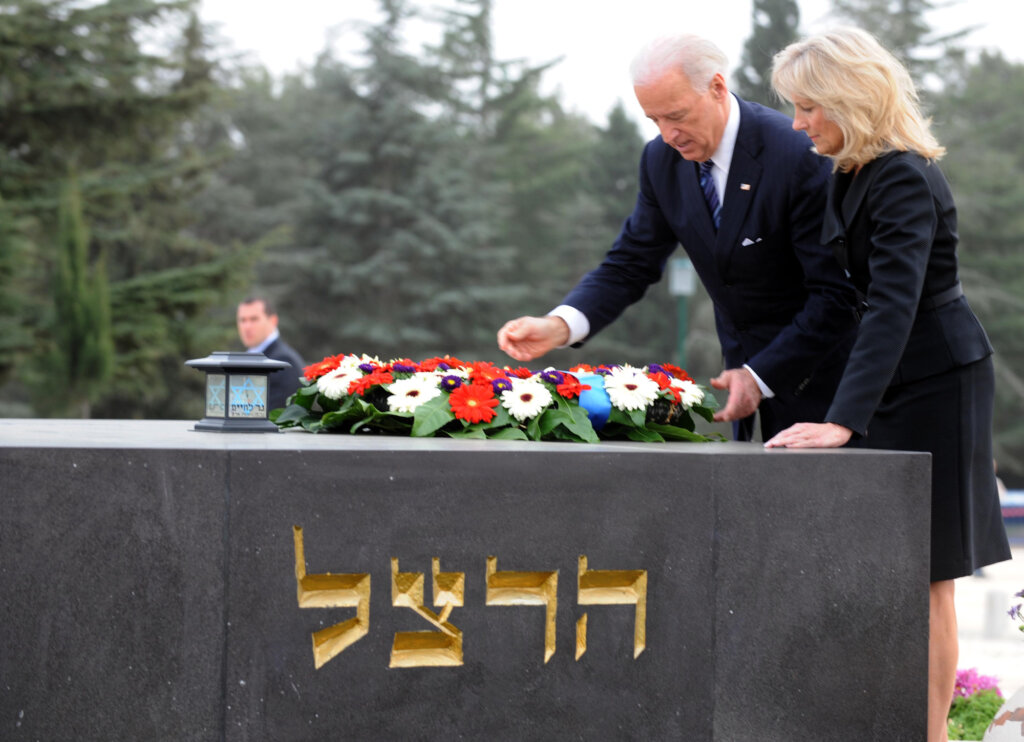 But Biden had well before that talk with his father declared himself a Zionist, in an interview with Shalom TV in 2007 after he was tapped as Barack Obama's running mate, for example.
And in a 2012 speech, Biden told a national convention of Conservative rabbis meeting in Atlanta, "Were I an Israeli, were I a Jew, I would not contract out my security to anybody, even to a loyal, loyal friend like the United States."
A note  for Bibi 
Biden and former Israeli Prime Minister Benyamin Netanyahu, also known as "Bibi" often find themselves at odds over Mideast politics. But a story told by Secretary of State Antony Blinken to Jewish leaders in 2020 seems to point to some underlying affection.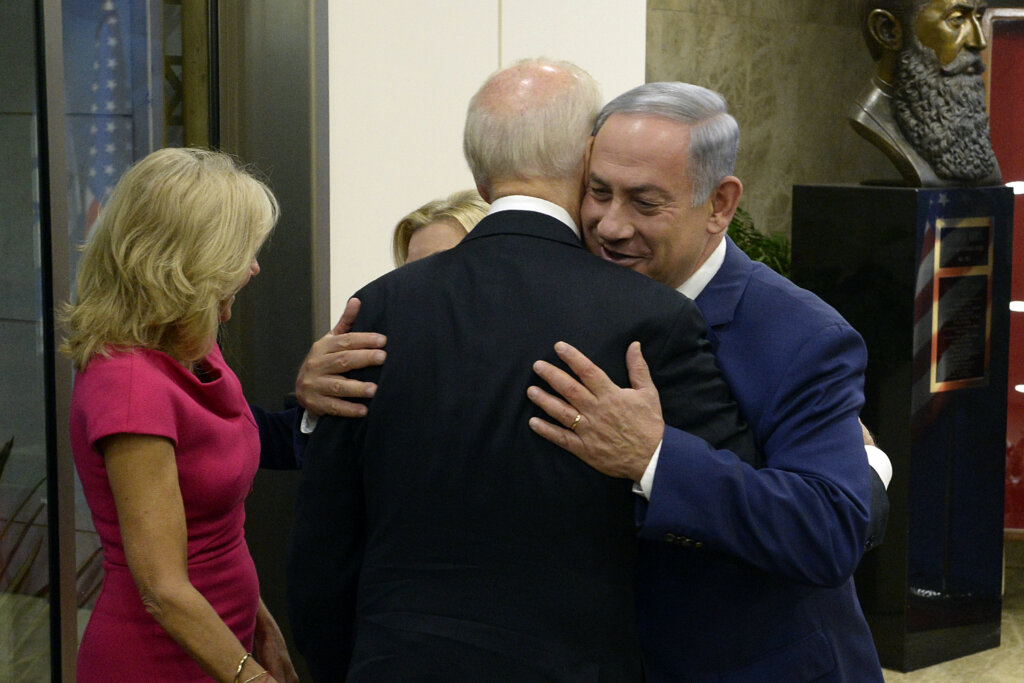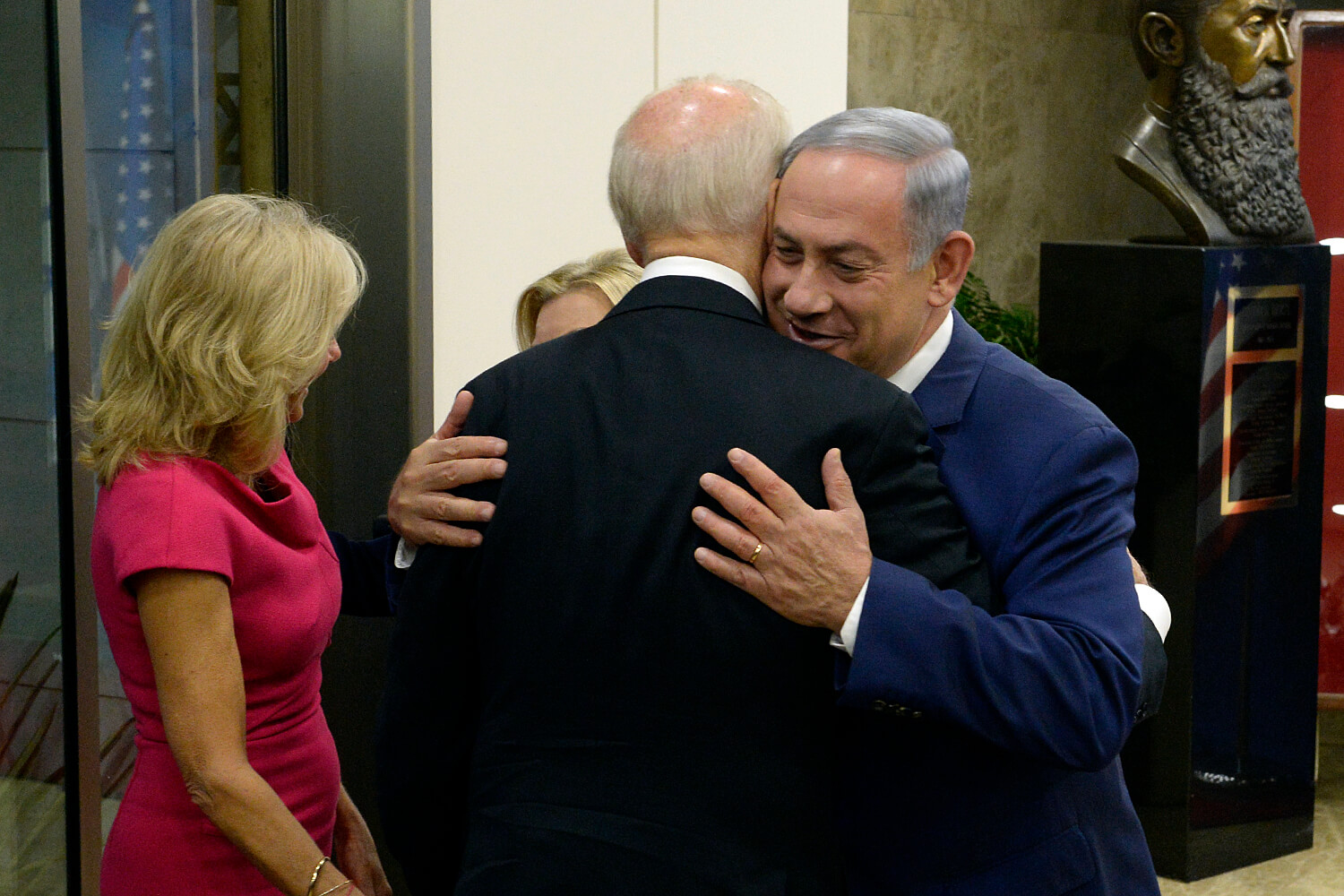 When Biden called on then-finance minister Netanyauhu in Israel in the early 2000s, Blinken relates, Bibi pointed "with great glee" to a signed photograph of Biden on his desk.
It read: "Bibi, I don't agree with a damn thing you had to say, but I love you."
The president will meet for 15 minutes on Thursday with Netanyahu, the current opposition leader whose Likud Party is leading in polls for the upcoming election.
The bitter trip
Biden was blindsided on a 2010 trip to Israel in which he was charged, as vice president, to ease tensions between President Barack Obama and Netanyahu. The heads of state had been feuding over U.S. demands for a freeze on settlements.  The vice president was still in Israel when its interior ministry announced plans to build 1,600 units for Jews in the Ramat Shlomo neighborhood in East Jerusalem.
The White House denounced the move and Biden, who was set to have dinner with Netanyahu, kept the prime minister waiting. Netanyahu, looking to mend fences, said he himself had been surprised by the announcement, which was made by a senior cabinet minister of the religious Shas party.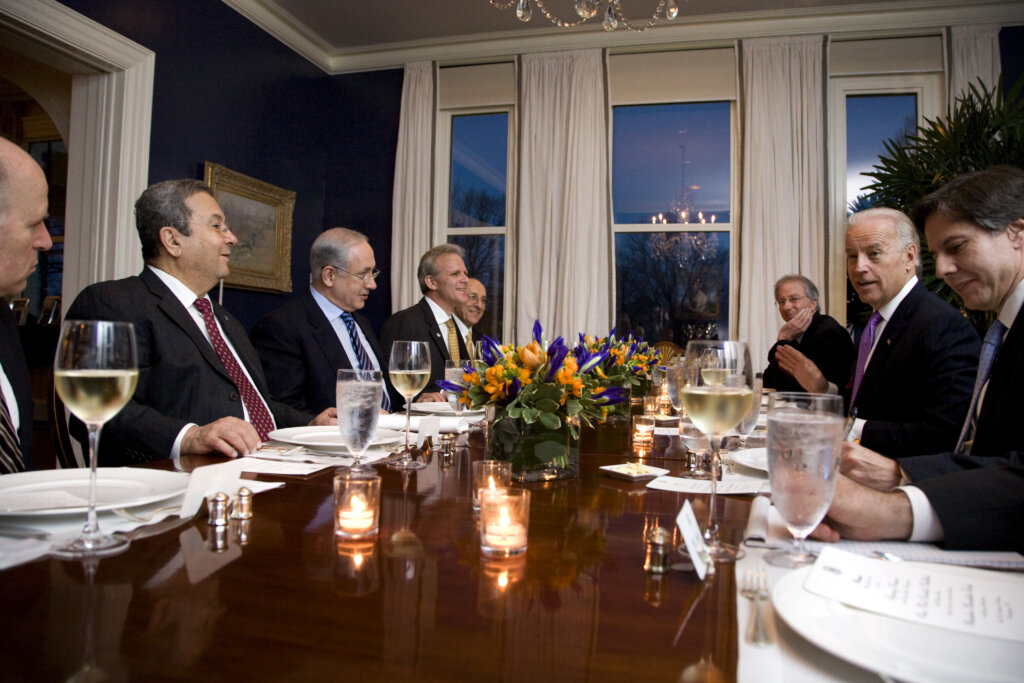 Biden then released a statement that said "the substance and timing" of the announcement "undermines that very trust, the trust that we need right now."
The two reconciled on Biden's 2016 visit to discuss the $38-billion memorandum of understanding between the U.S. and Israel.
The current government seems keen to better time settlement announcements. On Tuesday, the prime minister's office said it postponed plans to build 2,000 units in East Jerusalem Jewish neighborhoods.