News
COVID came to Jewish camps this summer, sending staff and parents scrambling
'I don't think any of us were prepared,' said Jeremy Fingerman, head of the Foundation for Jewish Camp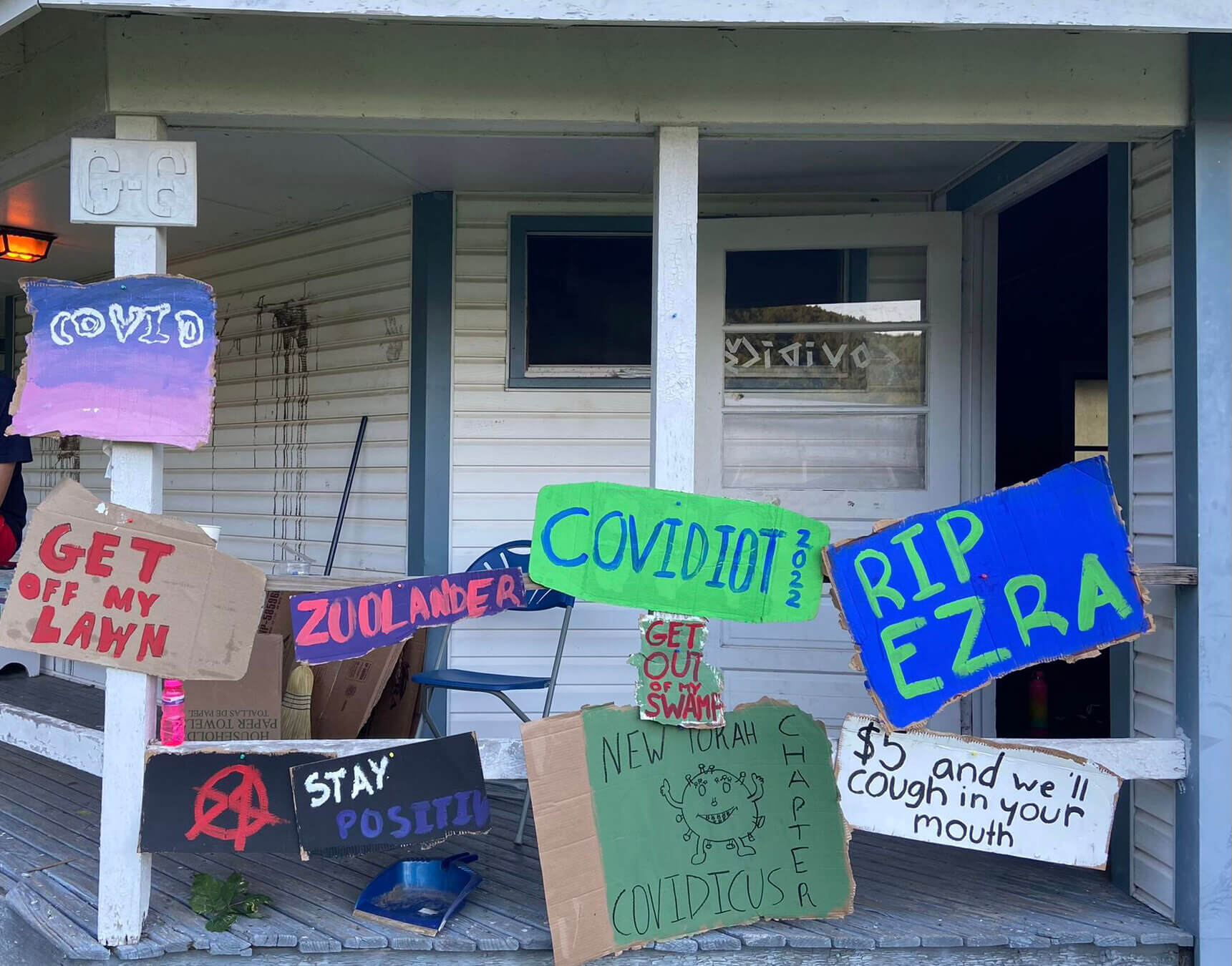 When Mia Finestone became the fifth person in her bunk to test positive for COVID-19, her parents couldn't come pick her up in rural New York: They live 3,000 miles away, in the Bay Area. 
So Finestone, a rising 11th grader, moved to a designated quarantine bunk, where she and a dozen other campers and staff from Camp Tel Yehudah waited out mild symptoms for the next week, playing Monopoly, watching old episodes of "Gilmore Girls," and decorating the outside of bunk with COVID-themed signs.
"Obviously, everyone just napped a lot, too," Finestone, 16, said.
When coronavirus came for Jewish camps this summer, Tel Yehudah, which is on the border of New York and Pennsylvania and required vaccination-plus-booster, was not immune. But it wasn't hit the hardest, either. At least one camp ended a session early; others have sent scores of children and staff home to recuperate. Several, like the Reform movement's Camp Eisner in Massachusetts, have made visiting day virtual-only.
This was supposed to be a rebound summer for Jewish camps following two pandemic-challenged seasons, and enrollment nationwide was comparable to 2019, said Jeremy Fingerman, head of the Foundation for Jewish Camp, an umbrella organization for camps in North America. Last year, some camps forbade staff to leave camp even on days off to preserve a COVID-free bubble. Preparing for this summer, with cases diminishing, they relaxed those rules, though many camps still required vaccinations and testing.
But Fingerman said there was no escaping the highly contagious omicron variant once it got in.
"I don't think any of us were prepared for this level of increased waves that we're seeing," Fingerman said.
A virus in the bunks
With hundreds of people living together in close quarters and no way to predict when or how cases present, the outbreaks have put extra pressure on camps that had already needed to work harder than usual to retain staff after a grueling 2021.
Shortly after the first session started in June at Camp Ramah of the Berkshires in New York, nearly the whole kitchen staff tested positive. When word got out, more than 100 parents volunteered to come cook meals, said Amy Skopp Cooper, director of the National Ramah Commission, which oversees camps affiliated with the Conservative movement. (They weren't needed: Board members and senior staff filled in.)
At Camp Ramah Darom in Georgia, plans for a short-term camp for younger children were scrapped due to the pandemic.
Skopp Cooper said that initially, Ramah Darom had planned to keep all campers who tested positive isolated on campgrounds because some would be unable to be picked up. But eventually, due to the scale of the outbreak, administrators there decided that children who could go home should be picked up by their parents.
However, she said cases overall were few and far between — giving a rough estimate of about 500 cases spread across 11,000 Ramah campers and staff nationwide.
"It's been sporadic cases," Skopp Cooper said, "and if anything it's gone to a trickle across our camps right now."
Over at Maccabi Sports Camp in San Francisco, Josh Steinharter, the director, made the call after a surge of cases and consults with medical advisors and local JCC leaders to end the first session two days early to stop the spread — and so the second session could start on time.
Steinharter, who tested positive himself earlier this week, said parents understood the decision.
"Our protocols were working for a good portion of the session," Steinharter said, listing masking indoors, eating outdoors and testing for anyone who entered campgrounds. "Once we discovered symptomatic kids, when things got to a certain level, we made the difficult decision that we thought was in the best interest of the community."
Campers and staff at other camps, including Camp Newman, a Union for Reform Judaism camp in Northern California, and Camp JCA Shalom in Malibu, California, reported outbreaks, but asked not to be identified, fearing repercussions from camp administrators.
Cascading cancellations
The cancellation of visiting days at Jewish camps saddened many parents who had been looking forward to it. Others are looking for silver linings.
Jordana Horn Gordon is one who will now go eight full weeks without seeing her daughter, who is at Ramah of the Berkshires. But she said wasn't so sure of visiting day's value in a regular year, and that since the camp had already announced only two visitors would be allowed for each child, most of her family — she has six kids in total — would not have been allowed to come anyway.
Like so many other things these days, the traditional visits to arts-and-crafts huts and picnics on the lawn will be replaced by video calls — an only-in-an-emergency break from most camps' strict no-technology-for-kids policies.
"Since we are part of a very large family," Gordon said, "it'll be really nice to have people be able to come and say hi to their sister, from right behind me."
But canceling visiting day was hardly disruptive compared to the havoc wreaked on vacation plans by a child testing positive. After all, an empty nest in the summer months can mean long-awaited travel for parents.
So Havi Goldscher, CEO of Capital Camps in Pennsylvania, was reluctant to downplay the significance of the outbreaks even though case numbers had remained small there and no camper had experienced serious illness.
"If you're a family that's been impacted by it, it doesn't feel small at all," Goldscher said. "It's a massive shift in your summer plans."
'A COVID world'
The spread of the virus puts an additional financial squeeze on camps already reckoning with inflation — and, at one camp at least, paying staff extra to stay on campus during their days off.
Fingerman said camps devoted major chunks of their budgets into virus prevention and mitigation — for example, by ordering tests that last year were at least partly covered by the government. But resources varied: Some could try to keep campers who tested positive isolated or in quarantine — others didn't have the space or staff.
Nevertheless, camp directors were quick to agree that things were in a way better place than 2020, when virtually all sleep-away camps closed down, or even last year. 
Goldscher said that camp directors need to get used to planning for the inevitability of infections. Though Capital Camps required vaccinations and testing, the virus found its way in anyway.
"We are in what I consider a new chapter of COVID, where COVID exists, and it's about managing COVID and managing our community within a COVID world," Goldscher said. "I look out from where I'm sitting right now, and our campers are fully engaged in our camp activities. I can hear people at the pool, people are playing basketball near me. There's a Gaga ball bouncing. Camp is happening."
JTA contributed to this story.