News
A priest, a rabbi and an imam walked into a wedding — for 500 couples
At Lincoln Center's (Re)Wedding ceremony, couples who missed their celebrations due to the pandemic got to say "I do."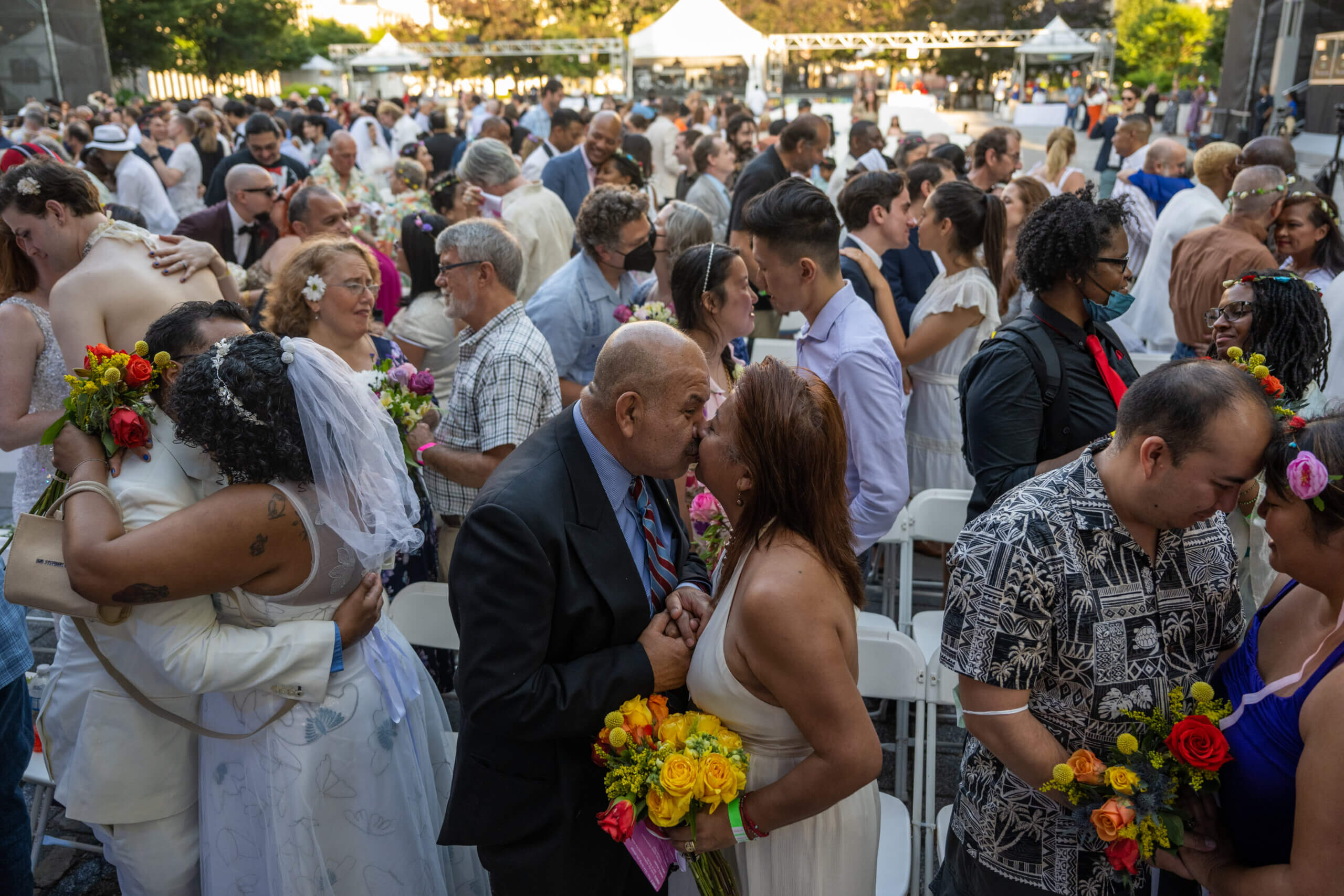 The pandemic has made it almost impossible to plan more than a month or two ahead. You get within a month or so of an event — a vacation, a conference, a concert you'd been looking forward to — and a surge shuts it down. Weddings have been hit particularly hard.
For those who missed out, the perfect venue had often been booked years in advance. The details were meticulously planned, invites sent and tens of thousands of dollars paid. And then the whole thing had to be canceled. Couples waited years to try again or got married in Zoom ceremonies with just enough masked, distanced guests to sign as witnesses.
Last weekend, 500 of those couples finally got a chance to make up for lost time. Gathered at Lincoln Center in wedding gowns and festive dresses, tuxes and jazzy ensembles, the attendees at "Celebrate Love: A (Re)Wedding" took photos, said "I do" in a symbolic wedding ceremony, then danced the night away.
Some of the attendees were saying their vows for the first time. Others were repeating them from ceremonies curtailed by COVID-19 and still more were renewing vows after decades of marriage. The event had queer couples and straight couples, people from every religion and ethnicity, and drew both old and young.
A ceremony 'for the city'
"I was blown away by how meaningful it appeared to be for many of these couples. People took it very seriously," said Rabbi Matt Green. "It was sort of a surprise for me because I thought it was sort of a schtick, but it turns out it wasn't — it was a ceremony for the city really."
Green was one of three clergy officiating the event, along with a reverend and an imam. (I promise there's no punchline.) Comedian Lea DeLaria hosted and New York City Mayor Eric Adams also spoke.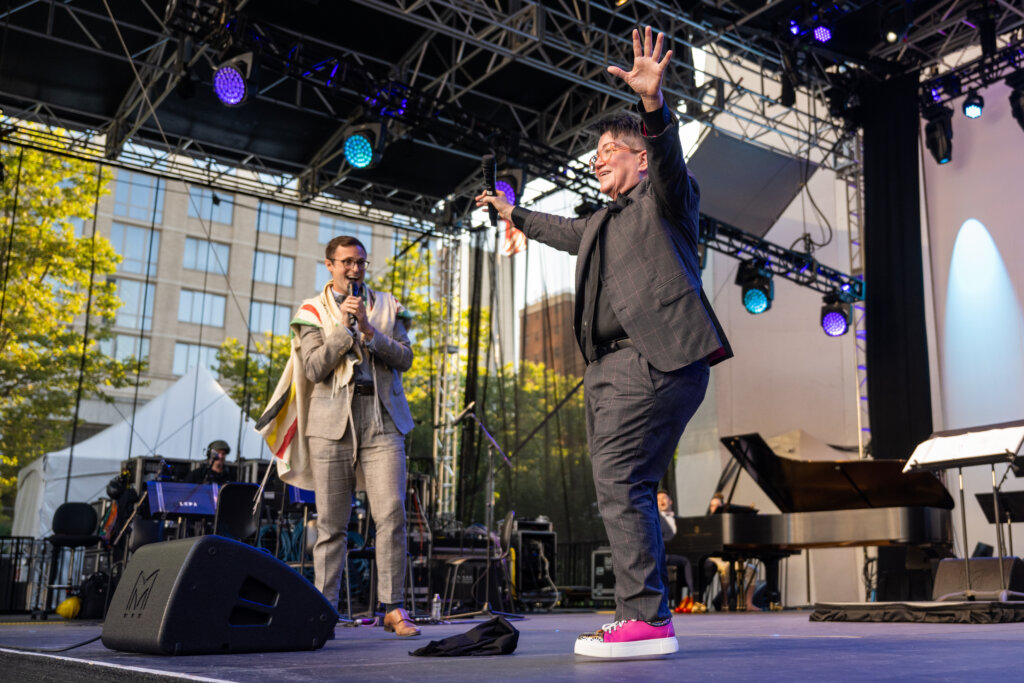 Green, who is the associate rabbi at Congregation Beth Elohim in Brooklyn, said the other two religious professionals gave speeches about love and intimacy, and generally leaned more philosophical than overtly religious in their portions.
But Green, who got to open the event, went the other direction, and offered what he said was the most traditional ritual element in what is usually a very ritualistic event.
"The five minutes or so that I was center stage were full-throatedly Jewish," he said. "I sang a full bracha and — well it wasn't quite a hora, but I danced arm in arm with Lea DeLaria after she broke a glass and everyone shouted 'mazel tov.'"
"I was pleased to find out the recording of me singing the bracha was actually on NPR — but without attribution," he added. "Which is fine. It bummed out my mom, but it's fine."
Green admitted that the glass breaking usually happens at the end of a ceremony, but explained to me — and, he said, to everyone who attended the event — that the symbolism also worked well for the beginning, symbolizing a "tzimtzum," or a contraction that makes room for something new.
Freedom to experiment
This ability to bend and play with tradition is part of what Green enjoyed about taking part in the event. Since the (re)wedding wasn't legally or religiously binding, there was freedom to experiment.
"If there were some legal aspect, if we were signing marriage licenses or doing all of the ritual of the sheva brachot or erusin — the first part of a wedding — I think that may have been a different story," said Green. "But the fact that it was a symbolic ceremony opened it up, I think, for all three of us to play with our traditions."
The rabbi said he had never gotten to work with Christian or Muslim clergy before, given that most Jewish life event ceremonies are for couples or individuals who are Jewish, and found it especially meaningful to see how each tradition spoke to people and meshed with their relationships.
"The minister referred to Jesus as 'rabbi Jesus' on stage," he recalled, chuckling. "And I was like 'why not!' You know, sure."