Fast Forward
A USC student suffered anti-Zionist harassment. Now the Department of Education is hearing her case
A Title VI complaint alleged that the school failed to protect Ritch from harassment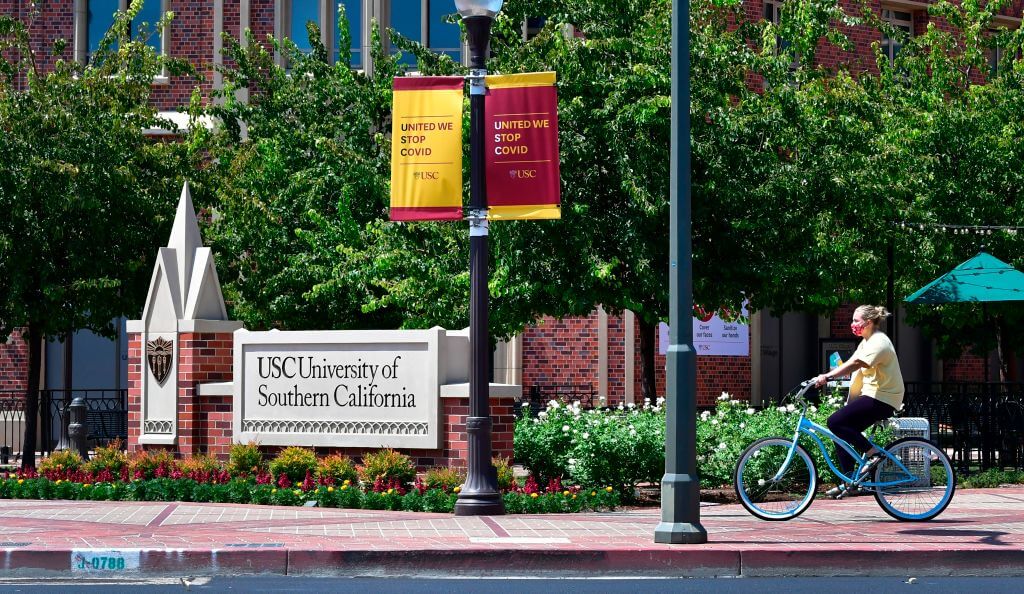 The Department of Education is investigating the University of Southern California over a Jewish student's statement that she resigned from student government because she was harassed for being a Zionist.
The investigation, which the department's Office for Civil Rights opened June 25, proceeds from a Title VI complaint filed against the school on behalf of Rose Ritch, who resigned from her position as student body vice president in August 2020. Ritch's resignation came after a campaign to remove her and then-president Truman Fritz over an alleged lack of commitment to racial justice incited a torrent of hate on social media over her support for Israel.
The complaint — which alleges that the school failed to protect Ritch from harassment — was filed by the Brandeis Center, a nonprofit that advocates for Jewish human rights.
Ritch did not respond to a request for comment, and the Brandeis Center declined to comment.
"We look forward to addressing any concerns or questions by the U.S. Department of Education regarding this matter," the university said in a statement.
Title VI of the Civil Rights Act of 1964 prohibits discrimination in programs that receive federal funding on the basis of race, color, or national origin — but not religion. However, guidelines for enforcement of Title VI have since clarified that it does protect religious groups when they are being harassed on the basis of their shared ancestry or ethnic characteristics. Schools must take "prompt and effective action" against discriminatory harassment that prevents a student from participating in any activities, according to a 2010 letter from the OCR.
In a 2019 executive order, former President Donald Trump updated Title VI guidelines to included the IHRA Definition of Antisemitism, which describes the ways criticism of Israel can become antisemitic.
In a resignation letter addressed to the student body, Ritch, who had also been president of the student group Trojans for Israel, wrote that an "aggressive" campaign to oust her over her affinity for Israel was rooted in antisemitism.
"I have been told that my support for Israel has made me complicit in racism, and that, by association, I am racist," she wrote. 
Ritch's experience became a case study about the intersection of Zionism and social justice on college campuses during a moment of heightened consciousness around race following the murder of George Floyd. After her resignation made national headlines, Jewish organizations across the country including the ADL rallied to her defense.
Dozens of USC faculty members also signed a letter calling for the school to better support its Zionist students.
Responding to those complaints, USC President Carol Folt wrote a letter to the student body saying that "what happened to Rose Ritch is unacceptable, and we must all take up her challenge to do better."
Dave Cohn, executive director of USC Hillel, praised the OCR's decision to investigate the complaint as an "assertive" action, adding that he believed the school was also moving to improve the environment for Jewish and Zionist students and faculty on its own.
"We are hopeful that this step will prove useful in spurring further productive action," Cohn said in a statement.
Jewish Federation of Greater Los Angeles CEO Rabbi Noah Farkas, a member of the President's Advisory Council on Jewish Life at USC, said in a statement that the Federation would work with USC President Carol Folt to address "ongoing issues that Jewish students have faced" at the school. 
"Universities should be safe and inclusive spaces, where students should never feel pressure to hide who they are for fear of being ostracized, harassed, or made to feel unsafe," he wrote.
Accusations of antisemitism have continued to plague USC since Ritch's resignation. In 2021, a graduate student's antizionist tweets — including one that said "I want to kill every motherf—ing Zionist" — circulated widely and led to calls for her expulsion.
The student, Yasmeen Mashayekh, was ultimately removed from her position as diversity, equity and inclusion senator in the engineering school's student government.
Jordan Greene contributed reporting.