First PersonHow I rustled up a minyan to say kaddish on Capitol Hill
As the Democrats' chief deputy whip, Rep. Deborah Wasserman Schultz herds her colleagues for key votes. So I figured she could rustle up nine Jews.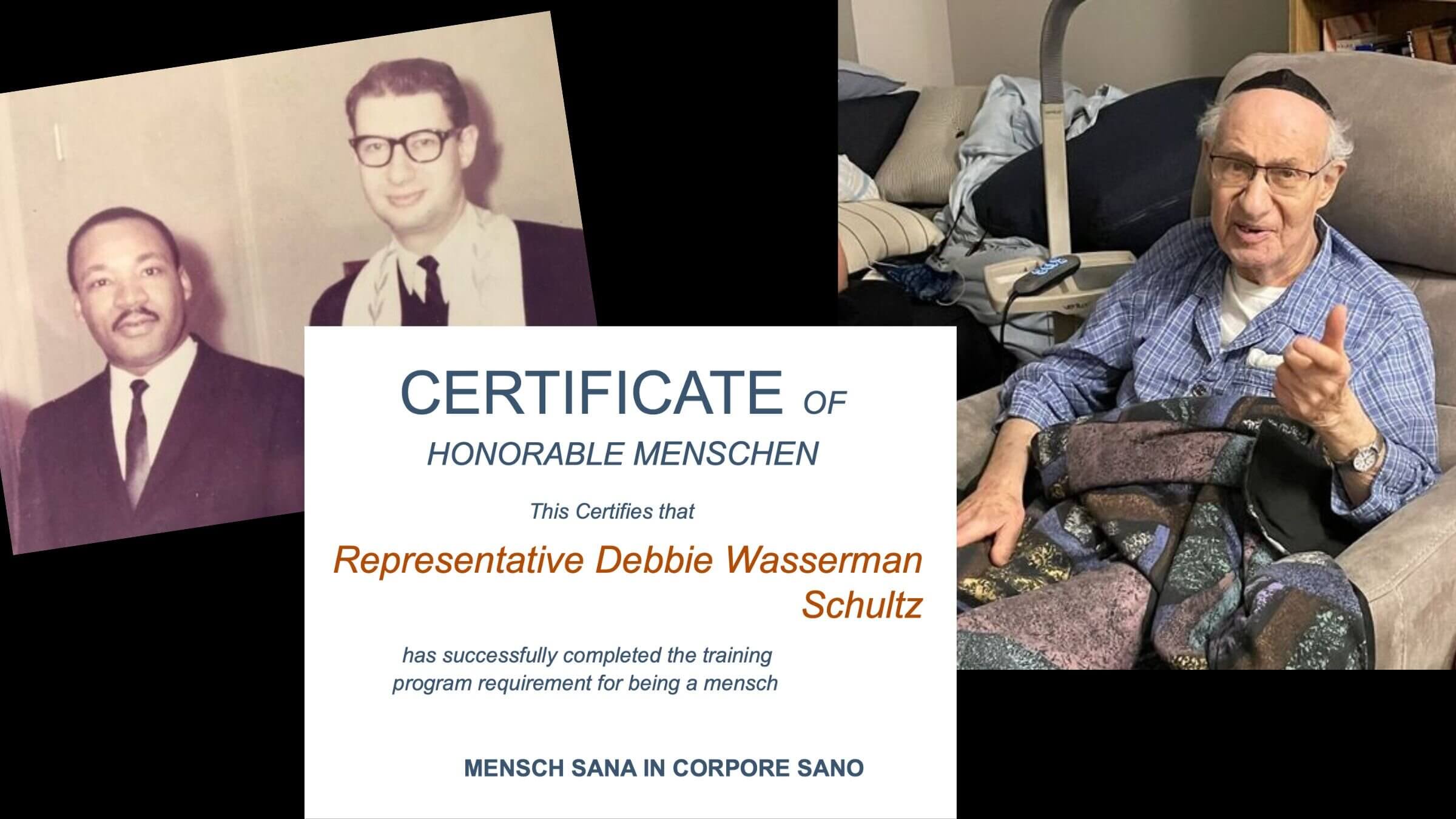 I had not missed saying kaddish, the Jewish mourning prayer, a single day since my dad died eight months before. Ironically, it was the day I spent interviewing members of Congress for a documentary film I'm making about his work in the civil rights movement that almost broke my streak.
I'd had to arrive on Capitol Hill to prepare for my meeting with Rep. James Clyburn of South Carolina before the 7:30 a.m. minyan at Congregation Holy Blossom in Toronto that I sometimes join virtually. At 11 a.m., when my go-to Zoom service convenes at Temple Sinai in Las Vegas, I was still talking to Clyburn about race relations in the 1960s in his hometown of Sumter, South Carolina, where my dad encountered the most violence on his 1961 Interfaith Clergy Freedom Ride.
By early afternoon, I had finished interviewing Rep. Debbie Wasserman Schultz of Florida, where most of my dad's civil rights arrests had occurred, but I had a seven-hour drive back to my home in western Massachusetts, and was afraid I would not arrive by sundown.
Luckily for me, Wasserman Schultz is also chief deputy whip of the Democratic Caucus, responsible for herding her House colleagues for key votes. Who better to help me round up nine more Jews to make a minyan?
"You must have a bunch of Jewish staffers," I said, hopefully.
The congresswoman, one of the founders of the Black-Jewish Relations Caucus, hatched a plan on the fly with her deputy chief of staff. They had to dash to another meeting, but told me to sit tight in the conference room where we'd filmed our interview until another aide showed up. A few minutes later, I was being escorted through the tunnels under the Capitol to Wasserman Schultz's suite, where Lauren Wolman, her legislative and floor director, had already been briefed on my situation.
"Do they have to be Jewish?" Wolman, a no-nonsense dynamo in her 30s, asked of the nine people she was meant to recruit.
"Do they have to be men?" she continued.
"Do they have to be physically present here in the office?"
As I pondered each question, I thought about the man I was saying kaddish for, the man who'd brought me to the Capitol in the first place — my father, Rabbi Israel Dresner, who died in January at 92.
Known as Sy, he was the rabbi most frequently arrested and jailed in the 1960s, an ally and friend of the Rev. Martin Luther King Jr. My sister, Tamar, and I have been working for nearly two years on a documentary about their relationship called "The Rabbi & The Reverend," which we hope to complete next year.
My interview with Clyburn, the majority whip, had taken place just off Statuary Hall in the Lincoln Room, where the president who emancipated the slaves wrote letters while he was a member of Congress. The room is filled with Lincolnalia — busts, paintings, a framed copy of the Gettysburg Address — that transported me back to my bar mitzvah.
During my dad's sermon that day in 1982, he told a story about a younger me having gone to my mother to ask what she knew about the Emancipation Proclamation to help with a book report.
"I know a little bit about it," my mother had said. "But, that's history — your father's area of expertise. Why don't you ask him?"
My response, as recalled by dad, summed up his essence: "I don't want to know that much about it."
The memory, like so many others that have taken me by surprise since my father's death from metastatic colon cancer, brought a mixture of laughter and grief. And reminded me that I had to find a way to say kaddish.
I live in Pittsfield, Massachusetts, a city with about 2,000 Jews and two shuls, neither of which has a daily minyan. That's why I decided to say kaddish mostly online — on Shabbat, I livestream services at Central Synagogue in Manhattan, just as my dad did throughout the pandemic, turning the volume on his TV up to 50.
One of Central's rabbis gave me a spreadsheet with about a dozen virtual options from around the country. I settled into the Las Vegas one both because it fit my schedule and because of its haimishness — I've become friendly with many of the regulars — and the eclectic choice of YouTube music videos they use to spice up the service. When I can't make it to Vegas, I dial into Toronto for a more traditional service.
Now here I was on Capitol Hill needing to design my own.
When Wolman asked if I needed the minyan to be made up of Jews, my first thought was "Kaddish for Uncle Manny," an episode of the quirky 1990s TV series "Northern Exposure." The main character was Dr. Joel Fleischman, who had to work off his med-school debt in Alaska.
My answer was different than Fleischman's, because I knew my father, as a rabbi, would have insisted we adhere to Jewish law. "Yes, they have to be Jewish," I told Wolman.
Dad, like me, was Reform, and egalitarian. So no, I told her, they do not need to be men.
And since I'd been saying kaddish mostly online, no, they did not need to join me in Wasserman Schultz's office.
Wolman disappeared for a few minutes and returned with Steve Paikowsky, a senior adviser to Wasserman Schultz, and Brian Goldberg, a college student who was in his second week of an internship and, to my 53-year-old eyes, looked barely bar mitzvah age.
Then Wolman put together a conference call with six staffers from the offices of Democratic Reps. Kathy Manning of North Carolina, Brad Schneider of Illinois, and Ted Deutch, who represents a neighboring district to Wasserman Schultz's in Florida. I thanked them all for being there for me, and began to recite the words of the kaddish.
As far as prayers for the dead go, kaddish is an odd one, since it doesn't mention death at all. Instead, the mourner exalts God in myriad words and ways, while the congregation punctuates with brief phrases and "amens."
Honestly, I've never really understood the prayer, and not just because it's in Aramaic rather than Hebrew. Nor have I ever found it particularly comforting, especially the redundant mid-section that fires off a barrage of synonyms — blessed, praised, honored, exalted, extolled, glorified, adored, and lauded — in talking about God.
But reciting the prayer in that congressional office with three people I just met and six others I couldn't even see, those words took on new meaning.
For the first time saying them, I felt real gratitude and true comfort — not to or from God, but to and from these men and women, who took time out of their hectic day to help a fellow Jew in need.
The list of words I recited applied equally to each of them and to Wasserman Schultz, who can add gabbai — a coordinator of prayer — and mensch to her distinguished list of titles.