News
In Arizona's race for attorney general, questions of ballot integrity and antisemitism
Kris Mayes is challenging Republican Abraham Hamadeh, who has refused to apologize for past antisemitic posts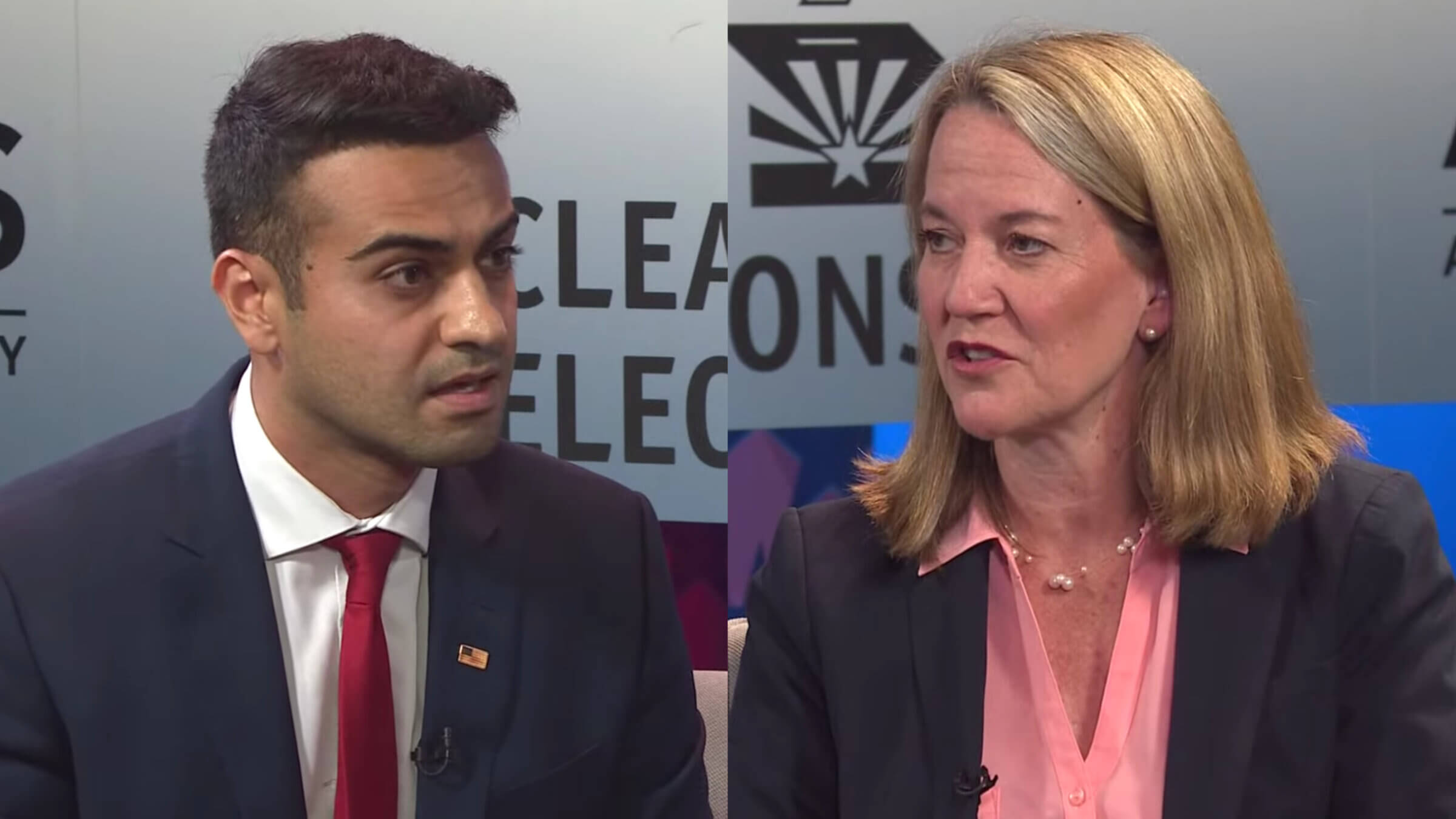 Kris Mayes covered Republicans as a reporter for Arizona's largest newspaper. As a Republican, she was appointed to a state regulatory board, the Arizona Corporation Commission. Now a Democrat, she is running to become Arizona's attorney general, and challenging a GOP she says she doesn't recognize. 
"It's mind-blowing how different this Republican Party is from the one that I covered when I was a newspaper reporter and from the one that existed when I myself was a Republican," Mayes said in a recent interview. "This is no longer George W. Bush's Republican Party, that's for sure."
Her opponent, Abraham Hamadeh, has said if he wins he would "prosecute crimes of the rigged 2020 election." 
The attorney general in Arizona is one of three elected officials who are part of the certification process for the presidential election. Election integrity is an issue in the Mayes-Hamadeh match-up. So is antisemitism.
Hamadeh, 31, a U.S. Army Reserve intelligence officer who won a crowded Republican primary in August after securing an endorsement from former President Donald Trump, has in the past invoked antisemitic tropes. In July 2007, when he was 16, Hamadeh posted on the Ron Paul Forums, a virtual gathering space for supporters of Ron Paul, the former Texas congressman and presidential candidate, that "Jews are influential and for the most part rich." Hamadeh added: "If you think Jews aren't big in America (2%) how come 56% of them are CEO'S." 
Critics say there's a throughline between the comments he made as a teenager and remarks he's made as a candidate.
During this year's primary, Hamadeh has repeatedly assailed Jewish billionaire George Soros, who has been the target of antisemitic tropes and touted as a boogeyman by the far right. 
Mayes, 51, said that it's "outrageous" that Hamedeh both made the remarks and failed to apologize to the Jewish community after she challenged him to do so. "At this point, I don't expect him to apologize for it," she said. 
A recent poll of 800 likely voters showed that Mayes and Hamadeh are locked in a dead heat, each garnering 45% of support from Arizona voters. The poll has a margin of error of plus or minus 3.5 percentage points. 
Jews make up 2% of the electorate in Arizona, well above the margin by which Biden won the state in 2020. 
"It's deeply troubling that this person could come anywhere close to being the attorney general of Arizona," Mayes said. The position is currently being held by Republican Mark Brnovich, who decided not to run for reelection to instead compete in the GOP primary for U.S. Senate, a race he lost.
Trump will hold a campaign rally in support of the Republican ticket in Mesa, Arizona, on Sunday.
The Hamadeh campaign did not immediately respond to a request for comment.
Combating antisemitism 
Home to 115,000 Jewish adults, Arizona experienced the fourth-highest increase — 155% — in antisemitic incidents nationwide last year, according to an Anti-Defamation League survey.
Mayes called the number "troubling" and said that reading her opponent's antisemitic comments "brought home the fact that this still exists in our country, and that's really sad to see."
"We need an attorney general who will make it clear that it won't be tolerated here," Mayes added. "The people of Arizona will defeat this and will not accept it in their elected officials."
She said that if elected, she intends to use the office of civil rights within the attorney general's office and work with county attorneys across the state to address antisemitism and prosecute hate crimes. "We need to remain vigilant about antisemitism but fight it wherever it arises,"  Mayes said.
Support for Israel
Mayes visited Israel in 2009 as commissioner of the Arizona Corporation Commission and said she was "deeply moved" by that experience and that it was "deeply impactful" to her as an individual and elected official. 
She said she would uphold the state's anti-BDS law that requires businesses contracting with Arizona to certify that they are not engaged in boycotts of Israel.
Hamadeh also visited Israel in 2015. In a 2008 post on the Ron Paul forum, he advocated cutting U.S. funding to Israel and reportedly indicated fervent opposition to Israel as a state. Hamadeh recently tweeted a picture of himself holding up a campaign poster of former Israeli Prime Minister Benjamin Netanyahu, the leader of the conservative Likud party, and wrote that he's praying Netanyahu "makes a big return" to office.