News
Does DeSantis support Jews or go easy on antisemites?
Some Florida Jews say Gov. Ron DeSantis, who is seeking a second term and perhaps the presidency, has been too slow to call out antisemitism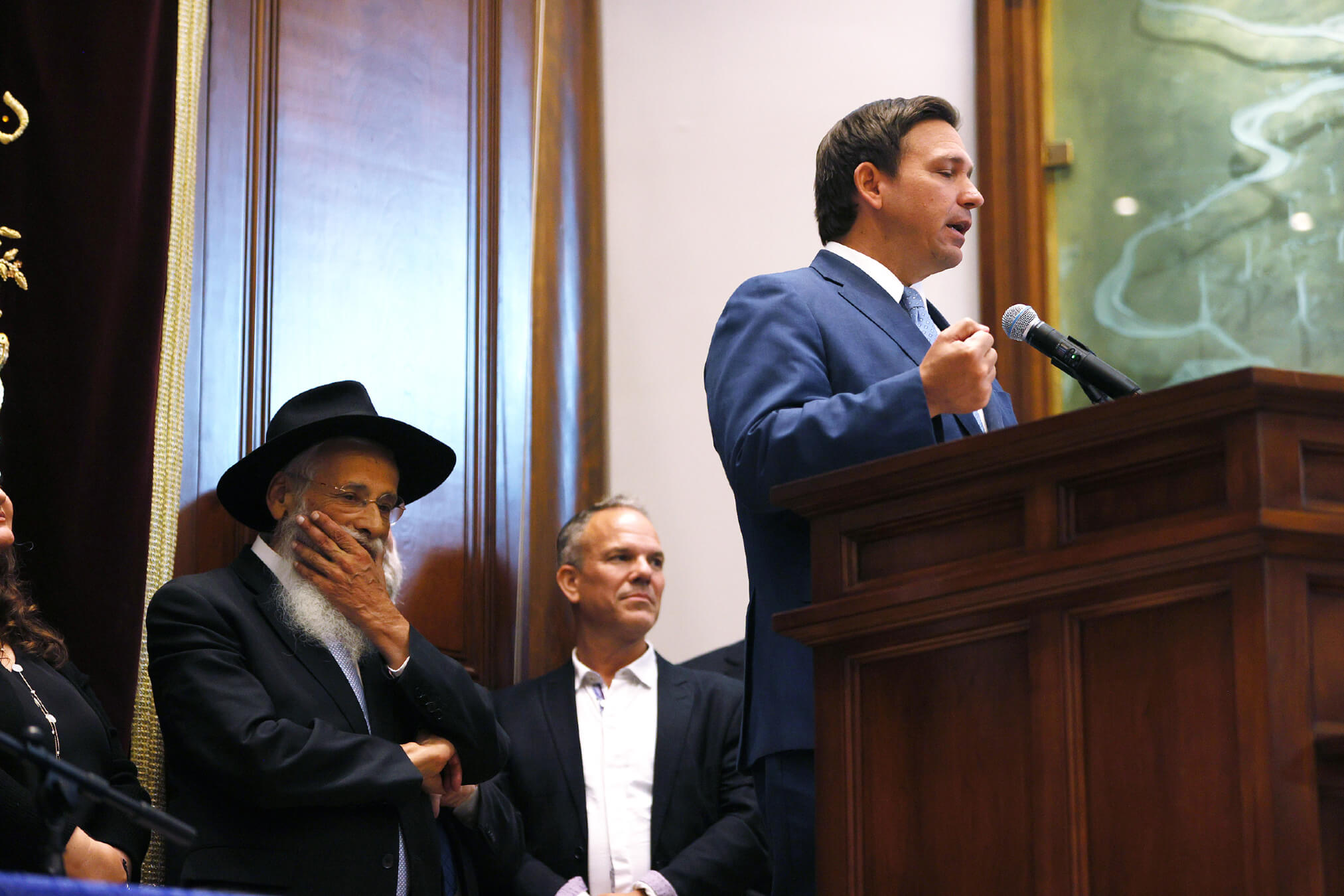 MIAMI — Neo-Nazis demonstrated in July outside a conservative conference in Tampa where Florida Gov. Ron DeSantis was a speaker, waving banners with swastikas and SS bolts alongside one that read "DeSantis Country." Another sign touted "our glorious leader, Ron DeSantis." Conference organizers disavowed the demonstration, but the governor, who is running for a second term, did not respond.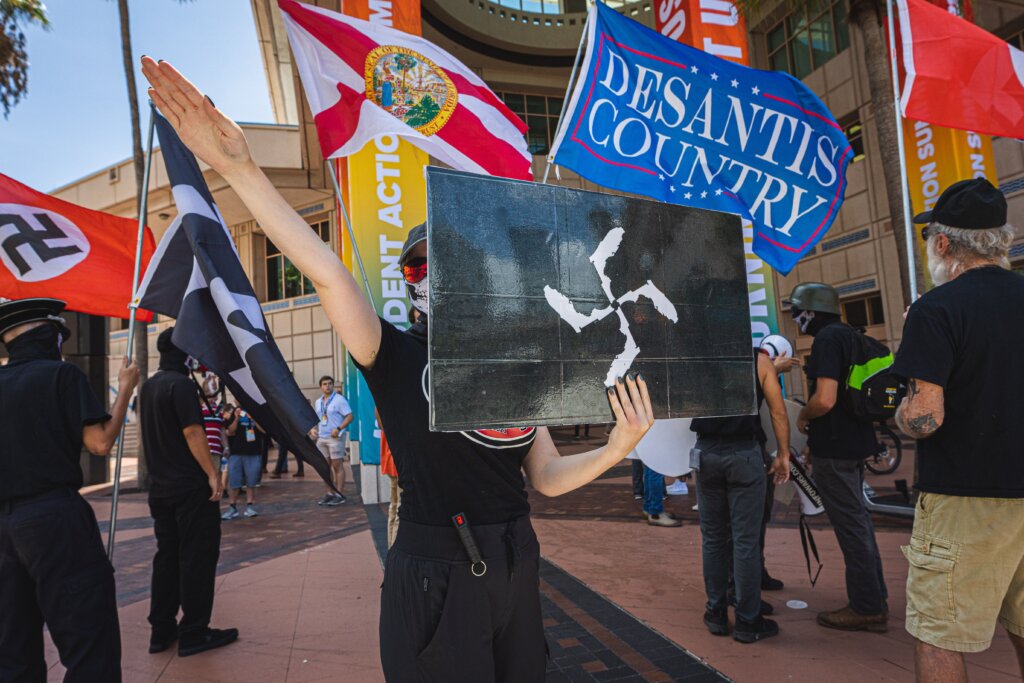 Six months earlier, when neo-Nazis rallied in Orlando, yelled "Heil Hitler," and hung a swastika banner from a highway overpass, a bipartisan array of Florida leaders was quick to condemn them. When DeSantis did, he called the demonstrators "jackasses" but did not call them out for antisemitism.
Many Democratic Jews and others accuse DeSantis of supporting antisemitic candidates, trafficking in antisemitic tropes in his campaign literature, and failing to confront a dramatic rise in antisemitism and white supremacy in Florida. His office did not reply to a request for comment for this article.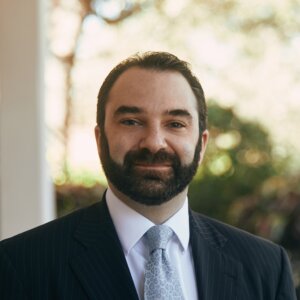 Rabbi Greg Weisman of Temple Beth El, a Reform synagogue in Boca Raton, Florida, said the line should be drawn at any politician who engages in antisemitism or refuses to call it out — no matter their party.
"The issue really comes down to, can I support a particular politician or leader despite this," he said.
Florida, according to a recent ADL report, is home to an extensive network of white supremacist groups. Hate crimes against Jews accounted for 80% of religiously motivated incidents in Florida in 2020, versus 56% nationally. And it's the first in the nation for in-person white supremacist events in 2021, said Ben Popp, the report's author.
Popp said silence from Florida leaders has encouraged the growth of antisemitism. "One reason we're seeing incidents increase is because not enough people are calling this out," he said.
Of Florida's 665,000 Jews, 59% are Democrats or lean toward the Democratic Party, according to Brandeis University's Steinhardt Social Research Institute. (That's slightly less than the national figure, 65%.) For many of them, DeSantis' reluctance to speak out against antisemitism compounds their dissatisfaction with him on a host of issues on which, they say, his stances also contradict their Jewish values. Jewish leaders have decried him for sending undocumented immigrants to Martha's Vineyard, curtailing abortion rights and signing what critics call the "Don't Say Gay" law.
But Florida is also home to a growing population of Orthodox Jews, attracted from the Northeast by more conservative politics and lower home prices — Jared Kushner and Ivanka Trump are two who have moved here in recent years. This group is largely supportive of the man who calls himself "America's governor" and is widely believed to be preparing for a presidential run in 2024. About a third of Florida's Jews — 32% — identify or lean Republican, according to the Steinhardt Institute.
DeSantis, who leads in the polls in the governor's race, faces former Gov. Charlie Crist on Election Day.
DeSantis' Jewish fans
Jewish DeSantis supporters point out that he is a vocal supporter of Israel, and laud his generous vouchers for religious schools. The Republican Jewish Coalition made him a featured speaker at its 2021 national leadership conference, and will feature him again in late November. The RJC's Florida office did not respond to a request for comment and the group's national spokesperson directed the Forward to David A. Milstein, who handles Jewish outreach for the DeSantis campaign. He did not respond.
While the Crist campaign flails, there's no question about Governor @RonDeSantisFL's pro-Israel credentials.

DeSantis proudly attended the Jerusalem embassy dedication ceremony + is known as one of the most pro-Israel Governors in the country.

And he will win BIG in November. https://t.co/Qkcuv4xk4z

— RJC (@RJC) September 20, 2022
Last January, just before the Orlando neo-Nazi demonstrations, DeSantis marked International Holocaust Remembrance Day by urging Floridians to "confront antisemitism." He signed legislation strengthening protections against antisemitism in schools during a 2019 visit to Israel. His rhetoric may often be overtly Christian, but it has helped endear him to an Orthodox Jewish community that appreciates invocations of God and faith.
"The governor is an extremely positive influence for the Jewish people," said Rabbi Sholom Lipskar, leader of The Shul in Surfside, the Orthodox congregation that became a community gathering place after the Champlain Tower collapse in 2021. Shortly before the disaster, The Shul hosted DeSantis for a press conference announcing legislation authorizing a private Jewish ambulance service and a moment of silence in schools.
Lipskar praised DeSantis' belief in God, his "anti-woke agenda," and outreach to Israel. "I do not believe he's an antisemite or has anything to do with neo-Nazis," Lipskar said, adding that DeSantis doesn't pander to Jews, and was right to ignore the neo-Nazi demonstrators. "To give these radical crazies publicity and attention is like giving them oxygen," Lipskar said, blaming news outlets for covering white supremacists.
Bashing Soros
But some Jews accuse DeSantis of trafficking in antisemitism himself.
Several fundraising emails from the governor have invoked Jewish billionaire George Soros, using what the Anti-Defamation League has deemed a common antisemitic trope. The most recent bashed the philanthropist a dozen times with phrases like "stop Soros from destroying Florida."
DeSantis' spokesperson, Christina Pushaw, has tweeted an antisemitic conspiracy theory about the Rothschilds and asked "Do we even know if they are Nazis?" about the Orlando demonstrators. (She deleted both tweets after drawing criticism.)
The governor has also campaigned and fundraised for Pennsylvania Republican gubernatorial candidate Doug Mastriano, who has been tied to the extremist and antisemitic social media site Gab. A controversial Christian pastor who shamed Jews for not converting to Christianity appeared in a DeSantis campaign ad.
To Kenneth Wald, the former director of the Jewish Studies program at the University of Florida, Orthodox support for figures like DeSantis follows a pattern of excusing antisemitism from powerful secular leaders in exchange for protection for their religious way of life.
"What they really are concerned with is obtaining resources for their community," he said. "Both modern and ultra-orthodox believe a society that is more religious is better for Jews than a society that is less religious."