News
What should you do if you witness antisemitic harassment?
Bystander intervention: Here's what you need to know — including how to stay safe yourself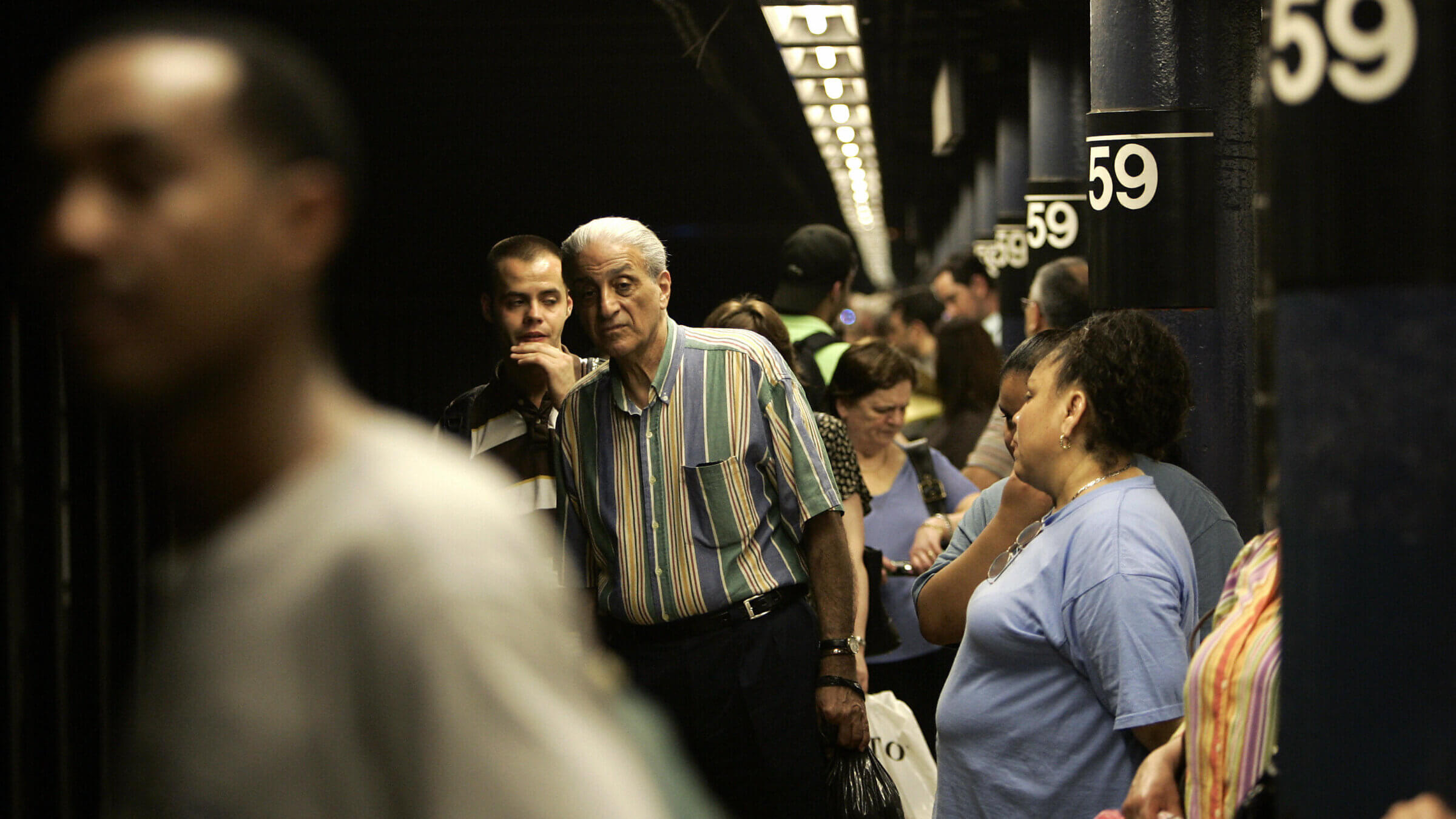 Ava Schumm was on a crowded subway in Manhattan when she heard a man making loud, derogatory comments about Jews.
His target: a bearded Orthodox Jew wearing a black hat and coat.
Schumm, 22, a Baruch College student, was penned in by the crowd on the other side of the train. "If I'd been closer, I would have said something," she said. "I'm not shy."
Instead, she took out her phone and started recording. Her video, posted Oct. 12 by Jews of NY, has been viewed nearly a million times on Instagram and TikTok, according to Jews of NY founder Yaov Davis.
Many of the hundreds of commenters noted, as Schumm did, "that nobody helped" the Jewish man, with nearby riders looking nervously elsewhere.
The reluctance to intervene
Some said the reluctance to intervene was understandable. After all, violent subway attacks make headlines in New York nearly every day.
Others said that if only they knew the right way to intervene in a similar situation, they would. "What can we fellow Jews, who may not look so obvious, do to help?" one commenter wrote on Instagram.
The good news is, there's plenty you can do — and you don't have to put yourself or anyone else at risk.
I recently took a free, one-hour online training from an organization called Right to Be on how to respond to antisemitic harassment, developed in partnership with T'ruah: The Rabbinic Call for Human Rights. (Right to Be, which aims to combat all forms of harassment, will offer another such training on Nov. 2.) In decades of riding the subway, I've witnessed and experienced all manner of harassment and other socially unacceptable (and sometimes illegal) behavior. I can honestly say that thanks to this training, I feel empowered as never before.
Learning the '5Ds'
Right to Be's approach is called the "5Ds": distract, delegate, document, delay, direct. The strategies are easy to understand and implement. They prioritize bystander safety as well as support for the person being targeted, rather than efforts to shame or rebuke the harasser. The strategies can be applied to instances of racist or gender-based harassment, online attacks, or even issues involving police or voting rights.
The first step in any situation, Right to Be advises, is for bystanders to assess what they can safely do. Speaking up in a busy store, for example, is different from intervening in an altercation on a lonely street. Responding to violent behavior is different from responding to an offensive comment.
A physically imposing individual who's trained in martial arts might feel more comfortable confronting a harasser than a small-statured person. A white person might feel more comfortable than a person of color filming what they judge to be police misconduct.
Once you've evaluated the risks and practicality of intervening, consider your options from among the "5Ds."
1) Distract
This is "an indirect, creative approach to de-escalating the situation," said Jackie Miller, Right to Be's director of learning and development. "People who target want attention. If you take that attention away from them, they tend to stop."
How do you create distraction? Drop your phone. Spill your coffee. Start a loud conversation with the person who's being harassed: "Can you tell me where the nearest grocery store is?"
2) Delegate
If you don't feel comfortable taking action yourself, "find someone who is in a position of authority," like a bus driver or store manager, Miller advised. Appeal to others: "That woman over there is being verbally attacked. Would you feel comfortable saying something?"
3) Document
If you're taking a video, "pretend you're checking your email on your phone," Miller said — discretion is key. When the incident is over, try to connect with the person who was targeted and offer them the video rather than making it public yourself.
"Let them decide what to do with it," Miller said. "It can feel like being targeted all over again if it's posted online without their consent."
4) Delay
This is the most indirect of the "5Ds," but it might be the most important and the easiest to implement. "It's about checking in with the person after they experienced the disrespectful behavior," Miller said. Citing findings from a Cornell University study, she said that "something as simple as a knowing glance from a bystander shows the person, 'I see you. I'm sorry this is happening to you,' and greatly reduces the trauma people experience." You could also ask the person if you can sit with them, walk them to their destination, or call someone for them. Or just ask: "What do you need?"
This approach is termed "delay" because "instead of taking action while the harassment is actively happening, you delay your choice to intervene until after the incident is over," Miller said.
5) Direct
If you're willing to directly engage with the harasser, simply "name what you see," Miller said. "Say, 'That's racist. Please don't use that language.' Or: 'She looks uncomfortable. Please leave her alone.'"
This is the riskiest approach — and, because of that, the one that Right to Be recommends the least. However tempting it may be to "save the day, to swoop in as the superhero" and confront the harasser, Right to Be prioritizes taking care of the person "experiencing the hurt."
Loren K. Miller, executive director of the Center for Anti-Violence Education — which also offers bystander intervention training — agreed that direct confrontation of a harasser "is often not always the best tactic to keep everyone safe." The organization uses the term "upstander," rather than bystander, she said, to signify that "we are not saviors; we try, to the greatest extent possible, to take our lead from the person being harassed."
Alan David Berkowitz, a psychologist who studies bystander behavior, says Right to Be's approach is "fairly standard."
"It is reasonable to emphasize the safety of the target and the intervener, and we don't want to endanger either," he said.
Responding collectively
But, Berkowitz said, bystanders can keep themselves safe and at the same time "interrupt a situation" with "indirect and distraction techniques." And while research shows that bystanders tend to "think that they are alone in the concern" when witnessing harassment, he said, they likely aren't: Engaging with other bystanders and "collectively" deciding how to respond as allies can be an effective way to interrupt the incident.
Davis, the Jews of NY founder, said Schumm's footage of the subway incident is one of dozens of videos his site receives daily documenting antisemitic attacks or graffiti. In a remarkable coincidence, the Orthodox man in Schumm's video, Yaakov Waronker, turned out to be the brother of a friend of Schumm's. At Jews of NY's invitation, Waronker, 23, a member of the Chabad Lubavitch community of Crown Heights, Brooklyn, recorded his own video about the incident. In it, he serenely preaches "love and unity" as an antidote to hate.
Education and healing
Miller, the head of the Center for Anti-Violence Education, noted that "education is a critical piece of prevention and healing — but if a stranger on the subway is angrily vilifying someone with antisemitic or homophobic or Islamophobic slurs, it is unlikely that I, as a bystander, am going to teach that person to see the light by directly confronting them. I may get them to stop, but the person harassing is most likely not in the mindset to learn."
She added: "Our goal is long-term transformation and healing," as a way "to build communities, not scapegoating certain people or certain groups."