News
Long Island Jews protest Santos, condemn his exploitation of the Holocaust for political gain
The Republican Congressman-elect lied about a key endorsement from a prominent Jewish Democrat, according to newly surfaced audio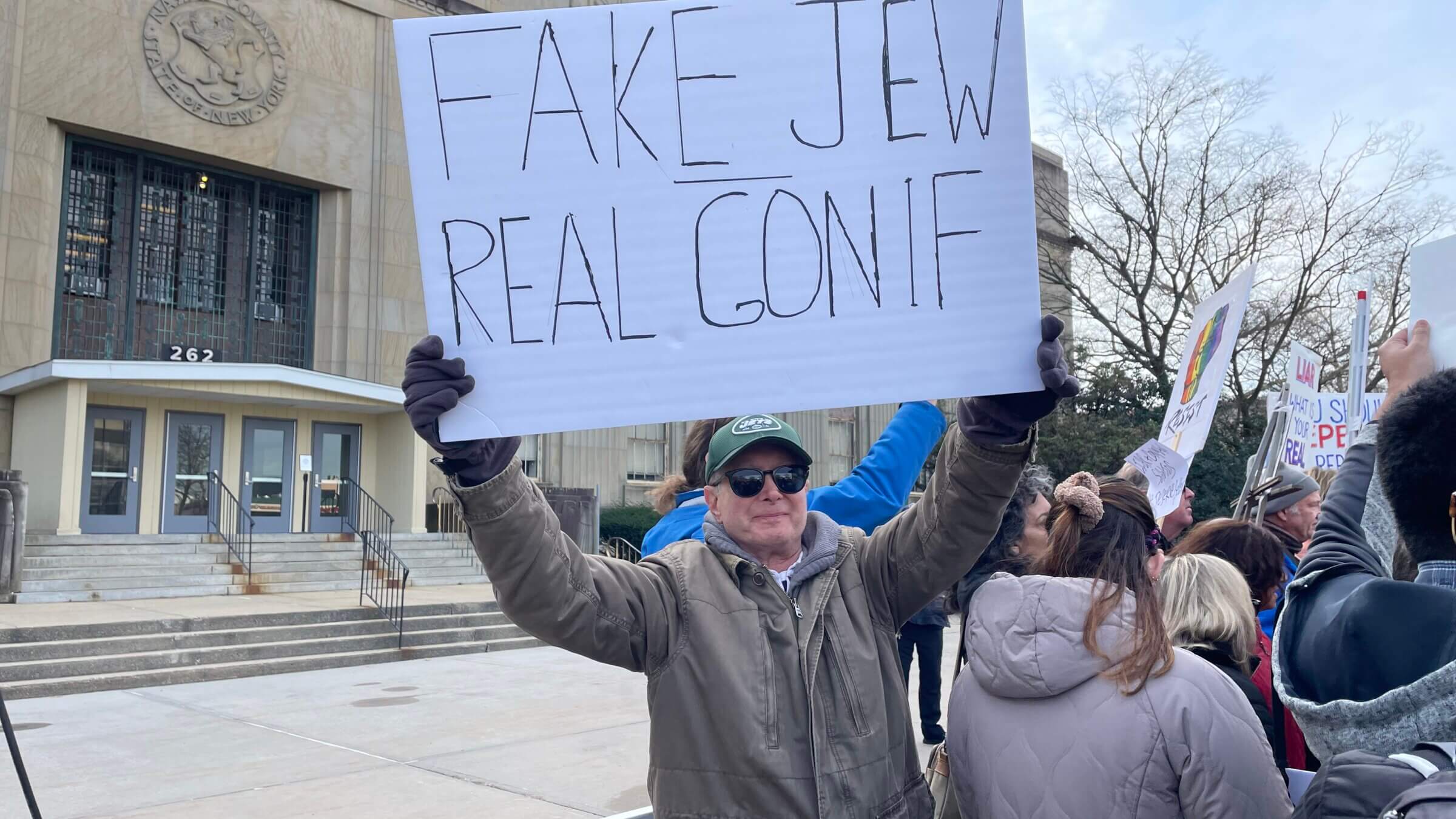 After admitting he fabricated key details of his resume, George Santos, the newly elected Republican congressman from New York, came under fresh scrutiny for lying about his ancestry and his Jewish heritage in newly surfaced documents and videos. A few hundred people rallied in his district Thursday outside the Nassau County courthouse to call for accountability and Santos' resignation.
"This moment is not about Democratic or Republican politics," said Rob Zimmerman, the Jewish Democrat who ran against Santos and lost. "This moment is about protecting our democracy, standing up for justice and standing together in unity to restore our confidence in the integrity of our public officials."
A review of past interviews posted online shows that Santos was not truthful to voters ever since he entered politics in 2020. In a radio interview during his first run for Congress, challenging the district incumbent, Rep. Tom Suozzi, Santos deceptively boasted about the backing of a prominent Jewish Democrat to promote his broad appeal.
Appearing on the Bernie and Sid radio show on WABC77 in October 2020, Santos said that former Congressman Steve Israel, who represented the district that includes part of the North Shore of Long Island and northeastern Queens from 2001 to 2016, offered him his support in public remarks. Santos referred to a Super Tuesday watch party in New York that was hosted by the Council for a Secure America, a bipartisan group co-chaired by Israel and Fred Zeidman, a Houston-based Republican donor and a member of the Republican Jewish Coalition's board of directors. "He said it in a large room for everybody to hear, 'You're going to be the first Republican I am voting for in my life,'" Santos claimed Israel told the crowd at the event.
In an email exchange on Wednesday, Israel said he doesn't recall meeting Santos, and the organizers of that event confirmed on Thursday that Santos was not an invited guest. This reporter, who covered the event for a different Jewish media outlet at the time, couldn't find any mention of Santos in written notes.
Israel, who previously served as chair of the Democratic Congressional Campaign Committee, whose mission is to support Democratic House candidates, called the story "preposterous." Santos was a first-time Republican candidate running against a two-term Democratic incumbent who out-fundraised him 3-1, according to FEC filings.
Santos has admitted he forged his professional biography and lied about his education and work experience and is now under federal investigation over his financial claims. He also falsely claimed to have Jewish grandparents who fled anti-Jewish persecution in Ukraine and then Belgium during World War II.
Suozzi told the Forward he couldn't recall whether Santos claimed he was Jewish during the 2020 campaign since he didn't pay attention to his opponent and didn't encounter him on the trail as the coronavirus pandemic was raging. Suozzi beat Santos by 12 points.
It appears that the first time Santos publicly raised his Jewish ancestry was in his campaign launch video in June 2021. In the three-minute clip, Santos used images of the Nazi death camps and said he "despised" socialism because "my grandparents survived the Holocaust." In a separate appearance on Fox News that month, Santos said, "My grandparents escaped socialism, they've escaped communism and the Holocaust."
Santos also suggested his mother's family's historical Jewish name was "Zabrovsky" and appeared to operate a GoFundMe campaign for a pet rescue charity using that alias. "My grandfather was born in Kyiv," Santos claimed in an interview with Fox News in February 2022. "For a lot of people who are descendants of World War II refugees, or survivors of the Holocaust, a lot of names and paperwork were changed in the name of survival. So I don't carry the family last name — that would've been Zabrovsky."
The Forward first reported last week that Santos' maternal grandparents were both born in Brazil before the Nazis came to power. Social media posts reviewed by the Forward indicated that his mother, the now deceased Fatima Alzira Caruso Horta Devolder, regularly shared Catholic imagery and followed several accounts about Catholicism.
Santos, who said in recent interviews that he had joked about being "Jew-ish," called himself a "proud American Jew" and said he traveled to Israel "numerous times" in a position paper his campaign submitted to multiple Jewish and pro-Israel organizations, including the American Israel Public Affairs Committee (AIPAC).
Suozzi called the episode "a shanda." The Santos campaign did not respond to a request for a comment.
'Fake Jew, real gonif'
At the Thursday rally, State Sen. Anna Kaplan, a Jewish Democrat, said that Jews "are owed an apology for his reprehensible lies about his nonexistent Jewish faith and his complete false connection to the Holocaust."
Several people at the courthouse held up posters that read, "Fake Jew, real gonif" (the Yiddish term for thief),  "You should repent, not represent us," and "Santos sucks."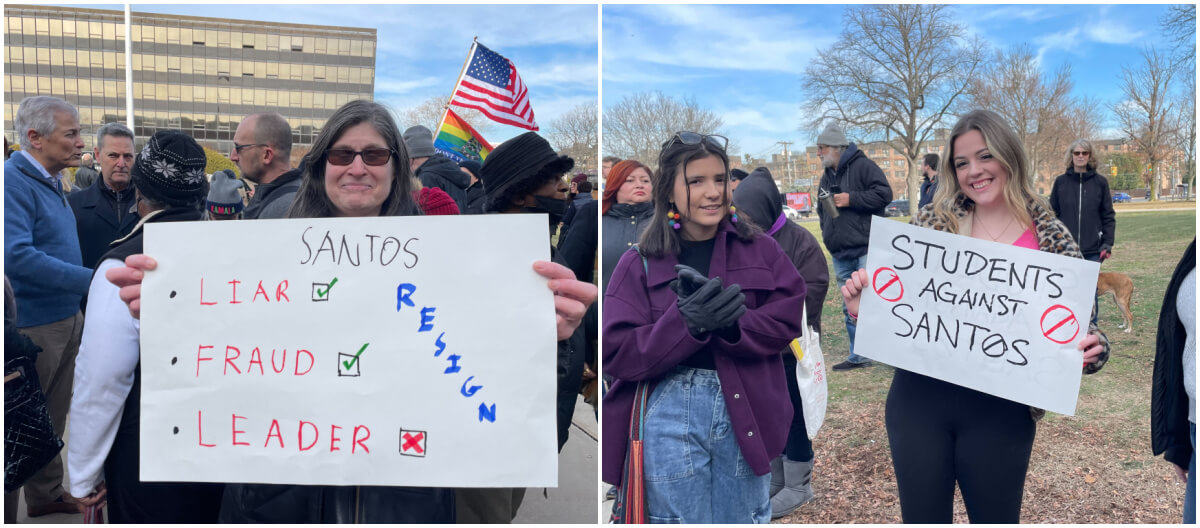 "You don't just get to be Jewish and there is no such thing as being 'Jew-ish,'" said Rabbi Deborah Bravo from a Reform synagogue in Bethpage, Long Island, called MakomNY. Jews make up 11% of the population in Santos' 3rd Congressional District according to David Pollock, associate executive director of the Jewish Community Relations Council of New York.
Janet Jeddah, who is Jewish and a 43-year resident of the district, said Thursday's gathering at the courthouse was her first protest since the Vietnam War in the 1970s. "It's the most despicable act," she said. "He lacks moral character."
David Frank, a textile artist of Ukrainian Jewish descent, said he's "outraged" that Santos appropriated the Holocaust for political gain. "It's unacceptable," he said, "and unforgivable."
Zimmerman, who lost the election to Santos by 9 points, said he was "inspired" by the large turnout. "We are fighting back," he said, adding that he didn't expect a "pathological liar" like Santos to apologize for his Jewish claims.