Nazi-collaborator monuments
Nazi collaborator monuments in Bulgaria
For decades, Czar Boris III was celebrated as a savior of Jews. Then, researchers proved he had deported over 11,300 Jews to their deaths

This list is part of an ongoing investigative project the Forward first published in January 2021 documenting hundreds of monuments around the world to people involved in the Holocaust. We are continuing to update each country's list; if you know of any not included here, or of statues that have been removed or streets renamed, please email [email protected], subject line: Nazi monument project.
---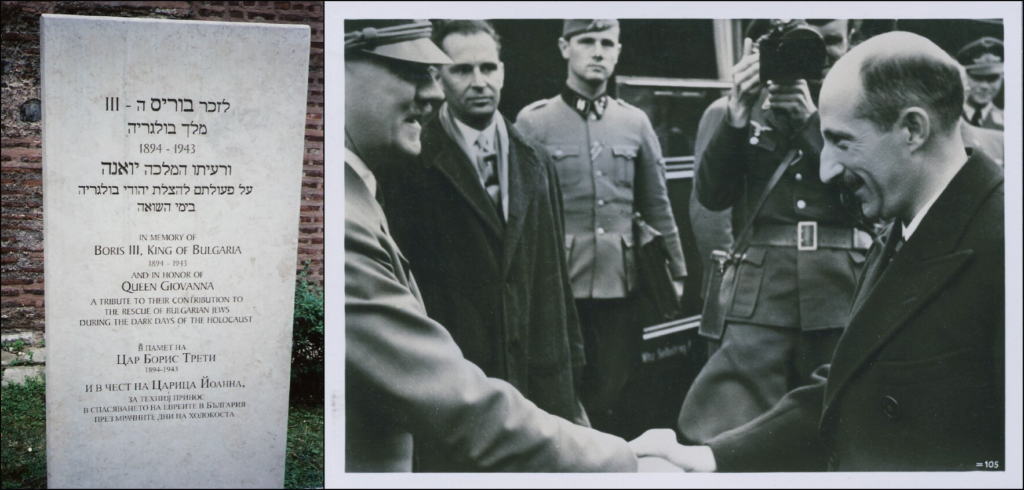 Sofia – Outside the Saint Sofia Church is a memorial thanking Czar Boris III (1894–1943), Bulgaria's ruler during the first half of WWII, for saving Bulgaria's Jews. 
It's a stunning example of historical revisionism considering Boris III's government sent over 11,300 Jews to their deaths. 
In January 1941, Boris III formally approved antisemitic legislation based on the Nuremberg Laws. It denied Jews Bulgarian citizenship, banned them from the public sphere and legalized conscription of Jews into forced labor and the seizure of Jewish property. 
Shortly afterward, the czar allied Bulgaria with Hitler; in return, Hitler allowed Bulgaria to seize territories from its neighbors – Western Thrace from Greece and Vardar Macedonia and the city of Pirot from Yugoslavia. 
From that point on, Jews living under Bulgarian rule fell into two categories: those who resided in the Bulgaria-occupied territories of Western Thrace, Vardar Macedonia and Pirot and those who lived in Bulgaria proper. The two populations had vastly different fates. 
In 1943, Bulgarian forces systematically rounded up over 11,300 Jews from the occupied territories and turned them over to the Nazis. Virtually all were exterminated in Treblinka. 
Boris III's government was prepared to do the same thing with Jews from Bulgaria proper; however, the deportations ended up being halted. Historians are still debating the reasons for this. Some factors include members of parliament and prominent bishops in the Bulgarian Orthodox Church who bravely spoke out against the deportations, the low level of antisemitism in the population and the high degree of Jewish integration into Bulgarian society. In the end, the approximately 48,000 Jews in Bulgaria proper were saved from extermination. 
The salvation came at a price. Instead of being turned over to the Nazis, around 20,000 Jews were expelled from Sofia to rural ghettos. Increasingly harsher antisemitic laws forced Jews to wear yellow stars and imposed a curfew on the ghettos; starting in 1941, thousands of Jewish males were imprisoned in labor camps inside the country. 
Overall, Boris III's government deported over 11,300 Jews in Western Thrace, Vardar Macedonia and Pirot to their deaths. Bulgaria did not deport the 48,000 Jews in Bulgaria proper; however, they were subjected to imprisonment and persecution. 
After the war, Boris III was transformed into a savior who stalwartly defied Hitler's demand to hand over his country's Jews. Of course, this myth only works if one ignores the 11,300 Jews who were deported and murdered. 
The campaign worked – indeed, it was so successful that in the late 1990's Israel erected a memorial thanking Boris III for rescuing Bulgaria's Jews. After an outcry, a committee investigating the czar's legacy recommended the memorial's removal. It was taken down in 2003. 
The memorial standing in Sofia today is said to be the original Israeli memorial transplanted to Bulgaria after being removed in Israel. (Other sources, including a sign at the memorial, claim it's not the original but rather an exact replica – it's unclear which version is true.) It's important to note the memorial also honors other Bulgarians such as church leaders who did work to save Jews. 
Sofia's other honors to Boris III include the Borisova Gradina Park (with monument), boulevard, cultural center, hospital (with bas-relief) and statue at the National Museum of History. 
Below left, Jews being deported from Macedonia to the Treblinka death camp, March 1943. Below right, Jews loading a water barrel onto a deportation train from Skopje to Treblinka, March 1943.

***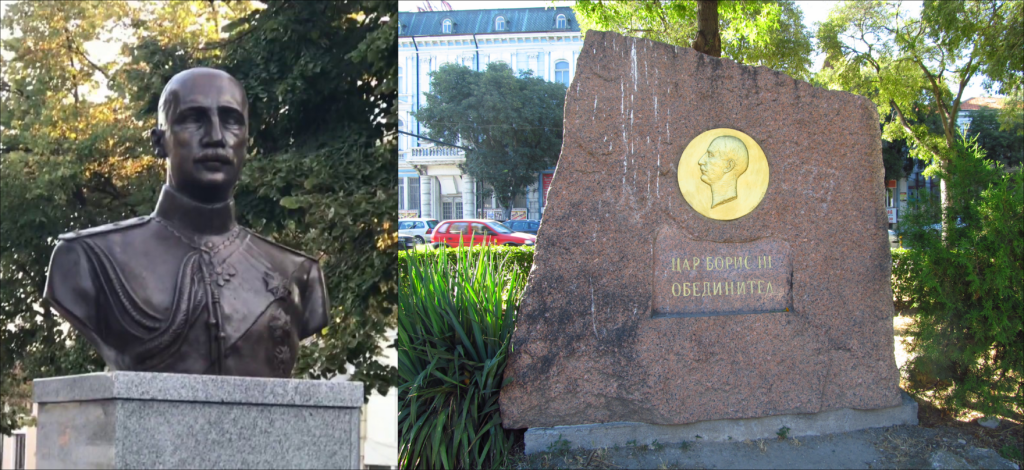 Popovo and 22 other locales – Bulgaria's honors to Boris III outside Sofia include monuments in Popovo (above left) and Silistra; a monument, library and boulevard in Plovdiv; a monument (above right) and street in Varna, a square (with plaque) in Dobrich; plaques in Devetaki, Mezdra, Pchelarovo, Razgrad and Stargel; and streets in Anton, Bansko, Chernoglavtsi, Dobralak, Kazichene, Montana, Obretenik, Petrich, Pleven, Radomir, Samokov, Tsalapitsa and Yakoruda. 
See the North Macedonia section for a cultural club named after Boris III; the club's October 2022 opening led to an ongoing and violent controversy.  
(Bulgaria, like many nations in this project, has annual far-right commemorations of Nazi collaborators. The February torchlight march in Sofia honors Hristo Lukov, antisemite and Third Reich ally who was Bulgaria's minister of war from 1935 to 1938 and supported the deportation of Jews from Bulgaria-occupied territories. It must be noted that Lukov doesn't have actual monuments and Bulgarian authorities have condemned the march.) 
For more on Bulgaria's complex Holocaust legacy, see the Washington Post review of Jacky Comforty's documentary "The Optimists"; the Jerusalem Post review of "The Stolen Narrative of the Bulgarian Jews," a book by Comforty and Martha Aladjem Bloomfied; the USHMM Bulgaria page; a Yad Vashem essay on the deportation of Jews from Bulgaria-occupied territories; a thorough overview of the Holocaust in Bulgaria and the campaign to whitewash Boris III; and Haaretz coverage of a 2022 controversy about a book on Boris III and the Holocaust. (Many thanks to Dr. Steven Sage, Jacky Comforty, and Sasha Uzunov for their help in researching this topic.)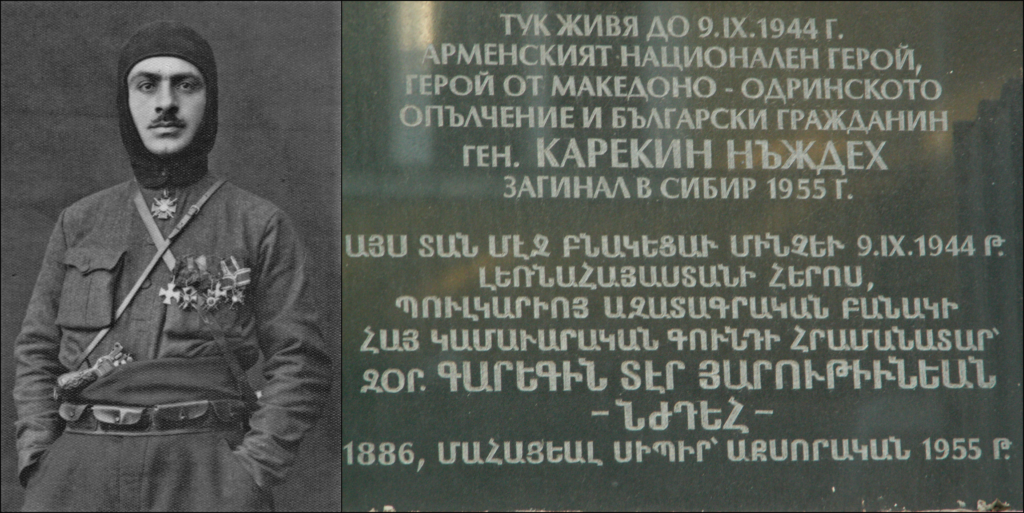 Sofia – Above left, a plaque memorializing Garegin Nzhdeh (1886–1955), Armenian nationalist leader who placed the Armenian Legion in the service of the Nazis. The legion's soldiers served Germany in the Caucasus, Crimea and France. See report in the Jerusalem Post. 
Nzhdeh resided in Bulgaria several times during his life and received numerous medals while fighting the Ottoman Empire in the Bulgarian army. The plaque is on the Sofia house where he lived when he was arrested and sent to the Soviet Union in 1944. It calls Nzhdeh a hero and general while omitting his aid to the Nazis. 
See the Armenia section for more Nzhdeh honors.