News
'I realize now how fragile human life is': Four Ukrainian Jews reflect on a year at war
They have been separated from their children, been injured, seen death. They have relied on their faith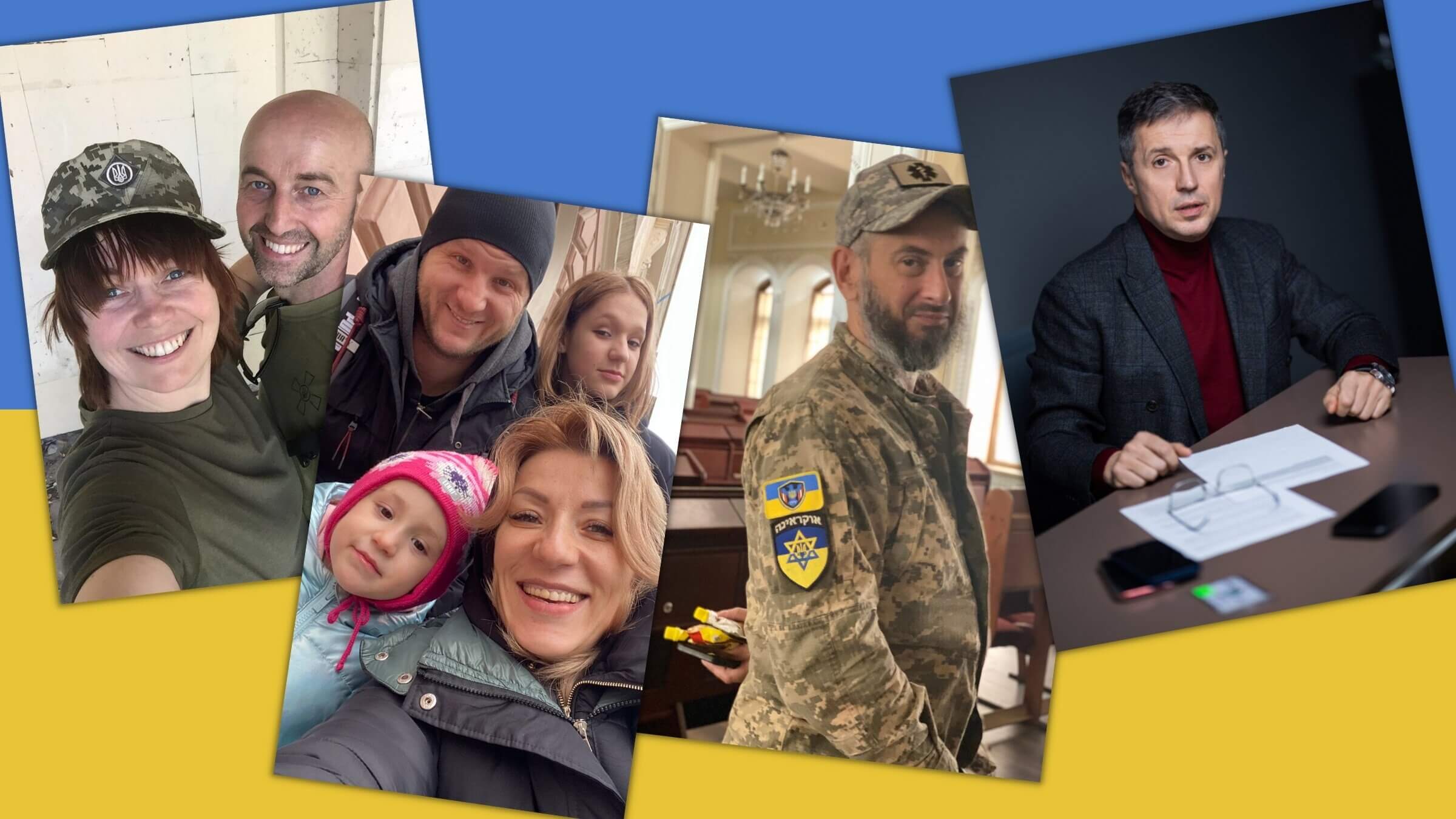 Nearly a year since Russia invaded Ukraine, life in Kyiv goes on. I hear people talking about drones and rockets — counting the ones Ukraine's military managed to destroy, the ones that landed, and the damage they caused.
People have gotten used to scheduling their activities around power outages. "I don't feel any inconvenience," said a teacher at the gym where I work out. "I accept that this is our life, and we should get on with it. The guys and girls in the trenches suffer much worse."
I live in the center of Kyiv, around the corner from the city's main thoroughfare, Khreschatyk. The Russians are targeting Ukrainian power plants, so in my apartment I use emergency portable power stations and space heaters donated by American synagogues; when there is no running water, I melt ice from the balcony.
I left Ukraine in 1988 with my husband and baby daughter, after enduring humiliating antisemitism during the Soviet era. I'm an American citizen, but after decades in Swampscott, Massachusetts, and 10 years in New York, I followed my husband who decided to return to Kyiv for a business venture. We intended to stay a year but it has been a decade; when the war broke out, I knew I had to stay.
I am a fashion writer for L'Officiel, but I have spent the year chronicling the experiences of myself and my neighbors, and especially the Jewish community. As we approach the anniversary of the war's beginning, I asked four Ukrainian Jews to reflect on what they have seen and what they have learned. 
Viktor Yezapenko, 40, was a realtor in Kyiv before the war, and now serves in the 80th Airborne Assault Brigade. His wife and two daughters, age 4 and 14, found refuge in Germany with the help of Rabbi Reuven Stamov. They spent most of 2022 there, but returned to Kyiv in January.
Michael Arshevsky, 47, a lawyer and bank manager, was wounded by shrapnel in the first days of the war while volunteering for the Ukrainian army. He has family in Israel and the United States, but decided to stay in Ukraine, where he spent six months training to be a paramedic with United Hatzalah of Israel. He has driven ambulances to evacuate the wounded from the front and trained conscripts. 
"When I see how many people willing to fight for Ukraine have absolutely no skills and experience, I want to cry, because I understand that they might be killed in their very first battle," Arshevsky said. He invoked a Talmudic text suggesting that saving a life is akin to saving a whole world.
Born in Lviv, Olena Kolb, 44, studies the history of Jews in Ukraine and the rest of Eastern Europe. Before the war, she was director of education at the Lviv Old Museum; organized more than 100 expeditions to Jewish landmarks in Ukraine and Poland; and created illustrated guidebooks to Uman, the burial site of Nachman of Breslov that draws thousands of Jewish pilgrims each fall. 
She and her husband are both serving in the military; they have three daughters, age 20, 10 and 5.
Like me, Vadim Shekman immigrated to the United States in the late 1980s. He ran a health care company and began traveling back to Ukraine over the last decade to expand his business. He is now 53 and CEO of Dobrobut, a private medical provider here.
Here are excerpts of their written responses to my questions, lightly edited for length and clarity:
What did you not know a year ago that you know now? 
Shekman: Human capacity to adapt. People here adapted to war, missile attacks, power blackouts and still keep on going about their everyday life. Life in Kyiv seems sort of normal even though to every outsider it may look crazy.
Yezapenko: Before, I had no military experience, but today I am defending my land with Kalashnikov and I am ready to sacrifice my life so that my children live in a free country. 
I realize now how fragile human life is. And I also know that today my faith in God has become many times stronger. Many Jews today believe that God will one day send a messiah who will lead the world into an age of peace and understanding. On the battlefield, and under heavy enemy fire, all that keeps me going is FAITH! 
How has your Jewishness shaped your experience through this war?
Yezapenko: I survived largely thanks to the community, my faith and my rabbi.  I'm wearing a kippah and I took a siddur with me to the army.  
There are a lot of Jews in Ukraine, and Russians hate them, like everything else that is not Russian. Therefore, I am here as a Jew, as a Ukrainian, as a son, as a husband and as a father.
Kolb: As a family, we light candles every Shabbat. Even when our family was separated, we shared Shabbat light with each other. Since the beginning of the war, the Israeli community in Amsterdam took care of our children and helped them adjust to a different environment while my husband and I stayed in Ukraine to defend the country. 
Shekman: Seeing Jewish light persevere is important. Synagogues became not only places for prayers but also shelters and sources of strength and hope. It makes me feel proud.
Arshevsky: Only being Jewish allowed me to keep my presence of mind. I remained the same Jew that I was, only in military uniform and with weapons. I observe Shabbat and Jewish holidays as long as a military situation allows it.
Where were you when the war broke out? How long did you think it would last? 
Yezapenko: My wife and our eldest daughter left on Feb. 23 to attend a seminar in the town of Chernivtsi, organized by our Jewish community. I stayed in Kyiv with our 4-year-old daughter, Tanya. At 5 a.m. on Feb. 24,, I heard deafening explosions. 
When I went online, I saw a video message from our president, Volodymyr Zelenskyy: WAR has begun in the country. 
Rabbi Reuven Stamov called for everyone to join him in the western part of Ukraine. We quickly gathered a few belongings, trying to remain calm under the sound of shelling, collected our pets, a dog and a cat, and got in the car. For more than five hours, we could not leave Kyiv; we spent a lot of time searching for gasoline. 
I had my daughter in my arms and I knew that I had to keep her alive and deliver her to my wife. No less important was that we had a place to go to, thanks to our rabbi and rebbetzin. It took us 22 hours to get to the destination. 
I went back to Kyiv. I wanted to believe that in a couple more days everything would be over. Unfortunately, with each subsequent news, we realized that it was just the beginning. 
Kolb: On Wednesday evening, there was a roar of planes in the sky. It was very unusual and disturbing. My eldest daughter, who is a student and lived at the dorm, called and told us that the Russian invasion had started. 
Even then we thought that the aggressors would retreat soon. The first week was very scary and incomprehensible. Two months later, it became clear that this was not a war, this was a genocide of the Ukrainian people, as it was 70 years earlier the genocide of Jews, simply for the reason that Ukrainians dared to live in their free country, not the way their eastern neighbor wants.
Shekman: I remember Feb.  24 very well, as probably everyone who lives in Ukraine does. At 4 o'clock in the morning, for some reason, I woke up and saw a Ukrainian declaration of war, and it immediately became clear that the world would be divided into "before" and "after."
The embassy called me every day, pleading for me to leave as they called all U.S. citizens staying in Ukraine. However, I was ready to take the risk, like all the people who live here. 
I believe in Ukraine; I believe in victory and did not consider the option of leaving for myself. I am a citizen of the United States, but I am also a Dobrobut employee. Personal security is a concern, but I work here with my staff.
What is the worst thing about the past year?
Arshevsky: Me being wounded. The death of people I knew personally. Mourning the dead both retrieved and missing.
Yezapenko: When on March 5 my wife and daughters got on the bus, leaving the country, it seemed to me that my heart would break. Tanya was 3 years old; will she remember me? 
Men don't cry, I didn't cry, I cheered my wife up. Tears and despair came later.  
The most painful thing now, when I am in the army, is witnessing people dying. Every day, so many young soldiers give their lives for the freedom and independence of our country. Just not so long ago they had a life, plans, and future. It's unfathomable to clean the blood of your comrades from the uniform after the battle. 
Kolb: The death of my grandmother and father. I clearly understand that they were devastated by the war and they passed away because of this. 
Shekman: Realizing that thousands of lives are being destroyed. Realizing that the world will never be the same. Ever. From now on, we will live in a completely different reality.
What is the most hopeful thing? 
Arshevsky: Against many predictions that Ukraine could not have resisted even for a week, the country stands strong fighting for its independence. 
Kolb: I have great hopes because of the other countries' — and the U.S. in particular — support for Ukraine and its armed forces. Without this support, our army would not be able to resist. 
Shekman: There are a lot more virtues in people than I thought. So many people show kindness in big things and small. People donate, volunteer and help. 
What do you hope will be a year from now?
Arshevsky: I expect a revival, economic recovery and building a humane society. I firmly believe it will happen. I hope to be useful to my country under any circumstances. 
Yezapenko: A blossoming independent country, transparency in the government, and that there will be more love among people. We forgot what it means to be human. The war gave a chance to see who is who and to change a lot.
Shekman: Unfortunately, I think Ukraine will still be at war, but I am sure the victory will be closer than it is today.
My hospital has been treating people and will continue doing so. I hope to connect with more charity organizations so we can offer more care to people who cannot afford it because of the war. And we will be deep in the process of building a state-of-the-art rehabilitation center. 
Considering how many people will be in need of recovery both psychological and physical, it is a significant undertaking. 
Kolb: In a year, I want to live with my husband and children in a cozy and jolly house, have dinners together, plan vacations and, of course, do what I love: draw, write, create new tour routes and participate in Jewish historical expeditions.