News
White supremacists are driving the increase in antisemitic incidents
While many of the leading far-right groups have lost power in recent years, antisemitic banner drops, flyering and other stunts are increasing, according to the Anti-Defamation League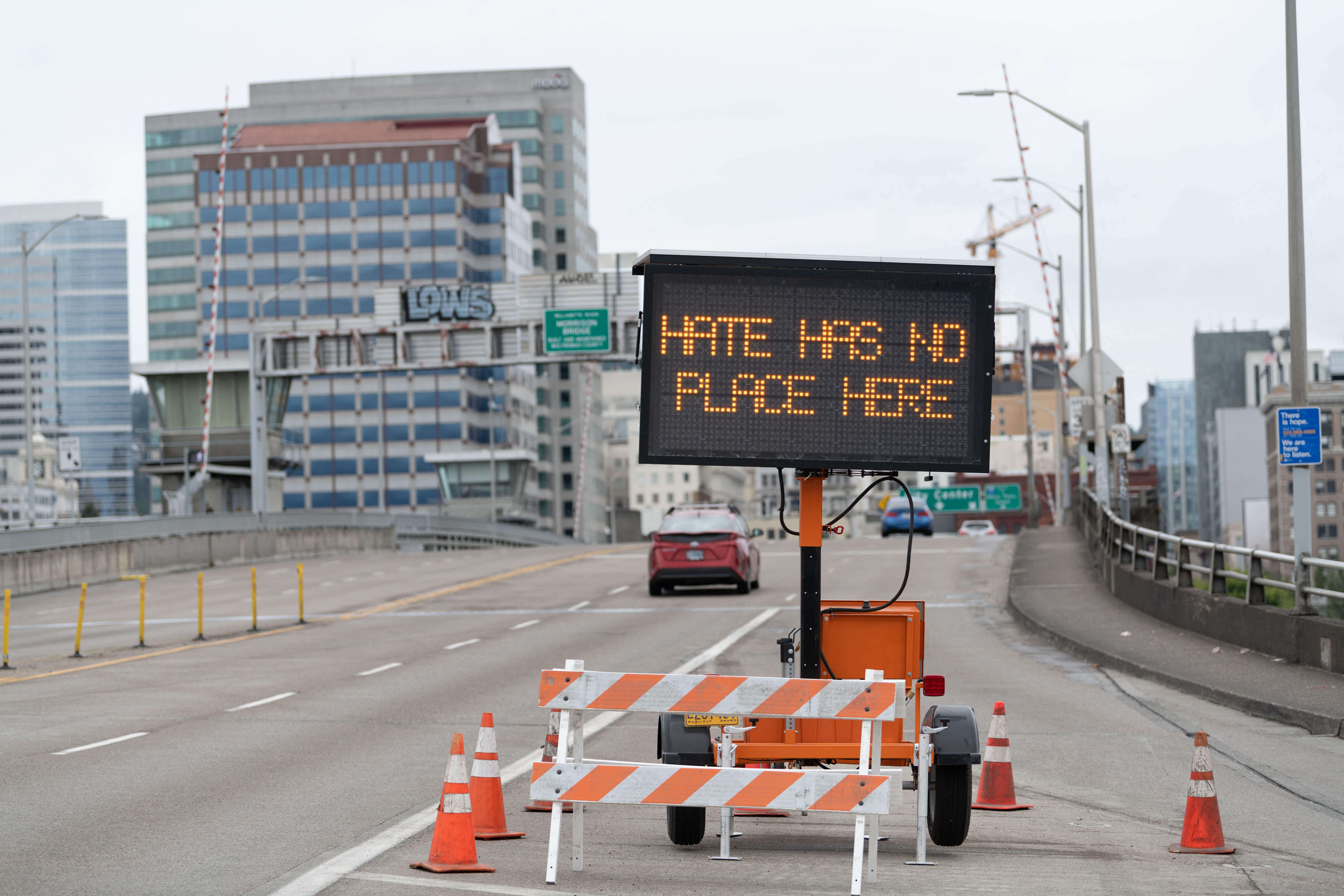 Unfurling banners, distributing fliers and using lasers to project swastikas on buildings, white supremacists dramatically escalated their antisemitic propaganda activity in 2022. Those incidents hit a level without precedent in recent decades, and increased faster than any other form of antisemitism, such as assaults and vandalism, according to a report released Thursday from the Anti-Defamation League.
The ADL counted at least 852 incidents of white supremacist propaganda in 2022, more than double from the prior year, according to its annual count of antisemitic incidents in the United States, released Thursday.
Aryeh Tuchman, associate director of the organization's Center on Extremism, said he does not believe the total number of white supremacists is growing significantly but that leaders of key groups like the Goyim Defense League have been emboldened by the ability to raise more than $6.2 million since 2016 from online supporters. 
"They're making thousands of dollars trolling and harassing Jewish people," Tuchman said. "So they are very much incentivized — beyond simply their hatred — to ramp up their on-the-ground activity."
Antisemitic incidents in almost every category tracked by the ADL increased last year, including a 26% increase in assaults — mostly targeting visibly Orthodox Jews — and bomb threats, which occurred 91 times in 2022, up from eight in 2021. The annual report helps put hard numbers on what has felt to many American Jews like a major increase in American antisemitism, fueled by offensive celebrity rhetoric, fringe white supremacist organizations and coarsening political rhetoric toward minority groups and surrounding the Israeli-Palestinian conflict.
"This data confirms what Jewish communities across the country have felt and seen firsthand," Jonathan Greenblatt, head of the ADL, said in a statement.
Overall, the 3,697 antisemitic incidents counted by the ADL last year represent the highest number since it started tracking antisemitism in 1979, and a 36% increase from 2021, although significant changes in methodology make it difficult to compare the data year-over-year and the organization acknowledges that it is not a complete count.
Ben Lorber, who researches white nationalism for Political Research Associates, said he had also seen an increase in antisemitic banner drops, flyering and vandalism even as some of the largest white supremacist groups have "crumbled" in recent years. But Lorber said it was important to look beyond the most offensive antisemitic antics of organizations like the Goyim Defense League.
"White nationalist ideology has become more mainstream than ever," he said. "You have folks like Tucker Carlson talking about the Great Replacement and people are talking about anti-white racism in a way that never used to be voiced."
Tracking antisemitism
Last year, the ADL started incorporating incidents reported by partner organizations, which contributed to a higher total number of cases. This year's tally also includes partner reports, but it is not clear how many of the total came from those sources.
Some serious incidents in the report do not appear to have been reported publicly when they occurred. For example, one of the assault cases described an incident in which a congregant in Portland, Oregon, was approached in the synagogue parking lot by two individuals, one of whom punched him several times. No additional information about that incident was available. 
The report also includes a section on antisemitism related to Israel. The ADL has been engaged in a prolonged and fraught debate over how to classify anti-Zionist activism. ADL researchers did not include in the tally votes at colleges and other institutions to boycott Israel. The organization considers such votes antisemitic, but left them out because it did does not believe they subjected "Jewish individuals or identifiable groups" to "harassment or demonization."
But it did include graffiti that read "Anti-Zionist Jews for a Free Palestine" spray-painted onto a "We Stand With Israel" sign and exterior wall of a synagogue in St. Paul, Minnesota, last April.
"Jewish institutions like synagogues, cultural institutions, those should be off limits to anti-Israel activity," said Tuchman. "Even if a synagogue itself is engaging in pro-Israel messaging."