News
Does the Orthodox ChatGPT think women can be rabbis?
What AI for the yeshiva world reveals about Orthodox Judaism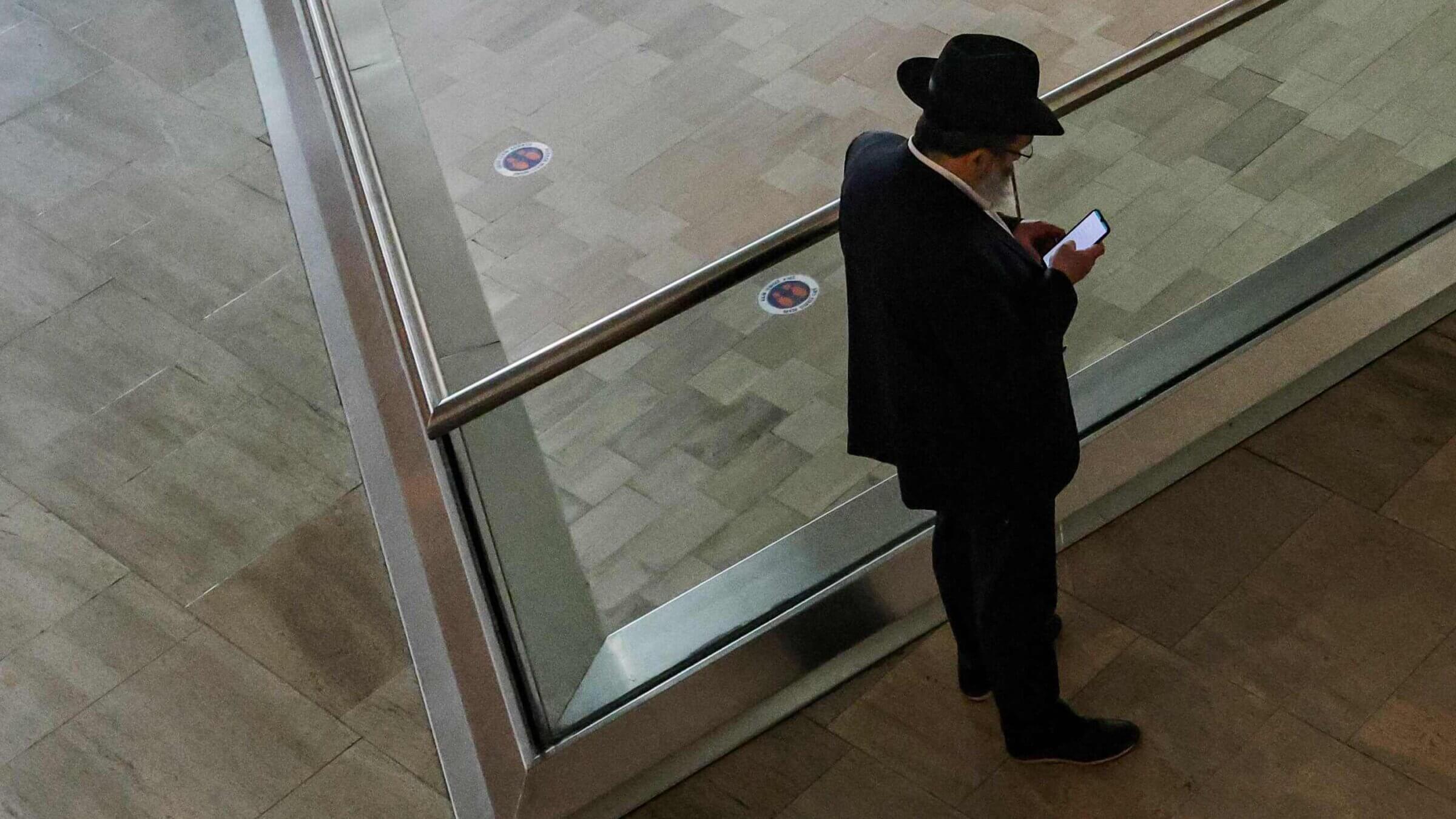 The fun of public-facing AI tools like ChatGPT is that you can put them to the test. So when I got the phone number of FrumGPT, a text-messaging chatbot loaded up with centuries' worth of Orthodox rabbinic tradition, I asked it whether a woman could be a rabbi.
Over the course of this week, it also answered my questions about gender roles, queer Jews and coronavirus vaccines. It weighed in on Christianity and other branches of Judaism. And it espoused the belief that modern Israel is "a manifestation of Hashem's promise to return us to our homeland."
And, drawing on the authority of "many gedolei Torah," or authorities on Jewish law, FrumGPT declared it "not appropriate" for a woman to serve as a rabbi. 
"The role of a rabbi is reserved for men who have received proper Torah education and smicha," it said, a few seconds after I asked, referring to rabbinical ordination. "Women have their own important role in Klal Yisrael."
The Orthodox Union said as much a decade ago. But Orthodoxy has expanded since then, and women now serve as clergy in several OU-affiliated synagogues. The bot's rejection of that change was typical of its answers, reflecting a hardline traditional sensibility — one that is not sure progressive Orthodoxy is legitimate at all. These were the terms of engagement. 
So, fine. But FrumGPT's worldview was not a cynical one. It displayed compassion for people it disagreed with, and it was capable of giving the best-faith explanation for social views that many outside the community — and perhaps some inside it — find outdated. 
Still, even on its own terms, FrumGPT was prone to error. Like ChatGPT, whose data is limited up to the year 2021, it was behind on the news. It didn't know about acclaimed Haredi author Chaim Walder's child sexual abuse scandal. (Or it knew but didn't tell me.) It misidentified important figures, like when it told me Rabbi Avrohom Union, head of the (Orthodox) Rabbinical Council of California, was actually the head of the Union for Reform Judaism. Most seriously, FrumGPT gave false information on COVID-19 vaccines.
What emerged after a few days of texting with FrumGPT was a composite definition of "frum" — a term denoting Orthodox lifestyle. And it revealed the broader implications of the struggle to define what Orthodox practice is, and what it isn't.
The bot's developer, a Baltimore-based marketing consultant named Eli Hochberg, told me in an interview that he coded the bot from ChatGPT's base code to be "filtered and clean" for the frum world, in particular for communities that don't have internet access for religious reasons. The outcome points to a least-common-denominator problem in the Orthodox world: For progressives who seek greater engagement with modern life, the giant tent of Orthodoxy has to accommodate gays and promote egalitarianism; for the more insular crowd, those modifications seem threatening to their way of life.
These are Orthodox, and these are Orthodox. But the latter group produced the bot.
Man-made
Hochberg, who declined to speak by phone, said in an email that he and a developer he partnered with on the project imbued ChatGPT's base code with a "secret sauce" of rabbinic texts representing a "wide range" of viewpoints.
When asked whose writings it consulted, however, the bot listed about a dozen 20th and 21st century Haredi leaders. The most liberal name it offered was Rabbi Eliezer Waldenberg, a late Israeli rabbi who permitted abortion in the event a pregnancy or birth would inflict severe emotional stress on the mother.
That none of the authorities the bot consulted were women it regarded as self-evident; after all, it said, there are no female poskim — scholars who determine the position of Jewish law — in the Haredi world, and "according to the Torah, a woman's primary role is to be a wife and mother." 
"However," it qualified, "there are women who are experts in certain areas of Jewish law and can provide guidance in those areas."
As to whether women could teach Torah to men, the bot said, accurately, that it was a matter of debate in the Orthodox world.
Overall, FrumGPT's positions on gender might have been lifted from the writings of Rebbetzin Tziporah Heller, who advises women find meaning in traditional roles. It expounded on a woman's "unique and  vital" responsibility to build a holy world by observing domestic commandments and embodying kindness.
Men, on the other hand, "are seen as leaders and role models in their communities," it said.
"By fulfilling their respective roles, both men and women can bring the world closer to Hashem and fulfill his will."
Getting a feel for its tendencies, I peppered FrumGPT with questions about everyone else on the planet. Did it think Christianity was a legitimate religion? No. Was Conservative Judaism a legitimate religion? Good intentions, maybe, but sadly still no. Progressive Orthodoxy? A matter of dispute, the bot said.
FrumGPT's elision of left-of-center Orthodoxy enables it to address potentially fraught scenarios with cut-and-dried authority. Asked whether a married gay Orthodox Jew could receive an aliyah, it said he couldn't because homosexuality is prohibited by the Torah, but that a celibate gay Jew could. This is roughly the company line of Agudath Israel, the Haredi umbrella organization, down to its coda on the topic, which may sound empathetic to some and condescending to others: "We must always treat all people with respect and dignity, regardless of their personal struggles or lifestyle choices."
Whether any part of this answer reflects actual practice is another matter. Many Orthodox Jews are gay, and there are hundreds of rabbis in the country who would give them ritual honors. And some of those rabbis are Haredi.
Questioning authority
In the context of its remarkable recall of the Torah, FrumGPT could, sometimes, be flat-out wrong.
For example, when I asked it how much a kezayit of matzo was — the minimum required to eat on Passover — FrumGPT gave me a literal translation, the size of an olive, which is not the correct answer. (Sources generally put the kezayit at around the size of half a machine matzo.) When I asked it to sermonize this week's Torah portion, it gave me a bit from one we last read in September.
When I corrected it, it apologized and conceded that I was right — even when my correction was also wrong.
Hochberg attributed these mistakes to "hallucinations," an oft-cited issue in AI technology in which the program's predictive capabilities cause it to confidently assert false information. 
Perhaps the most alarming miss was on coronavirus vaccines. The Haredi Jewish community saw far lower adoption rates of the vaccine than the rest of the Jewish world, a public health failure fueled by misinformation, distrust of government and science, and bad leadership.
Keeping in mind that this tool is intended for use by people who may not have access to the internet or ChatGPT — which, to be sure, went live with its own issues on this subject — I asked whether the coronavirus vaccine was safe.
"The safety of the coronavirus vaccine is a matter of debate among poskim and medical experts," it replied a few seconds later. "Some poskim have ruled that it is permissible and even recommended to take the vaccine, as it can help prevent the spread of disease and protect individuals from serious illness. Others have expressed concerns about the vaccine's safety and efficacy, and have advised caution in its use."
Who were the skeptics, I asked? It named three high-profile Haredi rabbis — (Shmuel) Kamenetsky, (Chaim) Kanievsky and Shlomo Zalman Auerbach.
But it's untrue. Kamenetsky told people to consult with their physicians, and Kanievsky actually encouraged Haredim of all ages to get the vaccine. (He reportedly faced threats from anti-vaxxers in the Haredi community over his stance.) And Auerbach died in 1995.
I showed the answers to Hochberg.
"While we have trained it to the best of our ability, there are literally trillions of possible outputs and 'hallucinations' that it can create on its own," he wrote back. "This is a common concern with GPT models, not just with ours.
"That being said, it does a pretty good job of reminding the user to consult their own rabbi or halachic authority when it gives over information. We also do not pretend to be a definitive source of halacha. Quite frankly, anyone who is using a chatbot to pasken" — make decisions on halacha — "needs to talk to a rabbi anyways."