Sports
Playing rugby in Israel is unusual enough. So what's it like for a Druze woman?
'They're not used to females with muscles,' says Kamar Halabi, the sole non-Jew on Israel's national women's rugby team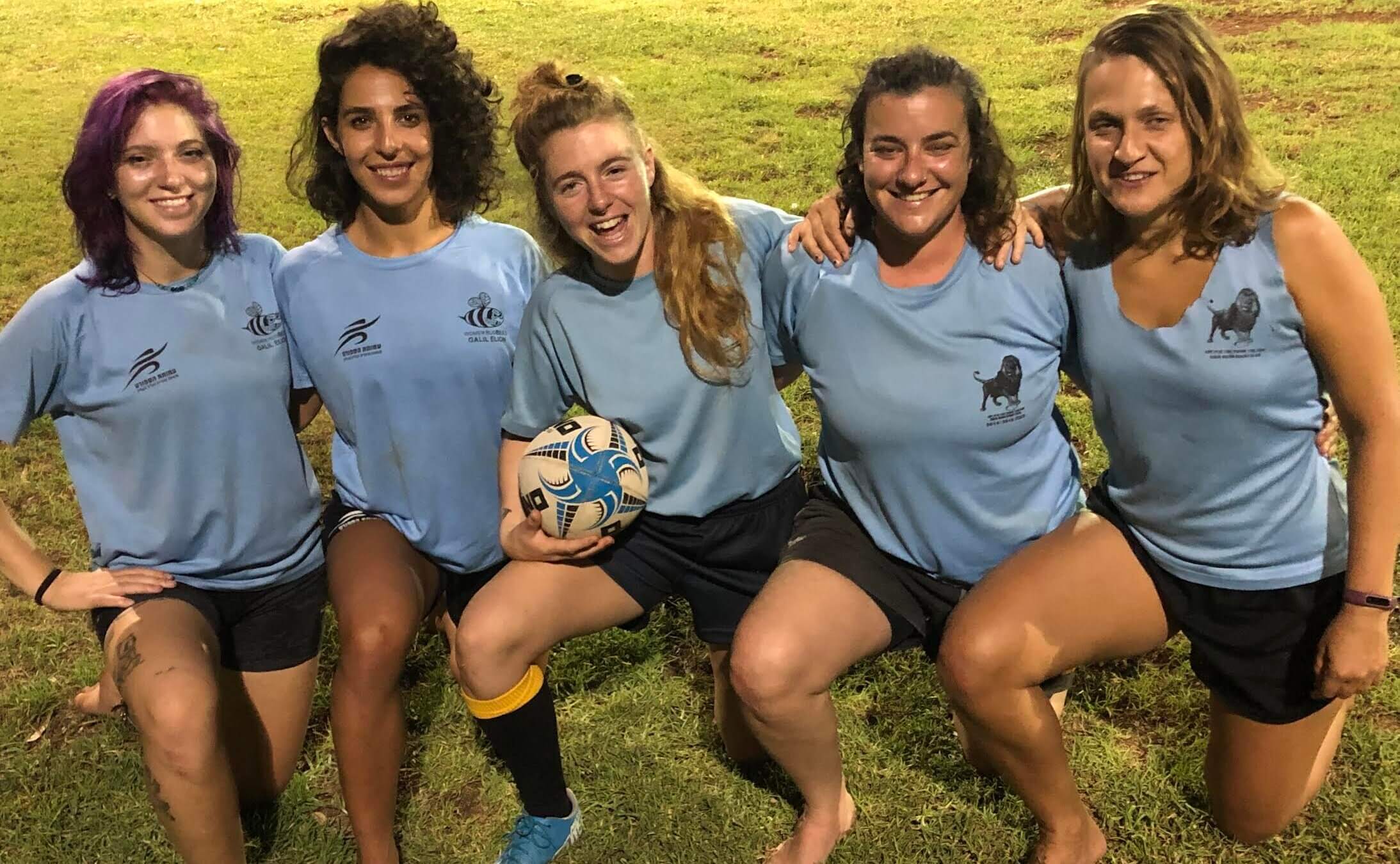 MAJDAL SHAMS, Israel — "European Championship" is what Kamar Halabi wrote on a sheet of paper she placed on a closet shelf last year — a daily reminder, when getting dressed, of the goal she'd set.
It worked. Halabi was selected for Israel's national rugby team for a tournament held last summer in Zagreb and Budapest.
Halabi's achievement is notable in two respects: She began playing rugby only in 2021, and she is Druze, a religious minority constituting about 1.5% of Israel's population. She's the sole non-Jewish player both on her team, the Galil Elyon (Upper Galilee) Rugbees, and on the national team, and one of a handful in the eight-team league.
Her acceptance by Galil Elyon or throughout the league isn't an issue, she said. Instead, the 27-year-old Halabi has faced criticism from some in her hometown unnerved by a young woman playing a rough sport.
As it is, just 800 or so adults and children play rugby in Israeli leagues. The men's league plays with 15 to a side and the women seven. (Both Rugby 7s and Rugby 15s are played internationally; the former is an Olympics event.)
In Israel, a niche sport
In Israel, where soccer and basketball dominate, rugby is a niche sport — much like hockey, baseball, football, cricket and lacrosse, all introduced by immigrants. (In rugby's case: South Africans.) The rugby sphere resembles a large football, and the sports have in common running with the ball, physical contact and tackling, although rugby players wear little padding and no helmets.
A physical education teacher and athletic trainer, Halabi grew up as a runner. She was drawn to rugby by a male player she knows in this all-Druze, relatively liberal, town of 11,000 in the northeast corner of the Golan Heights.
Halabi lives here with her mother, brother, grandfather, aunt, uncle, cousins — 20 relatives total — in a house on a sloped street that lacks a name. Her father and his wife live nearby.
Of them, only Halabi and her brother hold Israeli citizenship. Rugby precipitated Halabi's decision to become a citizen, a requirement of players on most sports' national teams.
Few Majdal Shams residents apply for citizenship, although their numbers are increasing, Halabi said. Most are loyal to Israel but also identify with nearby Syria, from which Israel captured the Golan Heights during the 1967 Six-Day War after being attacked.
An athlete, not an activist
"I'm an Israeli because I was born here," Halabi said in a conversation in her yard. "But I'm an athlete, not a political person. It doesn't matter if I'm Syrian or Israeli. I like to play above anything else."
A coach and a teammate said that while Halabi is inexperienced, she quickly absorbs instructions, competes hard and is steadily improving. Her speed and explosiveness, developed as a competitive runner, are prized in rugby, with games lasting just 14 minutes.
She experienced a bit of a learning curve last year on both offense and defense. Halabi once helped up an opponent she'd tackled, a move that hurt the team by conceding space while the game continued. Another time, after being tackled, Halabi put down the ball and grabbed it right back to run again. That drew a penalty.
"Kamar is an amazing girl. She comes to learn rugby and get results," said teammate Michal Lahack, who used to carpool with Halabi to practice. "She's like a sponge who wants to take in everything. Rugby is not only ability, but also knowledge of the rules and thinking. It takes time."
Halabi fits right in with her teammates — "In this group, I feel a sense of belonging," she said — as was apparent at a recent practice at Kibbutz Dan. Running and tackling drills and a debriefing by the coach, Naama Badihi, filled the 90-minute session. Everyone lingered for another hour to discuss an upcoming training session in Tbilisi, Georgia, and to celebrate a player's birthday with chocolate cake and bottles of beer.
The joking, schmoozing and rugby talk flowed naturally.
In the interview at her home, the mild-mannered Halabi seemed disappointed about encountering opposition from her Majdal Shams neighbors, particularly females, for endeavoring to play rugby — nothing threatening, she said; more like quizzical.
On joining the team, she said, shifting easily between Hebrew and English, "I felt warm. I felt loved. This motivated me and gave me more self-confidence about my ability. I didn't feel any stress or fear from this new group or from Jewish people, because they supported me."
'They say I should stop'
She continued: "But here in this town, they don't respect my ability. They just look at me as a woman. They're not used to females with muscles." The lithe Halabi pushed back her left T-shirt sleeve and clenched her arm. "They tell me their opinion, but they can't force me to do or not do something. They say I should stop. I respond that I like my body and want to improve it."
Several days later, Badihi made a similar point about Israeli society generally. Nearly everyone on Galil Elyon, she said, came to the sport late: in their mid-20s, even 30.
She was asked to explain.
"There's a big stigma that girls playing rugby isn't feminine," so they "are afraid of expressing their strengths," Badihi said. But as they mature and "become more sure of themselves," they're willing to try the sport.
Halabi expressed certainty that she's on the right track — not only regarding rugby. Teaching physical fitness to children and working with clients in the gym, she said, helps to improve their lives.
She knows that because some people tell her so, especially women. Clients will mention that training sessions relieve pain and reduce symptoms of illness. One woman reported that improving her conditioning and overall health helped her to become pregnant.
Their revelations occasionally elicit Halabi's tears.
Said Halabi: "I feel like when you help someone succeed, you succeed."