Democrats Are Turning From Israel – Because It's Tainted By Trump
The latest Pew Research Center survey examining the partisan divide between Republicans and Democrats on the Israeli-Palestinian conflict makes for unsurprising but discomfiting reading. The decades-old truism about Israel being a bipartisan issue is on life support, with a 52% gap between Republicans and Democrats on sympathy for Israel over the Palestinians. It's the biggest gap to be measured in four decades.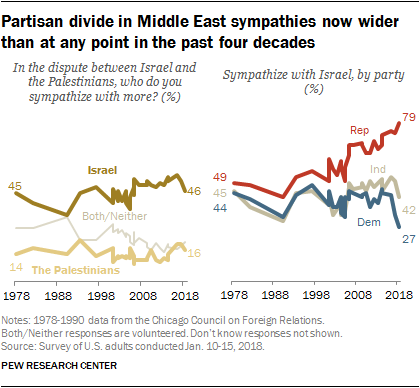 For supporters of Israel, such a big gap between the two parties would be bad news under any circumstances. But a deeper look at the numbers reveals something even more disturbing than they initially suggest, with implications back here in the U.S.
Specifically, what the new data shows is that Democrats more than Republicans are sacrificing the Israeli-Palestinian conflict to partisan politics. And the result is worrisome, both home and abroad, as it will lead to ill-considered policy and inevitable friction in the future between important allies.
The topline story in the Pew study is that over time, Republicans are viewing Israel more sympathetically, while Democrats are viewing it less so. Since 2001, Republicans sympathies with Israel over the Palestinians have jumped from 50% to the current 79%, while Democrats have declined in support, from 38% to 27% saying they support the Israelis in the conflict.
In other words, while there is a partisan divide, it is driven more by an explosion in Republican support than in a cratering in Democratic support.
This can be attributed to a number of factors, including the importance of pro-Israel evangelicals to the George W. Bush coalition and the Republican party writ large, the embrace of Israel by Republicans who prioritize the global war on terrorism, and Prime Minister Binyamin Netanyahu's immense popularity among rank and file Republicans.
But the Republican side of the equation is far less interesting than the Democratic one, for two reasons. One has to do with timing. Republican sympathy for Israel has been steadily on the rise almost without interruption since the mid-2000s.
The drop in Democratic sympathy, however, has occurred almost entirely in the past two years, going from 43% in April 2016 to 33% in January 2017 to its current 27%. While there has been concern about erosion of pro-Israel sentiment in the Democratic party for some time – particularly among younger Democrats – it is impossible to view this data without acknowledging some drastic recent intervening variable. Here's a hint: What seismic change happened to the U.S. in 2016?
Second, as Republicans sympathize more with Israel, fewer of them sympathize with the Palestinians. In 2001, 50% supported Israel, while 15% stated their support for the Palestinians. Now it stands at 79% supporting Israel, and a scant 6% voicing sympathy for the Palestinians. This makes sense and is precisely what one would anticipate.
But what seems to be an obvious zero-sum relationship does not hold true for Democrats. As fewer Democrats have sympathized with Israel, it has not translated into greater sympathy for the Palestinians. In April 2016, 29% of Democrats sympathized more with the Palestinians. In January 2017, the number slightly ticked up to 31%, and then dropped again; it now stands at 25%. As sympathy for Israel dropped ten points and six points for a net loss of sixteen, sympathy for the Palestinians rose two points and then dropped six points for a net loss of four.
What we're seeing is that as Democrats become more frustrated with Israel, that frustration is not translating into greater support for the Palestinians, but manifests as a story solely about Israel itself.
In other words, Democrats are not looking at the Israeli-Palestinian conflict and determining that they have framed the issue incorrectly in their minds, or deciding that the Palestinian cause is more just and worthy of greater support. They are looking at Israel, and deciding that they like it less.
Both of these phenomena – the sudden measurable shift in sympathy for Israel, and the isolation of the effect to Israel rather than affecting the Palestinians as well – are the result of President Donald Trump's election and policies, and can be dubbed the Trump effect.
Democrats are not viewing Israel primarily through the lens of its own actions and are not basing their feelings for Israel on what goes on over there. They are increasingly conflating their feelings about Israel with their feelings about Trump, associating Israel with the American president.
Partially this is due to Trump's policies toward Israel and his vocal support for measures designed to align the two countries, whether it be his stated intention to pull out of the Joint Comprehensive Plan Of Action or his recognition of Jerusalem as Israel's capital and directive to relocate the American embassy there from Tel Aviv.
But the Democratic fusion of American politics with Israel/Palestine is more due to the Israeli government's unprecedented embrace of Trump, from politicians comparing him to Cyrus the Great to ministers declaring intentions to name a future Western Wall train station after him.
The Israeli government has conveyed over and over again that it views Trump's presidency as the greatest diplomatic development since recognition of the state, and that in its eyes, Trump is the best friend that Israel could conceivably have. It does this in the midst of a political environment in the U.S. where Trump is historically unpopular, but among Democrats is viewed as a uniquely unqualified and repugnant figure. Little wonder that Democrats watch the love affair between Trump and Israel, and immediately decide that their sympathy for Israel must be misplaced.
This is not to suggest that partisanship surrounding Israel is new. Israel became a deeply partisan issue under the Obama administration for too many reasons to recount in this space, from President Obama's relationship with Netanyahu to friction over settlements to the Iran deal and Netanyahu's address to Congress.
But what is taking place now is of a wholly different flavor, and is going to be longer lasting. The hardened divide around Israel, and views of Israel being a reflection of and stand-in for other political issues, are not going away and will outlive Trump's tenure.
Trump is such a divisive figure and is so wrapped up with Israel that Democratic views on Israel will remain a referendum on Trump after he is gone.
The Obama administration wanted its legacy on Israel to be the Iron Dome, unprecedented security and intelligence cooperation, and historic levels of military assistance. Instead, its legacy on Israel is going to be UN Security Council Resolution 2334, and a perception that Obama betrayed Israel on his way out the door to the exclusion of everything else.
Trump may want his legacy to be unprecedented pro-Israel friendship, and many will remember his for that. But what will have the longest lasting repercussions is ultimately not going to be Jerusalem, the embassy, or any fabled ultimate deal, but the cementing of a more acrimonious relationship between Israel and Democrats.
Michael J. Koplow is the policy director of the Israel Policy Forum. He is on twitter at @mkoplow.