Matzo at 18,000 feet — what it's like to lead a Seder on Mount Everest
The 40 years of wandering in the desert were full of unknowns, and like my ancestors, I was in the wilderness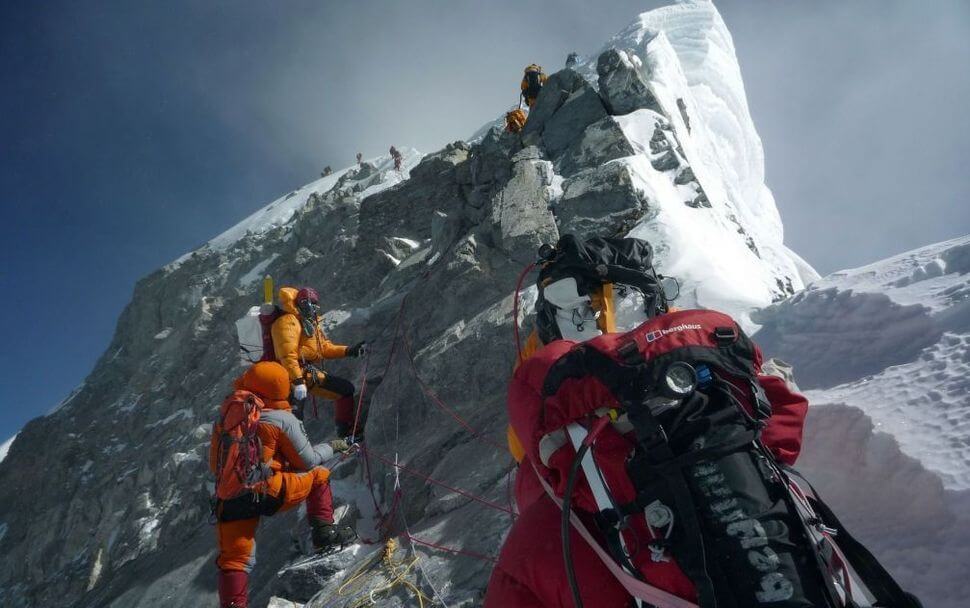 After setting up Base Camp near 18,000 feet, I looked up at the full moon in the Tibetan sky and realized it was the first night of Passover, a time when we are supposed to view ourselves as if we were personally freed from slavery in Egypt. It was 1988 and I was on an Everest expedition; the only woman, and the only Jewish person.
Before this trip, I had always focused on the comforting traditions of Passover — the special foods, the closeness of family and the repetition of the Haggadah. But that night, the cold wind burning my cheeks, I understood that the holiday is also about living with uncertainty. The 40 years of wandering in the desert were full of unknowns, and like my ancestors, I was in the wilderness with no idea what lay ahead of me. Although my role was as the team's "doctor," I was only a third-year medical student, a city girl from New York and terrified I'd fail when my skills would be most needed.
Shivering beside the steep slopes, a place exemplifying vulnerability, I was overwhelmed by the desire to be home celebrating the holiday. Simply thinking about my parents allayed my fears, and I realized that the holiday's rituals can provide comfort amid chaos. Could I improvise a Seder on the tallest mountain on the planet?
I foraged around the pantry in our cook tent to find ingredients for a Seder plate. I hard-boiled an egg, used potatoes for the symbolic vegetable, and grabbed a sea toast cracker — uncanny in their cardboard resemblance to matzo. Without lettuce or horseradish, the traditional "bitter herbs," I decorated the platter with some stray grass I picked from beneath a rock. The grass was thorny and icy — a proper symbol for our tough journey; an expected five-day hike to Base Camp had taken us 22 days, as we trudged through harsh snowstorms.
I considered substituting a yak bone for lamb, but ultimately my vegetarian instincts got the better of me and I forwent it. Using dates, dried peaches, and nuts, I made charoset, the ritual food symbolizing the cement used by Israelite slaves in Egypt. As I tasted the mixture to get it just right, adding more cinnamon, the smell carried me home to New York City, where my father loved to sit like a king at the head of the Passover table belting out songs. The sole Holocaust survivor of his family, he had literally moved from slavery to freedom.
Now I sat at the head of the table wearing a down parka and lit two candles to begin a makeshift Seder on the Kangshung Glacier. Beside me were our small team's four climbers and one photographer. I demonstrated dipping potatoes into salted water. "The vegetables represent spring and the saltwater tears of bondage."
Next, I asked, "How does this night differ from all others?"
Robert, our expedition leader said, "I'm relieved we are finally getting to the climb."
"I was very moved today by the Puja ceremony." Ed's blue eyes reflected the flickering flame of the candle. Our most pensive climber was referring to our earlier Buddhist ceremony for safety.
Joe, the photographer said, "It's breathtaking here, I can't wait to capture it all."
"There are no more people staring at us!" Our jokester, Paul, grinned. The locals had surrounded us during our hike up the valley, unused to seeing foreigners on this eastern Kangshung Face of Everest, that had only been successfully summitted once before in 1983.
We laughed and leaned in around the table, the sleeves of our parkas touching. Everest loomed cold and large outside, but I was suffused with warmth connecting through a ritual that brought a sense of home to me. I felt firmly rooted in my origins, like the massive mountain whose shadow reigned over us. The men delighted in the ritual.
When we stepped out of the tent and back into the moonlight, shimmering snowflakes stood-in for manna from heaven.
Thirty-two years later, the first Passover of the pandemic in April 2020, came at a time that was again full of the unknown. My husband, son, and one of my daughters were front-line health care workers, and my mother was in a nursing home. I worried about their COVID risks. That Seder would be another improvisation.
My husband and I set up an iPad and proceeded to Zoom with our children in different cities. I felt a meaningful connection despite the electronics and distance. Last year, Passover coincided with many people completing their COVID-19 vaccinations. My children came home, and it was the first night we opened our doors to guests in over a year. The symbolism of moving from the bondage of confinement to sharing the holiday in person was a freedom we savored.
On Passover, when we ask — Why is this night different? — we are comforted by the knowledge that the same question has been repeated over centuries. Yet we acknowledge that every year we are each a different person reciting the same words. We are older and are going through new and different challenges — individually, as families, and in societies.
Approaching Passover this year, we are again faced with uncertainty. We don't know what the latest status or variant of COVID-19 will bring. We don't know what will happen to the Ukrainian refugees, those fighting for freedom and democracy, and others around the world facing risk. We will use the Seder as a time to discuss these modern-day plagues and what we can do to help those suffering, acknowledging our privilege of safety.
Wherever I am next year and whatever I'm grappling with, I will create a Seder, even if improvising on a mountain. I will reflect on where and who I am at that moment and think about my past and my family. Even as I eat the bitter herbs reminding me of the harshness of life and a world in peril, I will also eat the vegetable reminding me of spring and renewal.
And the dry, flat matzo itself — a symbol of shared stories and resilience — will provide comfort in the face of the unknown.
To contact the author, email [email protected].