'I won't let her murder make me a weaker person': The daughter of a Highland Park victim speaks
Katherine Goldstein was shot and killed at a July Fourth parade. Her daughter, Cassie Goldstein, was with her when she died.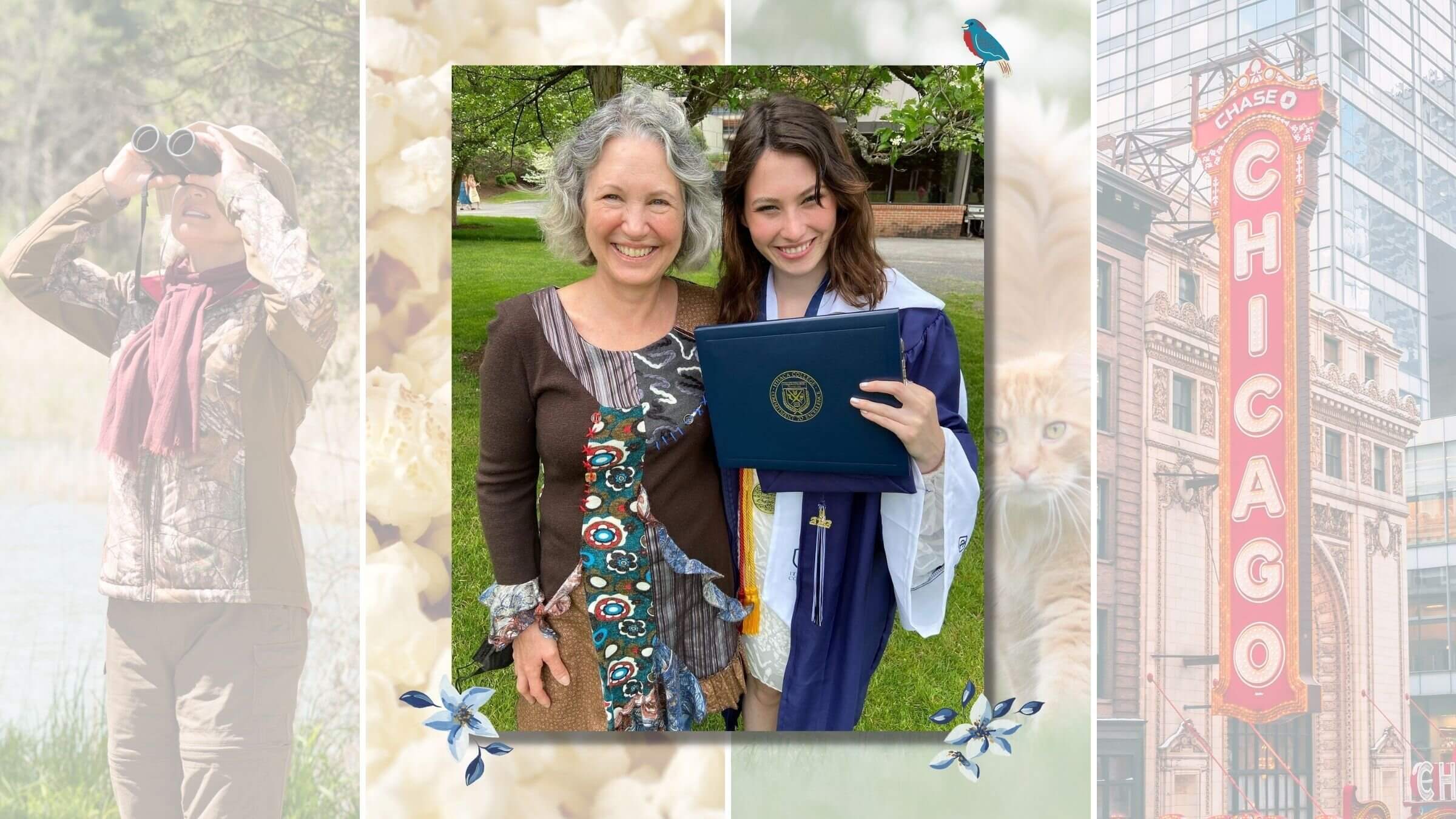 Every night before she would go to bed, my mother, Katherine Goldstein, would pick up my cat and have her turn out all the lights because she wanted Lilly to "have a sense of purpose."
Lilly wouldn't care and only wanted to be put down, thrashing, meowing and unhappy, but my mom would do it every night. She even tried to teach Lilly tricks like rolling over, and Lilly would just flop on her stomach, but my mom would still give her a treat and say "Good job" anyway. 
We have a lot of other pets, my dad has scary pets like snakes and stuff. He catfished my mom because he got rid of all his creepy pets before they got married, but then he brought them all back once they were together. 
When I was home, my mom and I would hang out a lot because she was fun to hang out with — even if her nickname for me was "Stinkers." She really liked to go to the Botanic Garden to go birdwatching. We actually went together the day before she died. If I went with her, she wouldn't go birdwatching because she knows how I hate it, so she would just go walking with me. 
She liked walking a lot. She was actually going to get a gym membership with me because she really wanted to "get abs." She was planning on getting a two-week gym membership to try it out, and I was going to be her personal trainer. 
I graduated at the end of May, so for about a month I've been home and hanging out with my mom pretty much every day. She'll make us breakfast like sausages or chocolate chip pancakes, then in the afternoon, we'll go to the Chicago Botanic Garden, or sometimes the movie theater downtown in Highland Park. 
She likes Renaissance and romantic movies and she always cries during them, even if they're not sad. 
She'll always make us dinner, then usually, at night we'll play Bananagrams or Hearts. My mom usually loses Bananagrams, so my sister has an album on her phone called "The Album of Defeat" — filled with pictures of my mom pretending like she's about to cry as she's inevitably losing again. Each time we play and she loses, my sister takes a picture and puts it in the album.
It was kind of a spur-of-the-moment decision to go to the Fourth of July parade, because I saw my old high school marching band was going to be going. I texted my friend Sara if she wanted to go see them, and she said yes. I then told my mom I was going, and I'm not a very good driver, so she told me she would drive me. 
Her mom had just died two days before, and so she got pretty excited about the idea of the parade. Originally I thought she would just drop me off, but she wanted to get out of the house. The day before she wanted to go to the botanic garden, Dairy Queen, then see a movie. The parade was another thing to get her out of the house. 
She dressed up really nicely, wearing her high heels, which probably made her run a little slower. She had a nice white top, and a sunhat she likes to wear because she likes to protect her face against the sun. My friend Sara was running late, which is why she wasn't there. Otherwise, she might have been shot too. 
We wanted to get to the center of Highland Park, because I told her I would go to Walker Bros with her after the parade was over. Walker Bros is a local pancake house that the shooter would eventually shoot at, and my mom really liked it. 
My mom was walking really slow because she was in her platform shoes. She told me to "Go on ahead without me, I can entertain myself,"' but I didn't want her to be alone. 
We got to Walker Bros, and I went to stand by a bench in case she wanted to sit, given the high heels, but she preferred to stand. When the parade started, she was pretty happy. She was waving at all the floats, and I was laughing at her for waving at all of them, but it was pretty cute, and so after she would wave at each float, I would hug her. 
At first, I thought it was firecrackers, and that's why I didn't tell her to start running sooner. Then I looked up and I saw the guy shooting. I said, 'it's a shooter, you have to run." I didn't want to run any faster than she was running, because of her high heels, so I slowed down to run with her. We were side by side. 
Then he shot her. 
I got down to tell her that I loved her and I think she was still alive then, but they told me she died immediately. I wanted to stay with her but I think she was already dead and I had to keep running because he was still shooting. Everyone around me was getting shot, mostly in the legs. 
I'm glad the last words she heard were "I love you." 
I hid behind a trash can and called 911, I don't think they could understand what I was saying because I was just screaming about my mom.
When he stopped shooting I went out to go see her but I already knew she was dead. I kept telling people she was dead, but everyone kept saying I didn't know that, there was still hope. I knew she was dead, so I didn't believe them and I didn't have any hope. 
If I had believed them, I would have had to see her die twice in my head, but I only had to see her die once. I knew it when I saw it. 
I stayed in a police car for a while because he was still an active shooter and they hadn't found him yet, then we went to the hospital to try and find my mom, because no one else thought she was dead. I knew she was dead and this was pointless, but I went anyway. Then we went back to the police station because it took them a while to identify her. 
Social workers talked to me there at the station, trying to help me not see her dying. They tried to help me think of something else. A chaplain came by and he was really nice, and he and my dad really got along. Now my dad has a new friend. (I tease him for not having friends, but he has a lot of friends.)
Every day I'll remember what my mom taught me. She never wanted me to be angry and hold grudges against people, and I always was. But now I won't be that way, I'll listen to my mom. 
I know that my mom knew I loved her, and I would rather have the little time I have with her than all my life with a different mom. She didn't deserve this to happen to her. 
I want people to know that my mom was a really good person. She never said anything bad about anyone else. She always looked after me and my sister Alana and my dad. Even though she died, she's not going to be forgotten because I'll always remember her. 
I won't let her murder make me a weaker person. It'll make me a stronger person because I got to have my mom for 22 years. Everything she ever taught me, I'll keep doing it.
I know she will live on in me for the rest of my life.
To contact the author, email editorial@forward.com.