There are no more safe places
Friends from the suburbs have worked to help stem violence in Chicago. Now, they're calling for help.
"They're shooting at everyone up here!"
This is not a text I ever expected I would get from someone living in Chicago's northern suburbs. After all, gun violence is only supposed to happen in places like where I live, in neighborhoods like Englewood and Auburn Gresham —  you know, the 'hood.
My friends who live in the wealthy suburbs always come to my part of town to help me reduce violence on the South Side of Chicago; I couldn't imagine what my organization, Mothers and Men Against Senseless Killings, would do without their kindness and generosity.
Yet here we are, on a day where we're supposed to be celebrating America's freedom, and they're calling me for help.
Gun violence has broken America
This past week, I watched in horror as another massacre unfolded, this time in Highland Park, Illinois. Another angry young white man with easy access to weapons of mass destruction turned his rage outward, murdering innocent people and terrorizing this country. This one hit close to home, 40 miles from my home and on the Fourth of July.
For people who don't live around here, it's easy to explain away the Highland Park massacre as just another episode in Chicago's ongoing tale of gun violence and mayhem. Violence has long been acceptable, even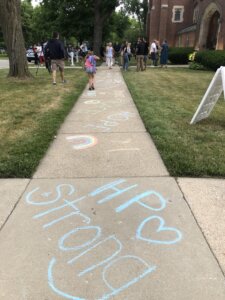 expected here.
But locals know that Highland Park may as well be a million miles from Chicago's South Side. Some of the wealthiest people, the most expensive real estate and the best schools in the state are there. Roughly half the population is Jewish. All I could ever afford to do was marvel at the sprawling homes, the lush lawns and the spotless streets I passed on my way to visit one of the local synagogues.
Gun violence in Highland Park was virtually unheard of. That scourge belonged to the inner city, because as some people believe simplistically, that's what happens when you put too many poor people together.
Highland Park was nothing like my South Side neighborhood, until the day that it was.
Now, Highland Park is just another one of those places in America where mass shootings happen.
I founded MASK on the South Side of Chicago seven years ago because I was terrified by the prospect of losing one of my children to gun violence. This fear consumed me. I had lost friends to gun violence, and I had friends who had lost children to gun violence. I knew fellow congregants at my synagogue, people I played fantasy football with, neighbors and casual acquaintances who had all lost loved ones to gun violence.
I listened and learned from all of those Holocaust Remembrance Day services I attended growing up: Our silence when others are suffering and being harmed will eventually lead to our own suffering.
It didn't matter to me that most of the people who were victims of gun violence in my city weren't Jewish. They were still Black. Just like me. Just like my children. I knew that not only could I do something to save my children, but that I had to. It was my duty as a Jew to at least try.
I was always aware of the danger my family and I lived in every minute of every day. It was as present as oxygen. And all I could do was pray it wouldn't hit my family or wait until it did.
Neither worked for me. I needed to do something. I needed to actively fight the violence that was so aggressively fighting us.
When I started MASK, we got donors, visitors and volunteers from all over the Chicagoland area, including many Jews from Highland Park. They brought food, books, toys and anything else they thought children in a neighborhood plagued by gun violence might need. There were social workers and counselors who would come down and offer their services. They could only imagine the level of trauma and PTSD that the residents in our neighborhood had suffered, and they wanted to help.
Seven years ago, my friends from Highland Park could only imagine the suffering of people in the inner city. People like my neighbors and myself. Because they lived in a place where gun violence should never occur. They lived in a bubble. Like so many of us do.
But there are no more safe places. There is no more truth in thinking it can't happen to you or your family. Once there was a time in America when you could move to a safer neighborhood, send your children to safer schools, and even enjoy a holiday parade with your family.
But those days are long gone.
As long as Americans love their guns more than their neighbors, it can happen to you. And sadly enough, eventually, it will.