Welcome to Bethlehem, President Biden. We need your help
As a long time resident of the ancient holy city, I have seen first hand the crushing effects of the Israeli occupation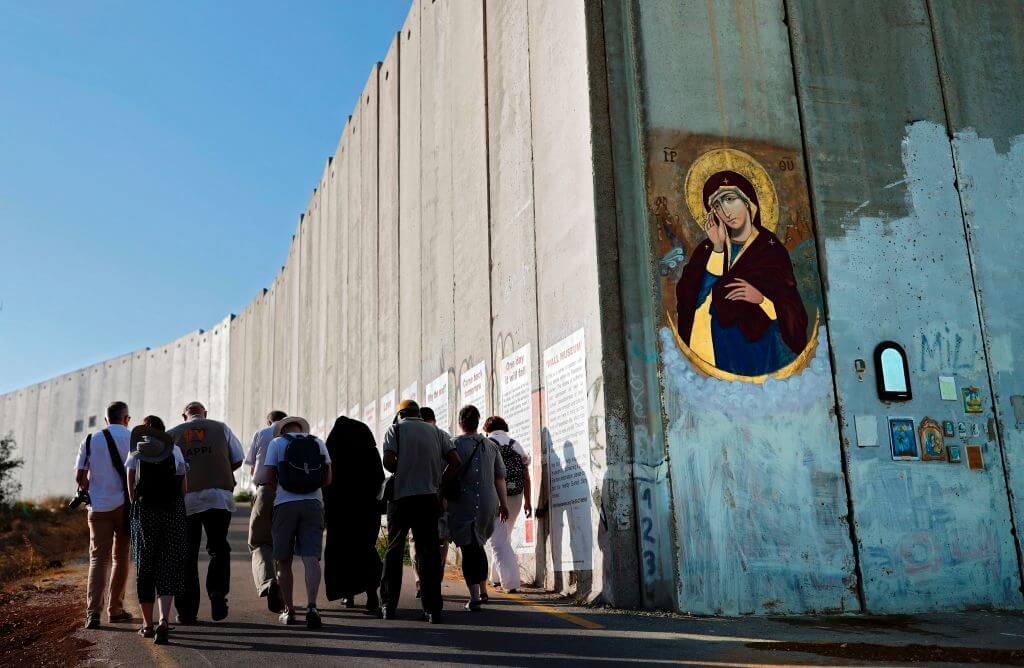 Under the scorching sun of midday Middle East summer, traffic clogs Bethlehem City in the West Bank as workers rush to dig, repave, and plant new shrubs to beautify the roads U.S. President Joe Biden will travel on during his short visit to the city this week. New trees, new paint, decades-old potholes filled in … a thank you might be in order, Mr. President.
But to be frank, we've had enough of this diplomatic game — the superficial road beautification projects for a brief visit to discuss the possibility of proposed steps to restore an unsuccessful 30-year negotiation process. We'll trade the shrubs, the paved road and a photo-op at the Church of the Nativity for ending Israeli foreign control over us.
I am a U.S. citizen married and living in Bethlehem for many years. Beyond ending Israel's occupation, here are some of the immediate things Bethlehem needs that could make your visit more meaningful for those of us that live here:
Push to restore full use of our natural resources
Nearly 85% of the Bethlehem Districts' land including for natural growth has been blocked or allocated for Israeli settlements such as Gilo, Efrat and the rest of the Gush Etzion settlement bloc. The developing urban blight of haphazardly-planned multi-storied buildings amid jammed streets is a direct result of the Israeli settlement policy that is destroying the future of this once pleasant and historic city. 
The result of Israel's control over our resources means that we don't have any regular supply of water — even the fire department's taps were dry last week. Every roof in Bethlehem has been conquered by giant monochrome water tanks to store water for when the supply inevitably stops every few weeks.
With your advocacy, Mr. President, Bethlehem does not have to deteriorate into a water- and land-starved city but can thrive as the ancient beacon of coexistence it has been for centuries.
Help us sleep securely at night
We need an end to the thousands of Israeli military nightly raids into our homes each year. In 2020 alone, the IDF conducted more than 5,800 operations in the West Bank, killing 27 Palestinians and injuring 1,842 according to the UN. Many times these fatalities occur during protests against the military raids — youths aiming to chase out the foreign military invader. This year at least 13 Palestinian boys have been killed, four of them in Bethlehem.
All of Bethlehem is impacted by these deaths — full-day strikes are declared, and schools and businesses come to a close. Some of us are affected more personally -— 19-year-old Jihad al-Jaafari, who was shot in the chest in 2015 by the Israeli army, was our cousin. Mohammed Shehadah Salah played soccer with my son until he was also shot in the chest five months ago. He was only 14 years old.
People throwing rocks, or even Molotov cocktails, are not considered an immediate threat to life or a legitimate military target to kill by most Western armies. Security forces wear protective armor and are instructed to move away or push them with shields. Here, the Israeli forces are permitted to shoot at them, many times using the 10/22 Ruger live-fire rifle made by Sturm, Ruger & Co., a company headquartered in Southport, Connecticut. Israel is being accused of using excessive force against civilian protesters by the UN and other international human rights organizations.
Perhaps during your meeting with Palestinian Authority leaders, you can allocate some time to meet with these grieving families and ask their opinion.
Advocate to tear down the wall
As President, you can urge the implementation of the 2004 International Court of Justice ruling and tear down the 8-meter-high (24 feet) wall twisting inside and around our city. If you oppose a huge wall on a sovereign border with Mexico, why accept it here in an occupied territory?
As you may see, the wall is not built bordering Israel's side of the Green Line but rather inside Bethlehem itself, with large parts even running down the middle of our main road — the Jerusalem-Hebron Road. (It's like the U.S. building its border wall in the middle of the main street in Tijuana, Mexico.) You will likely be told that it protects Jewish worshippers to Rachel's tomb or may prevent a suicide bombing. Most people aren't aware, but these bombings mostly ceased after 2006 when Hamas and other factions declared a halt to them.
I would urge you to look out your window up to the divided sky and ask yourself this question: What does this massive stretch of concrete walls in and around Bethlehem do to the logistical, economic and social well-being of a city, one that serves a population of over 240,000 people in its district. It is even more devastating that such a monstrosity was built in the holy city of Bethlehem, where it forever blocks the city's ancient route and connection to Jerusalem.
You must ask yourself what really creates long-lasting security — a monster wall or equality and justice?
President Biden, we are sure when you come to Bethlehem you will be welcomed by many and impressed by the pretty sights and hospitality. However, life in Bethlehem under Israeli occupation is more often ugly and cruel.
Please know that after you leave Bethlehem, the occupying army will continue to raid our homes and segregate us with huge gray ghetto walls and checkpoints; that the Israeli government will continue to vote on their systems of laws that redistribute our land, water, and other resources to their benefit and our disadvantage; that Palestinian refugees will languish for decades more in the overcrowded, unplanned Bethlehem refugee camps with no hope of justice or effective relief.
Many of us here look at your support of Ukraine and think that if only you applied half of that same political, financial and military support to end our foreign military occupation, our lives could dramatically change. Churches, human rights organizations (including Israeli ones), universities, and many others have woken up to our reality and are calling for just this.
You have it in your power to ensure that Bethlehem is not just another stop on a vacuous mission to Palestine.
To contact the author, email [email protected].