The circumstances of Shireen Abu Akleh's tragic death and funeral prove Israel has not learned from the past
As Sunday's Jerusalem Day march through the Muslim quarter approaches, I fear more violence is inevitable.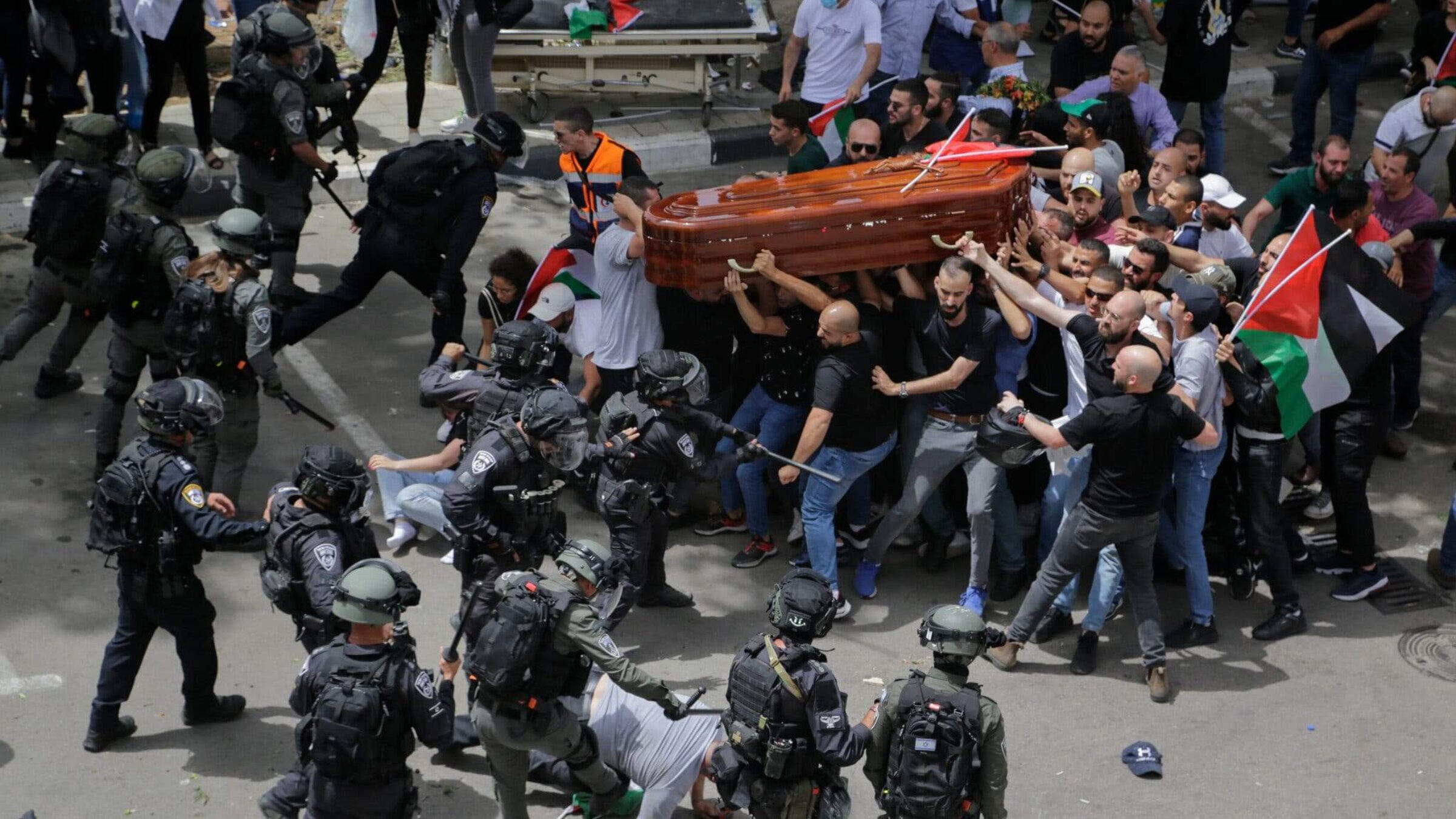 I am dreading Sunday's Jerusalem Day parade like never before. Because the Israeli police force that is supposed to provide protection as a hateful, ultra-nationalist Israeli parade marches through the Old City's Muslim quarter is the very same one that assaulted mourners two weeks ago for carrying Palestinian flags at the funeral of a journalist gunned down while doing her job.
I had genuinely hoped that Israel's response to the death of Shireen Abu Akleh would be different from similar tragedies in the past.
There is a new Israeli government that claims to care about the rule of law more than it did under the reign of former Prime Minister Benjamin Netanyahu. Abu Akleh was an American citizen and iconic journalist for Al Jazeera, killed on duty covering protests against an Israeli military raid in the occupied West Bank. The Biden administration is pressing for an investigation. Condemnations are raining down. The whole world is shocked.
But familiar disappointment and horror set in even before Abu Akleh's body was buried. The Israeli government went into panic mode, mobilized all its mouthpieces, played every trick in the book and fought tooth and nail to prove that Israel can never be wrong and that its army can only always be the world's "most moral."
Prime Minister Naftali Bennett, Defense Minister Benny Gantz, Israel's Foreign Ministry, the military's Chief of Staff Aviv Kochavi and countless pro-Israeli activists all jumped to the battlefront on social media to rehash the most predictable and tired talking points.
It was a Palestinian bullet that hit her, not ours; it was a battle zone; she stood in the middle of a battle zone, next to armed militants; she was "armed with a camera"; we're investigating; the investigation is inconclusive; the Palestinians are hiding something; it might have been our bullet, but it was an accident.
Every Palestinian knows well this pattern of Israeli talking points by the sheer abundance and frequency of their use to justify virtually every abuse, every killing and every injury.
Israel's government almost always shows the same keenness to treat our life, death and pain as a mere public-relations battle or an issue of optics whenever the military occupation's gatekeepers are caught in action. All that matters is the country's image, the army's reputation and hiding the fact that millions of Palestinians under Israel's control have been living without basic rights for decades.
Even amid growing international reports and eyewitness accounts pointing out that Abu Akleh was killed by Israeli fire, and that she was likely targeted, Israel's military decided last week to not conduct a criminal investigation into the death. In other words, it seems in the eyes of Israel's government, soldiers in the Israel Defense Forces are incapable of misconduct or criminal behavior.
I thought this was the zenith of the occupation's ugly whitewashing apparatus: killing a Palestinian-American journalist in broad daylight and launching a PR campaign to deflect blame. But it got worse from there.
When Abu Akleh's funeral procession in East Jerusalem was unjustifiably and brutally assaulted by Israeli police officers who lost their cool by the mere sight of any Palestinian flag and rushed to take it down, all that mattered to the authorities was how to gaslight and spin those events.
Those were rioters; they violated the family's wish to have no procession on foot; they threw rocks, the Israeli police falsely claimed. It didn't take much time to learn that even Israel's own internal intelligence service, Shin Bet, had recommended allowing mourners to proceed on foot undisturbed, an evaluation the officers on the scene fully disregarded.
While some might see this tragic killing as an exceptional situation, and the assault on her funeral as the terrible behavior of some bad apples, our lived experience points to a structural problem: an unequal system of discrimination, cruelty and domination that views Palestinian lives as worth less than Israelis'.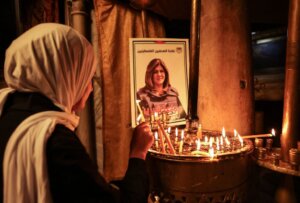 A couple of days after her funeral, another procession of mourners, for 23-year-old Walid Al-Sharif, was similarly assaulted in East Jerusalem. Al-Sharif succumbed to wounds he incurred a month earlier during clashes at the Al-Aqsa Mosque compound, which Jews call the Temple Mount.
An Israeli investigation claimed that Al-Sharif collapsed because of a heart attack, and that the heart attack is what caused the massive brain injury that led to his death. But his family says that Israeli police officers shot him in the head with a sponge-tipped bullet.
This story is reminiscent of the 2018 incident when Israeli soldiers shot Mohammed al Tamimi, a Palestinian from the Nabi Saleh village who regularly participated in protests against the occupation, in the face with a rubber-coated metal bullet, leading to the removal of part of his skull, and Israel falsely claimed his injury was caused by him falling off a bike.
The occupation eventually corrupts the souls of the occupiers as much as it ruins the lives of the occupied. On the one hand, Israel's government simply gives its soldiers and police officers no incentive to treat Palestinians humanely, to avoid brutality and violence or to think twice before pulling the trigger. On the other, Israel has shown it is willing to go to incredible lengths to shield its leaders and army from accountability.
Impunity gives every incentive to be careless, reckless, heartless or deliberately cruel and to use violence as first resort.
I have heard it from many Israeli Jews, on the left and right: They fear that having their children police Israel's occupation in the West Bank, humiliate Palestinians at checkpoints, beat protesters, demolish homes or chase kids for throwing rocks will change their hearts and characters for the worse.
That is why Palestinians are always quick to disregard Israeli investigations. Not only because experience has shown the probes to be untrustworthy, but because it is critically insufficient to claim that occasional investigations will solve the systemic problem and prevent further occurrences.
What it takes is fundamental structural change to render Palestinians equal and make our lives and dignity matter. Without this, we will inevitably see more tragic killings, more desecrations of funeral processions, more humiliation, dispossession, and subjugation of civilians, with no end in sight.
In the two weeks since Abu Akleh's death on May 11, at least four Palestinians have been killed by the IDF, including two minors, 16-year-old Ghaith Yamin and Amjad Al-Fayed, who was 17. Their deaths didn't lead to an international outcry or prompt Israel to investigate, because the killing of Palestinians has become routine.
The spectacular, disruptive and brutal violence committed against Abu Akleh was not anomalous. It is a reminder of the latent, attritional and slow violence that Palestinians are subject to every day, whether caged in the besieged Gaza Strip or subjugated in the occupied West Bank.
To contact the author, email [email protected]