Illegal discrimination or religious freedom? Understanding Yeshiva University's case against the YU Pride Alliance
YU's constitutional claims in its case against the undergraduate LGBTQ club are strong, but it's not clear that SCOTUS will choose to intervene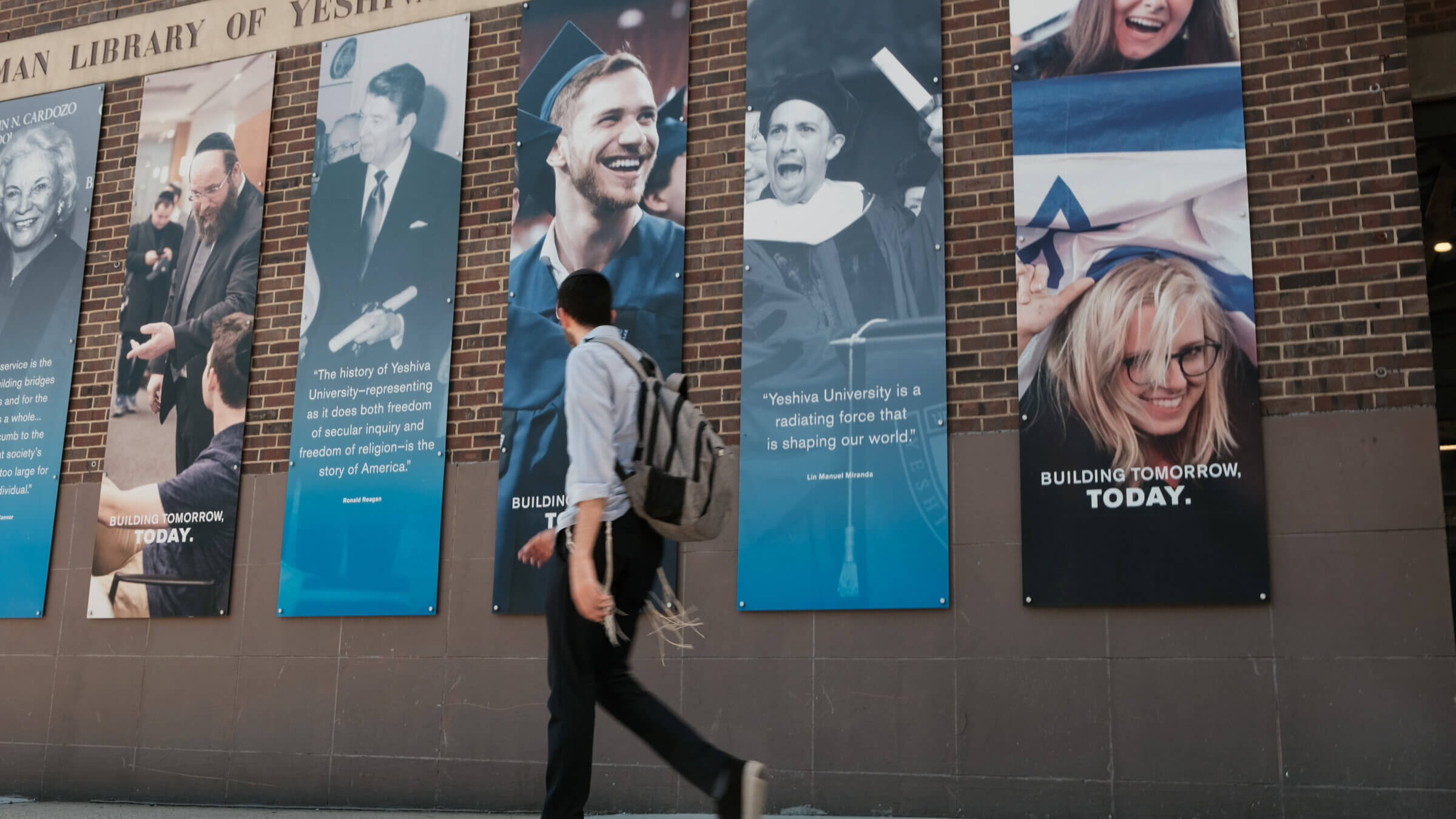 In a shot heard round the Jewish communal world, Yeshiva University has asked the Supreme Court to intervene in its litigation against the YU Pride Alliance, an LGBTQ student organization.
The lawsuit, which has been ongoing for over a year, revolves around Yeshiva University's refusal to recognize the undergraduate YU Pride Alliance as an official student organization. YU argues that doing so runs counter to its Jewish values — and that to force it to act contrary to those values violates its First Amendment right to religious liberty.
The university's constitutional claims are strong. But whether or not the Supreme Court will intervene is far less certain.
Not a typical university
The basis for the current lawsuit is a New York City law that prohibits most, but not all, businesses open to the public from discriminating in the provision of services on the basis of sexual orientation.
Exempted from the anti-discrimination requirements are "distinctively private clubs," "benevolent orders," and religious corporations. Translated to the university context, this rule would prohibit any university from refusing to recognize an LGBTQ student organization.
But Yeshiva University is not your typical university. It is a university committed to the values and ideals of Orthodox Judaism, and its administration believes complying with New York City's anti-discrimination law (by recognizing the YU Pride Alliance club) would require violating those religious commitments. The university's brief to the Supreme Court is chock-full of images capturing how Jewish values and observances are woven into all facets of life on campus, from mezuzahs on doors to administrators studying Torah during halftime of school basketball games.
Until now, litigation in the lower courts has largely focused on whether YU qualifies for any of the exceptions already written into the law. But this past June, a New York state trial court judge, Lynn Kotler, held that the university failed to qualify for any of those exceptions and ordered it to recognize the YU Pride Alliance club.
In Judge Kotler's view, YU's "organizing documents do not expressly indicate that Yeshiva has a religious purpose." In reaching this conclusion, Kotler emphasized changes YU made in 1967 to its corporate charter — changes that were made in response to New York state's exclusion of religious institutions from its Bundy funding program, which provides direct institutional aid to independent colleges.
While the Supreme Court has since ruled that such exclusions of religious institutions from government funding programs are unconstitutional forms of religious discrimination, Kotler noted that in 1967, YU removed the charter's express references to its religious purposes, amending it to state that it "is and continues to be operated exclusively for educational purposes." This shift, among other considerations, led Kotler to conclude that it did not qualify for the "religious corporation" exception that is already written into New York City law.
However, not qualifying for the exemption is only the first step of the analysis. The administration has asserted that under the religious liberty protections afforded by the First Amendment, they have a right to an exemption.
Kotler rejected these claims as well, although her analysis — certainly as compared to the other legal issues — was relatively short and somewhat challenging to parse. YU's appeals to higher state courts to grant a stay, and thereby delay enforcement of Kotler's order, have been unsuccessful thus far. And so, not surprisingly, the university filed an emergency application with the Supreme Court for precisely that sort of relief.
The church autonomy doctrine
Because the Supreme Court has limited authority to review state and local law, Yeshiva University's claims focus exclusively on the First Amendment question. And its argument comes in two forms.
Its first argument is a bold one: the First Amendment provides religious institutions the right to engage in internal religious decision-making free from governmental interference.
Often referred to as the "church autonomy doctrine," this constitutional principle is well established in numerous legal contexts. For example, it has provided the constitutional basis for why, at times, courts are instructed to stay out of property disputes between warring factions within a church.
This doctrine is also the basis for why houses of worship have the right to hire and fire ministers free from government regulation — why, for example, Orthodox synagogues are constitutionally permitted to reject all female applicants for a rabbinic position even though doing so in any other context would be prohibited sex discrimination. In 2020, the Supreme Court described this principle as providing religious institutions a constitutional guarantee of "independence in matters of faith and doctrine and in closely linked matters of internal government."
The boundaries of the doctrine, however, are unsettled. What kinds of religious institutions qualify for this sort of protection? And what decisions are the sort of internal religious decision-making beyond the jurisdiction of courts?
Some scholars and judges have suggested that the doctrine should only apply to cases in which solving the underlying dispute would require a court to pick a side in theological questions, but does not apply when a court is simply asked to apply a law prohibiting certain forms of discrimination.
The Supreme Court may be poised to give the church autonomy doctrine a wider reach, and some of its older case law provides some justifications for doing so, especially when the disputing parties voluntarily joined the religious institution in question. But these uncertainties make it extremely hard to predict how the court might apply the doctrine in this context.
Non-religious exemptions could bolster YU's case
The more tried-and-true argument advanced by Yeshiva University is that it is entitled to an exception to New York City's law because the law provides other exceptions — in fact, quite a lot of exceptions.
The constitutional rule works something like this. The First Amendment prohibits the government from enacting laws that target religion; by contrast, so long as laws are neutral toward religion and apply across the board — what the law calls "generally applicable" — they are perfectly constitutional under the First Amendment.
The concept of general applicability — of applying across the board — has been hotly contested in the courts. But under prevailing constitutional doctrine, a law does not satisfy this standard if it is littered with exceptions.
In the words of the 1993 Supreme Court, to make exceptions for "nonreligious reasons," but to refuse doing so for "religious reasons" is tantamount to targeting religion; it amounts to treating religion as second class by "devalu[ing] religious reasons" for exceptions as compared to nonreligious reasons.
Indeed, just last year, the Supreme Court explained that First Amendment religious liberty rights are triggered "whenever [laws] treat any comparable secular activity more favorably than religious exercise."
Under such circumstances, the First Amendment typically requires extending those exceptions to also permit religious exercise. While the argument is no slam dunk, the fact that New York City law has exceptions — such as for "distinctively private" institutions and "benevolent orders" — but fails provide a comparable exception that applies to YU generates a strong argument that New York City's law, as applied to the university, violates the First Amendment.
Will SCOTUS decide — or delay?
Does this mean that the Supreme Court is likely to grant Yeshiva University's request? Not necessarily. The court rarely grants applications for emergency relief. Instead, it typically allows cases to percolate up through the legal system and then decides the cases on the merits. In this case, that would mean waiting for the litigation to work its way through the New York state courts before rendering an opinion.
There are benefits to a more patient approach. It ensures that the Supreme Court generally issues decisions after the case has fully wound its way through the judicial system, ensuring that there has been ample briefing before multiple lower courts; by contrast, granting requests for emergency relief is, by its nature, issuing a decision when under the gun.
At the same time, a request of the Supreme Court to delay the implementation of a lower court order has been most common in First Amendment cases. And government rules that require a religious institution to act in a manner contrary to its religious beliefs is the kind of consideration that has, in recent years, gotten the court to grant this very kind of emergency relief.
The court's increased willingness to jump into the fray in such circumstances has also garnered significant criticism. But the potential violation of a petitioner's religious conscience is precisely the kind of irreparable harm that the Supreme Court weighs in favor of intervening now as opposed to later — and with good reason.
The next time the court will be able to intervene is likely a few years off. Will this be a case where the court, given the strength of the underlying merits, grants Yeshiva University an emergency stay, delaying the enforcement of the trial court's order? Or will the court ultimately conclude that it is still too premature to intervene?
We'll all know soon enough.
To contact the author, email [email protected].