Rihanna's modest Super Bowl outfit was stunning — and inspiring
Draped in layers of red, Rihanna powerfully demonstrated the power that comes from revealing less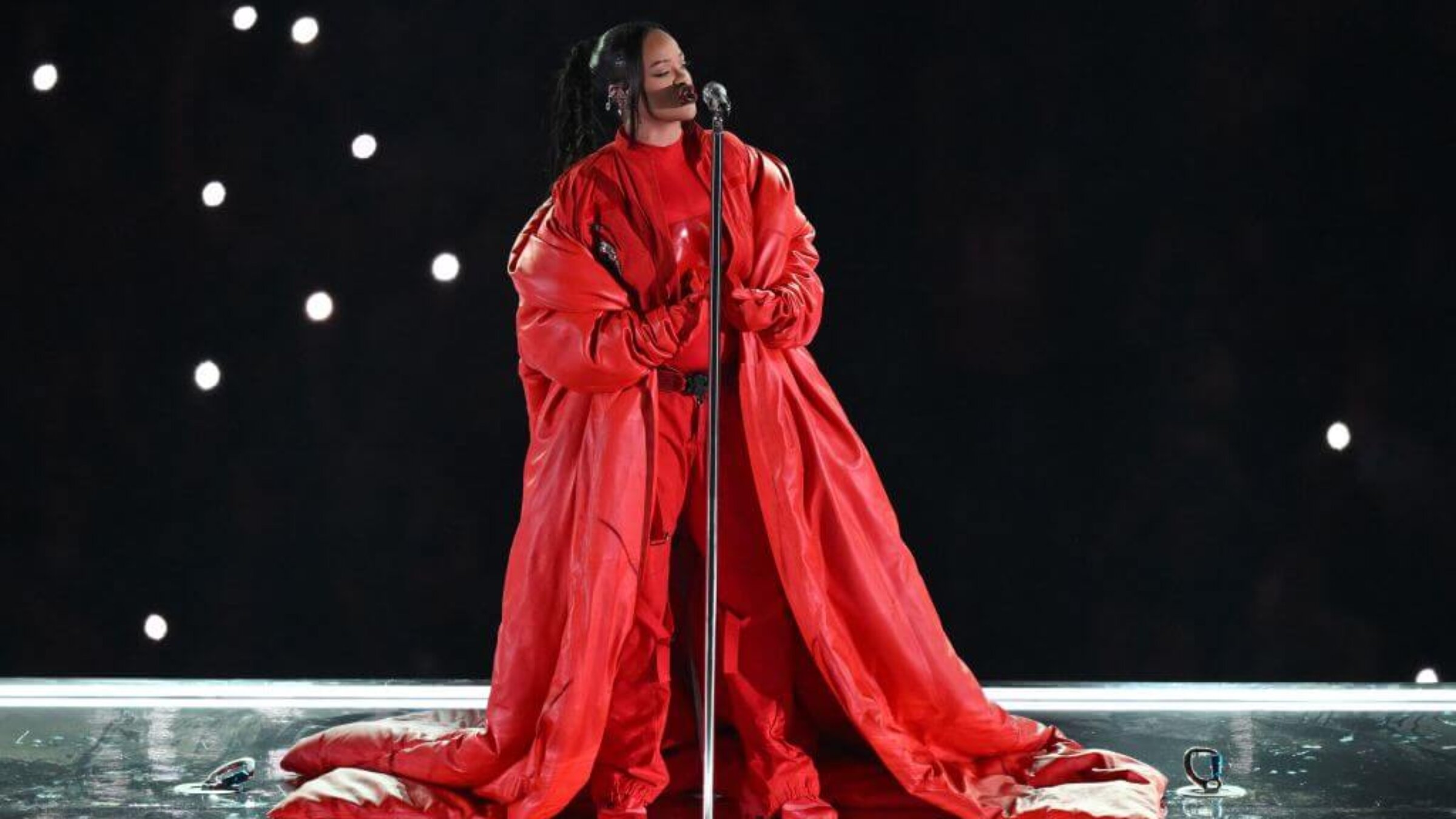 Much has been made of Rihanna's Super Bowl halftime show: the heights, the baby bump, the flawless choreography and performance of 12 of her greatest hits, including "Diamonds" and "Umbrella." 
Yet amid the goosebumps, weeping and texting "SHE IS EVERYTHING!!" to my friends, I was struck by one aspect in particular of her performance: her modest wardrobe.
In an all-red custom ensemble made by Alaïa and Loewe, a silk jersey catsuit, red leather breastplate, puffy jacket and gloves, Rihanna was the most covered female performer at a Super Bowl halftime show in years. While her pregnancy bump was accentuated by the breastplate and the artfully slung-low waistline of her baggy pants, Rihanna did not expose her legs, collar bone or shoulders, generally adhering to the Jewish laws around modesty called tzniut.
In all my years of watching the Super Bowl, I've never seen a female performer dress as modestly as Rihanna. Her choice exemplifies a profound self-acceptance and confidence that runs deeper than any revealing outfit could ever convey.
As she belted out anthem after anthem on a glowing platform rising high above the stadium, I couldn't help but feel exhilarated by her deliberate fashion choice to conceal versus to reveal (the one exception being, of course, her pregnancy bump). 
Even her choice of footwear — custom but comfortable red sneakers — spoke to me of a deeper comfort in who she is. As a new mother, young self-made billionaire and a musical icon, Rihanna is making intentional choices about what, and when, to reveal in a way that feels deeply Jewish.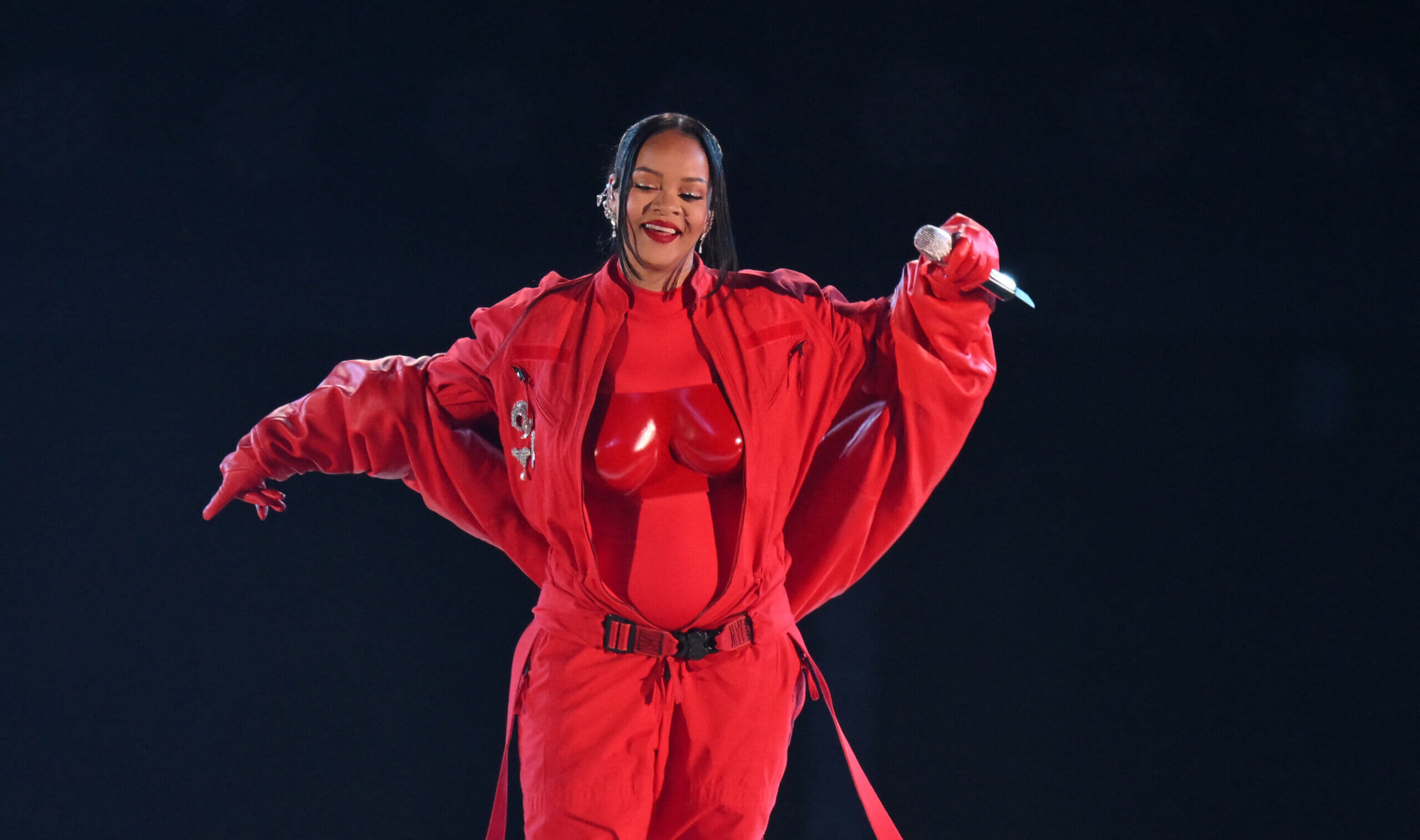 Don't get me wrong: Rihanna still looked hot in a puffer coat. She twerked, she winked, she took a quick break to re-apply her makeup, all touches that affirm her breezy self-confidence. Rihanna has regularly played with volume in her fashion choices, most notably at the 2015 Met Ball when she dominated the red carpet both literally and spiritually with a massive yellow Guo Pei dress, and I found a similar sense of power expressed in her Super Bowl wardrobe. Her eye-catching red outfit was the only pop of color in a sea of dancers who were clad in puffy, moon-suit-adjacent hooded tracksuits.
Rihanna's music and personal style has pushed boundaries by being openly sexual, and she has famously dazzled with revealing outfits. One of the most memorable of these was an entirely sheer Swarovski diamond dress with matching head cap and gloves that she wore to accept the Fashion Icon prize at the 2014 Council for American Fashion Designers awards. In an interview with filmmaker Miranda July, Rihanna described a great photo as one in which "There's no rule about whether you have to be clothed or not. I want to see a naked woman who isn't even aware of her nakedness."
Female performers at the Super Bowl, including Janet Jackson, Shakira and Jennifer Lopez, have all faced immense criticism for their revealing outfits. Jackson shouldered the public blame for the original "wardrobe malfunction," in which Justin Timberlake ripped off part of her bodice during the 2004 Super Bowl exposing her right breast for approximately half a second. The FCC fined CBS $550,000, and Jackson's music was temporarily blacklisted by radio stations. In 2020, I watched as Orthodox female bloggers shared their dismay and discomfort with Shakira and Lopez's halftime show's suggestive choreography and skimpy leotards, complaining that they struggled to explain the stars' sexually suggestive attire to their sons.
The concept of tzniut is not solely related to modesty in dress, but also applies to interpersonal relations and personal attributes. Modesty is encouraged not only in what one wears, but in one's thoughts and actions with other people. My Jewish Learning describes modesty as being intended to "preserve the sanctity of the inner human being from assault by the coarseness of daily life." While not someone who consistently dresses modestly but who enjoys experimenting with it, I have always resonated with this sense of our clothing as a form of armor we use to protect our spiritual selves from the outside world. When I'm feeling particularly vulnerable or moody or simply bombarded with the stimulae of urban 21st-century life, selecting a modest outfit or headwrap gives me a sense of being subtly protected, my mind and spirit walled off from the evil eye and the bombardment of my Twitter notifications.
Unlike Orthodox Jews or people of other faiths that believe in laws around physical modesty, I don't think that Rihanna sees a value judgment attached to the way that she dresses. If she is anything, Rihanna is a stylistic chameleon, constantly experimenting with her aesthetic and musical expression. I don't know her personally (alas) but from all of her public remarks on the subject, Rihanna seems to feel equally empowered no matter how much, or how little, clothing she wears. 
While I have always admired Rihanna's wardrobe over the years, her 2023 Super Bowl outfit will hold a special place in my heart for its modest, but still sexy, style. I doubt that Rihanna consulted with any tzniut authorities in preparation, but I believe that spiritually, her decisions around her halftime show wardrobe indicate a woman who understands that what makes her attractive goes far deeper than push-up bras or no bras at all.
Rihanna knows that what makes her hot is how deeply relaxed and at ease with herself she is. Which sounds pretty modest to me.