Opinion
With over three million refugees in Poland alone, Europe continues to absorb Ukrainians fleeing the war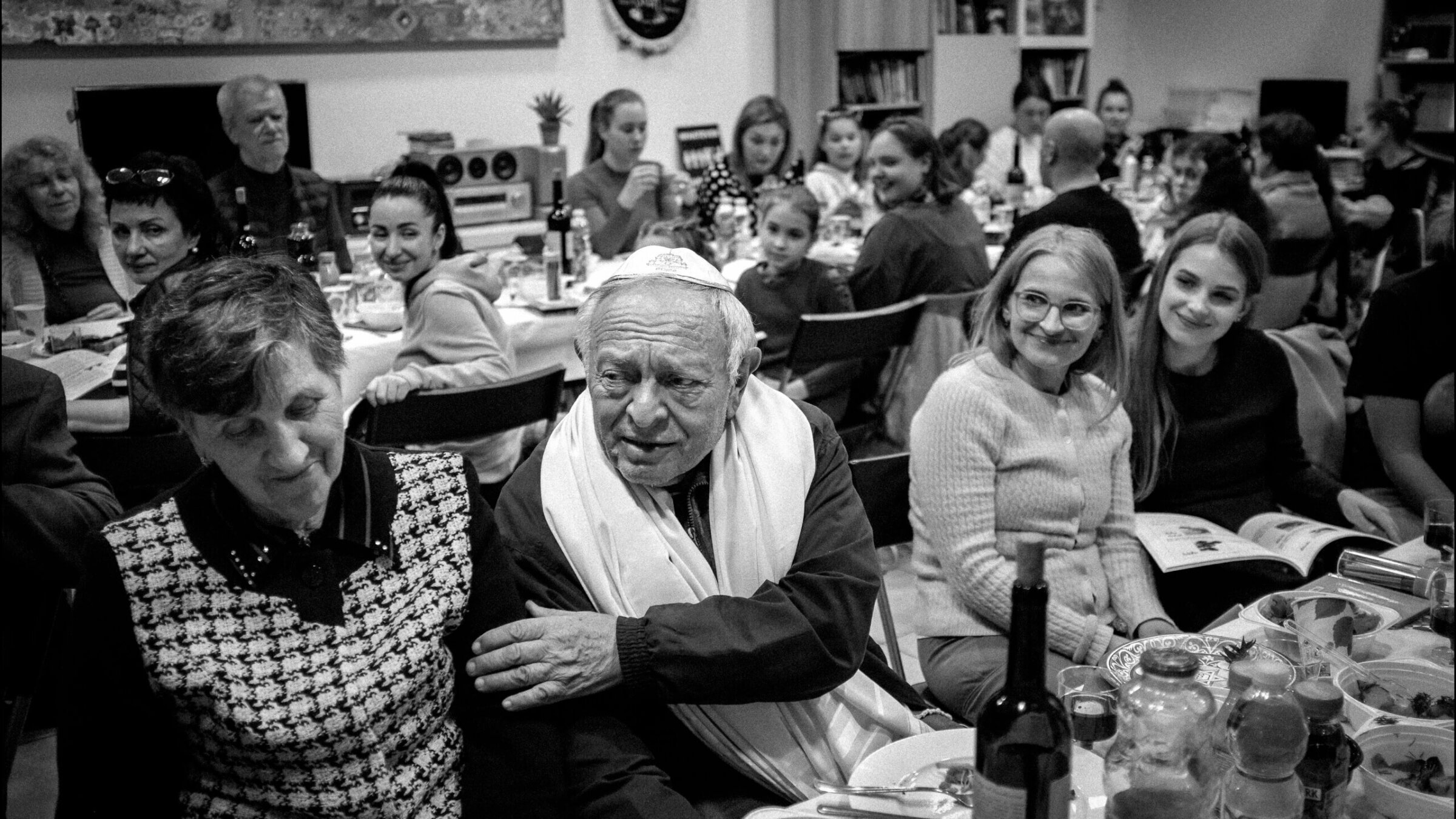 Photos: In the last year, eight million Ukrainians have become refugees
When Russian tanks crossed into Ukraine and the airstrikes began, the flood of Ukrainians escaping the war, primarily women and children, began too.
The majority of Ukrainian refugees are not Jewish, yet Jewish institutions have played a crucial role in aiding them. The American Joint Distribution Committee and the Jewish Community Center of Krakow, Poland, among others, are key figures in the Jewish humanitarian relief efforts.
The JDC is continuing to expand its relief efforts for vulnerable Jews in Ukraine and in Europe, including increased aid for the harsh winter months, material support for food, medicine and housing, integration support for refugees in European Jewish communities and operating six trauma centers in Ukraine alone.
In the last year, the JCC Krakow has practically reoriented its entire mission to aid Ukrainian refugees. Its executive director Jonathan Ornstein estimates that the JCC Krakow serves an average of 500-600 refugees per day. A large room on its ground floor is now a dedicated distribution center, filled with shelves of baby formula, toys, diapers and clothing. The JCC has facilitated aid shipments deep into Ukraine, and even helps house refugees in a 19th century castle, Paszkowka Palace.
The photographs, courtesy of the JDC and photographer Chuck Fishman, are a brief capture of what a Ukrainian refugee is facing. Children playing, a family praying over a refugee Passover seder, a young mother breastfeeding in a refugee center — all are activities and images that would be poignantly mundane save for the backdrop of violence and displacement.
1 / 9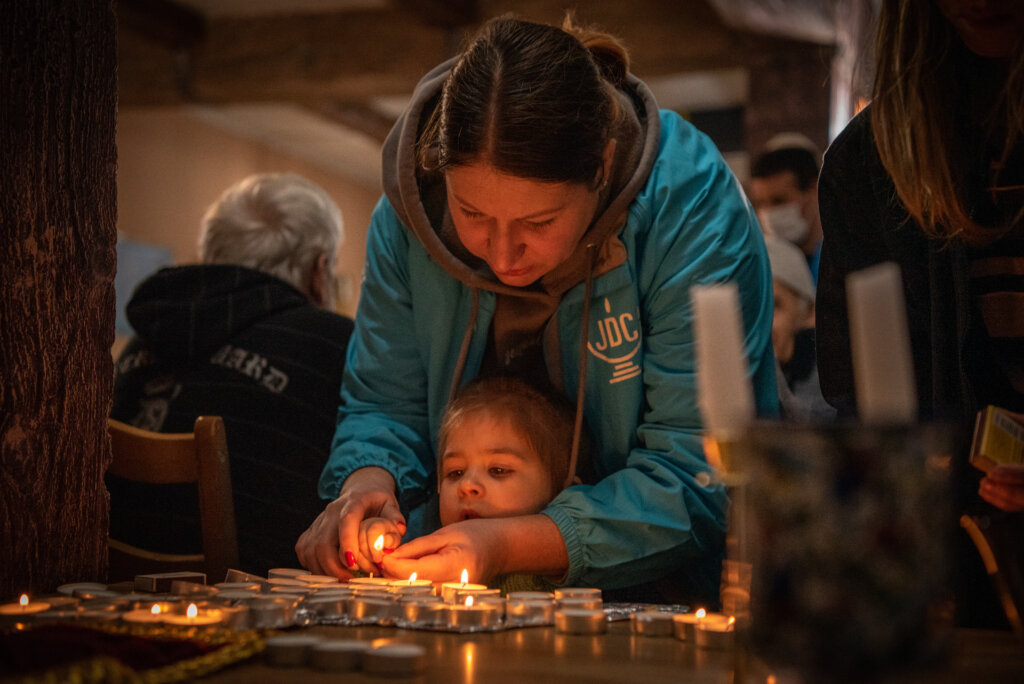 A JDC volunteer lights Shabbat candles with her daughter at the JDC-supported Kedem Jewish Community Center (JCC) in Chișinău, Moldova. Integrating Shabbat experiences and other Jewish cultural and education activities into its refugee relief work and ongoing services in Ukraine have been key to ensuring some sense of normalcy among those suffering displacement and separation from their loves ones. Photo by Arik Shraga/JDC.
2 / 9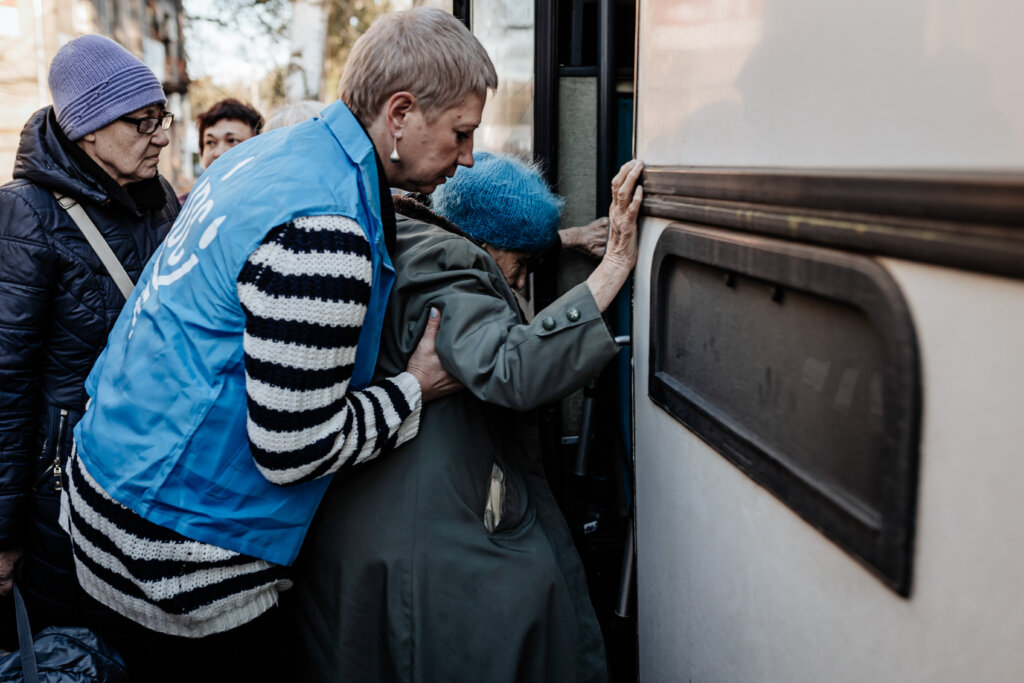 A JDC Jewish community volunteer helps an elderly woman onto a bus that is part of a JDC evacuation convo out of the city of Dnipro during the height of the conflict. To date, JDC has evacuated more than 13,000 Jews out of Ukraine (with its first evacuation on Feb. 25, 2022). This has included medical evacuations for more than 167 frail and sick Holocaust survivors together with the Claims Conference.  Photo by Misha Kovalev/JDC.
3 / 9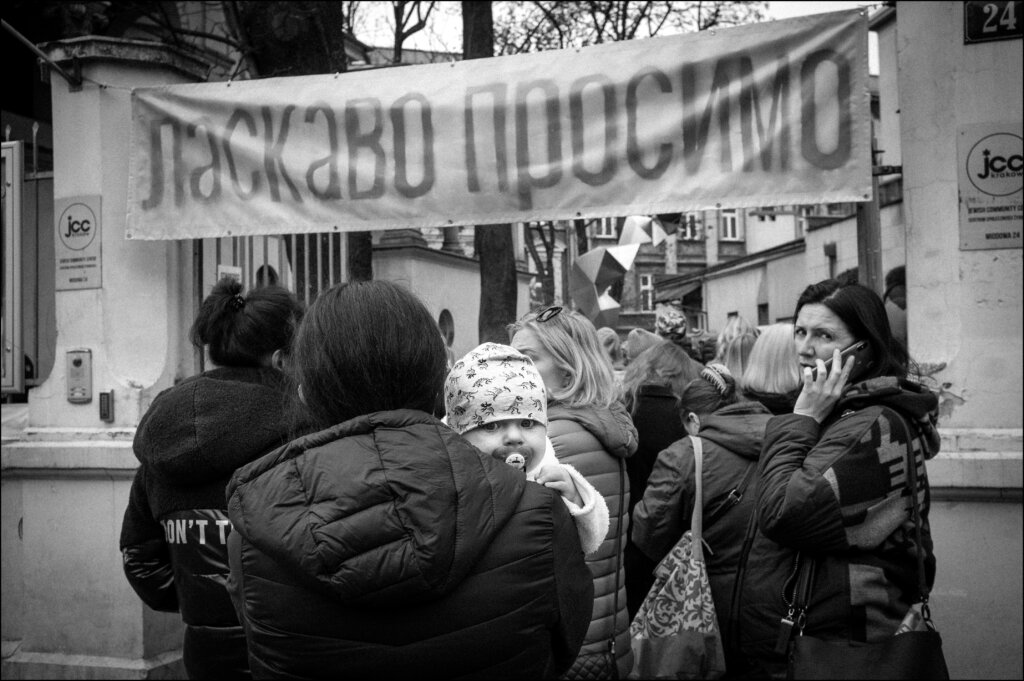 Handwritten in Ukrainian, the banner at the open gate of the Jewish Community Center in the Kazimierz neighborhood of Krakow simply states "WELCOME". Inside, Ukrainian refugees can freely select clothing, food, medicine, hygienic supplies, baby items and more. Primarily women and children, they learn that the kids can spend days in a "safe space" child care center at no charge; that they can attend free Polish language classes; that they are eligible for free housing; all provided through JCC Krakow. Krakow, Poland, April 21, 2022. Photo by Chuck Fishman © 2022
4 / 9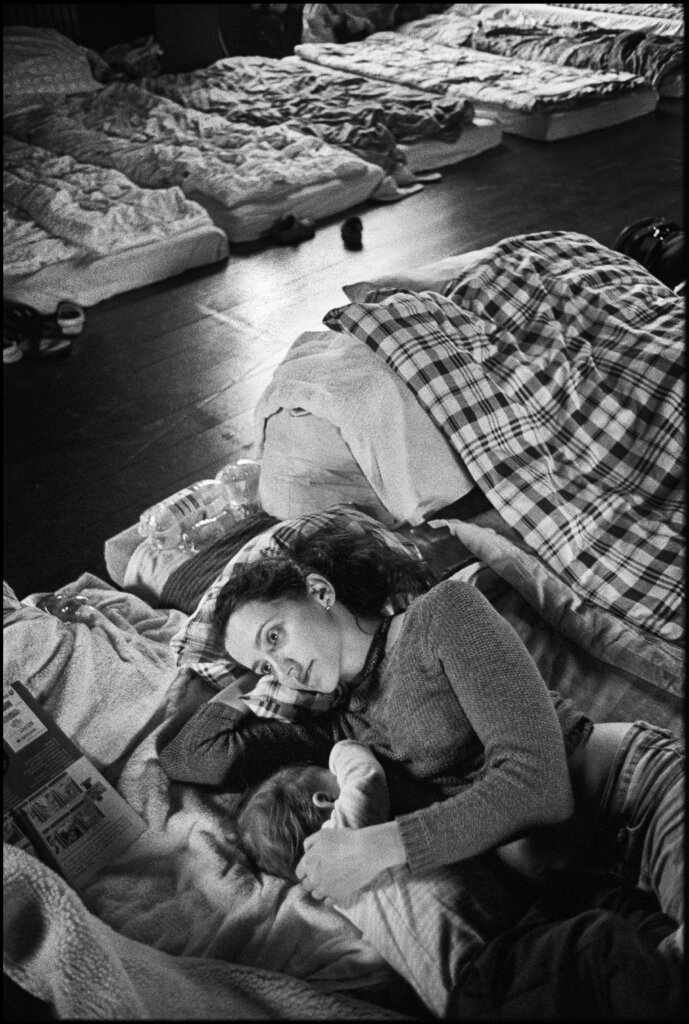 Ukrainian refugees from Kyiv, Maryna Sokolova with 1-year-old son Prokhor, on the mattress they share in the temporary shelter of "Radziwillowska" in Krakow, Poland. Located near the train station, this former theater, known simply by its street address "Radziwillowska," is also an information hub and often a first stop for Ukrainian refugees arriving in Krakow. JCC Krakow and four other partners pay for and oversee its daily operation. Krakow, Poland, April, 2022. Photo by Chuck Fishman © 2022
5 / 9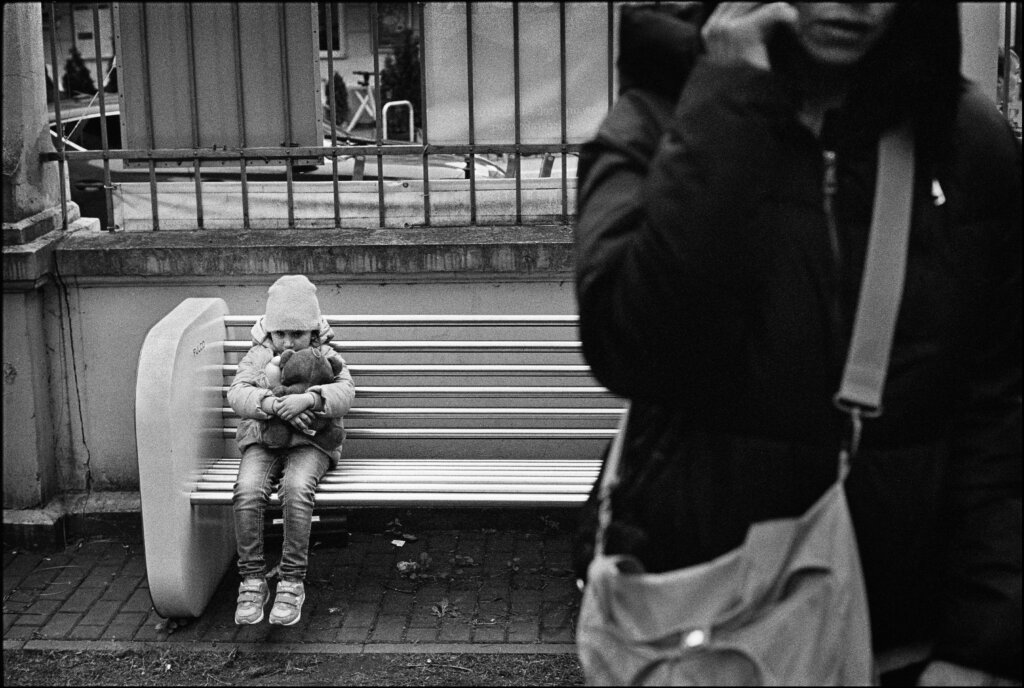 Karolina, 6, from Severodonetsk hugs her stuffed animals in the courtyard of JCC Krakow on the "Gadulawka" bench ("Happy to Chat") — the first of its kind to appear in Poland. She is awaiting access to the free distribution center for Ukrainian refugees inside the building. Krakow, Poland, April 2022. Photo by Chuck Fishman © 2022
6 / 9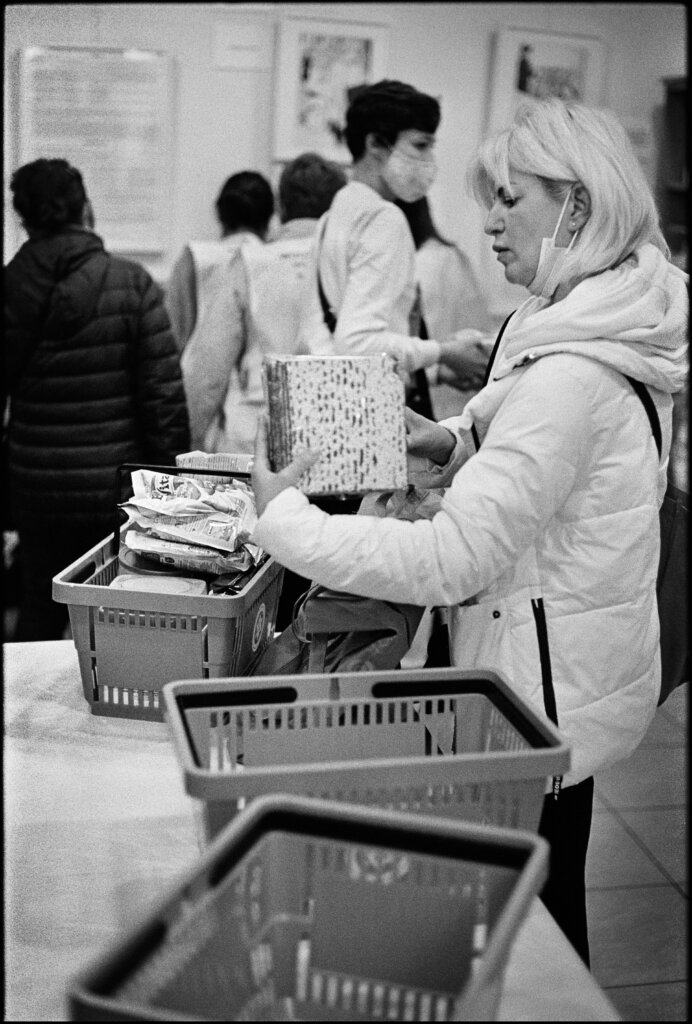 A woman examines large packaged matzah crackers for Passover in the JCC Krakow free distribution center for Ukrainian refugees, Krakow, Poland, April 25, 2022. The overwhelming majority of Ukrainian refugees are not Jewish. Photo by Chuck Fishman © 2022
7 / 9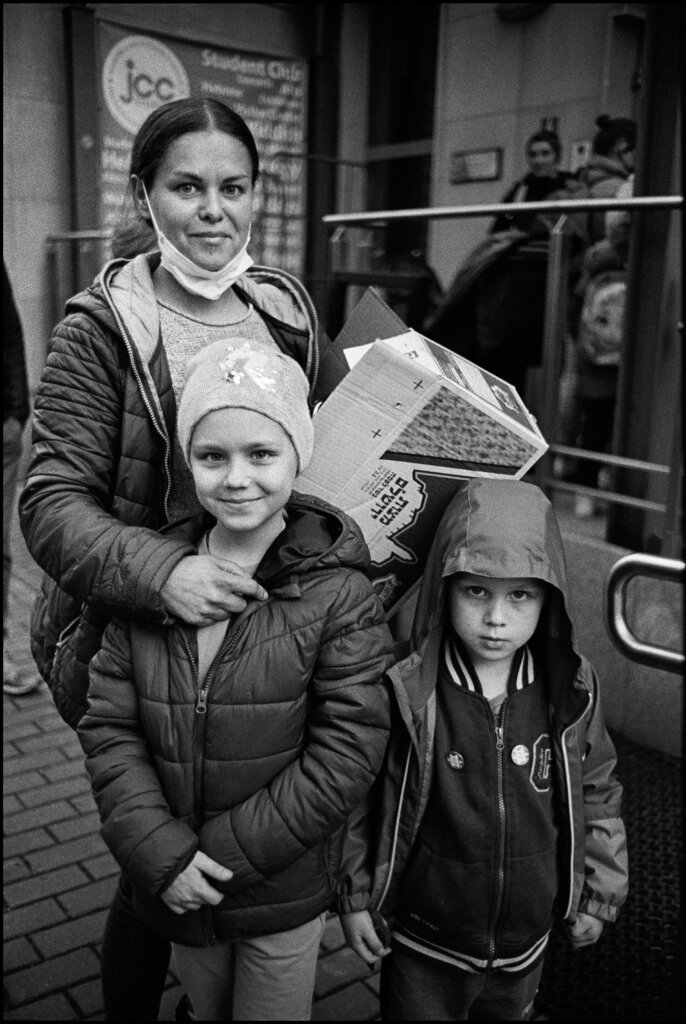 A Ukrainian refugee family from Kyiv after receiving free supplies from JCC Krakow, Krakow, Poland, April 25, 2022. Photo by Chuck Fishman © 2022
8 / 9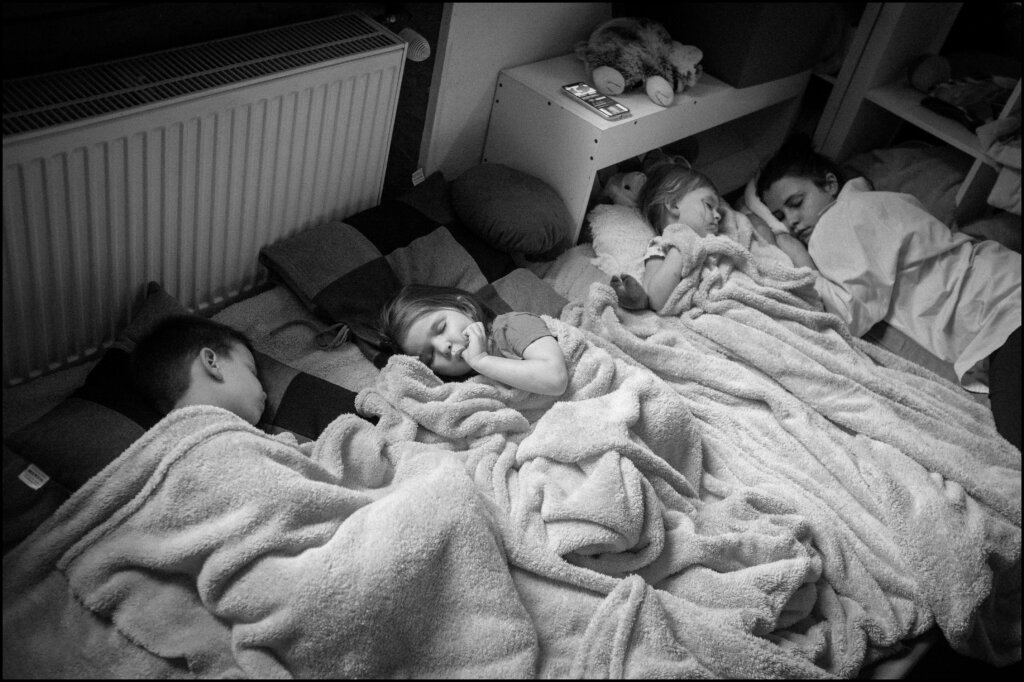 At Witalnia day care center for Ukrainian refugees (l-r) Dima, Eva, Alisa, with care-giver Stasiie at nap time. This mother and child "safe space", ("Witalnia"
means "living room" in Ukrainian), has been opened, outfitted and operated by JCC Krakow and a local partner since shortly after Ukraine was invaded. It is free for all Ukrainian refugees. Witalnia also provides free Polish language and art therapy classes. Krakow, Poland, July 2022. Photo by Chuck Fishman © 2022
9 / 9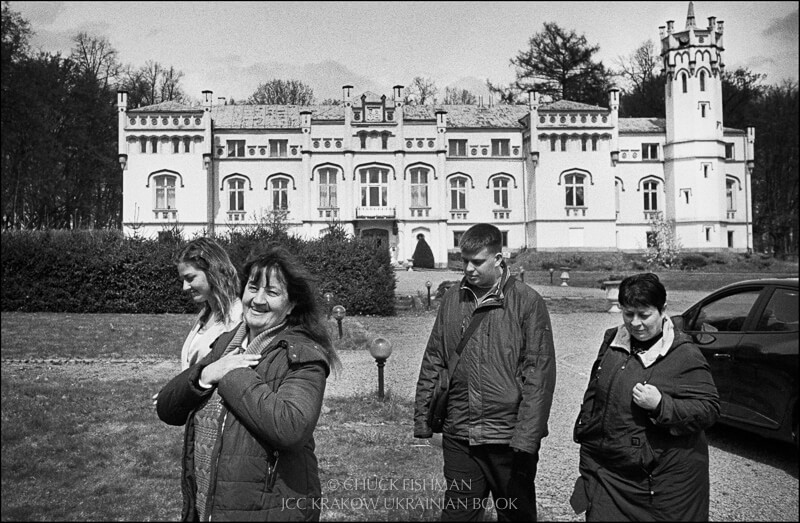 Helenochka Borisovna Feschcuk, from Vinnytsia, with daughter Rosalinda (left) and Svetlana with son Kostia, from Odesa, (right) at Paszkowka Palace where they stay free of charge. Paszkowka is funded and maintained by JCC Krakow. Paszkowka, Poland, April 2022. Photo by Chuck Fishman © 2022