This Jew-ish card game kept me busy during my infertility treatment
While playing the card game Casino, I learned how quickly fortunes could change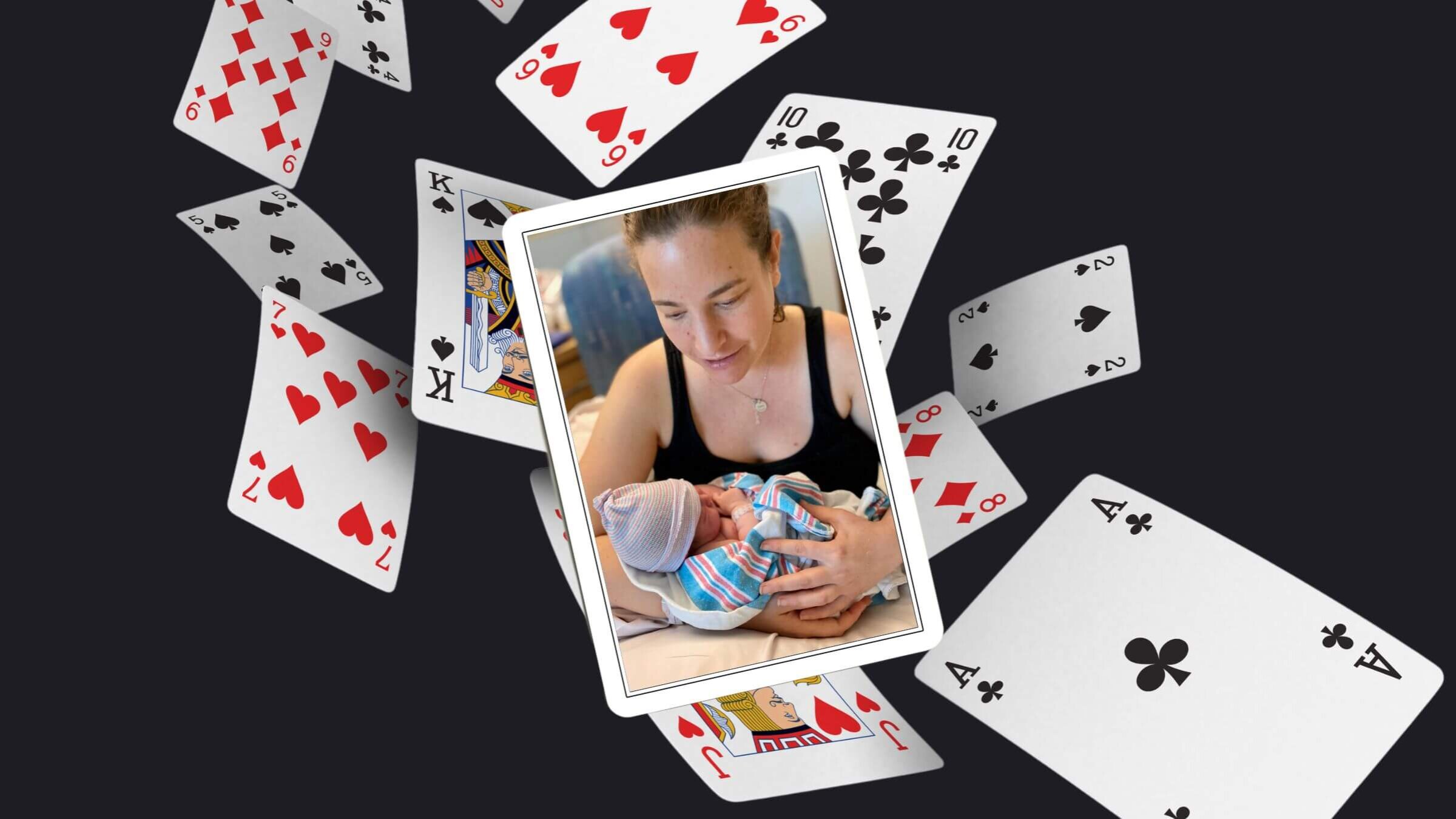 I was sitting in a waiting room full of infertile women when I shrieked: I had nabbed the 10 of diamonds.
My husband and I were playing casino, a card game that requires both skill and luck.
I had first played the game 25 years earlier with my dad, who had played with his own father and with his grandfather, Max. I had once assumed every household was familiar with the game, just like I thought everyone ate kishke and used words like tuches. As an adult, I realized that the game seemed to be relatively obscure and disproportionately played by New York Jews.
There's nothing explicitly Jewish about the game. There's no clear connection to a holiday, the way playing dreidel is tied to Hanukkah or hiding the afikoman is essential to Passover. But what sets it apart is an element of turning around your luck. Your opponent may have been dealt a hand lush with riches, but with clever maneuvering, fortunes can quickly change. It's understandable why this game was attractive to a bunch of Eastern European immigrants like my great-grandparents, who had come to America fleeing poverty and persecution, and generations of Jews that followed.
The appeal of a fresh start
The game itself is simple: The dealer distributes cards to both players, with luck throwing you either a pile of garbage or a charmed hand. But with some ingenuity, you can use your paltry hand to swipe cards from a more prosperous opponent. It's also played in rounds, and every move offers a fresh start. Maybe your opponent just wiped you out of some important cards on their last play, but that unlucky hand has no bearing on what happens next.
It's not hard to imagine what attracted my great-grandfather to the game. He was an immigrant who in the early 20th century had fled poverty and antisemitism, eventually arriving in the United States from Poland with nothing. Besides being both fun and free, what could be more irresistible than a game of fresh starts, where fortunes can shift from one moment to the next?
I had played casino on and off throughout my life, but my obsessive zeal for the game didn't start until my early 30s. My husband and I had just gotten married, and after months of trying to start a family, found ourselves for the first time in that waiting room. We left our first appointment with a thick folder of papers containing instructions on how to shoot medicine into my tush with a 5-inch needle and the reassurance that with our age and health, we would be able to have kids with just a little assist from science.
A card game gave 'small victories'
What followed next was two years of infertility treatment and hundreds of hours spent in that doctor's office. We would leave the house for our daily monitoring appointments when it was still dark outside and arrive to an office full of dozens of other bleary-eyed women. It was not uncommon for our doctor to be running an hour late, so while waiting for the nurse to call us in, we'd pull out a deck of cards and play casino. In the evenings, while I was refreshing my inbox for the 10th time in a night as I waited for test results to come in, or sat on hold with the insurance company for the 300th time in a week, we'd reach for our deck of cards again.
Beyond being just a way to pass the time, casino gave me small victories. Struggling to have a child is nowhere near the level of adversity compared to what my great-grandfather faced. But still, it felt like I had been dealt an unfair hand. Why was seemingly every last person in my Facebook feed popping out babies while I had two ovaries full of worthless eggs? While I sat waiting for my blood to be drawn for the fifth time in as many days, the little rush of dopamine I got every time I swiped an ace of spades (one point!) or that 10 of diamonds (two points!), felt like a momentary restoration of justice.
In all, we played casino through hundreds of shots, two egg retrievals, two miscarriages, an ectopic pregnancy that nearly killed me, and countless months of heartbreaking disappointment.
When life gets hard, pull out a deck of cards
Finally, in September 2019, we played a game of casino that I will never forget, on my bed in the labor and delivery floor of Lenox Hill Hospital, where 27 hours after the start of labor, I gave birth to a beautiful, healthy baby boy.
We play a lot less casino now. Long days full of screeching toddlers just aren't conducive to card playing, it turns out.
We're also not as desperate for something to feel good about anymore. But whenever life starts to seem a little extra unfair, though, in small ways like when preschool calls to tell us our child has hand, foot and mouth disease for the second time in a month, or in big ways like when my aunt died unexpectedly this fall, we pull out a deck of cards, and we do what my family has always done: We play casino.