I fought for Israel as a lone soldier. Now I fight for it as a protestor
The same Zionist values inspired me to move to Israel, and to resist Netanyahu's immoral judicial overhaul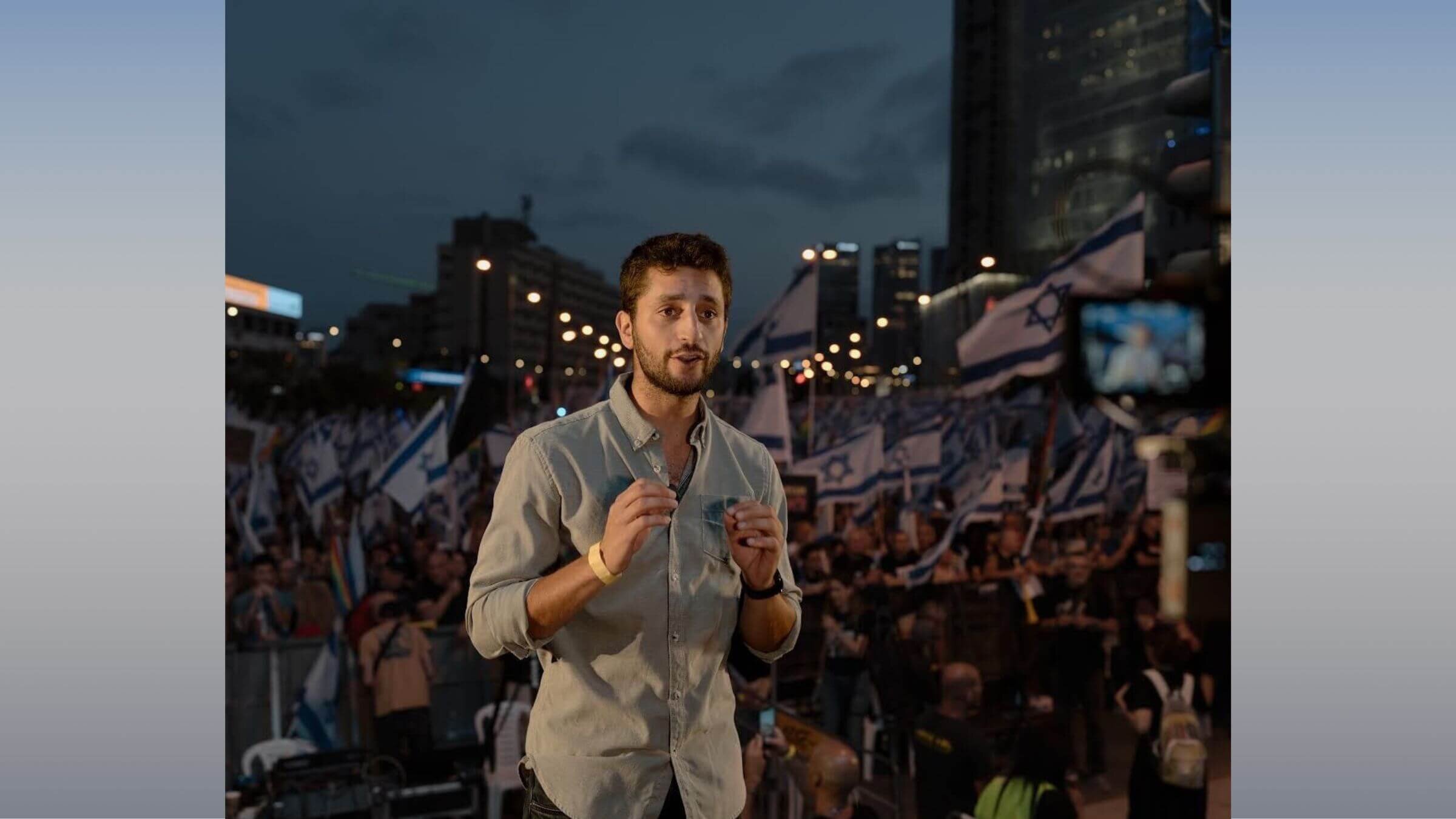 My mother likes to say that she and my dad were so successful in raising Zionists that two of their four kids made aliyah, including myself. They raised us to be Zionists so that we would identify as proud Jews, protecting the state of Israel.
Now, a new narrative has come into play. Israel will not be destroyed from her enemies outside, but from within.
Immediately after I read that the extreme Israeli government passed the first step of the judicial overhaul on July 23, I wrote the following tweet:
"Nine years ago I made aliyah, left my friends and family in New Jersey to enlist into the IDF and serve as a lone soldier. I was filled with hope that I would be able to contribute to society and help advance the country. That same hope led me to complete the officers course and serve my country proudly. That same hope led me to become a social activist, putting my heart and soul into this country, working diligently to make a difference. To make a change.
Moments ago, Israel's extreme government passed the first laws of the judicial overhaul, bringing Israel closer to an autocracy, where there is only one power, the government, with unbalanced and unchecked power. My heart hurts. I fear for the future of Israel."
Nine years ago I made Aliyah, left my friends and family in New Jersey, to enlist into the IDF and serve as a lone soldier. I was filled with hope that I would be able to contribute to society and help advance the country.

That same hope led me to complete officer's course and… pic.twitter.com/qsmWmXvFTD

— Josh Drill (@drill_josh) July 24, 2023
An evolving Zionism
Since moving to Israel, my love for the country has matured and my perception of Zionism has evolved, but my unwavering enthusiasm and passion for the Jewish state has not changed.
To prevent the government from turning Israel into a pariah state, the protest movement sprang into being on Jan. 12, after President of the Supreme Court Esther Hayut made her historic speech explaining the dangers in the government's then-proposed judicial overhaul. My Zionism compelled me to the streets with hundreds of thousands of my fellow citizens, and soon I found myself working for the protest movement.
For the past six months as part of the pro-democracy protest movement leadership, I have played the role of international spokesperson for the various protest organizations demonstrating against the judicial overhaul that threatens to end Israeli democracy.
My parents and their generation were born into a world in which Israel stood as a foundation of their Jewish identity. My parents viewed Israel as a key to the continuity of the Jewish people and so we visited often. We celebrated simchas there, and donated time and money to Israel.
Like many in my generation, I was raised with a one-sided narrative about Israel as my homeland in my synagogue, day school and youth organizations. I was armed with Israel advocacy ammunition, but not given the tools to think about Israel critically.
Thankfully, I did learn nuance, empathy and the ability to hold two complex narratives at once from my parents as well. Without them, I'm not sure if I would have survived my assignment as a combat officer in Hebron, emotionally or spiritually. During those painful five months of commanding 20 soldiers and four commanders next to the Cave of the Patriarchs in 2018, my eyes and my heart were opened to a different way of seeing the country that I had claimed as my own.
Resisting extremism
The messianic motivation of the Jewish settlers with whom I came in contact for the first time in Hebron is shared by the architects behind the judicial overhaul. This overhaul will maintain Israel as a Jewish state, but not a democratic one. The ultranationalist forces that are working to deepen the occupation and annex the West Bank are the same engineers of the canceling of the reasonableness clause and the additional laws neutering the power of the judiciary that await us.
Many actions taken by the protest movement were initially uncomfortable for us as patriots and lovers of Israel. As time went by, we understood that the non-violent disruptions, refusals, marches and strikes were necessary. Ironically, it is our Zionism, and love for Israel, that called us to act.
The high-tech protest, made up of employees in the hugely profitable tech sector, immediately began taking money out of Israel so that their taxes would not go to the Israeli government.
The reservists' protest, led by the group Brothers and Sisters in Arms, declared that they will not go to reserve duty, in a letter signed by over 10,000 reservists, including F-16 pilots, intelligence operatives, and the highest-ranking special force soldiers.
The women's protest, with over 100,000 women in their ranks, has organized strikes bringing the economy to a standstill.
The list goes on and on. Every kind of Israeli, of every age, gender, religious affiliation and social sector organized to send a clear message to the Israeli government that they will not allow Israeli democracy to be dismantled.
The diaspora
Along with the various protest organizations in Israel, the Jewish diaspora is the last key to the puzzle in stopping the government. In order to guarantee that Israel does not become a country that we would all not recognize, the diaspora must take definitive action. Those who love Israel must consider these historic days and choose to stand on the correct side of history — not just with their words, but with tangible actions.
If American Jews are serious about saving Israel's democracy from Netanyahu, then Zionists must stop funding organizations that support the Israeli government. Instead, their financial support should go toward Israeli NGOs that directly strengthen Israel's democracy. Additionally, American Zionists must pressure the Biden administration to stop funding Israel's antidemocratic government.
I have given too much of myself to this country to just let it crumble in front of my eyes. I will not suffer the trauma of PTSD and moral injury from my service in Hebron for others to have to go through the same thing in a never-ending cycle of bloodshed.
I wish I could tell my 18-year-old self that Israel and I will go through some hard times, but we both will grow. I would remind him that people from every side will criticize his actions, but his core Zionist and humanist values will hold him in place.
I would tell him to be proud of his aliyah, to stay aligned with the Israel with which he fell in love, and to continue to pour himself into keeping Israel safe, both at its borders, and in its very soul.
To contact the author, email [email protected].