Culture
Chrismukkah, and 5 Other Things to Read, Watch, and Do This Weekend
As you settle in for the long Chrismukkah weekend, it's a great time to catch up on reading, binge watch your favorite TV shows (or a great new one) and, for the daring, venture outside for some magical holiday fun. Our best picks, below.
This year, Hanukkah starts on Christmas Eve for the first time in decades. Celebrate with suggestions the Forward's official Chrismukkah guide, with tips on everything from where to get the best hot chocolate to where to hit the hottest Hanukkah party. Or, if you're a traditionalist, show up for a performance of "The Nutcracker" – but first, read about its secret Jewish history.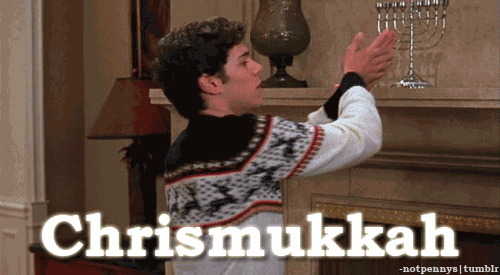 If you played with Transformers growing up – or loved the Michael Bay movies (we won't tell) – you'll be completely enthralled by former Forward editor Abigail Jones's recent Newsweek story on Henry Orenstein, a Polish Holocaust survivor who, after the war, moved to the United States and went to work for the toymaker Hasbro. He's the one behind those Transformers – and holds over 100 patents, to boot – and his story is worth a deep, careful read. Other good longform from recent weeks includes Annalee Newitz's "Finding North America's Lost Medieval City" for ars technical, Sasha Chapin's "The David Foster Wallace Disease" for Hazlitt, and D.C. Benny's "That Christmas When Mom Called Dad a Miserable Jew and He Called Her a Nazi Pig" for Narratively.
3) Snuggle up with the year's best television
Christmas is code for coziness, and we can't think of a better way to celebrate than with some of 2016's most innovative, exciting, and flat-out heartwarming television. Some options include Syfy's magical adaptation of Lev Grossman's "The Magicians" – which, admittedly, features some plot holes – "Girls," which many critics agreed had its strongest season in years, and "Crazy Ex-Girlfriend," which returned for its second season this fall.
4) See holiday-themed comedy
Still in the Chrismukkah spirit, spend the first night of Hanukkah at Chicago's City Winery with comedian Joel Chasnoff's "Christmas Eve for the Jews." Expect a good dose of irreverence, and enough laughter to help you forget the ills of 2016.
5) Experience some enchantment with the author behind "Hugo"
Martin Scorsese's 2011 film "Hugo" drew mixed reviews, but was unquestionably magical. In New York, spend Saturday afternoon watching the film with Brian Selznick, who wrote the book on which the movie is based, "The Invention of Hugo Cabret." Also in New York, spend Sunday at a family-friendly Hanukkah-themed festival at the Museum at Eldridge Street or at the Museum of Jewish Heritage's annual Adrienne Cooper Dreaming in Yiddish Memorial Concert, this year featuring Frank London, Sarah Gordon, and more.
On Sunday afternoon, attend the lighting of the National Hanukkah Menorah on the White House grounds. The event, which is free but requires tickets, will feature music, latkes and donuts, and dreidels.