Culture
9 spooky, Jew-y films to watch for Halloween (8 of which aren't 'Hubie Halloween')
Craving spooky, scary, Jewish viewing for Halloween? We've got you covered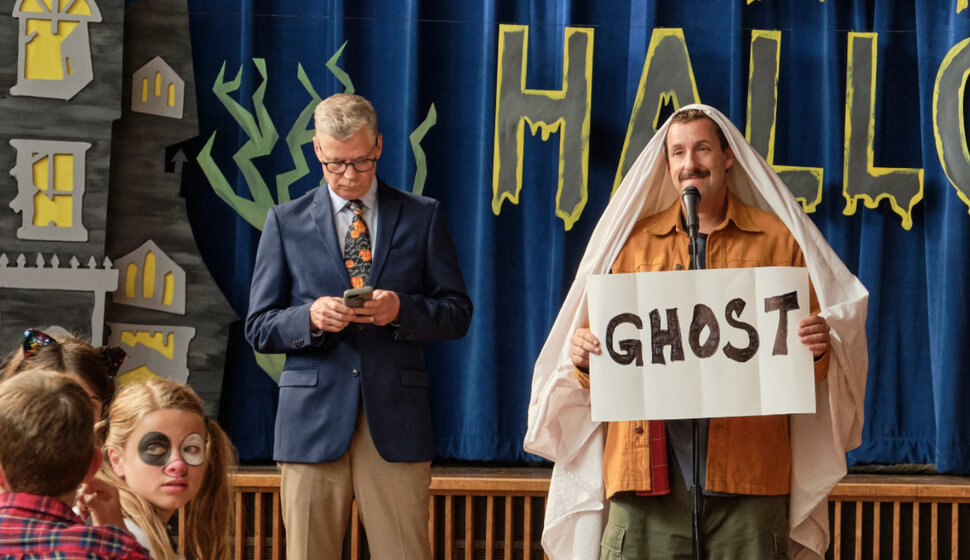 In this year of fresh, daily horrors, we wouldn't blame you for giving Halloween a pass.
Nevermind the awful, topical novelty costumes (looking at you Sexy Hand Sanitzer), the scary logistics of socially-distanced trick-or-treating or the fact that this year's festivities fall just days before the election from hell. We've all been through it these past few months. If you need to take a break from ghosts, goblins and dybbuks, we respect that mental health choice.
But, if you'd like to, in the immortal words of R.L. Stine, be "in for a scare," here are a few spooky Jewish movies you might have missed or may want to revisit this October 31.
"Nosferatu" (1922), Director F.W. Murnau
Where to watch: Free on YouTube
This classic of the horror genre gets a bad rap, with some claiming the bat-visaged Count Orlok is an antisemitic caricature whose creepy features were later co-opted by the Nazis for propaganda. But, when one considers that the screenwriter, Henrik Galeen, was a Jew and that the film had a number of Jewish cast members and Murnau seemed anything but antisemitic, it can be enjoyed for the influential masterpiece that it is. You may even receive the film, as Israeli film scholar Ofer Ashkenazi does, as the tale of a sympathetic outcast — a very Jewish story to be sure. But given the origins of this current pandemic, it may hit a bit too close to home.
"The Dybbuk" (1937), Director Michał Waszyński
Where to watch: Free on YouTube
You know the old story: Two pals in the shtetl plan a shidduch between their kids; the kids are separated by tragedy but fall in love as adults; the boy becomes a kabbalist to make some extra scratch to marry the girl and then dies for monkeying with magic only to return to life as a dybbuk in the body of his beloved — I mean, who hasn't? The Yiddish classic has arresting Expressionist imagery (Waszyński was a student of Murnau) and remains a creepier counterpart to today's dybbuk films. Watch with at least one light on.
"The Trial" (1962), Director Orson Welles
Where to watch: iTunes or here (with Spanish subtitles)
At the time of its completion, Welles said "The Trial" was the "best film I have ever made." Of course, by that point in his career most critics in the U.S. had already dismissed him. But, perhaps the film was a wine before its time. Like the oeuvre of Franz Kafka – on whose posthumous novel the film's based — it has gained a belated appreciation. One could argue it comes closest to capturing Kafka's spirit of paranoia, anger at arbitrary bureaucratic systems and — most importantly to its success — his humor. And frankly, it's just nice to see Anthony Perkins (who plays Josef K) in a film where he isn't the creepiest part.
"Young Frankenstein" (1974), Director Mel Brooks
Where to watch: Amazon Prime, Hulu, SlingTV and Starz
This film's influence is hard to overstate. It inspired an Aerosmith hit, a middling Broadway musical and gave us many, many quotable lines. If it's been a bit since you've checked in on Dr. Frankenstein (Frahnk-un-shteen) and his monster, now may be a good time to pay a visit. It holds up, and it may be just the sort of semi-spooky diversion you need right now.
"The Boys from Brazil" (1978), Director Franklin J. Schaffner
Where to watch: Amazon, Google Play, YouTube
It may not be the best adaptation of Ira Levin — that goes to the pretty Catholic, but also tough to endorse "Rosemary's Baby." Tt's certainly the most Jewish, though. Barry Kohler (Steve Guttenberg) discovers that Josef Mengele (Gregory Peck of all people!) is living in Paraguay and has made a whole bunch of Hitler clones. Luckily, Nazi hunter Ezra Lieberman (Laurence Olivier, doing teshuva for his prior role as a sadistic Nazi dentist) is on the case. Is it good? Not really, but it has legendary actors — including Uta Hagen, James Mason and Bruno Ganz — and is likely a whole lot better than the second, Hitler clone, season of "Hunters" will be.
"An American Werewolf in London" (1981), Director John Landis
Where to watch: Amazon Prime, HBO Max, Hulu, iTunes, YouTube
Boychiks Jack Goodman and David Kessler are backpacking through the Yorkshire moors when Jack is mauled to death by a lupine creature. David survives and recovers with the help of a pretty nurse, but soon suffers through his own Werewolf Bar Mitzvah. A parable of alienation, the beast within and the hirsute development confronted by so many Semitic men, it belongs in the canon of Jewish horror (even if the director is kind of a tool).
"A Serious Man" (2009), Directors Joel and Ethan Coen
Where to watch: Amazon, Netflix
Taking a cue from S. Ansky (on whose play "The Dybbuk" is based) the film opens in a shtetl where a man believed to be dead is killed by the woman of the house. Somehow it only gets worse from here. A tornado's blowing into Minnesota. A mild-mannered teacher, Larry Gopnick is cuckolded by the overly-tender Sy Abelman and may not get tenure for refusing to goose the grades of a subpar student. Larry's son is high on the bimah at his bar mitzvah. His brother's in legal trouble. His wife is shaking him down and making him live in a hotel and he can't even get an appointment with his shul's senior rabbi to talk things out. If this isn't the ultimate Jewish horror movie, I don't know what is.
"The Golem" (2018), Directors Doron and Yoav Paz
Where to watch: Netflix
There's a plague going around — of course the non-Jewish population blames the shtetl folk. Luckily a plucky woman who secretly reads kabbalah has a plan: Make a golem. What could go wrong? Well, everything. This is actually a diverting watch for our current plague times for how little grounding it has in reality — even as its on location production value is more authentic than you might expect. If you gird yourself for its dated (if meant to be progressive) gender politics, you might have some fun with this.
"Hubie Halloween" (2020), Director Steven Brill
Where to watch: Netflix
By far the scariest entry on this list. Adam Sandler once more returns to his vaguely Cajun speech disorder, but despite that affectation, he is somehow a lifelong resident of Salem, Massachusetts (and a Jewish one). This film is like a fever dream. I can't really tell you what happens in it except to say that everyone in Salem has nothing but unbridled hostility for Sandler's character of Hubie Dubois, a man who loves Halloween but is afraid of his own Halloween decorations. Come for the bonkers cameos, stay for the context of this scaredy cat.
Stay safe this Halloween season, and hope the Sandman enters next fall in a post-pandemic world with another dramatic turn.