Culture
A schmaltzy fish tale for the hard of herring
The Forward's lox columnist explains the origins and varieties of one of his favorite delicacies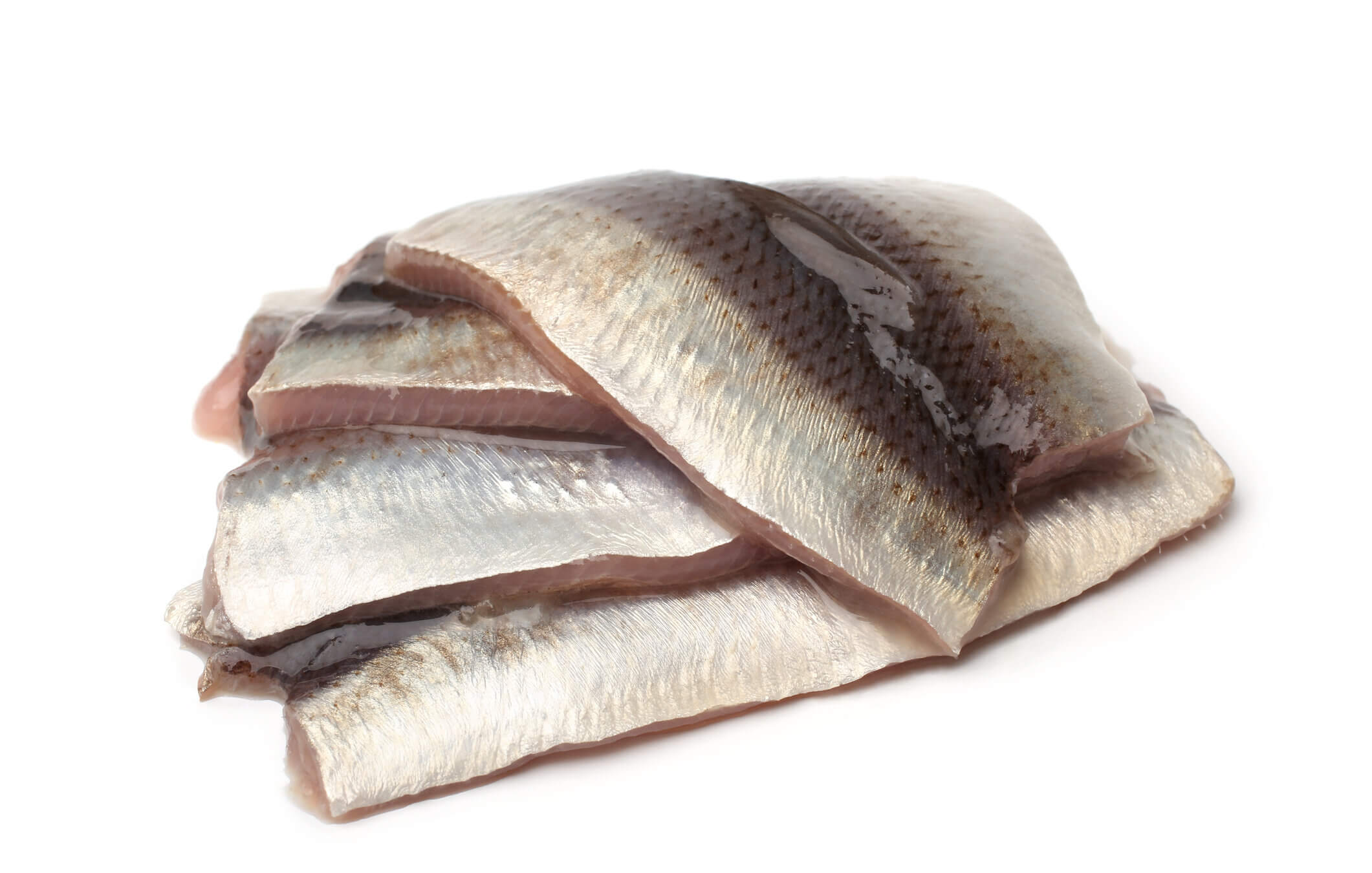 My internist was just about to take the fourth squeeze to the little round ball that is part of the blood-pressure apparatus when he paused to ask, "What's the story with matjes herring? Do they sell it anywhere in Westchester County?"
Since he's a Forward subscriber, has read some of my fish stories, and knows I'm the Forward's lox columnist, he knew I was the right person to ask. I told the good doctor not to worry — I would pick some up for him next Thursday, my day of work at Zabar's.
"Don't bother, it's too much trouble," he said. At "140/77, I think we'll leave your blood pressure medication as is."
But when I arrived home, I couldn't stop thinking about matjes herring. I always have it in my fridge. It's quite delicious and does a dance with my taste buds that make them want to scream out (that is, if they could), "Who are you and welcome to my mouth!"
I think very few people know anything about matjes herring.
I looked at an article I had previously written about smoked and cured fish and noticed there was one important fish I had overlooked. HERRING!
I started thinking about herring. A large variety of pickled herring is available in today's market. You have your basic pickled herring, herring in cream sauce, chopped herring, herring in dill sauce, herring roll mops, herring in mustard sauce, in wine sauce, horseradish sauce, tomato sauce, pepper cream, and the one that started it all: schmaltz herring.
I love the sound of the word schmaltz. It has a certain ring to it. SCHMALTZ! Say it and you'll see what I mean. It's a Yiddish word that has more than one meaning. In the world of food, it means rendered fat, usually chicken fat. In the fish food world, it means fatty herring preserved in a particularly salty brine.
In days gone by, brined herring was shipped in barrels from various countries surrounding the North and Baltic seas to New York City. Each barrel weighed about 50 pounds and contained over 250 pounds of fish. When the herring arrived at the local retailer, an appetizing store or a local supermarket, it was further processed with more brine; in the case of schmaltz herring, sour cream and sugar were added to create herring in cream sauce, or cut up in pieces labeled herring tidbits, all displayed for the costumer to view in trays placed in the counter showcase.
Today, herring arrives at the retailer in large cardboard boxes, some of which contain a dozen plastic containers of 18 3-ounce fillets of schmaltz herring, which are cut up into three or four pieces per fillet and packed for sale in plastic containers. In the other boxes, there are a wide variety of different herring styles, in small or medium jars with cute descriptive names on the labels: herring marinated with dill, herring tidbits and so on.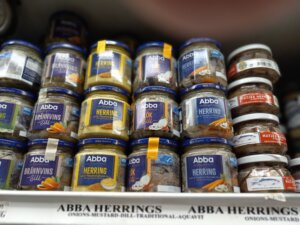 Herring is a staple in many European countries, especially the Netherlands and Scandinavia where it has been considered a delicacy for over 2,000 years. It is inexpensive, nutritious, flavorful and can be eaten raw, fermented, pickled and smoked.
Over time, these fish, one of the most common species in the world, have migrated to the Baltic and North seas, influencing the economy and cuisine of many of the surrounding countries. Iceland too, occasionally has large schools of herring in its waters. In the 1960s and early 1970s overfishing in the North Sea caused sharp declines in herring resulting in fishing quotas in the 1990s.
Before the advent of refrigeration, during catch season, May through August, herring would be available in vast amounts but occasionally would disappear, making it seasonal but irregular. This led to the development of preservation methods: drying, brining, pickling, smoking, which allowed the fish to be stored and transported absent refrigeration.
The traditional way the Dutch prepare basic herring is to clean, gut and salt the fish, but leave the pancreas containing an enzyme to help fish to ripen. The herring is usually served with chopped onions and pickled gherkins.
During herring season, which starts in June, feasts are organized to celebrate first catch of the season.
Pickled herring has been a staple in Northern European countries ever since medieval times when pickling was also used to transport and store fish long before the advent of refrigeration.
The Germans love fresh fish, and their craving for pickled and smoked fish flavors goes back many centuries as well. Pickled herring is particularly popular among North Germans due to fishing traditions in North Sea countries that go way back.
In Denmark and Sweden, legend has it that in the Middle Ages, herring was so plentiful that the fish could be scooped up with one's hands at certain fisheries off the coast of Skane in Sweden.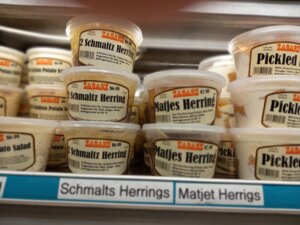 In Denmark, marinated herring is traditionally served on Easter Sunday and during the Christmas season. A favorite preparation involves herring on buttered black rye bread topped with raw onion rings; it's usually served with hard-boiled eggs, capers, fresh dill, pickled gherkins or tomato slices and it's always, ALWAYS, accompanied by Snaps (a strong alcohol beverage), usually Akvavit or a strong Easter beer.
As for matjes herring, the name is derived from the Dutch "maatjesharing," which means maiden-like.
Matjes herring is made from young female herrings that have not yet spawned; they are caught in the North Sea at the end of May or beginning of June while they still have their winter fat. Eaten raw, they are soft in texture and mild in taste.
In the Netherlands, after the herring have been skinned and gutted, they are chilled to get rid of any parasites, then brined for five days, traditionally in oak barrels, after which they are pickled in vinegar and spices which may include many or all of the following: brown sugar, salt, ginger, clove, padauk wood, allspice, cranberries, cinnamon and possibly beetroot powder, which is added for color and earthiness. This variety of spices, used in different quantities, allow for each manufacturer to produce a product that stands out from its competitor brands.
The Netherlands and Scandinavia are known for flavorful matjes herring. The two best-known brands are Abba and Skansen, the latter of which — packed in a cute little round 6-ounce jar containing about 10 or so fillets — is my personal favorite.
I thoroughly enjoy removing three fillets from the jar, placing them on a plate, topping them with either pickled onions or chopped raw, sweet, Spanish or white onions, or maybe a combination of all three, and popping them to where the taste buds lie in wait. Occasionally I find myself with "matjes fever" — that's a craving for the stuff — so I'll prepare a family brunch where I'll display 30 or so fillets on a plate like spokes of a wheel, top them with chopped onion and serve them with some dark black bread and a glass of ice cold Heineken. That's herring heaven to me.
Many of these flavorful morsels can be purchased online or at many gourmet food stores. I get mine off the north shelves at the rear of the cheese room of Zabar's.
You can, too.
And as for the good doctor and his orders on the subject of matjes herring, I decided to disobey him. So, the following Thursday at work I bought him a container of matjes herring, gift-wrapped it, and personally delivered it to his office the next day. I presented it to his receptionist with instructions to get it into a refrigerator immediately and tell him I said, "Happy birthday."
A week later, he sent a text to thank me. " I think I still see some of those herring wiggling in the jar," he said.