125 greatest Jewish movie scenes
Meet the prop maven who knows how to make any movie scene look Jewish
For more than 40 years, Suri Bieler has been defining what Jewish American life looks like on screen.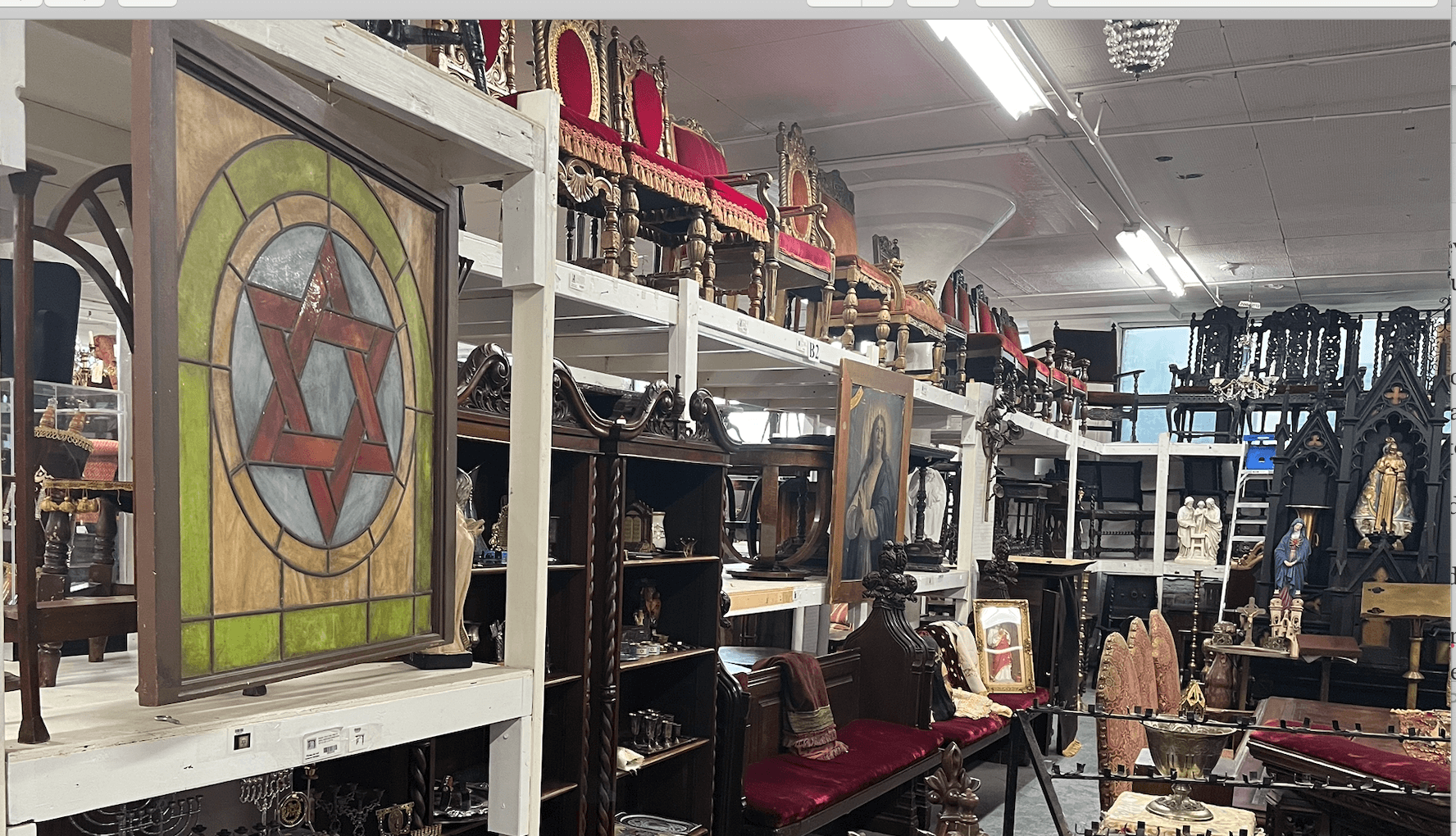 This essay is part of the Forward's list of 125 greatest Jewish movie scenes. You can find the whole list and accompanying essays here.
On a late spring afternoon, I found myself following Suri Bieler, the owner of Eclectic/Encore Props, in her company's 95,000-square-foot warehouse in Long Island City, Queens. We were looking for pieces that make a movie scene distinctively Jewish.
Bieler wore a functional vest apron, an N95 mask, and artsy pinkish glass frames. As we walked through the maze of props in what was once a Pepsi-Cola Factory, motion sensor lights flicked on, revealing shelves of rotary phones and cathode-ray-tube television sets and stacks of caskets. Turning a corner, I saw the furnishings of a Moroccan parlor next to a living room set I think I recognized from "Mad Men."
"Eclectic specializes in character pieces," Bieler explained, referring to the furniture, fabrics, and period pieces that subtly reveal the background story of a character. The collection has few contemporary props. Instead, they excel with objects from the early to the mid-20th century. "We have all the knickknacks and the odds and ends that create the life that we walk in on," she said.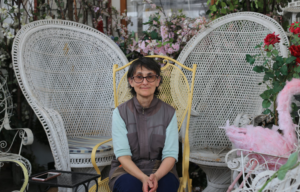 Bieler began in theater set design before she opened Eclectic Props in 1979 with $175. In 1989, she purchased the inventory of Encore, a company that started in the vaudeville era. Over time, she amassed a Noah's Ark of the nearly extinct material objects that defined American life throughout the 20th century. Then in 2013, after decades on West 26th Street in Chelsea, Bieler, her staff of 20, and over 500,000 props moved to Queens.
Her collection has defined what Jewish American life looks like on the screen. Her props set the scene in Woody Allen's "Radio Days" about a New York Jewish family in the 1930s. They've taken audiences back to the 1960s in "Dirty Dancing." The upcoming James Gray movie "Armageddon Time," with Natalie Portman and Anthony Hopkins, focuses on a Jewish boy coming of age in Queens in the 1980s. Naturally, they relied heavily on Eclectic.
 Of course, Bieler does much more than Jewish movies and series. As one of the largest prop houses on the East Coast, Bieler works with most production companies in the New York area. "The Devil Wears Prada," "The Sopranos," "Big," "Coming to America" and "Scent of a Woman," to name a few, used pieces from Eclectic.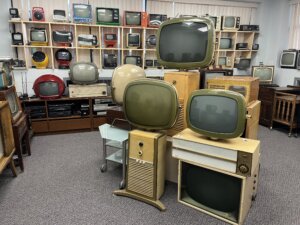 But Jewish scenery is one of Bieler's fortes, so I asked her what objects and furnishings make a scene Jewish. To start, she took me to the Judaica section among the religious props. It looks like the basement of a hoarding rabbi. Next to a stained-glass window with the star of David are Kiddush cups, Shabbat candle holders and Torah coverings. Nearby is a bookcase of Talmudic texts. Still, it is much more low-key than the neighboring Christian section with a large "Jesus Saves" cross, pews, and rows of large statues of saints.  
 Bieler grew up in an Orthodox household in Roanoke, Virginia, in the 1960s. There are other Jews in the prop world, but Bieler has a keen interest in Jewish objects and sometimes gives crash courses on Judaism to production assistants.
"People ask, 'what do I do with this? Is this OK? Is this a Shabbos candlestick?' I'll say 'no, that one is for Hanukkah,'" she said
 But more than that, Bieler can help guide a prop manager to match the perfect object with a character. There are dozens of menorahs: sleek modern ones, chintzy midcentury electric ones, and others that look like heirlooms brought over to Ellis Island. Talking with Bieler, it's clear each prop not only can tell a story but has its own.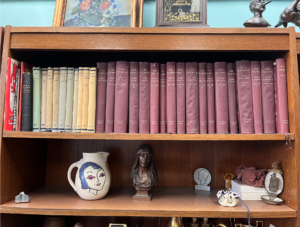 "I was given a Torah by a friend who's also a rabbi," Bieler said, "because it was torn." Later, a Hasidic group that works with Eclectic props noticed the scroll which appeared in "Orange Is the New Black" was real. "They asked me to give it to them so they could bury it," which is what Jewish tradition mandates for damaged Torahs.
Before the burial, Bieler asked to keep the Torah cover and make a facsimile of the parchment realistic enough for the movies but still kosher. The group agreed and, in gratitude, presented her with a mini decorative Torah.
"But then a year later," Bieler went on, "they came back and said, 'No, we have to bury the cover as well.'" She obliged, and in return they gave her a new cover, a second prop scroll, and a small Torah ark, which she treasures. Most recently, "Armageddon Time" made use of the Torahs.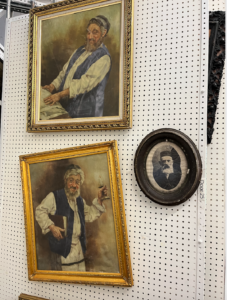 Our next stop was Bieler's Jewish wall art. She turned pegboard after pegboard of oil paintings of religious Eastern European Jews, family portraits, engravings of Jerusalem, ketubahs. "I bought them from an antique dealer. He was from Warsaw, and his main focus was Jewish art," said Bieler. When he retired, he shipped his entire inventory to Eclectic.
Bieler singled out a walnut-framed black-and-white photo of an older man with a long beard and black hat. Eclectic had provided it to "The Plot Against America," "Armageddon Time," "Russian Doll," "The Good Fight" and "Saturday Night Live," among other productions in recent years. I squinted at this anonymous man and the others who have become the archetypes for the east European Jewish ancestors on television and in the movies. I was hoping to recognize them, which Bieler explained wasn't necessarily the point.
"Those are very important just to have, whether people actually notice them or not," she said, explaining that decorations are not just for the audience. "It certainly does help the actor to see [the character's] family and become more of the character."
After the religious objects and portraits of rabbis that even a near-sighted Episcopalian could figure out were Jewish, I asked Bieler to show me pieces that were a bit more subtle. First, some brass pieces in the Moroccan section with discrete Jewish stars, and then trinkets like your grandparents might have picked up on a trip to Israel in the 1970s.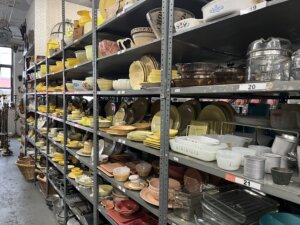 I also wanted to see props that scream Jewish without having any obvious connection to Judaism or Israel or the shtetl. This is the Lenny Bruce approach to set design. In his Jewish-goyish joke, he explained, "Kool-Aid is goyish. All Drake's cakes are goyish. Pumpernickel is Jewish, and, as you know, white bread is very goyish."
"Annie Hall" provides the best embodiment of the Jewish-goyish theory of set design. In it, Woody Allen's character imagines Annie Hall's antisemitic grandmother seeing him as a Hasidic man in a black hat and payot. Then, using a split-screen, it compares the Woody Allen character's Jewish family having dinner with Annie Hall's all-American family celebrating Easter. Without a yarmulke, or a mezuzah, just a dark, cramped apartment with a family reaching and talking over each other, it's painfully and comically obvious these are Jews.
I remember watching this scene as a teen. It was 20 years after the movie had come out, but I felt seen. In Hebrew school, they teach you about Jewish suffering and timeless religious traditions. But no one tells you that part of the collective Jewish experience is being squeezed into a dinner table in a poorly lit outer-borough apartment as your extended family overshares their latest health complaints.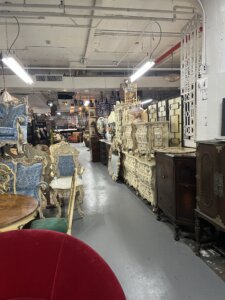 Bieler, however, had a very different experience as one of the few Jews in Roanoke. "We kept a very, very good kosher home," she said. "The chicken and meat came in on an airplane maybe once every three months. It was a very big deal. We'd all go to the airport to watch and then put it in the cars. A lot of fun."
She resisted my premise that a scene could be Jewish with just the right lighting, furnishings and tchotchkes. But I pushed on, mentioning the suburban home of Henry Hill's Jewish in-laws in "Goodfellas." (Eclectic supplied the midcentury worn sofa and dark woods that contrast with the garish shiny homes of the film's mafiosos, highlighting the difference between the Jewish in-laws and the extended Italian criminal family.)
Likewise, in the 1994 movie "Quiz Show," which she also worked on, you know the nebbish working-class game show contestant Herb Stempel is Jewish the moment the camera enters his cluttered Queens apartment. Before you see the menorah or Stempel brings out the rugelach, the plastic-covered furniture gives it away.
 "That's the talent of the decorator," Bieler explained, "to take the design of the room and organize it. So we walk in, and we know the character. That's why we don't have just one kind of dark wooden chair. We might have 24 different styles of dark wooden chairs because it fits the character."
 She took me to a drab brown Depression-era couch with a wooden frame and curved legs. "This one could be in your grandparent's house," she said, then pointed to a slightly more comfortable patterned postwar version. "This one, your parents." But she told me these couches, with or without the plastic coverings, work because they are period pieces, authentic to an era and class of person. Alas, she explained, there is no such thing as a Jewish couch.
"Wouldn't you say it's not very Jewish to have a deer head as decoration?" I asked.
 "It's not typical, but my uncle in Virginia had a deer head hanging on the wall because he hit it with his car," she shot back. "There are always going to be reasons, right?"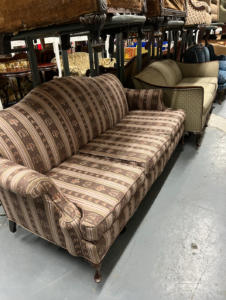 It's not just that Bieler doesn't buy into the Lenny Bruce joke; she just avoids caricatures. She finds the right props to tell a unique and complex backstory for a character. For example, she explained what she might include for an early 20th-century Jewish immigrant.
 "So we have the suitcase that they would have brought with them. It is all the little details that you might find when you open the closet," she said. "And you can really fill a lot of space with what a person wanted to keep in their world."
 She then showed me burgundy tinted glassware which the immigrant could have brought over from east Europe. It was nearby the cutlery and plates used for the Seder scene of "The Marvelous Mrs. Maisel," which, again, I was told was more period than religious. But I did get Bieler to admit that seltzer bottles are rightfully stereotypically Jewish.
 At the end of my visit, we made our way to Bieler's office. The warehouse walls are jam-packed with artwork ready to be rented. We passed a hallway of presidential portraits, and when we got closer to her office, I spotted a 1932 St. John's Law School diploma and class photo for a Jacob Greenberg. "This was my husband's grandfather," Bieler told me.
 I then realized that the fading family photo on the wall wasn't a prop. It was Bieler, her husband, and her son, who is now an adult, but was maybe 10 in the photo. Peeking through a half-open door, I saw a dark room full of ghoulish masks made by Bieler's husband, Eliot Brodsky, who creates highly realistic latex masks for movies. The objects and decorations surrounding me were telling the backstory of an actual person, Suri Bieler, not a fictional character.
In her office, the shelves are a mix of personal possessions and props, and it's hard to identify the line between the private and the professional. There are seashells that she might have picked up on a beach vacation; an ashtray made by a child; and a first edition of Carl Sandburg's multi-volume biography of Abraham Lincoln. Mixed in are turquoise Israeli souvenirs and two antique Jewish National Fund charity boxes with a label reading "Bieler" on them.
 "They don't make them anymore. So, I pulled them off the shelf because you can't buy them anywhere," she said. Next to it is a shofar in the shape of a salamander and a menorah made of bullet casings. I imagine an observant Jew improvised it in the middle of a war. She doesn't know who made it, nor does she think it has great value, but it appeals to her.
Taking a step back, I take in the whole room. The cluttered desk, the eclectic knickknacks that aren't the most beautiful or the most expensive of Bieler's extensive collection but they have personality. I can't explain why, but even without the menorah, the Israeli ephemera, or the shofar, this room feels Jewish.