Culture
Jewish rapper Kosha Dillz and Israeli comedian Or Mash appear on Nick Cannon's 'Wild 'N Out'
Up-and-comer Mash is the first Israeli-born performer on the VH1 improv show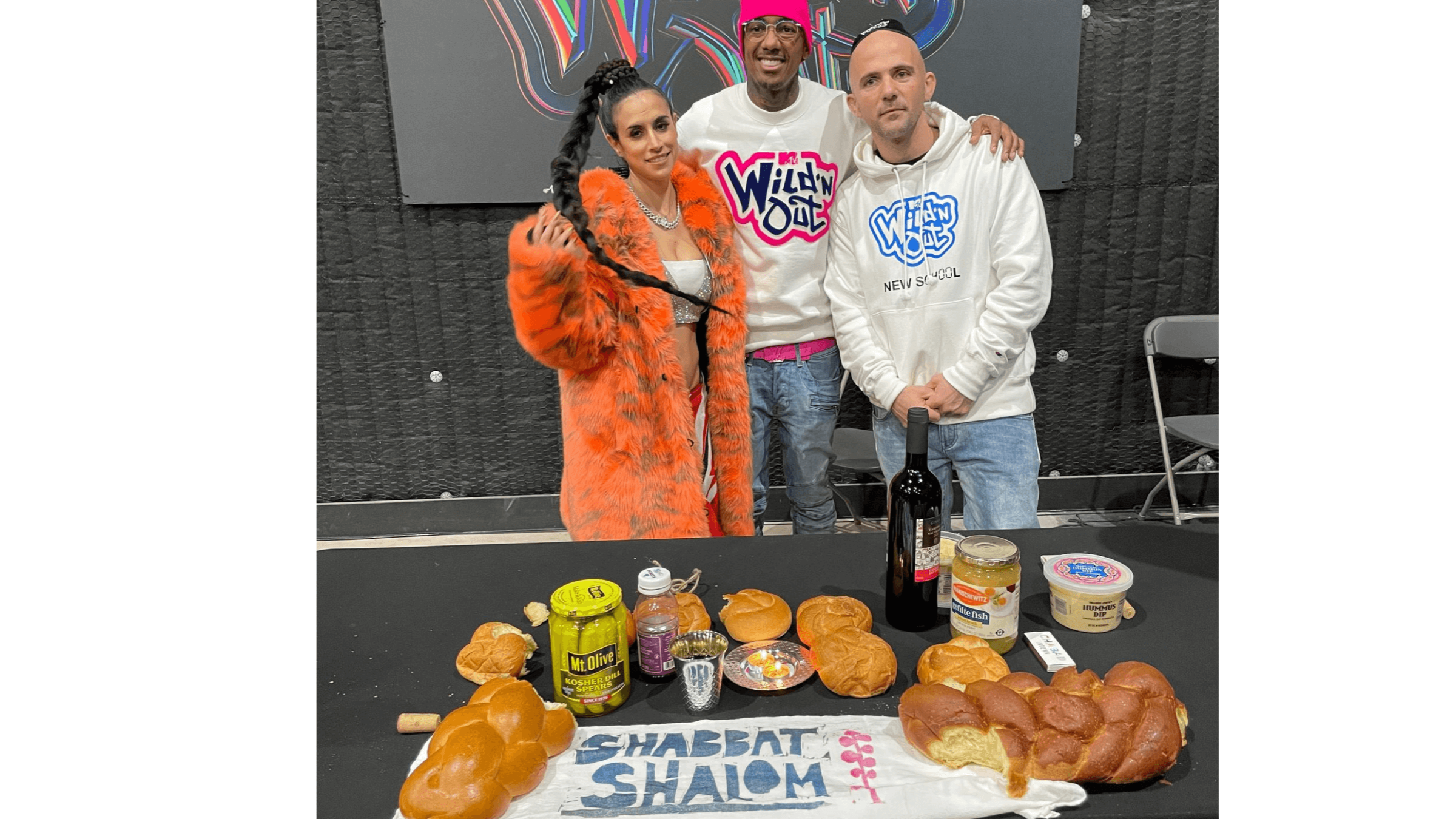 Jewish rapper Kosha Dillz and an up-and-coming comedian who credits her fearlessness to the Israeli army beat out thousands of competitors to win spots on the improv game show "Nick Cannon Presents: Wild 'N Out."
"On the show, the goal is, insult people and rattle them," said Or Mash, who says she's the first Israeli-born performer to make the cut for "Wild 'N Out." "I was loud, wore wild clothes (including a fur coat and sunglasses), and I could feel people were coming for me. People said I sounded like Borat. But I didn't back down. I messed with all of them."
Growing up in Israel and serving in the military at age 18 "makes you understand the power and responsibility you have," she said. "I'm so proud to show the world a strong Israeli woman. I've always been taught to be daring and not be scared."
Mash, whose real last name is Mashiah, left a well-paid 9-to-5 job in Tel Aviv six years ago for an unknown future in Los Angeles. "My parents were like, 'Why would you leave a job in high-tech to do comedy?'" she said. "They wanted to kill me." 
She got a job as a waitress in a comedy club, but says she was fired for being klutzy. So she went from serving drinks to serving up laughs on stage. 
'We outside 'til we inside'
Dillz said he was nervous but confident as he competed to make the cut for the show. "Wild 'N Out" features two teams competing to offer up the best freestyle comedy. 
"The way the show is set up, with battling people, it's unique," he said. "You could be a good comedian or a good rapper and still not be great at this because you have to be versatile and be able to come up with good stuff on the spot."
Dillz's claims to fame include making a Hanukkah video with Nissim Black; recording and starring in videos with Matisyahu; and winning a rap battle at Hot 97 SummerJam. His song "Cellular Phone" was used for a Budweiser Super Bowl commercial. 
His motto, "We outside 'til we inside" — meaning if you hustle, you'll get attention — has proven to be prophetic. The Brooklyn-based rapper often performed on the street during the pandemic, and his rapping outside Madison Square Garden led the Rangers to invite him inside for a playoff game. He's also been interviewed by Rolling Stone and for the cable show "MSG PM."
One night after a Knicks game, the rapper Fat Joe spotted him on the street, took the mic, and rapped a few bars. A week later, on his own dime, Dillz flew to Colorado and showed up at a Fat Joe show, where he was invited on stage and impressed the rapper and the crowd.
"It's dangerous to gamble but in life, you have to be willing to bet on yourself," Dillz said.  
Cannon's journey of repentance 
In 2020, Cannon was fired by CBS-Viacom for making antisemitic comments on his podcast "Cannon's Class." The comments included references to conspiracy theories about the Rothschild banking family and claims that people of African descent are the "true" Jews.
Cannon got his job back after apologizing and meeting with Jewish leaders. He has said the process of teshuva (repentance) meant going beyond apologizing to making sure that mistakes are not repeated, and he blamed his comments on ignorance, not hatred.
"I'm still gonna hopefully do this process, be on the right side of history and bring people closer together," he said at the time. He collaborated on a podcast with rabbis and Jewish leaders at the Religious Action Center, and also helped spearhead the Black-Jewish Entertainment Alliance with Tiffany Haddish, Gene Simmons, Jason Alexander and more than 160 other celebrities. 
Working their way up together
"Yo, how does this show evolve?" Cannon said on the casting call episode for Season 18, which began airing in June. "Like, to me this show evolves with Kosha Dillz, Or Mash, even Philip … Courtney." (Philip Hudson and Courtney Bee Bledsoe also made the final cut for the show.)
When Mash and Dillz were chosen, Mash started dancing, and Dillz handed Cannon a "Wild 'N Out" yarmulke that Cannon placed on Dillz's head. 
Mash and Dillz praise each other's skills and say they have become friends. They encouraged each other while working on the show and sometimes chatted together in Hebrew. Dillz brought challah for Shabbat, and at tense moments, Mash would sing "Kol Ha'olam Kulo," a song that describes the world as a narrow bridge.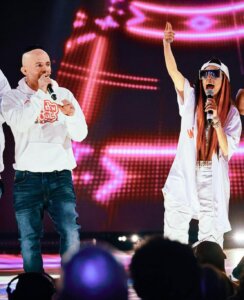 Dillz, whose real name is Rami-Matan Even-Esh, is from New Jersey, has lived in Israel and is a dual U.S.-Israeli citizen. He's been sober for 18 years following a drug addiction, and says his parents have been supportive of his career — they just wanted him to have a job. He's released numerous albums and videos and recently ran rap workshops at Jewish schools around the country.
Mash, who's working on a music album and a comedy album, often refers to her Israeli identity in her routines. "The only other Israeli chick who made it in this industry is … Wonder Woman," she said during a performance called "Or Mash life in LA." She noted that actress Gal Gadot filmed "Wonder Woman" while she was pregnant, adding: "The closest I ever came to that was the other day when I wondered if I was pregnant. I am Wonder Woman. I wondered who the father is."
She also joked about smoking cigarettes in Israel because "we don't fear death." In LA, in contrast, "it's easier to find a coke buddy than a smoke buddy."
On a more serious note, she recently reflected on making it to "Wild 'N Out." 
"A lot of times when you want to follow your dreams, there are obstacles and it can be overwhelming," she said. "We think we always have to be 10 steps ahead of the game. Sometimes you just have to have the guts to take the first step."
"Wild 'N Out" airs on VH1 on Tuesday nights. Not all cast members appear in every episode.