Culture
Paris Centre's Jewish mayor is 'happy as God' in France
As the leader of Paris Centre, Ariel Weil says antisemitism in France is real, but he's never really had to face it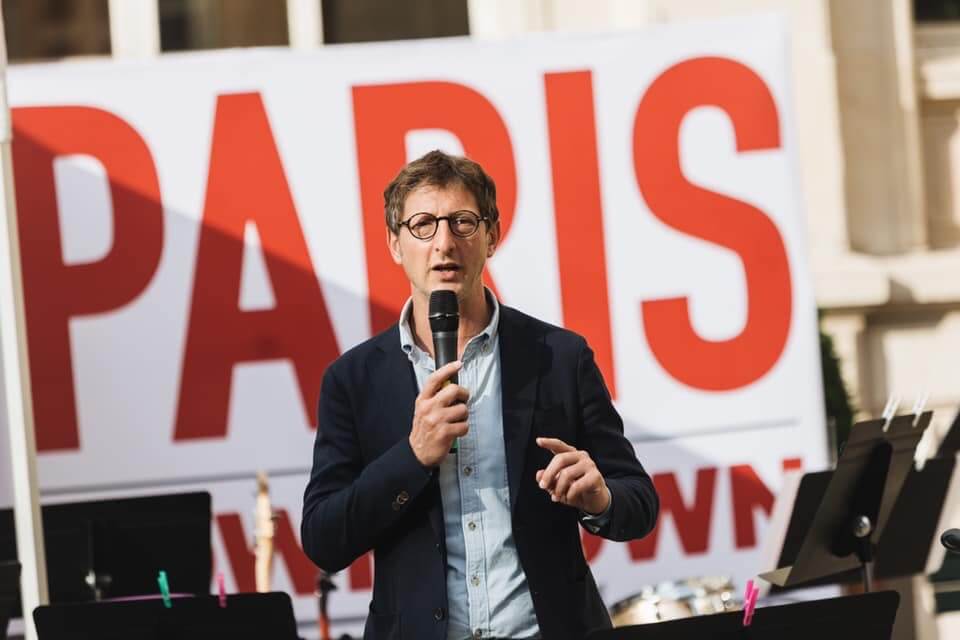 When Ariel Weil was 2 years old, he moved with his parents from Jerusalem to France. Now Weil, 49 — he looks younger — an economist and a graduate of Harvard Business School, is the mayor of Paris Centre, the heart of Paris, which includes the Louvre, Notre Dame Cathedral and other famous landmarks. (Paris itself has its own mayor, Anne Hidalgo, and the city is divided into arrondissements, or districts, each with its own mayor, to deal with neighborhood issues.)
"I'm a little bit of a U.F.O. in the landscape of politics, and especially in the city of Paris," Weil told me recently on a Zoom call from the City of Light. "What's somebody who went to Harvard Business School 20 years ago and worked in finance doing being the mayor of the older quarter of Paris? For me, it's extremely important, because I've spent my life senior managing big firms, and it has definitely helped me."
The number of Jews in France has been estimated to be roughly half a million, less than 1% of the country's population of 67 million but more than in any other country in Western Europe. (The figure has declined — in recent years a significant number of Jews have moved, most often to Israel, in response to antisemitism.) I asked Weil what it's like for him to be a Jew in France — has he personally experienced antisemitism?
"I have two responses," he said. "My first response is to say for me it's extremely comfortable. I stand in the center of Paris, where there is a huge cultural life around Jews, whether or not you're religious."
"If I want to buy traditionally Jewish food, kosher or not, I live in the center of Paris, which also has a center of Jewish life, the Rue des Rosiers. I have the Museum of the Art and History of Judaism. I have the Memorial to the Shoah.
"I can't say that Judaism in its cultural forms is underrepresented. It's extremely well represented."
Weil said that he himself has never suffered from antisemitism. "Recently," he said, "I saw that one of the candidates for parliament had some sort of a borderline-antisemitic attack on me. I couldn't care less. And she didn't get elected anyway."
"I have this discussion with members of my family in the U.S., in Israel," the mayor said, "and I always remind them, there's an old expression, 'happy as God in France.' And Jews are pretty happy in France, I must say."
But he added, and strongly emphasized, he "can't ignore the other part of reality. Which is that outside of Paris, even in some neighborhoods in Paris, a lot of people have said that they've been victims of antisemitism. That's for sure. I see also expressions of anti-Zionism, hostility toward Israel.
"People are free not to agree with the government of Israel. I myself often disagreed, especially when Netanyahu was prime minister. But I cannot accept ever that somebody would put in question the existence of Israel, which some do. Between that form of anti-Zionism, which we've seen in demonstrations in Paris, and all the people who have told me what they've experienced with their kids in school, mostly outside of Paris, in suburbs or elsewhere in France, I have to take that into account and recognize that it has not been so easy for French Jews. But it's a dual reality, really."
Weil's spouse, Rabbi Delphine Horvilleur, has been quoted as saying that "there is no longer just the traditional far-right antisemitism. The new development is represented by the children of Arab-Muslim immigrants, fueled by sermons from some religious leaders."
"There definitely are signs that among the Arab Muslims in France, whether they are French or not — many of them are French — that there's definitely that culture," Weil said. "My sense is that it's not prevalent. The line I draw is that you can't say that the Arab community in France is antisemitic. But you can say that there are indeed some signs, whether it's radicalized youths in mosques or some other parts of the population. We know there's evidence that in some schools they can't even talk about the Shoah because the professors would be threatened. Definitely that reality is there.
"I'm just very cautious not to infer from that that all the Muslims in France are antisemitic. I think that would be wrong. In some Muslim congregations there have been extremist preachers. And yes, it's not just the traditional right wing. There has also been a portion of the extreme left wing that has shown signs of antisemitism."
In 2017, Weil was chosen as mayor of the Fourth Arrondissement, which includes Notre Dame and parts of the old Jewish district of the Marais. Then the first through fourth arrondissements — all located in the middle of the city — were combined administratively as Paris Centre, and Weil became its mayor in 2020.
"It was almost an accident that I became a mayor," Weil said. Until one year ago, he'd been working for the credit rating agency, Moody's, though he says he had a history of being civic-minded. About 20 years ago, he was involved in opening the first winter shelters for homeless people, and in 2014, he was elected to be a 4th District councilperson; three years later, he became the district's mayor.
"I loved the job. And at the same time we launched at Moody's a company that I was sort of managing the program for. They were probably the busiest years of my life, being the mayor and being one of the senior managers of the firm in Europe," he said.
When the four districts were combined, Weil says that Paris' Mayor Hidalgo, like Weil a member of the Socialist Party, asked if he wanted to run for mayor of those districts.
So, what is it that the mayor of Paris Centre does?
"I have to make sure that our policy on all fronts is working well," he said. "We probably have one of the most beautiful places in the world. We have the Louvre, the Centre Pompidou, Notre Dame — my mandate is taking care of that: our fountains, our statues, our institutions, our churches. It keeps me extremely busy and it costs a lot of money."
"Right now all of the major fountains that you know in Paris are being renovated — the Fountain of Innocents," probably the oldest fountain in Paris; "the iconic Stravinsky Fountain by Niki de Saint Phalle [and Jean Tinguely] right by the Pompidou; the Chatelet fountain; the Moliere fountain."
"And the churches — most of the churches in Paris are owned by the city. They are given to the church but we own them and renovate them, we maintain them. That's a big part of my job. But obviously this would be way too narrow if I only focused on maintaining our heritage. I do that but I do all the rest — taking care of the homeless, taking care of all the people who want to live in the center of Paris — from before kindergarten to when they are retired or in senior houses.
"If I had to summarize my project, the one I was elected on and the motive for my mandate, it is to make sure we still keep one of the most beautiful places on Earth, but make it not a museum — make it a true town with people in all their diversity living there, which means their social diversity and their age diversity. I care about a socially mixed center of Paris. To me we destroy the city if we lose that fight. And we just inaugurated the largest creation of social housing in the center of Paris."
Despite having been born in Israel, Weil described his Hebrew vocabulary as "extremely limited."
"My English now is much better, having spent many years in the U.S., studied there, worked there," he said.
This year, Marine Le Pen and her far-right party received 42% of the vote in the presidential election against Emmanuel Macron. Then, in the recent voting for the 577 seats of France's National Assembly, her party hugely increased its representation, from eight to 89 seats.
"Of course it's worrying," Weil said. "I have no illusions. The far right is always going to be what it has been. It has done a good job of trying to become more accepted, trying to prevent expressions of traditional anti-Judaism, antisemitism. It has done that successfully.
"But I will never forget that they are the heirs, whether it is biologically or intellectually, they are the heirs of collaborationists, people who collaborated with the Nazis during the Second World War. People who are racists and antisemites. So of course I'm concerned. Extremely concerned. It should be a concern for all of us. The far-right wing has gotten momentum and they've gotten more and more powerful."
At the end of our interview, I asked the district mayor if he had any future political goals.
"None," he said without any hesitation. "I never had any strategy."