Culture
My mezuzah, my religion, myself
It took me years to put a mezuzah on my doorpost. Now, I can't imagine living without one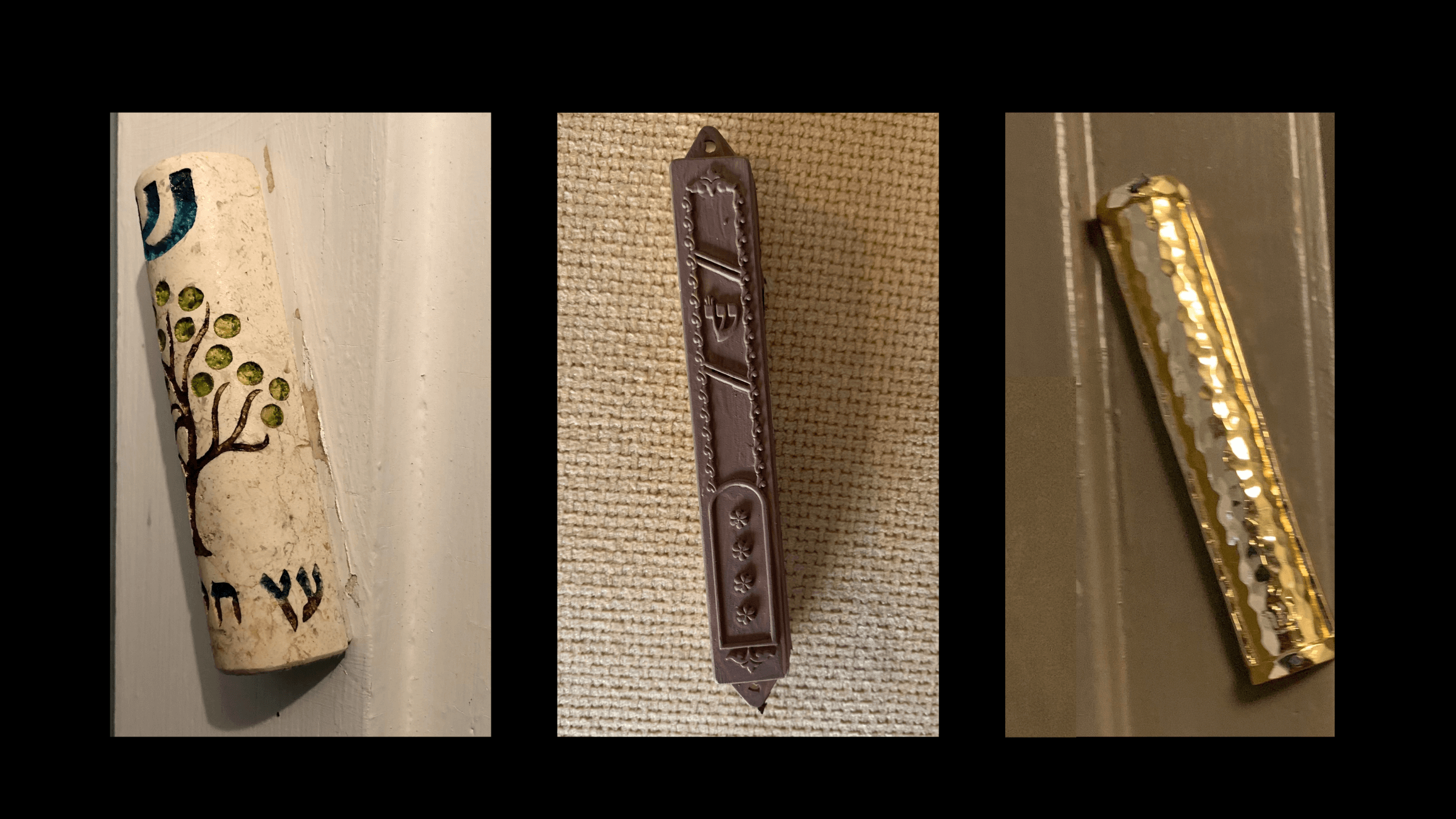 When I first visited the Upper West Side apartment of my college friend who had become a rabbi and married early, I stared at the mezuzah on their doorpost in amazement. I was 24 and couldn't imagine sharing my life with someone so permanently — nor could I imagine announcing my Judaism so publicly.
My friend knit sweaters with intricate patterns and sipped hot tea; I ran miles to discharge my anxiety and gulped iced coffee. Still, we  read the same books, lived in the same New York neighborhood and had our first children — both boys — on the same day at the same hospital.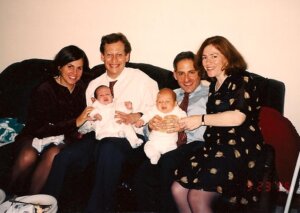 A few months later, in December 1996,  she gave me a book, "On the Doorposts of Your House: Prayers and Ceremonies for the Jewish Home," inscribed: "To my co-mother and dear friend. May this book help you make your way in the Jewish world."
When my father attempted suicide later that month, I turned to the book for guidance, as it offered prayers on what to do "in contemplation of death" and "illness and recovery." For the next few years, I paged through the book to process two miscarriages, say kaddish for my father (he died in 2005 from complications of lymphoma ) and recite a psalm at his unveiling. 
But it took me a decade to put up a mezuzah, consecrate our home and consider what the phrase "on the doorposts of your house"  actually meant.
A Jewish life — but no mezuzah
So much of my life was Jewish. My husband's family fled Nazi Germany; our two sons became b'nai mitzvah and went to Jewish sleep-away camp; I briefly served on the board of our synagogue, Temple B'nai Jeshurun  in Short Hills, New Jersey. Yet I had trouble proclaiming our home's Jewishness in the town that Philip Roth made famous in his novella, "Goodbye, Columbus."
Short Hills wasn't particularly receptive to Jews during the 1950s when Roth wrote about Brenda Potemkin's life there, and it was only slightly more receptive when my parents moved there in 1971. 
I'd grown up in what was informally known as the "Golden Ghetto" because it was a neighborhood hospitable to minorities (most of our neighbors were Jewish; one family was Indian). My parents weren't observant and didn't put up a mezuzah. They sent my brother and me to a private school filled with tow-headed kids who had Roman numerals after their names, kept sailboats in Jersey Shore towns  and belonged to local swim and golf clubs that didn't allow Jewish members. 
I did what I could to blend in, which meant looking as boyishly Protestant as I could: I ordered monogrammed belts, Blucher moccasins and pinstripe button downs from the L.L.Bean catalog;  wore corduroys and crewneck sweaters; used grosgrain ribbons to pull my hair back; slipped on boat shoes without socks in fall and duck boots with ski socks in winter.  
When "The Official Preppy Handbook"  came out in 1980, I all but committed it to memory. Then, during a ski trip to Maine, the three friends I was with suddenly stopped talking to me. When I asked one why, she said, "It's something you can't help."
"Is it because I'm Jewish?" I asked. She looked away. She had the same last name as one of the signers of the Declaration of Independence. A year later, she and the other two girls left for boarding school.
"If you forget you're a Jew, a gentile will remind you, " my father sometimes said. I had been sharply reminded and to my great shame, after the ski trip, I became apprehensive about publicizing my Jewishness.
My husband and I moved back to Short Hills in 1999. Though Short Hills has a substantial Jewish community, we happened to live in a neighborhood where were no mezuzahs, where people hung beautiful Christmas lights around their front doors and porches. Eventually, a Jewish family moved in and we became close friends.
A cream-colored, discreet mezuzah
Later, some 18 years after we moved in, I bought a mezuzah on a whim, after having lunch with two friends across the street from a Judaica store. One friend was raised Orthodox and kept kosher; the other had just received a mahjong set from the store as a birthday gift. 
I stopped by the store after lunch, admired the mezuzahs in the display case, and asked the store's owner if there was a ritual for hanging one up. She said her husband, the rabbi at the local Chabad, would come over and nail it up for me that afternoon, which he did.
It was cream-colored and discreet, and practically blended into our white doorpost.
When we sold our Short Hills home this winter, the buyers, who were Jewish, asked our broker if we would leave the mezuzah. Jewish tradition dictates that you leave a mezuzah behind if a Jewish family is moving in, so of course we said yes. 
It both thrilled and saddened me: I had become attached to that mezuzah, as small and subtle as it was. But the apartment we were renting in New York City had a mezuzah glued to the doorpost, so I figured we would make do with that.
We did until we didn't. The apartment's  mezuzah was simple wood; it looked like a child had made it. It had been painted brown, the exact color of the doorpost, and was even more inconspicuous than the one we'd left in Short Hills.
A mezuzah that proclaimed 'Jews live here'
I started to yearn for a mezuzah that was bold and flashy, a mezuzah that proclaimed: "Jews live here."
We had moved back to the Upper West Side and despite (or because) of rising antisemitism, I felt more comfortable being Jewish than I ever had. We could see two synagogues from our bedroom window, and I often heard Hebrew spoken in the lobby and elevator. In the package room, when I heard one young Jewish father invite another over for Shabbat, I almost cried: "Invite us too!" 
A few days after Passover, I met my rabbi friend from college for a walk in Central Park. The sun was shining and the cherry blossoms were blooming; everything looked pink and fragrant and lush. On the way home, I passed a brownstone that had pots of flowers on the steps leading up to the front door, and a large, thick, golden mezuzah. It proudly said: "Jews live here." 
That was it. Two weeks later, I walked to the Jewish museum on the Upper East Side. During the last months of my father's life, he had brought us treasures from the museum's gift shop: A Jerusalem stone challah board; a white, navy and gold platter for the Jewish holidays. 
My father was a radiologist who lived and worked in New Jersey. I imagined that he was on the Upper East Side to see a therapist or perhaps was courting a woman who worked at the museum gift shop. He had otherwise not been a particularly thoughtful gift-giver — hastily written checks, a bag of bagels, six packs of Japanese beer — so I had developed a soft spot for the Jewish museum gift shop. 
Behind a glass case, I saw a shiny, hammered gold-tone mezuzah. It sparkled in the sun and cost $50. The scroll with the Shema prayer to put inside cost $49.
I ran home and  showed the mezuzah to my husband. "I know it's glitzy  but I think it's fabulous," I said.
"OK," he said carefully. I ran up and down the hall to see what our neighbors had.  The apartment closest to us had discreet silver-and-lucite; ours looked like Las Vegas by comparison. It glittered like a piece of fine jewelry.
The handyman came to nail up the new mezuzah. He angled it perfectly so the top slanted left towards the door.
I don't always touch it and kiss my fingers when I enter our apartment, but every time I walk past it, I smile. Hineni, here I am. Jews live here.