Culture
That time our lox columnist found himself in a serious pickle
New? Dill? Sour? Half-sour? That is the question.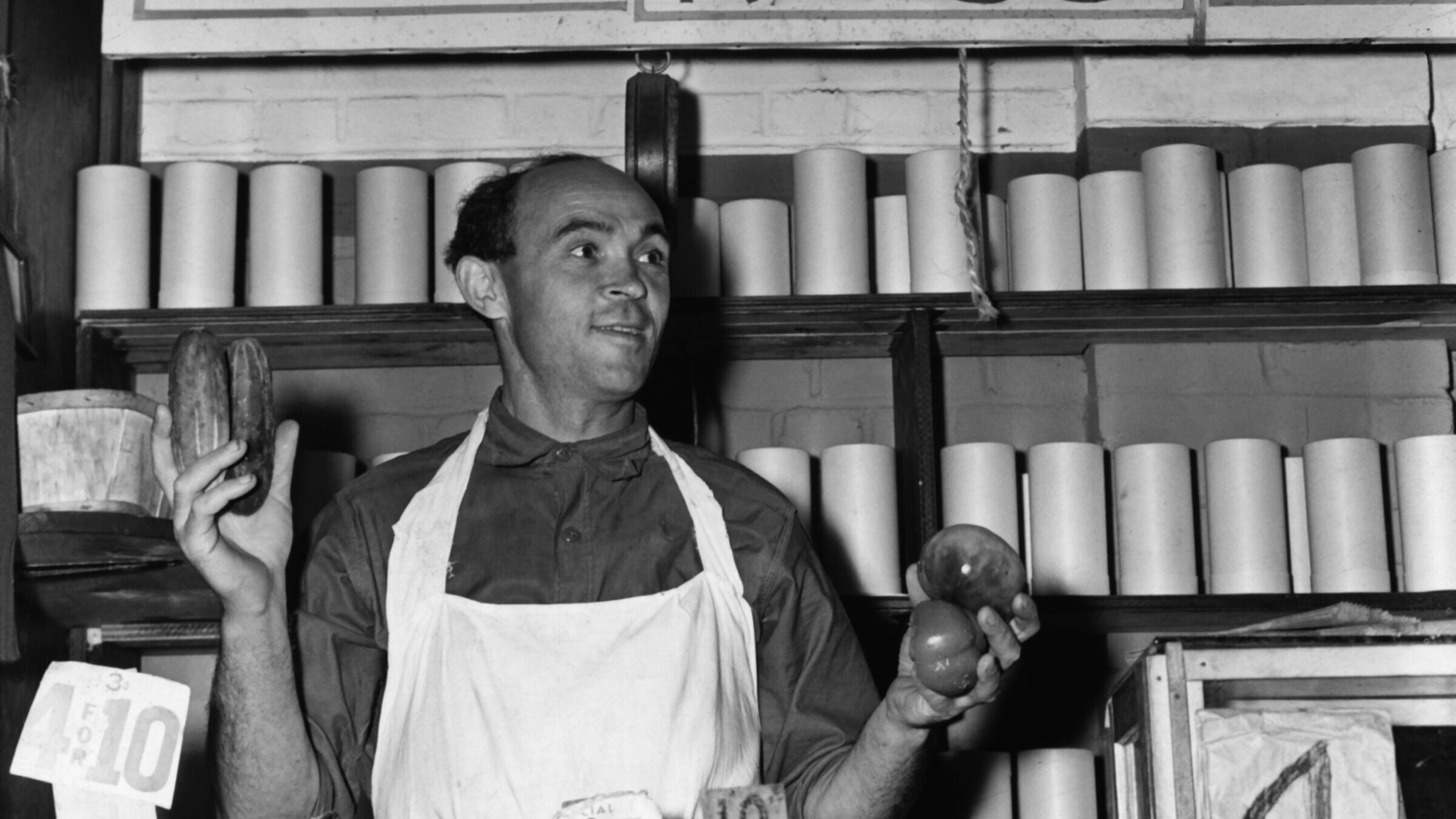 She mumbles something about pickles.
I disengage from my salmon, look up and see the masked lady looking at me. I cup my hand over my ear indicating that I'm not hearing her. Dropping her mask, she looks annoyed and says in a loud and clear tone, "Where are the pickles?"
"I think they may be somewhere in the rear of this section," I say hesitantly. I get a quick thanks and she's on the move.
I'm taking one of my 10-minute breaks and find myself standing in front of the prepared food counter waiting for Michael to fix me up with a dozen Hebrew National franks. My peripheral vision catches sight of the tall glass door of the refrigerator, which contains several shelves of pickles in transparent plastic jars. I've walked past that refrigerator hundreds of times over the years working at Zabar's but I never really paid attention to it; you know, in one eye and out the other.
But this time I notice something different.
Michael hands me the hot dogs and I amble over to the refrigerator, open the glass door and stare at all the pickles bathing in brine, the garlic cloves and chards of dill doing their work. There are new pickles, half-sour pickles, and of course, the standard sour pickles. Why is this day different from past days when I eyed the pickle refrigerator? Perhaps it's that mysterious relationship that exists between the pickles in the plastic jars and the dozen franks in my hand. Tonight, I am going to have pickles on my plate accompanying the franks. Why had it taken so long for me to make this connection?
 My break is over. I return to the lox counter. "How may I help you?" I ask one of my regulars. I start slicing lox but I'm thinking PICKLES. I'm thinking I can't wait till the next time a customer asks me where the pickles are. "Walk straight back to the rear of this section and in the left-hand corner, opposite the meat counter, you'll see a tall glass door refrigerator containing four or five shelves of all kinds of pickles, I've had them, they're really good, and if you like pickled tomatoes or sauerkraut, you'll find those items there as well," I'll say.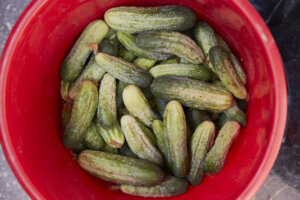 That night, after the franks and pickle dinner, I think about a day in the 1980s. I was finishing up my half-day accounting work at Carl's Clothing Store on the corner of Orchard and Stanton. It was time for a hot pastrami sandwich at Katz's Delicatessen; just a clam's throw away from Carl's. I always had lunch there around noon before I went to my next half-day account on Orchard Street.
The sandwich was thick with pastrami. It was always difficult to take that first bite; so hard to open my mouth wide enough. By the third bite, proper jaw adjustments were made and I was in pastrami heaven. What made it even better was the half-sour pickle quarters that accompanied the sandwich. Like birds of a feather that flock together, so did the pickles and the pastrami.
"You can't have one, you can't have one, you can't have one, without the ooother?" I sang to myself.
So where did it all start, this world of pickles, you may ask?
It was around 2022 B.C.E., some 4,000 years ago. The territories of Iraq, Kuwait and parts of Syria and Turkey were then known as Mesopotamia. Some people who lived in the region initiated the process of immersing cucumbers in an acid brine solution to preserve them. From then to this day that very brining process has been used to make pickles out of cucumbers.
Legend has it that back in 50 B.C.E., Cleopatra ate pickles because she believed they made her healthy and beautiful. It is rumored that Christopher Columbus provided pickles to his ship's crew as a means to prevent scurvy and also to treat those sailors suffering from it.
In the mid-1650s, farmer immigrants from the Netherlands settled in a landmass here in the U.S., later named Brooklyn. They grew cucumbers, soaked them in brine and sold them from wooden barrels on the street. Years later, around the beginning of the 20th century, others migrated here from Eastern Europe, among them the Jews that launched the kosher dill pickle as a New York City staple, and what followed was the rise of the pickle industry in New York City, which later became and remains today, the heart of the pickle world.
 The cry "A nickel a pickle"could be heard on the streets of the Lower East Side during the 1940s.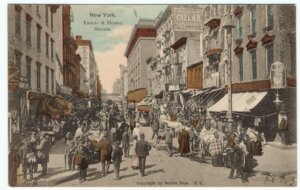 If you are a New York Jew, over 80 years old and a foodie, you will no doubt remember Isidor "Izzy" Guss, a Russian immigrant, who sold pickles from his pushcart, on Essex Street, then known as "pickle alley. "He later graduated to a storefront on Hester Street which he named Guss' Pickles, then on to his final destination, Orchard Street.
Izzy died in 1975, the business was sold and a subsequent legal war resulted regarding the use of his name. Thereafter Guss' Pickles faded from the scene on the Lower East Side. I suspect his disappearance didn't matter much since there were over 200 other pickle vendors in New York City, over 80 of them just on Essex Street, but Izzy was an original, one of a kind, not to be forgotten.
The number of pushcarts and storefront businesses spread throughout much of the Lower East Side during the 1930s and '40s. Fiorello La Guardia, who served as New York's mayor from 1934 to 1945, was determined to reorganize the vendors in the area by moving them off the streets into enclosed market sites such as the Essex Street Market. This market, having relocated elsewhere in the area, still stands as a monument to things past.
Sure, there are others that have entered the pickle market; Vlasic, B&G, Claussen, and Heinz — but their pickles lack that unique, "out of the barrel," look, feel, crunch, snap and flavor.
Today, The Pickle Guys carry on the century-old tradition; they remain the only pickle vendor on Essex Street. Plastic barrels have replaced the wooden ones, but the pickles, THE PICKLES being prepared the old-time traditional way, remain the same, maybe even better.
Bite into one. The experience of that first bite is unique; you'll feel that snap and crunch, especially of the new or half-sour pickles.
As for me, I'm in a pickle; I just can't seem to decide which one I like best.