Culture
The very Jewish history of Comic-Con
Held in New York in 1964, the first comic convention was the brainchild of 5 Jewish teenagers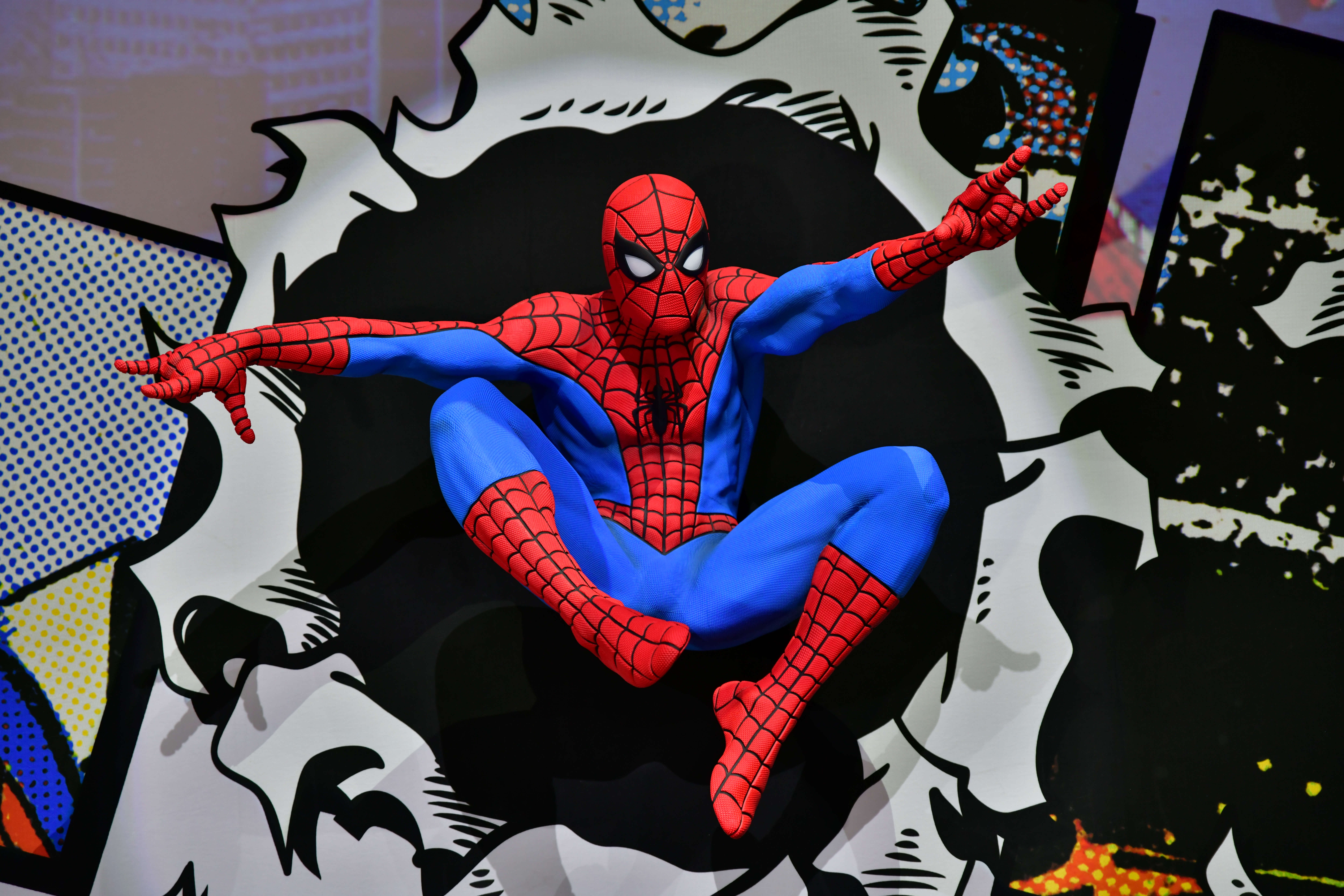 Comic-Con International: San Diego, better known as San Diego Comic-Con, returns July 21–24 after a COVID-imposed three-year break.
An estimated 135,000 fans will be making a pilgrimage to the pop culture mecca to celebrate not just comics (to the chagrin of some purists), but movies, TV shows, video games, novels, animation, toys, collectibles and anything else even tangentially related.
Comic conventions have exploded in popularity over the last two decades, with nearly 500 in different sizes taking place across the U.S. each year. They've gone mainstream, and they're big business. They're also a Jewish invention, just like comic books and the superhero genre itself.
The birthplace: New York, 1964
The very first comic con took place in New York City on July 27, 1964. As with other historic firsts, there are earlier events that could lay claim to this distinction, like the Detroit Triple Fan Fair, a "swap meet" organized by teenagers Dave Szurek and Bob Brosch, that was held two months prior. But New York's Comicon is widely recognized as the first official comic book convention.
It was organized by five Jewish 16-year-olds: Bernie Bubnis, Ethan Roberts, Ron Fradkin, Art Tripp and Len Wein, and it was held in a small hall on the second floor of the Jewish nonprofit Workmen's Circle on Fourth Avenue and 12th Street, where Roberts' parents were members.
It was a modest gathering of 43 attendees (or 56, by some accounts) and lasted five hours. What made this a "real" con was that it included not just fans and sellers but also industry professionals and representatives from a publisher.
New York was home to the comics industry. Marvel and DC, the "Big Two," operated out of Midtown (Marvel still does; DC moved to Burbank, California, in 2015), which allowed the entrepreneurial boychiks to stop by the offices and solicit free comics and original art to hand out — something unthinkable today, with artwork from seminal issues fetching millions.
Marvel impresario Stan Lee (Lieber) sent his secretary, Flo Steinberg, to check things out. She was one of three women in attendance. (Today, women and girls make up half of con attendees.)
Big names among guests and fans
The star guest of the show was Steve Ditko, co-creator of Spider-Man and Doctor Strange. It was the first and last convention the famously reclusive artist ever attended.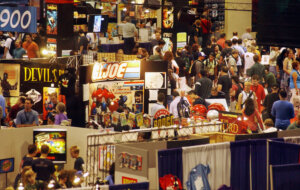 Several of the people involved would go on to play prominent roles in the comics industry. Len Wein, who's credited with coining the term "comicon," became a successful writer of many big-name superheroes and cocreated several new ones, including Swamp Thing for DC and the Golem (not just a namesake but the actual Golem of Prague) and Wolverine for Marvel.
In 1975, he resurrected the X-Men, a failed series then, to lasting success, followed by Jewish writer Chris Claremont who helped make them a Jewish metaphor. He was one of the writers of "Crisis on Infinite Earths," a landmark limited series that rebooted DC's canon in 1986, and the editor of Watchmen, arguably the most important comic of all time (which features implicitly Jewish protagonists, Dan Dreiberg, the Nite Owl and Jon Osterman, Doctor Manhattan). He was even Marvel's editor-in-chief for a little over a year, in 1974.
Among the five dealers at the con was 30-year-old Jewish Brooklynite Phil Seuling, who in the early 1970s reshaped, and likely saved, the comic book industry by pioneering the direct market — the sale of comics directly to specialty stores instead of through traditional distributors to newsstands, corner shops and so on. This also allowed for a greater variety of content, like non-superhero comics aimed at adults, for smaller publishers to prosper and for an organized fandom.
The very first ticket to the con was bought by 15-year-old George R. R. Martin, future author of "Game of Thrones" (who in 2019 discovered he's partly Jewish).
Another attendee was Jewish 13-year-old Michael Uslan, who became an entertainment lawyer, bought the movie rights to Batman, and has executive-produced every Batman movie since 1989.
The Comicon was a one-time affair, though other cons followed. In 2006, event company ReedPOP produced the first New York Comic Con, or NYCC, a spiritual successor. It's been held every year since at the Javits Center, generally for four days in mid-October.
It started out with one rented hall but grew with dizzying speed. By 2014 it had 151,000 attendees, surpassing San Diego Comic-Con as the largest convention in North America. By 2019, 260,000 filled the 840,000-square-foot convention center to capacity and spilled over to six other locations, including Madison Square Garden and the Hammerstein Ballroom. The economic impact on NYC is estimated to be more than $100 million.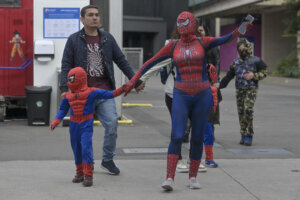 San Diego Comic-Con, or SDCC, may be technically smaller, but is still considered the gold standard. The 2015 con still holds the Guinness World Record for largest comic book convention in the world, with 167,000 attendees. It's a bucket list, must-see four-day extravaganza that makes Disneyland look like a retirement home. And it, too, has Jewish origins.
The San Diego event
In 1970, Shel Dorf, a Jewish 36-year-old who'd produced the second Detroit Triple Fan Fair in 1965 and had since moved to San Diego, rallied local 44-year-old bookshop owner and indie publisher Ken Krueger to organize the West Coast's first comic book convention. They led a band of young comic fans who ranged in age from 13 to 18 — Richard Alf, Mike Towry, Bob Sourk, Barry Alfonso and Dan Stewart.
The San Diego Golden State Comic-Con was held March 21, in the basement of the rundown U.S. Grant Hotel in then-seedy downtown San Diego. It drew a respectable 100 attendees.
The guests of honor were Mike Royer, an artist and inker, and Forrest J Ackerman, a Jewish literary agent who discovered Ray Bradbury, edited "Famous Monsters of Filmland" and is widely credited with coining the term "sci-fi."
Dorf & co. followed up with a three-day con on Aug. 1–3, this time attracting 300 attendees, plus the biggest name in comics, Jack Kirby (Jacob Kurtzberg), cocreator of Captain America, Fantastic Four, Hulk, Thor, Ant-Man, Iron Man, Avengers, X-Men, Black Panther, New Gods, Eternals and countless others. Kirby attended every subsequent San Diego Comic-Con except one until his death in 1994.
He also put the gang in his comics. Dorf was the basis for Himon, one of the New Gods, while the others became the San Diego Five-String Mob, musical minions of the evil Darkseid.
SDCC has been held at the San Diego Convention Center since 1991, a 2.6 million-square-foot space that fills every July with over 130,000 people from all over the U.S. and the world. Demand is even higher, but attendance is capped due to capacity limits. (Which is partly why NYCC boasts bigger numbers. SDCC counts unique individuals while NYCC counts tickets, or "badges," which can be bought for separate days by one attendee.)
The Con includes over a thousand exhibitors and vendors and over a thousand program events, including movie screenings, discussion panels, costume workshops and celebrity signings. The giant Hall H, where 6,500 fans huddle to catch a sneak peek at upcoming movies and shows and the stars that came to promote them, is an audience barometer dubbed "the most important room in Hollywood."
San Diego Comic-Con is also home to the Will Eisner Comic Industry Awards, "the Oscars of comics," named after pioneering Jewish cartoonist Will Eisner.
The nearby Gaslamp Quarter becomes an outdoor extension of the Con, with plenty of exhibits, promotions, parties and merchandise sales that don't require a ticket, attracting nearly 200,000 people. The regional economic impact is valued at $155 million.
There was also a short-lived Jewish Comic Con, held in 2016–2018 at Congregation Kol Israel in Brooklyn. Attended by about 140 people, it was dedicated to exploring "how Jewish identity has influenced comics, both on the page and behind the scenes."
As modest and niche as it was, it had a grassroots, subculture charm that the big commercialized cons lack. Still, it's amazing to think how these massive, multimillion dollar events all started with a few nice Jewish boys.