Culture
What does God think about a Texas school district banning the Bible?
Hear God's thoughts in this exclusive interview with the almighty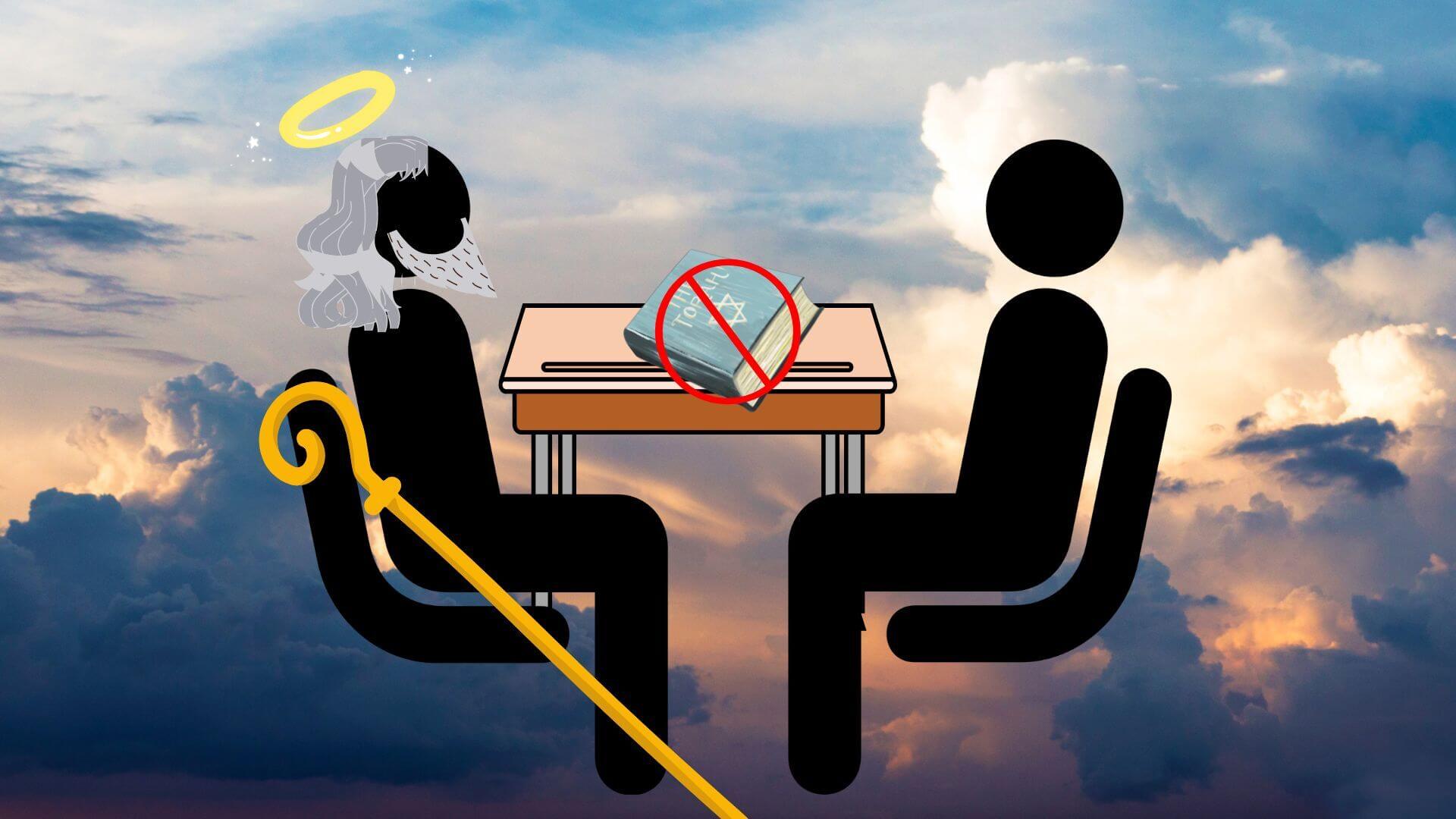 A school district in the Bible Belt has pulled the Bible from its library shelves. 
Really.
In advance of its schools' fall openings, the Keller Independent School District in Keller, Texas, removed from the stacks all books that were challenged by parents and community members last year. (Yes, that means every single contested book has been taken off shelves as part of a "re-review" process — even if only one person objected.) 
Those books include a graphic novel adaptation of "The Diary of Anne Frank," many books that touch on LGBTQ themes, a bunch of novels by fantasy author Sarah J. Maas and the Word of God itself. 
While a committee initially decided to protect the Bible's hallowed place on school grounds, it seems all versions of the holy book were ordered removed on Tuesday by the district's curriculum director, along with the other challenged texts. 
Naturally, I was startled by this news. And knowing that authors are often the best advocates for their own work when people go "Fahrenheit 451," I reached out to Hashem to see what He thought. (Yes, the authorship issue, as well as the pronouns, are contentious — we got into it.)
Placing a Shofar to my ear and dialing His extension (613), we had the following discussion. This interview has been edited to spare the reader the unbearable effulgence of the Holy One.
Are you there, God? It's me, PJ.
You think I don't know that already?
Geez, tough crowd. Anyway I wanted to ask you about—
I know.
Can I have your pronouns?
Let's say He/Him so this doesn't get banned in Texas.
Do you like Texas?
Particularly the film scene. Love Richard Linklater — "Boyhood," ugh, cry every time. Robert Rodriguez. You know he made "El Mariachi" for less than $10,000? I'm not about to weigh in on the barbecue. That'll get me in trouble. 
So what's your take on this whole "pulling the Bible" thing? According to a document, one parent objected to the Bible for "sexual content, violence including rape, murder, human sacrifice, misogyny, homophobia, discrimination, and other inappropriate content."
I mean, yeah. That's all in there! But I also think it's sort of a superficial way to engage with a text. This one was written, like, thousands of years ago. We can still discuss and unpack what it has to say and how it holds up to our values now. Why did I destroy Sodom and Gomorrah? Would I do it today? Was I maybe petty about Moses hitting that rock? Why did I make mosquitos? That's not in there explicitly, but still, I wonder about this stuff myself.
If you'll forgive me, you don't sound quite how I expected you to.
Oh. I'm sorry. Did you want more of this? [A 5.5 magnitude earthquake strikes as the Almighty clears his throat.] I AM THE GOD OF YOUR FATHER, THE GOD OF AVRAHA—
OK! OK! 
[The earth is still, but some drywall falls from the ceiling.] Didn't think you'd like that. Everyone thinks they want the big God voice — until they get it.
According to the page listing the challenged titles in Keller, the author of the Bible is listed as "men who lived a long time ago — no 1 exact author exist [sic] for these books." The general consensus among academics, which has evolved over the years, is in fact that the Bible was written by a series of authors. And tradition holds that David contributed with some poetry, prophets wrote their parts, Moses with his Five Books, yada yada. I wonder how you view your role. Are you kinda like James Patterson with his many co-authors? "God with Moshe Rabbeinu?"
It was always a collaborative effort. There's some stuff in there that I would cut straight away. A lot of it's redundant, about the specifications of the tabernacle or sacrifices — reads like a really boring wikiHow. Obviously I think it's important — that's why I said it — but it starts to sound like I'm repeating myself after a while.
I mean, I did. The Israelites in the wilderness, they were very bad at listening, but with a few thousand years' hindsight, and with the Mishkan no longer really a going concern, I'd just as soon lose it.
Also the begets. I always skip the begets every time I get to those. I think humans care more about that than I do. 
You have any favorite parts of the Tanakh?
Obviously the bits with sexual content, violence, discriminatio … I'm kidding! Don't cancel me! Clearly I'm a sucker for spectacle and, not to toot my own horn, but I'm a big fan of my work parting the sea, and those plagues in Egypt. All the "Game of Thrones"-y kinda stuff with David is also a lot of fun. And Ezekiel's Wheel. Did you see "Nope?"
You know I did. Can you settle once and for all if it was one big frog in the plagues or a bunch of frogs?
Big one! Like a Macy's Parade balloon. 
Can I ask you about the New Testament?
Nope!
You weren't involved with …
I'm not going to answer this question. 
You seem to be for the Bible in school, then?
Within limits! I don't think anyone should be forced to read the Bible in a classroom setting in a public school. Yeshivas, Catholic schools, day schools are a different matter. But if a kid wants to check out the Bible from their library, they should be able to do so. Also, the Quran. The Bhagavad Gita. Whatever. Though I'd of course prefer if Jewish children remember that I am THE GOD OF THEIR FATH—
Please. You're scaring me. You never had children yourself, right?
You're all my children … but, I mean, c'mon. That's a gotcha question and you know the answer.
Thank you for your time.
I have an infinite amount of it.
How much do I have?
No comment.