Culture
How much is a photo of persecuted Jews worth — and why would someone want to buy it?
A Holocaust image on eBay is generic to most bidders. Unless one of the men in the picture is your cousin.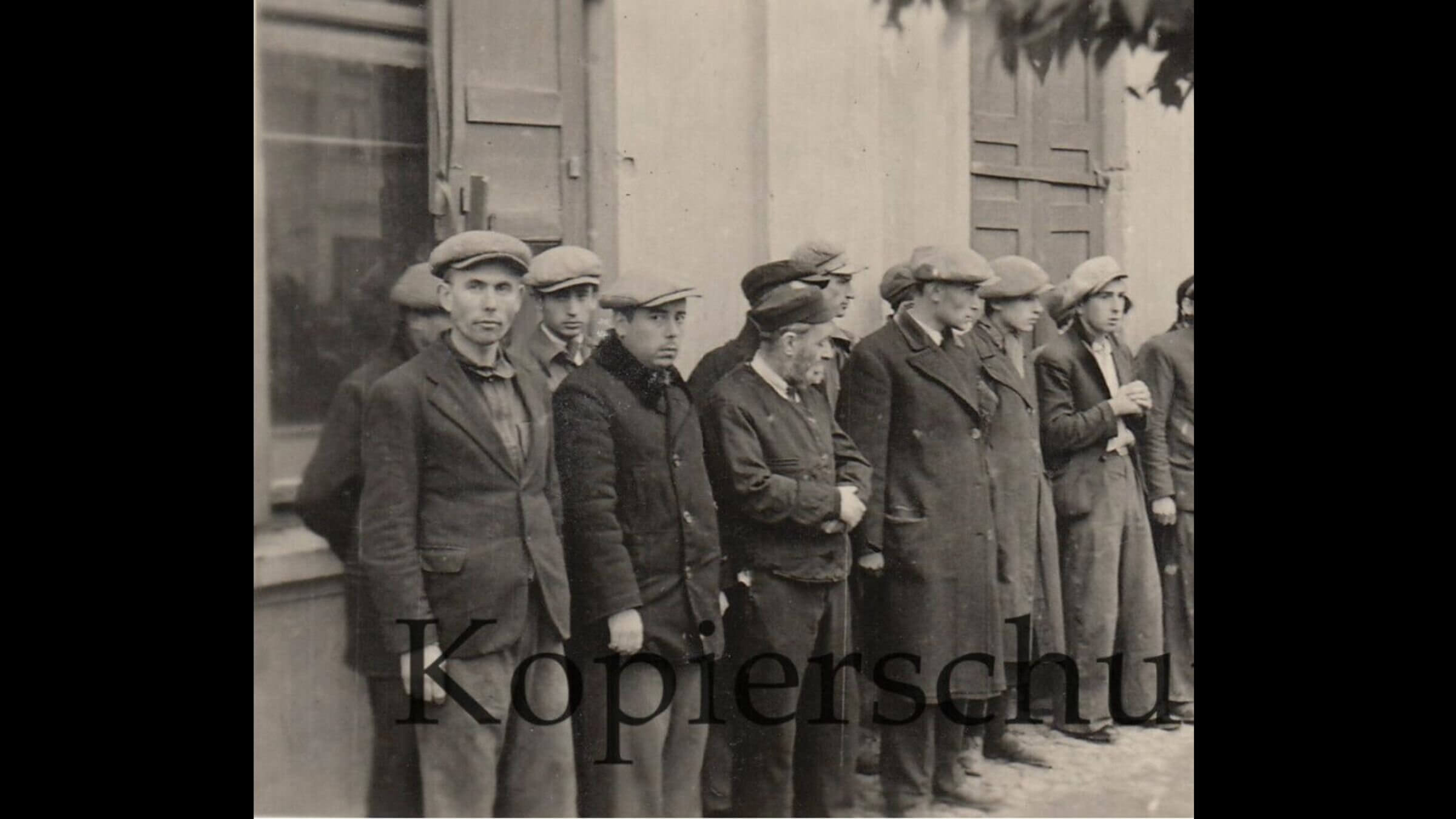 The black-and-white photograph shows 16 men lined up in front of shuttered shop windows. They are wearing scuffed work clothes, though a few sport ties or knotted scarves beneath their overcoats. Their postures are tense.
Some appear quite young, barely teenagers. The oldest man, with a scraggly gray beard, stands slightly stooped, his eyes closed. Another has drawn his arms to his chest, caught in the act of wringing his hands.
Most of the men are seen in profile, but four look directly at the camera. Their faces show unmistakable terror.

A friend had alerted me to the photo for sale on eBay last year. The Berlin-based seller had titled the scene with brisk economy: "Jews Poland Forced Labor." An inscription on the back provided more information: "Jews in Poland in Nasielsk are rounded up for work," it states in clear German script. According to the auction, the item was "100% original," printed on Agfa-Lupex paper measuring 7.2 by 5.6 centimeters (roughly 3 inches by 2 inches).
The paper suffered from slight curling, the seller cautioned, but the image itself was "very sharp."
What is such a picture worth? I entered a number, enough to make me the high bidder. Four others had already raised the price from 2.99 euros to 13.50 euros, about $15. There were eight days until bidding would close.
I found it frightening to imagine why these others might want to purchase a photograph of Polish Jews being rounded up for forced labor. I thought I had the best reason.
I have been researching the Jewish community of Nasielsk for 13 years. My grandfather. David Kurtz, was born in the town in 1888 and emigrated to the United States a few years later. He returned in 1938, during a vacation to Europe, with a brand-new home movie camera.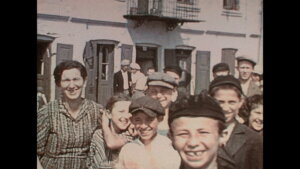 When he visited, Nasielsk was a thriving Jewish community of 3,000. All but about 100 were murdered in the Holocaust. The three minutes of footage David Kurtz shot during that trip contain the only known moving images of this community.
The film had sat decaying in a closet for decades until I rediscovered it in 2009. My quest to identify the individuals in his footage, and to tell the story of what happened to the Jews of the town, became a 2014 book, "Three Minutes in Poland." A documentary based on this research, "Three Minutes: A Lengthening," was released in cinemas this summer.
I am now president of the Nasielsk Society, a network of some 300 descendants of Nasielsk's Jewish community, scattered around the world, dedicated to documenting and preserving its history.
'Statements of fact addressed to the eye'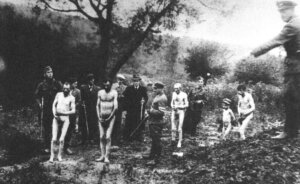 German soldiers took innumerable snapshots during World War II, documenting their daily life and activities, including shots of what would later be designated the Holocaust. "So widespread did photography become among German soldiers that some scenes of massacres, executions and public hangings resembled contemporary paparazzi events," Janina Struk, a documentary photographer, wrote in her 2019 book, "Private Pictures: Soldiers' Inside View of War."
For three or four generations, many of these photographs have languished in closets, shoeboxes or neatly labeled photo albums stuffed in the back of a drawer. The first public display of a representative sample was held at the Hamburg Institute for Social Research in 1995. The exhibit, "War of Extermination: Crimes of the Wehrmacht 1941-1945," sparked bitter controversy, presenting evidence that ordinary German soldiers, not just fanatical Nazis, had participated in war crimes against civilians, primarily Jews.
"Whether as perpetrators or as bystanders," Struk concluded, "it seemed soldiers wanted reliable evidence that they had been witness to these macabre scenes."
But did the soldiers consider the scenes macabre? On the contrary, as in the shocking photos of lynchings or of American soldiers torturing Iraqi prisoners at Abu Ghraib, German soldiers are often shown smiling for the camera, posing proudly, even playfully with their victims. Nothing indicates conscientious resistance or moral repugnance.
While the images might become evidence of war crimes after the fact, in the instant they were taken, most do not show consciousness of a crime. Instead, they tend to convey the thrill of being present at an exciting event.
The photo I was bidding for is relatively tame by this standard. The men are not being hanged or shot; they  are not already dead. But as an artifact of its historical moment, the photograph captures an inherent violence. Still, the image, like the caption that accompanies it, is ambiguous.
The men's fear is evident, but not the photographer's attitude. The shot might be a souvenir, a trophy, in effect crowing, "Look what we did!" But it might equally be understood as a neutral record, stating simply, "Look what happened."
"Photographs are not arguments addressed to the reason," Virginia Woolf wrote in "Three Guineas," describing an image of dead bodies and ruined homes from the Spanish Civil War. "They are simply statements of fact addressed to the eye."
But facts are not self-evident. The eyes of the viewer will define what the photograph shows, what it is, and, consequently, what it's worth.
'We would bring gefilte fish'
I wanted to purchase this photograph for Maurice Chandler, one of the boys filmed by my grandfather in 1938, and now, at 96, the last living Holocaust survivor from Nasielsk. When I shared the image for sale on eBay with Morry, as I call him, he immediately recognized two of the faces. One, the man in the front row, second from left, was his cousin, Lippa Skalka, the son of his grandfather's brother.
"They were very poor people," Morry recalled of that family. "Every Friday afternoon my brother and I used to carry Shabbos dinner to them. We would bring gefilte fish."
Lippa Skalka is one of the four men staring directly at the camera, his shoulders hunched, a look of dread or hatred in his eyes. "There were four sisters," Morry continued. "When the Germans invaded, they broke into their house and raped two girls."
The second man he recognized stands behind and to the left of Lippa. "A young guy who used to be a running photographer," he recalled. "He had a little camera. He would take pictures and sell them to you. He lived right across the street from us."
At first, Morry could not remember the second man's name. But it came to him as we talked. "Herschel Zalmanovich," he said, a bit triumphantly. "He had a Leica. In those days, a Leica was a big deal."
According to Morry, Herschel developed his pictures at the atelier of the town's more established photographer, Fishl Perelmuter. He'd then try to sell the images on the street to the people he'd photographed. "He'd say, 'This is you. Give me a nickel or a dime or something.'"
The photograph must have been taken  between Sept. 4, 1939, when the German army occupied Nasielsk, and Dec. 3, 1939, when the town's entire Jewish population was deported. 
A firsthand account of that day survived the war among the documents buried beneath the Warsaw Ghetto by historian Emanuel Ringelblum. At 7:30 a.m. on Dec. 3, 1939, according to this account, Nasielsk's Jews were ordered to assemble in the market square. They were surrounded by German soldiers. 
"Each of them held in his hand a braided whip, a horsewhip, cat o'nine tails, or a steel bar," the unknown author of the document recounts. "This sight instilled terror. Right away, they got to work. They chopped off beards, cut out sections of hair in order to disfigure. Then, they photographed their victims." 
In my years of research, including Germany's federal archives and collections of Holocaust documentation in Europe, Israel, and the U.S., I have not been able to locate any of these photographs. Perhaps one day they'll show up for sale on eBay. 
They're not 'Jews,' they're people
Why would someone want to own such photos? The answer depends on what you see in them, and this depends on how much you know. 
If all you know is that the picture shows "Jews in Poland in Nasielsk rounded up for work," then the image is generic. (It was common for propaganda photos of similar events to bear the cynical caption, "the Führer gives the Jews work!") It could be any town, any Jews. The desire to own this image would seem to express an attraction to this kind of act.
The image becomes something essentially different if you see in it specific individuals: my cousin Lippa Skalka; the roaming photographer Herschel Zalmanovich. It then stands as a record of their lives, the human emotion they display. 
This photograph is valuable not only because of what it shows but above all, because of whom. They're not "Jews;" they're particular people. 
By the final day of bidding, the price for the photo stood at $25. I raised my maximum bid to $46. I was winning until the auction's final second. The closing price was $46.65.
For three days, I was disgusted with myself. I had placed too low a value on the memory of these men. After that, I grew disgusted that I had bid at all. I had participated in the market that treats images like this and the suffering they depict as objects to buy and sell.
There's clearly a lively interest in this kind of photo. The eBay seller, who calls himself "Inkognito," had 64 other items on auction, all of them photos of the German army in action on the eastern front during World War II.
My desire to own the "100% original" item was really a desire to remove it from this marketplace, to fix its value according to its weight as evidence, unique evidence of individual people, and not the generic representation of abstract "Jews Poland Forced Labor." I wanted to change the context.
But owning the image would not necessarily protect the humanity of these men, nor would it secure the photo's meaning in specific remembrance. Only knowledge can do this. 
My grandfather's film sat in a closet for 70 years, a forgotten, isolated artifact. It only became more than a tourist film after I donated it to the United States Holocaust Memorial Museum in 2009. There, Maurice Chandler's granddaughter saw it, and she recognized him in a crowd of boys on the street. 
Now, thanks to Morry's long life and extraordinary memory, my grandfather's three minutes of film has acquired new meaning. It shows more than just Jewish life in Poland, more than Jews in Nasielsk. It preserves a moment in the lives of Moszek Tuchendler, Faiga Milchberg, Shmuel Tick, Miriam and Czarna Mirla, Chaim Talmud, Chaim Nusen Cwaighaft, and a few others whose names Morry and other survivors remembered. 
For some of the more than 150 people who appear in it, the film is the only known photographic record of their existence. 
'Why would they line them up to take a picture?'
Similarly, the value — the very content — of the moment preserved in the eBay photo depends on its context. As a commercial object, its value depends on someone's desire to possess a representation of the harassment of Jews in Poland. 
Indeed, in an effort to enhance its market value, the seller had superimposed the words "copy protected" on the digital image, claiming its singularity as an object. But unless he can prove he is the original photographer, he has no legal right to prevent its duplication. 
As the historical record of violence against specific individuals, the image belongs in the public domain. No one should profit from it. I am publishing it here as an act of memory, a form of belated resistance, a condemnation of the transactional politics that treat people and their suffering as objects to be bought and sold. 
But the marketplace is wily. I recognize that by writing about this photograph I may only be increasing its commercial value alongside its historical value. When we know the names of some men who appear in it, the image is no longer one of an untold number of generic images of the harassment, torture and murder of Jews during World War II. Now, singled out and partially elucidated by the information I include here, it is a unique record, consequently more desirable as a collectible. 
This is the dizzying predicament of locating not only photographs but also human value in the marketplace. The whole business is repugnant. 
"The way they lined them up …" Maurice Chandler said as he further considered the photo. His voice trailed off in disillusionment or bewildered incomprehension. "Why would they line them up to take a picture?"