Culture
'Amsterdam' dreams of a Black-Jewish alliance, but doesn't want to fight for it
David O. Russell's pseudo-history lesson downplays the effort needed to fight white supremacy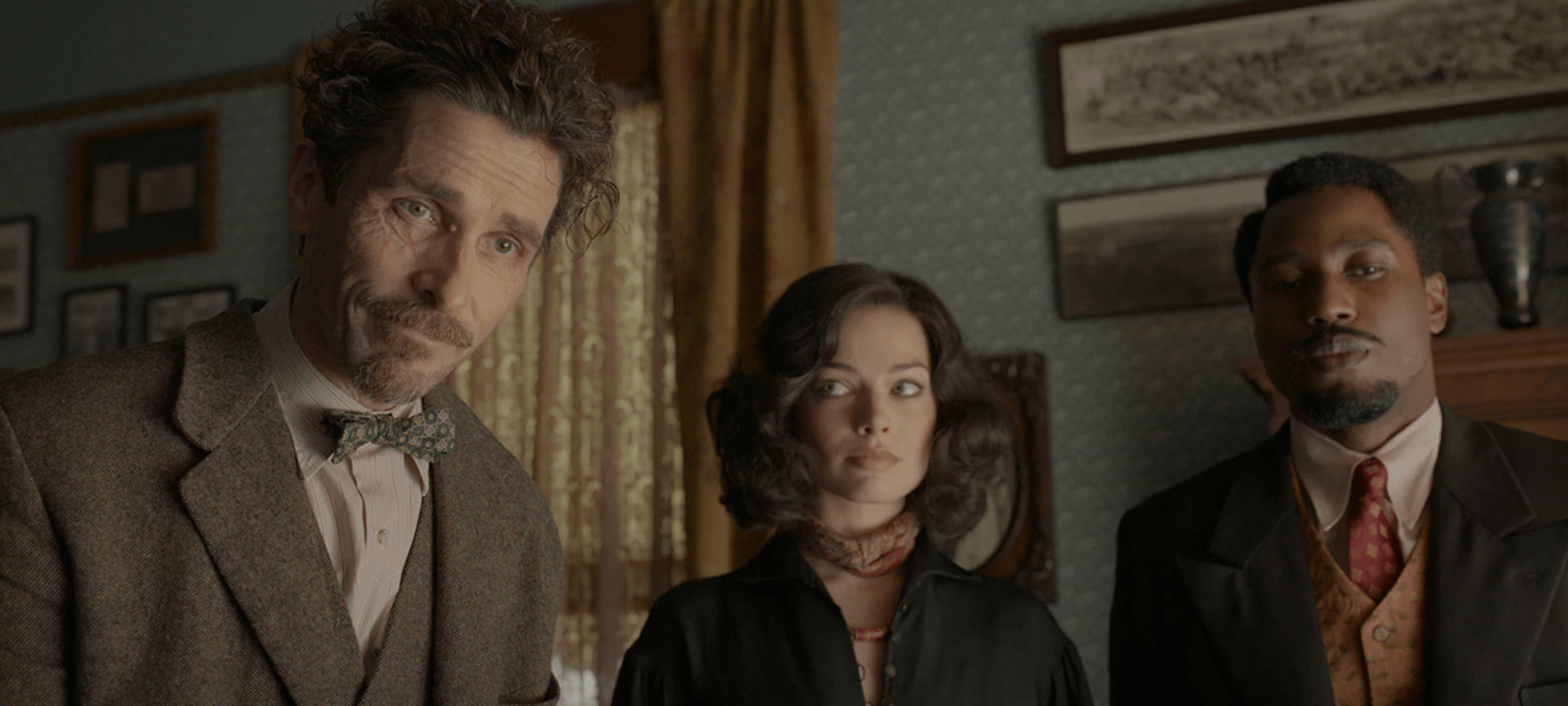 David O. Russell's "Amsterdam," a bloated, dewy-eyed vehicle for household names and vacuous political posturing, makes up a lot of its semi-true story. Its most fanciful conceit? That white supremacy, fascism and the threats to American democracy can be countered by the sheer force of friendship.
Riffing on a planned 1933 coup, known as the Business Plot, the action follows a trio of soulmates who get caught up in the conspiracy and ultimately thwart it. Two legs of the triangle are Harold, a lawyer (John David Washington), and Burt (Christian Bale), a "half-Jewish, half-Irish" physician. The two men meet in combat during World War I and commit to protecting one another. Later, Valerie (Margot Robbie), a nurse who turns out to be wealthy and connected to spies, joins their special relationship.
Fifteen years after the three met in Europe (after carousing in the titular Dutch city), Burt and Harold are implicated stateside in a murder orchestrated by Nazi-loving white supremacists and billionaires. Together, they infiltrate and expose WASP-y, patrician spheres.
In Burt, who endures the antisemitism of his well-to-do Park Avenue in-laws, and Harold, whose romance with Valerie could never be countenanced in the U.S. of the 1930s, we have a sort of ideal of a Black-Jewish alliance. That alliance, much like the one we all hear about in Hebrew school, is an interpersonal pact forged by human connection and shared ideals. But like the regular framing of the Jewish presence in the civil rights movement, Burt and Harold's bond is meant to stand in for more. 
I saw Russell's film the week after Kanye West's antisemitic outbursts, the aftermath of which proved incredibly disappointing, if predictable.
Some high-profile white Jews on Twitter appeared to shame Black allies for not calling the rapper out (neglecting the many who did and had in the past). Rabbi Abraham Joshua Heschel was invoked more than once, as if he were the rule, not the exception, for standing by Black Americans. The ludicrous implication seemed to be that Jews were owed advocacy from a group for the behavior of one of its members, based purely on the actions of a number of Jews half a century ago.
In this hellscape, the unstrained kinship of Burt and Harold upending a white supremacist plot is a consummation devoutly to be wished. But we should remember that it's just two men — and that Russell's flat-footed mystery is a warped lesson in history.
As the historian Jonathan M. Katz noted in Slate, Russell appears to be conflating two separate issues from the 1930s: an arch-capitalist plan to undermine American democracy over resentment for Roosevelt's economic policies, and the rise of fascism in Europe and its racist affinity groups here in the U.S.
In the film, the fictive Committee of Five are not only trying to oust FDR and install a dictator, but are also behind a forced sterilization clinic in Rockland County; they're working closely with European dictators, and, indeed, appear inspired by them. There are portraits of Göring and Hitler on the clinic walls, and one of the baddies crafts a swastika topiary on his estate. 
In reality, according to Katz, the Business Plot was "entirely homegrown." Of course, American forced sterilization needed no prompting from the Nazis. One could say they learned that from us.
Grafting together the peril faced by election subversion and ethnonationalism, Russell is flailing his hands at the concerns of today. In centering the disenfranchised duo of Burt and Harold, he's saying Black people and Jewish people — and those who are both, but who are absent here — have skin in the game and that these threats operate in tandem. But for some reason Russell insists on a vision of America that outsourced its racism and money in politics. As the plot unravels, Burt considers its machinations. American businesses planning to usher in a dictatorship? "What could be more un-American?" he asks, without a hint of irony.
It's a naive accounting of our nation's true character, and that carries into the central relationship and the ultimate conclusion that "love is not enough, you have to fight to protect kindness." (This is rich, of course, given Russell's track record of off- and on-set cruelty.)
Burt and Harold win the fight too handily, and the film gives too little shrift to what ultimately collapsed the Business Plot: a decorated white man (Robert De Niro, playing a version of Smedley Butler). It makes the work seem easy. Richard Brody calls it "resistance cinema," and it is, in the wan, vague sense of the anti-Trump movement. There's nothing explosive, or challenging, in its credulous belief that Black people, white Jews, rich heiresses and benevolent military men can save us without much friction or difference in priorities.
As Burt and Harold posed as Episcopalians to enter a mansion, I recalled another film that presents a far more instructive, and realistic, look at American extremism and how we might try to combat it: "BlacKkKlansman," also starring John David Washington.
That film, by Spike Lee, is likewise based on real events — the story of Black detective Ron Stallworth who infiltrated the Ku Klux Klan — but altered the background of Stallworth's partner, making him Jewish.
That choice changed the texture of the film, delivering the message that white supremacy is a threat to white Jews and people of color of any denomination. But, importantly, this is an epiphany had by the Jewish character, Flip Zimmerman, who before was content to pass with white privilege and was convinced the Klan was no threat to him.
The fact that Flip and Ron often clash is of course not emblematic of all Black-Jewish coalitions, but it does get at a truer, messier dynamic. Russell's fantasy of American resistance gives us a tidier vision that assumes good faith and common cause will always win out.
That may be the American dream, but if you believe it's inevitable, you've been sleeping through history class.